With five flights departing BKK daily to Doha, it made sense for Qatar Airways to have its own lounge within Suvarnabhumi Airport – and it did just that when it opened one in February 2018.
At a capacity of just 123 passengers, the lounge is small – minute compared to the massive Al Mourjan Business Lounge in Doha. While small spaces sometimes result in fairly basic offerings, Qatar has made the best of its available space and delivered a more-than-decent lounge for travellers departing from Bangkok.
Locating the lounge
Qatar's lounge is located at BKK's Concourse D, near Gate D8. This is also a short walk away from JAL's own offering.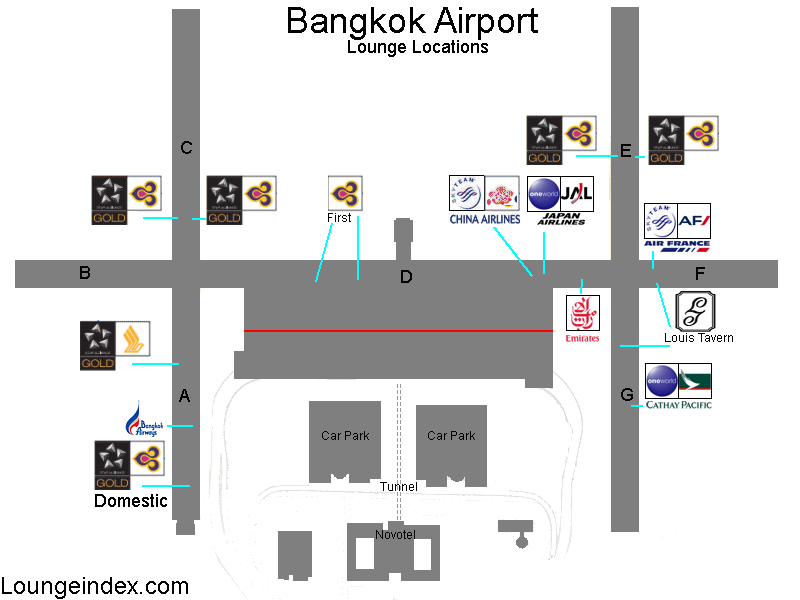 The lounge is easy to get to: follow signs to Gate D8 (turn right after passing through immigration and security), head down and you'll immediately see it at the foot of the escalator.
Inside the lounge

The entrance is two large, unassuming wooden doors, in contrast to what they hold beyond.
Upon walking in, you'll be greeted with this stunningly beautiful installation that forms the lounge's centrepiece.


To the immediate right after entering is a small refreshment area, with ice water and a refrigerator stocked with canned drinks. In a corner is also a small business centre.


On the left is the dining area, with a buffet spread and the lounge's second highlight feature: a roundtable bar displaying desserts, wines and spirits.


I didn't, however, bother with the buffet table. I was visiting the JAL lounge later and was saving my appetite for their beef curry rice.
I did take a peek at the desserts though, and I appreciated that there were both Thai and Arab desserts available, aside from the typical international options.


The Thai desserts appeared more appealing and the friendly lady behind the counter excitedly introduced each of them to me. I also noticed Bollinger was served here and requested for a glass, which was promptly served.

A little further on into the lounge was a sit-down dining area not unlike a high-class dining establishment. Some lounges have strict rules where food can only be consumed in the dining area (think the JAL Sakura lounge in NRT), but it isn't the case here – guests here can eat anywhere they like.

This led me to wonder if there are plans to introduce a la carte dining in future. This remains currently unclear, but for now, the buffet options are decent enough.

The dining area features what appeared to be comfy plush sofas at each of its two farthest corners. In reality, they were almost rock hard. I readily plonked myself down, expecting to sink into soft cushion. Instead, I walked away rubbing my sore bum.

After finishing my single glass of champagne (okay, I had more than one), I requested for a look at the showers. Aside from the usual shower wand, there are also side jets, which allegedly have therapeutic effects.


Access
Qatar is a oneworld airline (for now…), so all First and Business Class passengers flying ex-BKK on any oneworld airline are eligible to enter. oneworld Emerald and Sapphire members flying on any oneworld flight may use the lounge as well.
The lounge is also accessible if you are arriving into Bangkok in First or Business Class and connecting to an Economy Class flight, provided your inbound flight was a long haul international flight, defined as any flight longer than 5 hours. See the lounge access rules here.
[Edit: Based on comments received, it seems like while the above lounge access rules are correct in theory, in practice Qatar enforces its own rules. You're not likely to get access to this lounge if you're not flying QR]
However, this is not clearly shown on both the oneworld website and Qatar's own portal. Pulling up the oneworld site gets you this:


A check on Qatar's own site also shows similar results.

It seems a bit strange that close to a year after opening, there has been nary a mention on either site of this spanking new lounge.  Whether this is because they're saving this for when additional features, like a la carte dining (if any), are officially rolled out remains to be seen.
I'm not sure what lounge invitation premium passengers on Qatar receive when checking in. If you've had any experience flying out of BKK on Qatar metal, do share them below!
For what it's worth, I was flying on JAL and received an invite to the Miracle Lounge, as opposed to its own Sakura Lounge.
Concluding thoughts

There are windows in the lounge, but offer only views of the immigration side of the terminal below, a huge contrast of the frenzy outside against the calm inside. I visited two other lounges before my flight and none had the same serenity the Qatar lounge offered.
Admittedly though, there were only five other passengers when I was there. The experience could very well be a different story at full capacity.
Despite its small size, the Qatar Airways Premium Lounge is still a beautiful lounge with well-appointed interiors. Although the lounge isn't yet official on their website, all premium passengers on any oneworld flight departing Bangkok will find that this is an excellent option to have.