I generally prefer to get a local SIM card for the country I'm traveling to as I find the overall value to be unbeatable. Plus, it can be useful having a local number for calling your Uber driver or making restaurant reservations.
You can get SIM cards for the USA, the UK, and France (thanks to EU roaming laws, you'll be able to use the data/voice minutes of a UK/France mobile plan throughout the EU) delivered to you while you're still in Singapore so you're ready from the get-go.
However, there are situations where you might want to use a roaming plan provisioned by your Singapore-based telco. For example, SIM cards may not be available at the airport, and finding one may be a time-consuming task especially if you're in a country where few people speak English. Or maybe it's utterly critical you have data from the moment your plane lands because you need to look up connecting flight information/cat videos. Or maybe you need to be contactable on your Singapore number while you're abroad.
Therefore it's helpful to be aware of the data roaming packages available from the local telcos. Here's the updated list:
Circles Life offers customers pay as you roam packages priced at either $10, $20 or $30 per 100MB. Plans are pro-rated, so if you're on a $30 100MB plan and use only 50MB, you pay $15 in total.  Plans are valid in the following countries:
You can check out the full list of rates here (including how much you're charged for voice calls) but to summarize the data situation-
$10/100MB countries

Australia
Bangladesh
Cambodia
Germany
Greece
Hong Kong
Hungary
India
Indonesia
Ireland
Italy
Macau
Malaysia
Netherlands
New Zealand
Portugal
Romania
Saudi Arabia
South Africa
South Korea
Spain
Sri Lanka
Taiwan
Turkey
UK
USA

$20/100MB countries

France (odd, given that you'd think all the EU countries would be in a similar roaming bucket)
Japan
Philippines
Thailand (surprisingly expensive, given how easy it is to get a SIM at the airport)

$30/100MB countries

Albania
Czech Republic
Ghana
Malta
I don't think the UK/USA plans are good value, given that in the US for example you can get a H20 Mobile Plan with 4GB of data, unlimited local and international calls and SMS for US$30. Plus, I hear there's some kind soul who'll pass you a SIM, free of charge.
The one thing I am sold on, however, is the Whatsapp passport. For $1 a day, you can get unlimited Whatsapp in the following countries. This doesn't cover voice calls or video calls, but you can send all the text messages and images you want. If you just need that level of connectivity, this is a good option. 
You can sign up for a Circles Life plan here and earn The Milelion a referral credit when you do. 
Starhub Happy Roam (Prepaid)
Starhub has what I think is the best data-only solution for anyone who just needs data with their Happy Roam product. You don't need to be an existing Starhub customer to take advantage of this, you just need to buy a prepaid Happy Roam SIM.
Happy Roam covers the following countries:
| | |
| --- | --- |
| Destination | Preferred Partners' Network |
| Australia | Telstra | Vodafone |
| Canada | Rogers Communications |
| China | China Mobile |
| Hong Kong | Three (3) |
| India | Bharti Airtel | IDEA | Vodafone |
| Indonesia | XL Axiata | Three (3) | Indosat |
| Japan | NTT DoCoMo | KDDI |
| Macau | CTM Macau |
| Malaysia | Celcom | DiGi Telecom | Maxis | U Mobile |
| Myanmar | MPT | Telenor |
| New Zealand | 2Degrees | TNZ |
| Philippines | Smart |
| South Korea | Olleh KT | SK Telecom |
| Taiwan | Far EasTone (FET) | Chunghwa Telecom |
| Thailand | TrueMove | DTAC |
| United Kingdom | Three (3) |
| United States of America | AT&T | T-Mobile |
There are different pricing configurations on offer:
| | | |
| --- | --- | --- |
| Validity | Data | Cost |
| 3 Days | 1GB | $5 |
| 7 Days | 1GB | $7 |
| 30 Days | 1.2GB | $10 |
| 30 Days | 2.4GB | $15 |
| 30 Days | 3.6GB | $20 |
You can buy a $15, $32 or $50 Happy prepaid SIM in Singapore, download the Starhub Happy prepaid app and activate it just before you fly.
Note that while you will be able to make calls using this prepaid SIM, they will be at the usual outrageous roaming rates. Therefore if you buy a $50 Happy prepaid sim and activate a 30 Day 3.6GB $20 plan, you'll have $30 left on your phone for calling. Don't be surprised if that lasts you all of 5 minutes. Best use Skype credit if you need to call.

If you just need data, I think this is an amazing deal. It's difficult to beat S$20 for 3.6GB of data. Happy Roaming SIMs can be purchased at any Starhub shop, 7-Eleven/Cheers store and at Changi Airport (Travellers' Counter and UOB Currency Exchange Counters).
Starhub DataTravel/RoamEasy (Postpaid)
Starhub has several options for postpaid customers which can be a bit overwhelming. Let's start with the DataTravel plans
DataTravel
There are three types of DataTravel plans. The first two have a limited (but generous) data cap:
DataTravel Asia Pacific- $15 (2GB)/ $20 (3GB)
DataTravel Global- $40 (2GB)/ $50 (3GB)
Both plans are valid for 30 days. These plans are multi-destination, so if you're going from say Japan to South Korea, you can use the 2GB across both countries with a single $15 fee.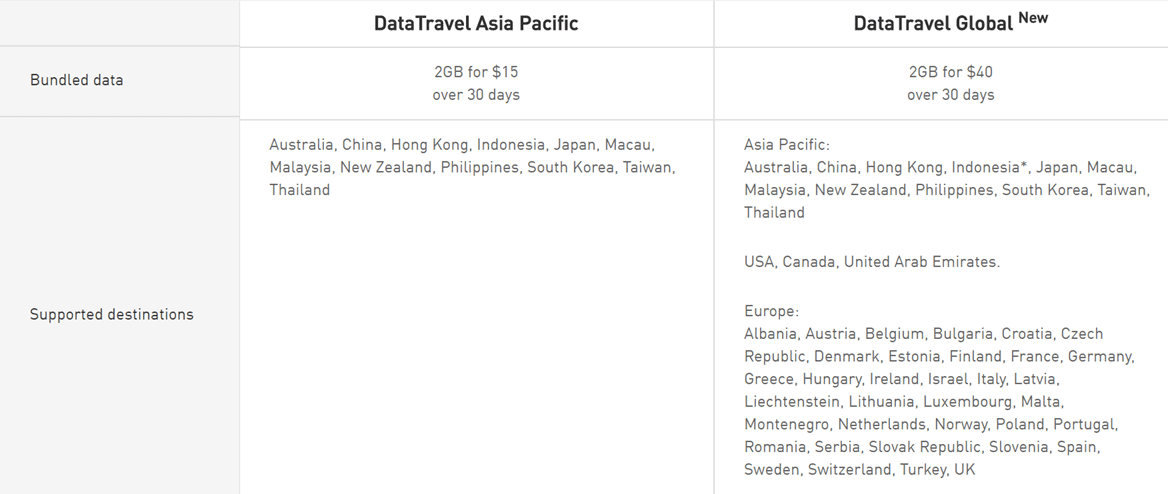 If you're only going to a single destination, you may consider the third plan, DataTravel Unlimited, where you pay one flat fee and get unlimited data for a day.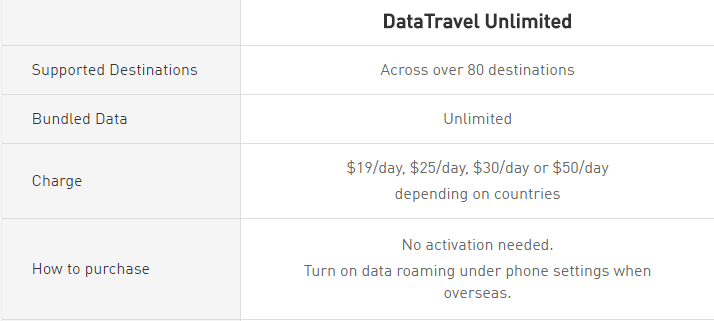 This plan may make sense if you're going to a country which isn't covered under the DataTravel Asia Pacific/Global plans, but makes absolutely no sense in others, eg Australia (you pay $19 a day with Unlimited, versus $15 for 2GB that lasts for 30 days with the Asia Pacific plan).
RoamEasy
RoamEasy packages come in daily and monthly flavors. The daily plans have 100MB of data at $10, covering more than 120 countries.
The monthly plans come with either 400MB or 1GB of data and cost either $40 or $100. Again, these seem to be relatively poorer value compared to the DataTravel plans, so presumably you'd only consider these if you were going to a country outside of DataTravel's coverage.

Here's the coverage area for RoamEasy plans: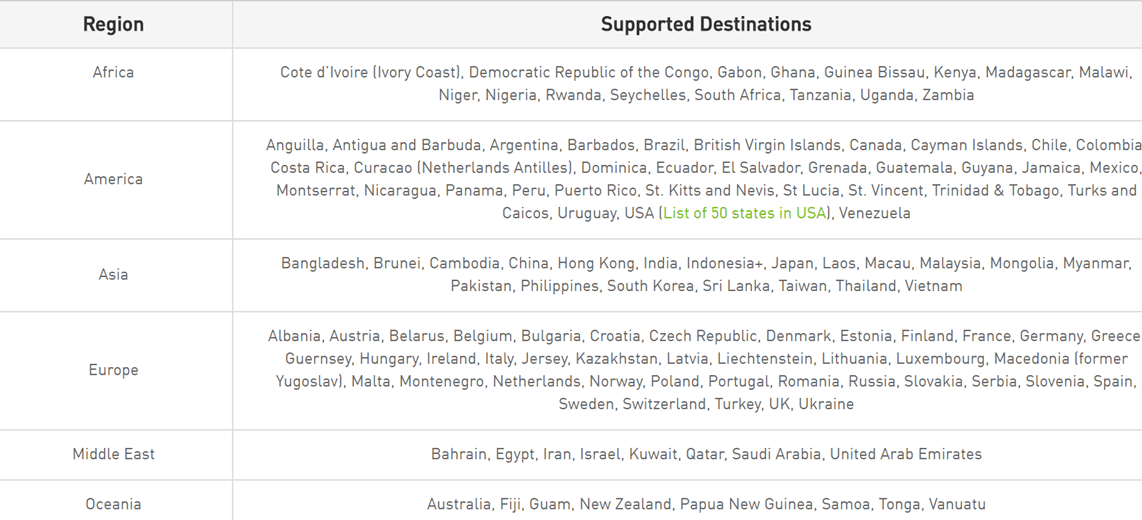 M1 MCard (Prepaid)
MCards were created with local prepaid use in mind, but you can also add on a $15 and $28 roaming pack option. You get 2GB and 10 minutes of calls that are valid for 10 days, which can be used across either 12 or 17 destinations depending which plan you spring for.
The other nice thing about M1 is that if you have an MCard, you can roam in Hong Kong, Indonesia, Macau, Malaysia and Taiwan at no additional cost.
M1 Data Passport/Unlimited Data Roaming/Data Roaming Bundles (Postpaid)
Data Passport
M1 has a nifty program for its postpaid customers called DataPassport, which lets you pay a fee to use your local data allowance overseas for a given month. $10 to let me use my monthly local data in the USA? Sounds pretty sweet.
There are single destination and multi-destination datapassports.
Daily Unlimited Data Roaming
An alternative option is to buy $10/$15/$25 daily unlimited packages for the following countries:
Data Roaming Bundle
I'm not quite sure why anyone would go for these unless they really had no option. These plans are available for use in more than 50 countries, but are best for light users as they're very expensive at any level of use.
Singtel ReadyRoam/DataRoam (Postpaid)
ReadyRoam
ReadyRoam is a multi-country plan that gives you 1GB to use over 30 days. There are $12 (discounted price from $15), $20 and $35 plans.
Here's what the $12 (normally $15) price plan covers:

And the $20 plan: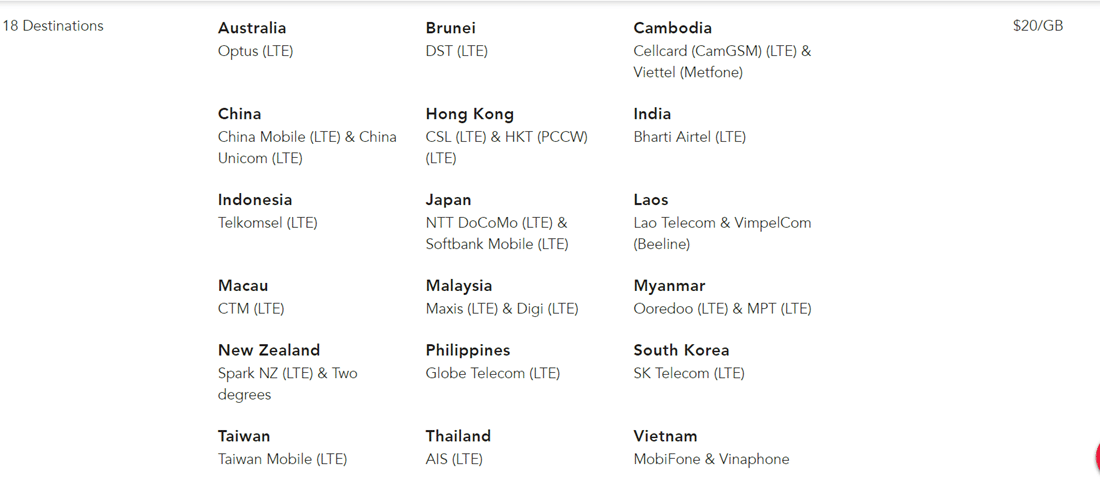 And the $35 plan: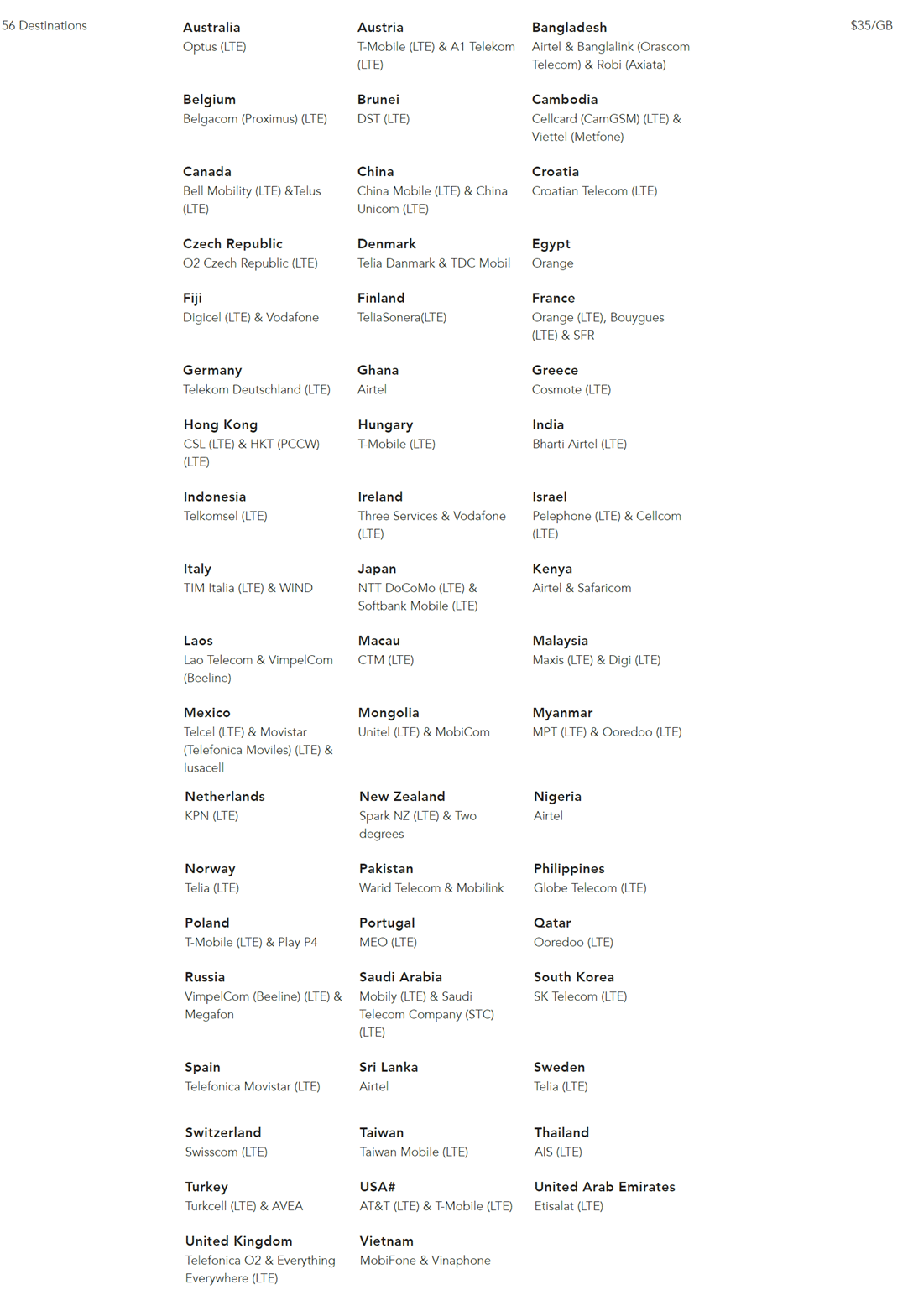 When you exhaust your 1GB, the plan automatically renews at the same rate. I'm not sold on the value of these plans, to be frank. Starhub's DataTravel plans seem to be much better value for money.
DataRoam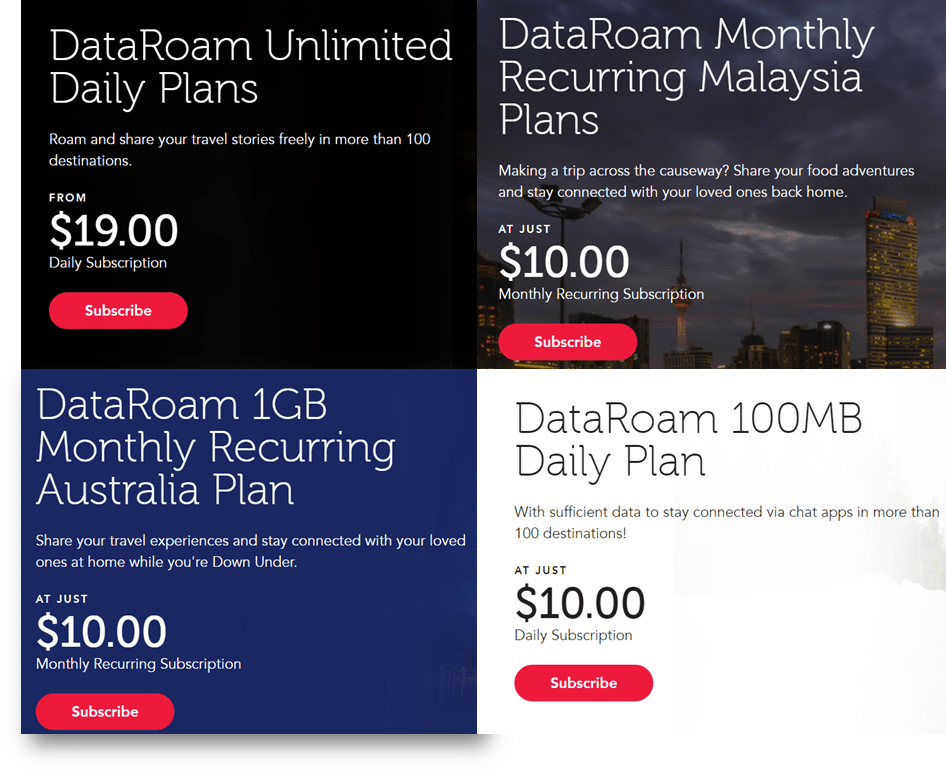 Singtel has several country-specific DataRoam plans. The unlimited plans range from $19-29 depending on country, and reset themselves at midnight (Protip: if your flight lands close to midnight, resist the urge to check your Instagram feed by a few minutes or feel very stupid). If you just need light use, consider the 100MB daily plans which are a flat $10.
The Malaysia plan is useful for those of you who travel up North frequently, or who live in Woodlands. For $10, you can get a 1GB plan, or you can do a smaller 200MB plan for $5.
If you're heading to Australia, there is a $10/1GB plan, but I'd much sooner use StarHub's Happy Roam prepaid plan at $10/1.2GB.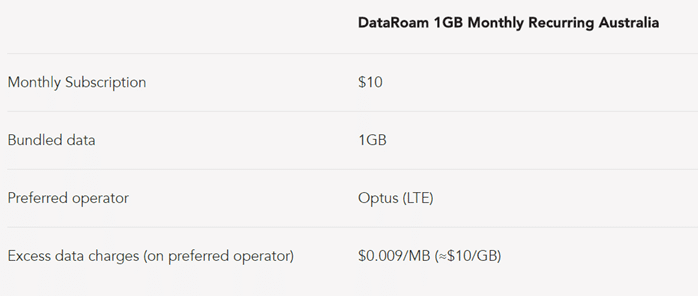 Singtel hi! DataRoam

Like the MCard, the hi! card was really created with local use in mind, but you can buy an add on data roaming package if you're so inclined. Plans range between $10-20 for 1GB that lasts for 30 days, and the list of countries is somewhat limited.
ZeroMobile
This operator has yet to announce their roaming plans, and I'll update this when they have.
Zero1
This operator has yet to announce their roaming plans, and I'll update this when they have.
Local prepaid SIM
The big advantage of getting a local prepaid SIM is that it gives you both data and voice calling. Why do you need voice calling in an age of Skype/Whatsapp?
Well, if you're on a road trip you might end up in a place with only 2G speeds or no data coverage at all. If you're trying to book a table at a restaurant they may request for a local number. If you're trying to register with some of the local apps (eg taxi booking) they might request a local number to send a OTP registration code to. If you're trying to register with a wireless public hotspot some of them only send activation codes to local numbers. If you're using Uber/Grab, you may need to call your driver (although Uber in some countries lets you text your driver in-app using data). Moreover, as far as Skype/Whatsapp have come, voice calls over the voice network are still much more reliable and better quality.
Other Options?
How I wish we had Google Fi in Singapore, but until that happens this is about as good as it gets.
I'm vaguely aware of several vendors online who sell "international sim cards" or stickers that they can ship to your door. I haven't researched them too much but my inclination is to steer clear. It's really not that troublesome to get a much cheaper plan if you're willing to do a little bit of planning in advance. Most of the popular destinations for Singapore travelers will be covered by at least one of the telco's plans.
The one exception I might make is for Flexiroam. I've not tried them before, but if you travel very frequently to countries that aren't covered by the Singapore telco plans, there could be value in taking up one of the Flexiroam options (here's their coverage). The starter price is steep because you need to pay for the SIM sticker, but if you use the plan frequently the price may make sense in the long run.