Book The Cook is a special service offered by Singapore Airlines for passengers flying in Premium Economy, Business Class, First Class and Suites out of Singapore and selected outstations.
Singapore Airlines does not provide photos of what each dish looks like, probably because the appearance can vary significantly depending on seasonality. This guide aims to crowd source photos of people's BTC meals and put them in one place for easy reference.
A couple of things to note:
This guide now covers both F and J options out of SIN, although the eventual goal is to expand to cover BTC options out of every outstation where it's available
Outstations may have similar offerings on their menu (eg lobster thermidor) , but the presentation and taste may be very different due to differences in ingredients and preparations
I've used publicity photos from SQ for some dishes, but it's always better to see it in real life! Send your photos if you have them
This guide would not be possible without the contributions of The Milelion Community, who are undoubtedly more adventurous eaters than I am. If you have photos to contribute, please send them to aaron at milelion.com!
Meal options ex-SIN
6 oz Rib-Eye steak
8 oz Rib-Eye steak
US Grilled Beef Fillet
US Grilled Prime (or Choice) Beef Fillet
Pan-Fried Veal Loin and Braised Veal Cheek
Seared Nut-Crusted Veal Fillet
Grilled Angus Beef Burger
Seared Lamb Loin
Roast Lamb Chops
Roast Rack of Lamb
Oven-Roasted Chicken Breast
Pan-Fried Free Range Chicken Supreme
Confit of Duck Leg
Grilled Chilean Seabass
Seared Black Cod Fillet a la Nicoise
Classic Lobster Thermidor
Boston Lobster Thermidor
Grilled King Prawns
Pappardelle with Seafood
Swedish Wholegrain Crisp Bread
Warm Waffle with Strawberry Coulis
Poached Egg Served with Hollandaise Sauce
Kyo-Kaiseki
Note that the ingredients for this meal differ by season, so there are many different permutations.

Wagyu Sirloin with Eringi Mushroom
Chargrilled Soya-Flavoured Beef
Chirashi
Braised Pork Ribs in Yellow Bean Sauce
Chinese Style Cod with Fried Rice
Baked King Prawn with Chili Sauce
Sliced Grouper Congee
Dim Sum Selection
Bak Chor Mee Dry Style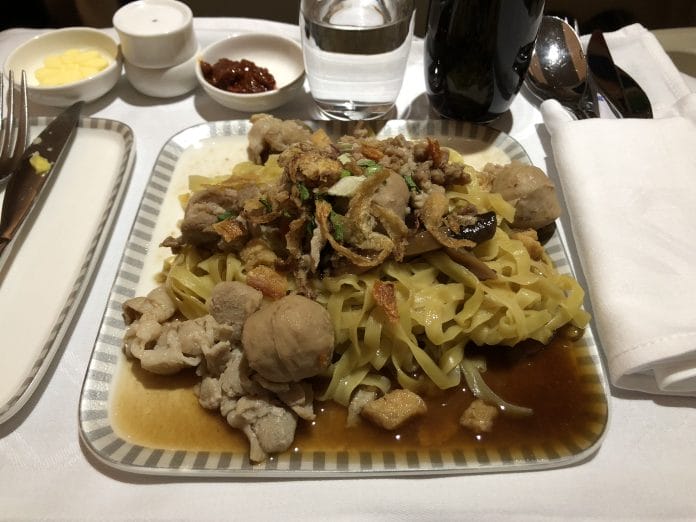 Bak Chor Mee Soup Style
Peranakan Ayam Buah Keluak
Peranakan Itek Siow
Nonya Nasi Padang
Char Siew Wanton Noodle Soup
Singapore Bak Kut Teh
Peranakan Hokkien Mee Soup
Straits Chinese Chicken Curry
Singapore Chicken Rice
Prawn and Chicken Laksa
Singaporean Style Chicken and Lamb Satay
Nonya Assam Fish
Teo Chew Fish Porridge
Yu Pian Mi Fen
Fish Ball Kway Teow Soup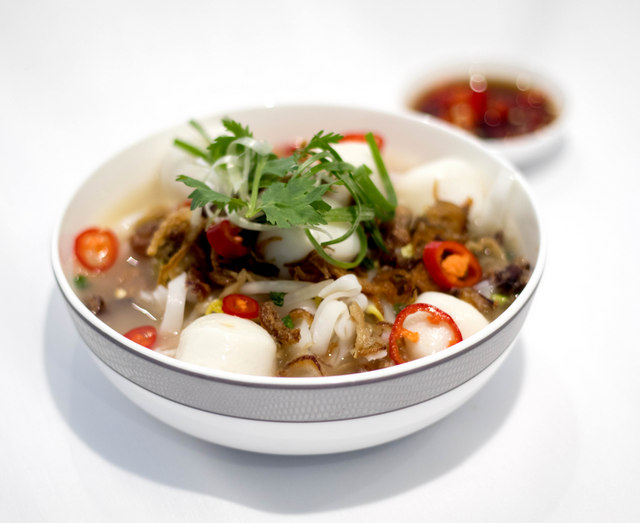 Malay-style Beef Rendang
Grilled Indonesian King Prawns
Nasi Lemak
Steamed Cod Fish Thai Style
Duck in Red Thai Curry
Kaeng Paa Koong
Indian Style Braised Lamb Shank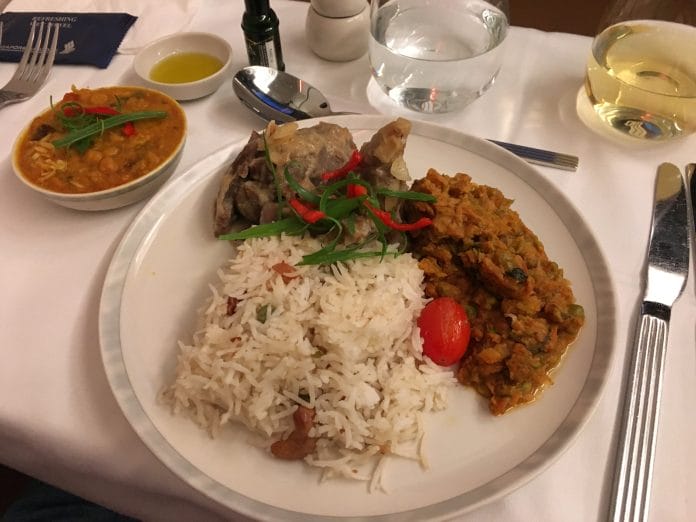 Nasi Biryani

Curry Patta Lobster

Marinated Free Range Chicken on a Spring Salad Bouquet with Cheese Shavings, Roasted Walnuts and White Balsamic Dressing
Spring Salad Bouquet of Haricot Verte Beans, Artichokes, Asparagus and Tomatoes with Hard Boiled Eggs and Roasted Walnuts
Citrus Steamed Sea Bass with Lettuce Puree, Legumes, Radishes and Sunflower Seeds in Citrus Vinaigrette
Grilled Baby Romaine with Orange Gremolata, Crispy Legumes, Radishes and Sunflower Seeds in Citrus Vinaigrette
Baked Herb Marinated Salmon with Potato, Boiled Eggs, Beets and Arugula Salad in Dijon Mustard Vinaigrette
Grilled Herb Marinated Tofu with Potato, Boiled Eggs, Beets and Arugula Salad in Dijon Mustard Vinaigrette
Indian Style Pistachio Crusted Lamb Chops with Fruit Yoghurt Salsa and Mint Chutney
Pistachio Crusted Paneer with Fruit Yoghurt Salsa and Mint Chutney
Duo of Watercress Salad and Smoked Trout with Shaved Fennel, Apples and Yuzu Jelly in a Maple Vinaigrette
Sousvide Miso Simmered Beef Yamato-style with Nimono Vegetables and Potato
Sousvide Miso Simmered Japanese Tofu Yamato-style with Nimono Vegetables and Potato
Chilean Seabass on a Bed of Kale and Quinoa Salad with Tomato Jelly and Almond Flakes
Quinoa and Kale Salad with Tomatoes and Almonds
Namyu Cod Fish and Jinlen Soy Chicken with Brown Lamien Noodles and Wood Ear Mushroom
Namyu Cabbage Roll and Jinlen Eggplant and Beancurd with Brown Lamien Noodle and Wood Ear Mushroom