Conrad is offering a US$50 hotel credit per night at selected properties with a minimum 2 night stay, which can be of great value if you're doing an extended stay. This hotel credit can be applied towards things like F&B, spa treatments, or activities.
You need to book your stays on the official Conrad page to get this deal. No code is needed, just look for the rate labelled "Compliments Conrad" as shown below.
Here's how the rates priced out for me at a few properties I looked for. Remember that the Compliments of Conrad rate is flexible and refundable up to 24 hours before check-in (individual properties may impose stricter requirements eg 48 hours, but the cancellation policy will always be similar to that of their flexible rate).
Conrad New York
Conrad Hong Kong
Conrad Pune
Conrad Seoul
Conrad Bangkok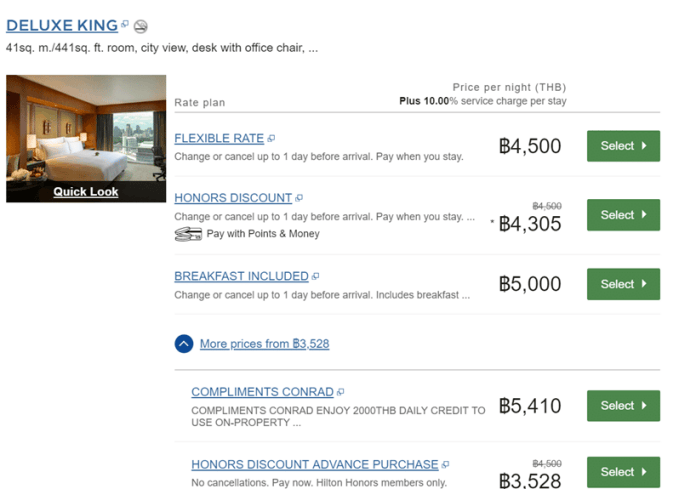 Conclusion
In the cases I found, the Compliments Conrad rate was very similar to the Flexible rate or with a small premium which was easily made up for by the value of a single night's credit (and remember if you book this promotion you get a minimum of two night's credit). Therefore if I needed a flexible rate, this is a much superior value option to book. I'm aware there was a US$100 per night offer out there some time back, but I believe it's since expired as I can't get any of the properties to display that.
Final point- the wording on the site says "per day", but it's really "per night". That is, if you stay 3D 2N you get 2 credits, not 3. And if you're making a stay, be sure to see if you can sign up for the Hilton Gold fast track promotion open to Visa Signature and Infinite cardholders. It may also help to get Hilton Silver status during the duration of your stay because you can earn 15% bonus points; you can get it for free with the Krisflyer Ascend AMEX.
By booking your stays through any of the links in this article, you support the running of The Milelion through an affiliate credit.