Two weeks ago,  DBS added Qantas Frequent Flyer as a new points transfer partner. Now, they're having a promotion where can get 20% more Qantas Points when you convert your DBS Points to Qantas Points.
No cap on bonus miles, points must be converted by 30 June 2019
DBS Points are convertible to Qantas Frequent Flyer points at a regular rate of 5,000 DBS Points to 10,000 Qantas Points.
With this promotion, you'll be eligible to receive a 20% bonus, or 12,000 Qantas Points.  There is no cap on the number of bonus miles you will receive in this transfer bonus promotion. You can view the terms and conditions of this promotion here.
There is a transfer fee of S$26.75 inclusive of GST per transfer and your points will be deposited within 7 working days.
You will not be receiving the bonus miles together with your points transfer; the bonus miles will be deposited into your Qantas Frequent Flyer account by the 14th of the following month of which you initiated your points transfer to Qantas.
Here's an example given by DBS:

Redeem Emirates First Class for less
With this 20% transfer bonus, this makes it slightly cheaper to secure that coveted Emirates First Class award ticket through the Qantas Frequent Flyer program. As I have covered in my previous post, Emirates First Class tickets cost an exorbitant number of miles to redeem and once you factor in the high taxes and fuel surcharges that are imposed on an Emirates award ticket it will really burn a hole in both your miles and cash pocket.
A one-way Emirates First Class redemption to London – Gatwick ordinarily costs 144,000 Qantas Points, which means you will have to transfer the equivalent of 150,000 Qantas Points from your DBS Points balance to make the redemption.
With the 20% transfer bonus, you will only need to transfer 120,000 Qantas Points (60,000 DBS Points) to snag an Emirates First Class ticket to Europe. In terms of the number of miles required, this will make an Emirates First Class redemption ticket cheaper by 5,000 miles as compared to a Singapore Airlines Suites ticket to Europe which comes in at 125,000 KrisFlyer miles. Not to mention it is relatively easier to snag an Emirates First Class ticket as compared to a Singapore Airlines Suites ticket.
Of course, the fuel surcharge and taxes on an Emirates First Class redemption are much higher compared to what Singapore Airlines charges but you will be able to experience the trip of a lifetime and tick an excellent First Class product off your bucket list. 
Ordinarily, you can fly Emirates First Class from Singapore all the way to Toronto for 192,000 Qantas Points and S$755 in taxes (ouch). With a 20% transfer bonus, you will only need to transfer 160,000 Qantas Points (80,000 DBS Points) instead of 200,000 Qantas Points (100,000 DBS Points) as you will receive a bonus of 32,000 Qantas Points which is just enough to redeem a Singapore – Toronto flight on Emirates First Class. That's a substantial savings of miles that you will need for your award ticket.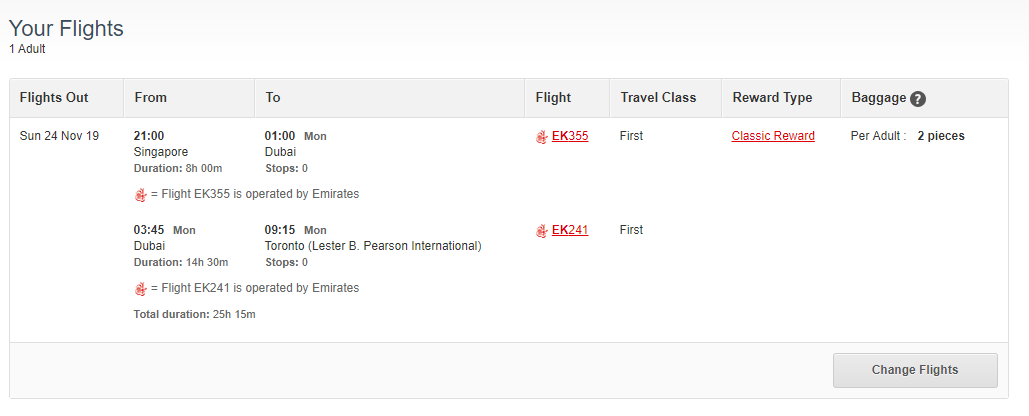 Concluding Thoughts
It's great to see DBS offering a no-cap transfer bonus. Sadly, all my DBS Points have been converted to KrisFlyer miles for an upcoming redemption. Else I would have gladly taken advantage of this transfer bonus to start planning a trip on Emirates First or even its Business Class.