Club 1 Hotels is a members-only site which offers wholesale pricing on hotel rooms, car rental, cruise, flight and activity bookings. I used Club 1 Hotels last year to book a vacation for my parents at the Park Hyatt Saigon, and ended up saving ~40% off the official site.
The rate was so good that I started worrying if it was legit, but the stay went off without a hitch. My guess is that Club 1 is is getting some substantial discounts on wholesale hotel rates and/or taking a short-term hit on earnings by forking over their commission to build their customer base.
Milelion readers can get a complimentary one year Club 1 membership that allows them to access these discounted rates. No credit card is required to join, and there's no auto-renewal so it's really a risk-free way of checking out the rates.
Get a complimentary Club 1 Hotels membership here
Earn KrisFlyer miles on Club 1 bookings
Singapore Airlines recently added Club 1 as an official KrisFlyer earning partner, and members can now earn KrisFlyer miles for buying Club 1 memberships or booking Club 1 stays.

The regular earn rate is 4 miles per US$1 spent on Club 1…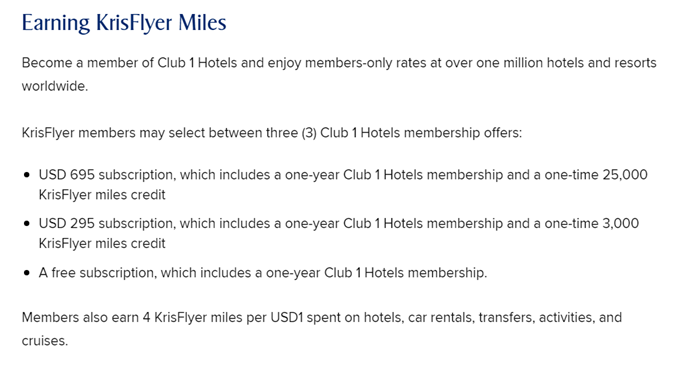 …but Milelion readers can use the code ML5 to earn 5 miles per US$1, 25% more than usual. This offer is valid until 1 October 1.59 p.m SGT.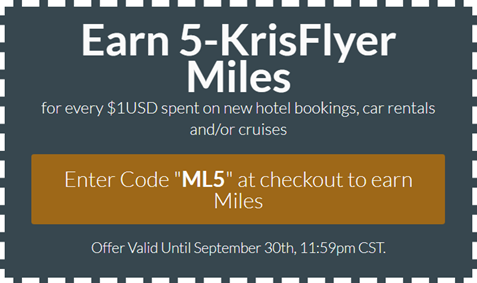 Remember to enter the ML5 code at the check out page to earn the enhanced rate.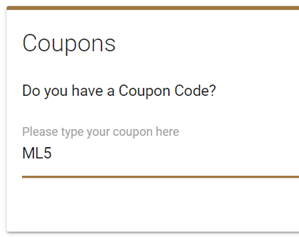 After that, you'll need to email your KrisFlyer membership number to [email protected] for them to process your miles.
Best Rate Guarantee
Should you find a cheaper rate elsewhere, you can file a BRG claim with Club 1, who will match the competing rate and give a further discount of:
US$10 per night at 3-star hotels, up to US$20
US$15 per night at 4-star hotels, up to US$45
US$20 per night at 5-star hotels, up to US$60 (or up to US$100 on reservations of US$900 or more)
The BRG applies provided you book at least 5 days in advance. Simply drop an email to [email protected] with screenshots and details about the cheaper rate. There is no need to have an existing booking with the competing website.
Although the fine print says that the BRG cannot be used with any other promotional offer, I've confirmed with Club 1 that you can stack the ML5 code with a BRG claim, should you find one.
Conclusion
Club 1 Hotel bookings do not earn loyalty points or elite status credit, but if you don't care about those or you're looking to stay in a non-chain property then this won't be an issue. Also note that because Club 1 Hotels is considered to be a "members-only portal", you won't be able to use the rates here to file a BRG with a hotel chain.
Club 1 Hotel bookings code as foreign currency hotel bookings, so you can use the following cards to earn the most miles:
OCBC 90N Card: 4 mpd, no cap
UOB Visa Signature: 4 mpd on the first S$2K per statement period, min S$1K spend
DBS Woman's World Card: 4 mpd on the first S$2K per month
BOC World Elite Mastercard: 3 mpd, no cap
SCB Visa Infinite: 3 mpd, provided you spend a minimum of S$2K in a month in total
DBS Altitude: 3 mpd on the first S$5K per month
---
Signing up for credit cards through any of the links in this article may generate a referral commission that supports the running of the site. Found this post useful? Subscribe to our Telegram Channel to get these posts pushed directly to your phone, or our newsletter (on the right of your screen) for the latest deals and hacks delivered to your inbox.