cover photo by kaddisudhi
note: all trip reports will be featured as posts for 2 weeks, after which they'll be archived under the trip reports section on the drop down menu
---
SQ 16 SIN-ICN
0925, 24th April 2015, Terminal 3
Cost: 68,000 miles + S$391.90 in taxes
We arrived at Terminal 3 at 0730 for a 0925 departure. SQ has a special check in area for First Class and Solitaire members. There is a separate driveway to pull up to at the start of  T3
The check in area is fancy but isn't really a place you want to spend longer than necessary. There are 4 or 5 dedicated counters to check in passengers, while the rest of your party can wait in the seating area. My father handled the formalities and I took the opportunity to take a few photos
There's no drinks or newspapers here- the idea is to expedite your check in as much as possible so you can get to the lounge. Our bags were checked through to SFO and we were in and out (in-n-out, haha) in less than 5 minutes.
Outside the SQ reception area is a dedicated passport control checkpoint for First/Solitaire passengers with 2 automated kiosks and 1 ICA officer. Photos aren't allowed here so I don't have any.
Past immigration and it was through to the lounge.
When it comes to lounges, SQ plays it pretty safe. Its lounges are never going to be up there with the crazy out of this world ones like Virgin Atlantic in London (free spa treatments, haircuts, full ala carte menu dining for all passengers) or Turkish Airlines in Istanbul (mini race car track, golf simulator, pool table, library, PS4) , but it's always going to be solid enough. It's a comfortable place to wait and there is a good food selection in the First class area.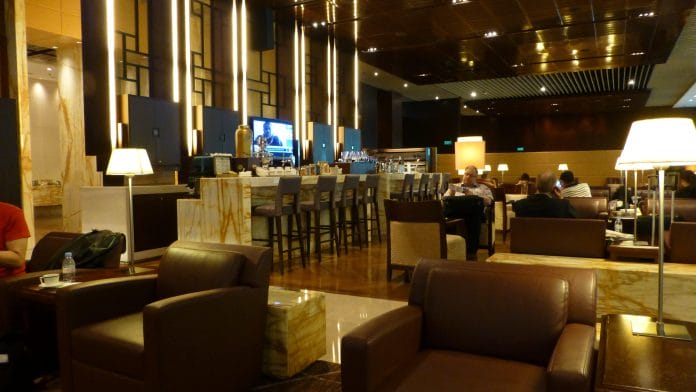 The other thing about the First class lounge is that there's actually a lounge within the lounge called The Private Room. This is only for Singapore Airlines First Class passengers (it used to be worse- only for First Class revenue passengers as opposed to award tickets, but thankfully they did away with that silly rule).
The implication is that the dining in the First class lounge is really intended for (1) Solitaire PPS Club members and (2) Star Alliance First Class partner airline passengers. You'd think this might limit their incentive to stock the good stuff here, and you're sort of right, but I found the selection to be good nonetheless.
My mum, dad and I had the following
The lounge has a few internet workstations, a slumber room and a good selection of newspapers. Again, there's no way this lounge can ever hope to be as hip as a Virgin Clubhouse, but it's probably more in line with SQ's image as a quietly dignified airline (not that there's anything undignified about free haircuts)
We boarded at 0900 onto SQ16, operated by 9W-SWA today. SWA was actually the first 777-300ERs to be delivered to SQ and unfortunately its age is showing (see photos below). SQ2 was recently switched to one of the 777WNs with the new first, business and economy products and I was hoping against hope that a last minute equipment swap would land us on SWU, SWV, SWW, SWY or SWZ, all of which have the new products, but alas.
As you can see from the photos above, the leather is starting to peel in several places, there are non-removable stains and the velcro has torn off in minor areas. But when you consider this product has been around since 2008, that's some significant mileage that has been put on it
I was greeted at the door but not escorted to my seat, unlike the previous few times I flew Business. Maybe they've changed the SOP. In any case it wasn't a big deal because I was in 12F, the mini cabin just after First Class. These are arguably the best seats on the 77W because they're quiet (provided you don't get a snorer next to you) and they don't seat babies in this section
The menu for the flight
I had already ordered the Book the Cook (BTC) service from SIN-ICN and for one meal from ICN-SFO.
Takeoff was uneventful and we were shortly at cruising altitude. Abut 30 minutes after the seatbelt sign went off the crew started with the satay service. SQ views this as a precursor to the main meal as opposed to part of it, so they don't dress the table before they serve it. I've always found that weird, given that the appetizer comes directly after the satay, so there's no reason why they shouldn't just dress the table at the onset. Anyway, photos-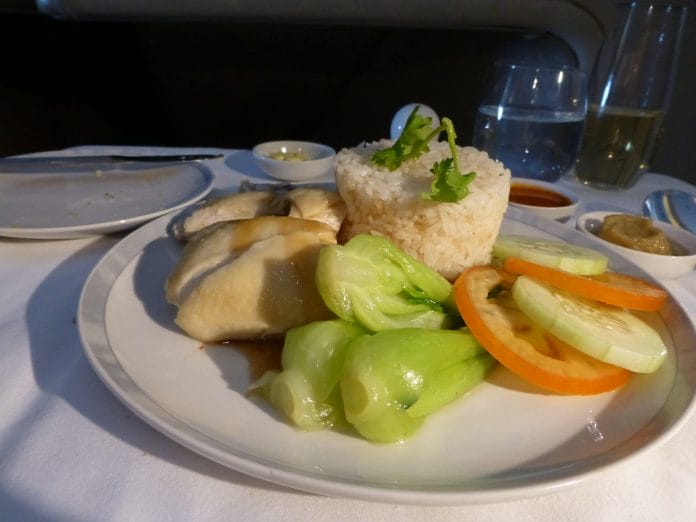 The chicken rice was surprisingly good. The last time I ordered chicken rice on BTC (maybe 6 years ago), the chicken had that microwave taste- the kind you get when it's been nuked to death. This time the chicken was soft and tender, even a little bloody (which I know is a big no no to Westerners but you need that kind of texture for chicken rice chicken). Rice was fragrant and the sauce was acceptable for something served on a plane. The garlic bread that went with the salad was excellent too- out of some stations the garlic bread is more like a burnt hockey puck which has been clearly over toasted, but this garlic bread was warm, moist and soft.
The meal was completed about 2 hours after take off, after which it was time to do some work. This flight unfortunately did not have wifi (it's always a bit of hit and miss with SQ- some of their 77Ws have wifi but others don't. I'm guessing because SWA was one of their first 77Ws they've not gotten around to installing wifi).
The movie selection was great but nothing in particular that I was dying to watch. They had the entire Hobbit series plus the Hunger Games- I ended up watching Memento again.
After 5.5 uneventful hours we landed at ICN. As with all flights going to the USA we had to alight and clear security again. One curious thing about ICN is that security took forever to clear, which was very surprising for an Asian airport where things normally go so smoothly. They were clearing maybe 1 person every 2 minutes at the checkpoint.
Through security and it was time to hit the lounge again. SQ has a dedicated lounge in ICN. The spread was decent for a satellite lounge-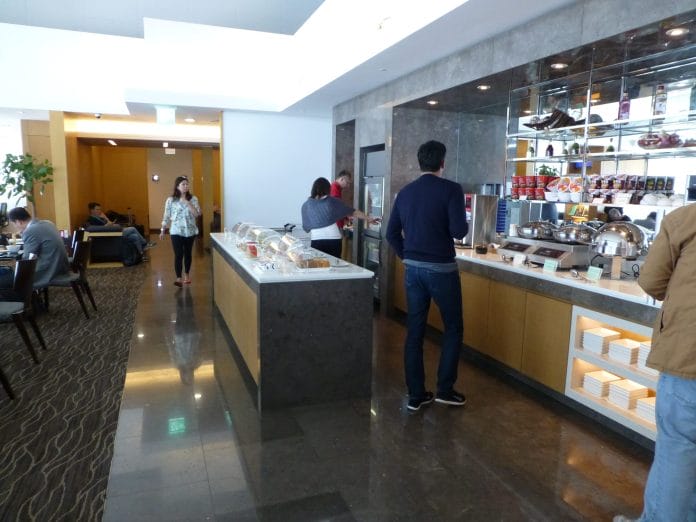 We re-boarded after an hour to a fresh crew and the flight left at 1750. With eastbound flights that stretch over the night, it's normal that the crew try and complete meal service asap so that passengers can sleep. I was surprised therefore that it took nearly 2 hours before they started serving the meal.
The BTC pork belly and jasmine rice was ridiculously good. The pork was tender and the rice was firm and fragrant. I've recently developed a new appreciation for rice from Korea and Japan, and I've decided to buy a bag and try making it myself when I get back
After the meal it was time to sleep
I don't know how to feel about the SQ business class bed. The sheets are Givenchy branded and it's full flat, but I'm more partial to the type of seat that reclines into a bed, as opposed to the kind you need to flip over. The reason is that when you can manually recline you can opt for any degree you want. I find sometimes that the airline's version of 180 degrees puts a lot of pressure on the lower back, so I prefer to sleep at maybe 170 degrees or so. In any case this time the bed just felt right and I slept like a baby.
I woke up half way through and saw that the crew had set up a snack station in the gallery
Satiated, I went back to bed again. 2.5 hours before landing I was awoken for breakfast
I deliberately went easy on breakfast because I was anticipating eating a double double In N Out upon landing.
After breakfast there was still around 90 minutes to landing, so I decided to snooze a bit more. A little while later I felt someone tapping at my arm. I awoke to this
They figured out it was my birthday and catered a cake out of ICN. That was really sweet of them and very unexpected. And they gave me a second bear.
It was a cheesecake and really quite good, but again I was saving my stomach for In N Out, so my dad and mum and I took one slice each and gave the rest to the crew.
We landed 1 hour ahead of time at SFO. Overall the flight was another solid SQ experience. SQ has announced plans to retro-fit its new cabin products into its existing 77W fleet, and I hope it does so sooner rather than later because the current product is showing its age. Still, it's amazing to think that SQ's last gen business class is still miles ahead of some competitor's current gen.