The Conrad Koh Samui is one of those rare confluences of myth and legend. As one of the crown jewels in the Hilton global portfolio, through-the-roof levels of hype on Flyertalk and rates upwards of $1,000 a night, it's an understatement to say I was ridiculously excited to have the opportunity to experience it firsthand. I even moved back my return flight on the last day just so we could spend a few more hours there
Oftentimes, when expectations are high, the only plausible outcome is disappointment. Not so in the case of the Conrad. Was it a flawless stay? No. Was it an incredible stay? Definitely.
You see, I am absolutely torn about the Conrad Koh Samui. The hard product is simply unbeatable. The villas are beautiful. The views are spectacular. The experience of floating in your private pool overlooking the sea and watching the sun disappear behind the horizon, seeing the stars come out and day turn to night infront of you is something very, very special. But it's the soft product, the service, where the Conrad stumbles.
We checked out from the Vana Belle around noon because we were eager to head over to the Conrad. The drive takes just under an hour, and given that we were only spending one night there we wanted to spend as much time there as possible.
The roads around Koh Samui are crowded within the towns (Chaweng, Lamai) but outside there was very little traffic. As you get closer to the Conrad they have clearly marked signs for the resort. You know you're on the right track when you turn off the main road onto a few smaller, ulu roads, and you know you're almost there when you head up a very steep hill (the entire resort is at the top of a large hill, which leads to some spectacular views as you'll soon see…)
I'd seen the photos many times online, but photos simply cannot do this view justice.
The check-in area, however, was crowded. I mean really crowded. The area couldn't have been intended to hold more than 10 people at a time. Yet  when we arrived there must easily have been 20+ people waiting to be carted off to their villas, along with the associated noise.
There was a strange disconnect between the welcome experience and the overall "come here to get away from it all" ethos of the property. First impressions count, and I suppose in a way this summed up our visit in a nutshell- although we were blown away by the views and the physical awesomeness of the property, the way the staff handled situations like this left much to be desired.
I soon figured out it was a simple throughput problem- people had been checked in but there simply weren't enough buggies to take them away fast enough. This lack of sufficient buggies would be a continuing issue throughout our stay- more on that later. Still, if I were the manager at check-in I'd be single-mindedly focused on directing as many people away from the check-in area as quickly as possible, or create some sort of nearby overflow area to avoid crowding. That said, it was quite clear the staff were stretched from the start. Our car sat in the driveway for a full 10 minutes before they managed to find someone to park it.
We were greeted by one of the associates who got the paperwork started. While we were waiting, we were served some cold drinks and another associate came over with a basket.
"Sir, because you're a Hilton Diamond member you get to play our lucky draw. We have several prizes you can win like a free ice cream, a drink at the bar or even a spa treatment voucher"
I've never considered myself a particularly lucky person, so I was 99% certain I was going to win the ice cream. Or that I'd reach into the basket and get a paper cut straight away. Imagine my surprise, then, when I fished out the following…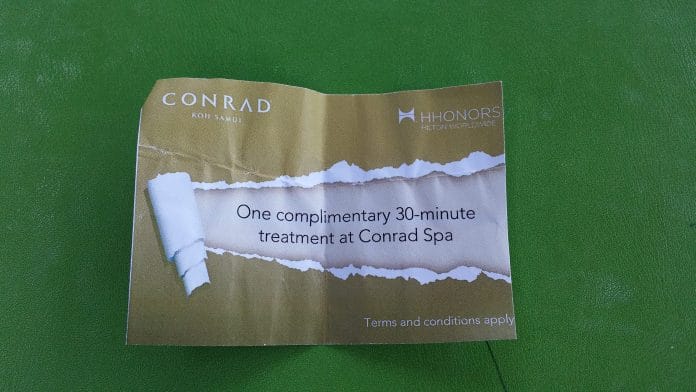 Given that 1 hour treatments at the Conrad Spa are upwards of $100, I think I did pretty good! Unfortunately, it was only for one person only.
Shortly after that the lady who was checking us in came over with our key and confirmed that we had villa 309 (I had done e-check in the night before and selected this particular villa based on feedback on the FT thread), an Oceanview Retreat Villa which was a one-class upgrade from the standard Oceanview Villa.
She told us that our room would be ready in 30 mins, and in the meantime they'd take us to the restaurant, Zest, to wait.
This was more than fair, given that we arrived at 1pm and official check in was 3pm. She also gave us 4 drink vouchers that we could use at Zest or Azure (the bar by the pool. I understand that Diamond members used to receive a complimentary spa treatment, but this has since been downgraded to drink vouchers instead)
After a further 10 minute wait, the buggy came for us and took us off to Zest, the all-day dining restaurant at the Conrad Koh Samui.
Zest overlooks the ocean with stunning views, but since it was easily 38 degrees outside we opted to sit indoors.
We hadn't had lunch yet so decided to give the food here a try.  Zest has an extensive food menu featuring both Thai and Western cuisine. No prizes for guessing which one costs more…
I want to point out that the prices were, in the grand scheme of things, quite reasonable for a 5 star resort. I was worrying about paying $50 for a dish, but as long as you stick to the Thai food you'll be ok (300THB is a lot for fried rice, but again, consider where you are)
The waitress came over to take  our food orders (Seafood fried rice for me, softshell crab curry for her) and asked if we'd like drinks. We wanted to save our drinks vouchers for lounging by the pool, and I didn't fancy paying big money for a coke so I just remarked I didn't need anything and I'd just take my own water.
"Sir, I need to inform you that you cannot drink your outside water here"
I was very taken aback by her abruptness, but was willing to write that off as a language barrier issue- maybe it didn't come out the way she wanted it to. Still, considering the amount people pay to stay here, it came off as awfully small-minded and petty to say something like that…
Just as the food arrived, someone from reception arrived to tell us that our villa was ready. We were really eager to see it, so we asked the waitress if the food could be sent to our room instead. She furrowed her brow and said something along the lines of "it would be better if you could take the food here first"
Again, perhaps it was a communication issue. But surely the first rule of the luxury hospitality business is that the only right answer to a customer request is "certainly!" I mean, how hard would it have been to put the food on a tray and send it after us? I didn't want to make a fuss about it so we agreed to take our lunch there first, but it was a strange feeling to have a simple request like that rebuffed.
As for the food- was it the best thai food I ever had? No. Was it serviceable? Definitely. We ended up eating at the restaurant two more times during our stay- once more in person and once through room service.
After lunch, we called for the buggy. And waited. And waited. 15 minutes later, the buggy showed up. As it turned out, Villa 309 was literally down the road from Zest, so close that in the mornings we decided to walk to Zest for breakfast rather than wait for the buggy.
The buggy pulled up to 309, and we stepped into our magnificent villa. First view:
The bed was very soft (something I like but know others might not), yet seemed somewhat smaller than the one in the Vana Belle
The bathroom was accessed through a sliding wooden door and was just as large as the main room
A huge sunken tub afforded great sea views
Sadly, the toilet did not have a bidet, which I thought a bit surprising given how many Japanese tourists I saw on the property
We had pre-requested the Shanghai Tang toiletries kit for our room (you can do this online and choose from 3 brands- Shangai Tang, Aromatherapy Associates and Tara Smith Vegan Healthcare) and I was pleased to note they were there waiting for us. I'm more of a Head and Shoulders man myself, but I am told that these Shanghai Tang toiletries were of the highest quality.
A rain shower with more Aromatherapy Associates toiletries available in a pump dispenser
And the main attraction, the outdoor infinity pool. This was a sizable pool that you could do laps in
2 deck chairs, and thankfully an umbrella to shield us from the merciless sun
And another outdoor seating area next to it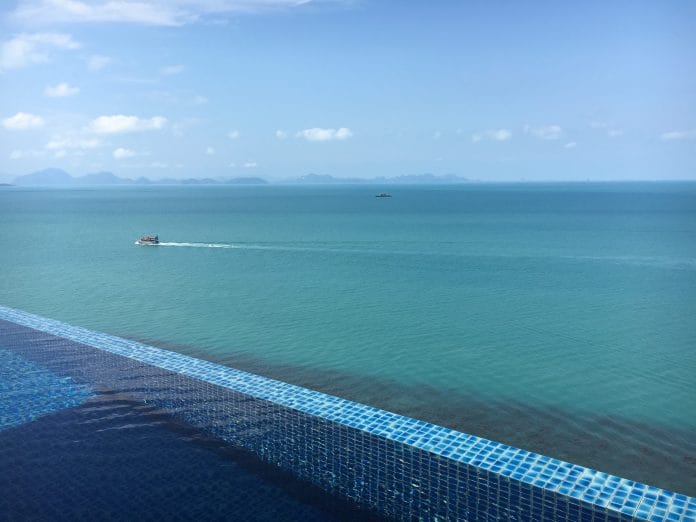 Our room had a direct view of the 5 islands
Back to the room- there were welcome fruits on the table and some macrons. Nowhere as good as the Vana Belle's welcome spread, it must be said.
There was also an extensive activity list, but the only thing that appealed to me was the RC boat racing. I was nagged to do yoga, but the prospect of getting up at 7 in the morning to put myself in poses that the body was never designed to do was somewhat unappealing.
r
In a corner of the room was a games box (I got excited when the associate told me there was a "games box" in the room, thinking she meant PS4 or Xbox, but the selection was decidedly more analogue)
The  main difference between the Oceanview "Retreat" villas and the regular Oceanview villas is that you get an iPad and a Bose sound system. We ended up using neither, because the iPad's battery was completely flat upon arrival (it really didn't bother us because we had no use for the iPad, but it's one of those small details you'd think they'd remember to check as part of the room prep)
The requisite pillow menu…
And the minibar, supplemented with some of our own goodies (the flowers and cookies brought over from the Vana Belle)
Because it was still blazing hot outside, we decided to drive out for a massage first. We took a buggy back to the reception and I asked the associate if I could get my car. She came out a few moments later with the key in hand which she passed to me. I was confused, since I had no idea where the car was parked (having valet parked it). I said something like "errrr" to which she said "Oh, you want us to bring the car to you?" Again, a very weird moment because I can't think of what else I could have wanted.
Anyway, car retrieved, we headed out of the Conrad. If you want to avoid the steep prices at the Conrad Spa, one good option is to make the 5 minute drive to the Elements Spa Koh Samui (I believe they offer car pickup service for free as well). The prices weren't Bangkok cheap, but it was about 900 THB for an aromatherapy massage for 1 hour. Since we were the only people there, I think they extended the treatment to 80 minutes for no charge. It was a great little place, the only problem was the hut where the treatment takes place is semi open air, so we got bitten by mosquitoes a few times (citronella repellent does. not. work (well the citronella coils and candles might, but spraying yourself with the oil just makes you smell funny)
Back to the Conrad! When we drove up to the entrance the staff greeted us and asked us if we were checking in. Again, this wasn't a big deal, but it goes down to attention to detail- and since Conrad Koh Samui has a literal "face book" of all the guests (I caught a glimpse of it during breakfast) it was a bit disappointing.
The wait for the buggy this time was just over 16 minutes, I timed it. It was clear the staff were quite stressed over the buggy situation, I witnessed 2 staff members have a very loud disagreement about who was coordinating what, and although it lasted less than a minute it was rather unprofessional to do that infront of the guests.
We headed down to the beach area to see what Conrad has laid out there. The beach isn't much to shout about- it's mostly rocky and definitely not one of the attractions of the resort. But to Conrad's credit, they've invested in making the beach a bit nicer, and have snorkeling/kayaking equipment available to rent.
There are 2 hammocks that, depending on tide, could either be above the water or partially submerged
There were also 2 private wooden platforms with deck chairs on them. Nice to lie on, but there really wasn't much reason to linger.
It was 5:45pm by this time so we hurried back to the room because we wanted to watch the sunset from our villa pool.
We all have special moments in our lives, things we'll remember for a very long time. And I firmly believe that watching the sunset from Villa 309 at the Conrad Koh Samui, on a beautiful clear day, floating in my private pool, with a glass of champagne will be one of mine.
I'll let the photos do the talking.
It was magical. We could see the sun moving slowly behind the island in the distance. We could see boats sail by in the distance. It was completely quiet.
We popped open a bottle of champagne (if anyone wants to buy champagne in Singapore you should look out for this store in One Raffles Place called Bottles and Bottles which sells it real cheap. A bottle of GH Mumm is like $60-65 ish, and I believe Moet and Chandon was just under $60. Champagne in Thailand is ridiculously expensive- the same bottle of Moet and Chandon we saw in Singapore was $150+ in the supermarket, so BYOB), and toasted as the sun set.
And as day turned to night we switched on Spotify and just floated in the pool (the water was very warm from the hot day). There is significantly less light pollution around the Conrad Koh Samui than at the Vana Belle, and when all the lights were off we could see very clearly the multitude of stars in the sky.
By this point we had drunk so much champagne it seemed too risky to drive out to dinner (and we were also very lazy), so we filled up the tub and ordered room service.
I didn't get any photos of the food because I was too high contemplating how all the starlight we were seeing was not the present but the past, but it was very good. I had the stir fried rice noodles with pork and it was delicious. We ended up watching some survivalist documentary on the Nature channel. I vaguely remember crawling into bed just before 1130pm (lightweight)
The next morning we had breakfast at Zest. The spread wasn't the largest I'd ever seen (I think the W Sentosa Cove might take the prize for htat), but the food was good quality and there were these delicious soup noodles available.
What was slightly annoying was that during breakfast the activities director (I assume she was, I never found out her official title) was going from table to table asking people if they were interested in doing any tours that day. I'm guessing she gets a commission out of it, but it was slightly unclassy to be doing that at a place like the Conrad. I understand that this might be an example of being proactive, but yesterday at reception we told her that we really weren't interested in anything other than lazing around.
We had originally contemplated taking the speedboat to an island nearby which had a real beach, but the photos didn't look too inspiring so we gave it a miss.
It was time to use the spa voucher. Yes, I ended up using it. And before anyone accuses me of being ungentlemanly, my girlfriend absolutely insisted I take it as thanks for organising the trip.
The Spa is located due West of Zest (the de facto centre of the Conrad Koh Samui)
I was greeted and after completing the standard paperwork was led to the treatment room
The treatment room was fancy. So naturally, I forgot to snap a photo.
In lieu of that, please enjoy this photo of the spa products in the lobby.
The massage was great and probably the fanciest foot massage I ever had. It's not like those Bangkok type foot massages where you sit in a recliner, here you lie flat on a nice long table for the treatment. And you get the ocean view right infront of you. What's there not to like?
After I had finished my foot massage they called for the buggy. 20 minutes later and the buggy had not arrived. The hostess suggested that it might be faster if I walk, and I was so frustrated at this point I was about to step out and start doing so, when the buggy came.
The rest of the morning was spent floating on our pizza in the main pool and using our drinks vouchers
The pool was really nice, but given that all villas have their own there weren't a lot of people hanging out here (there was a Korean dude wearing a life jacket in the pool if that counts for anything…)
Because we wanted to have lunch before we left for a 5pm flight, we asked the pool people if they could deflate the Pizza float and send it to our room. "No problem", we were told.
We went back to the room and spent about an hour freshening up and packing. By the time we were ready to head out for lunch- no pizza float I asked called guest services again and told them we were heading out for lunch, so if they could just leave the deflated float outside our room that'd be great. "No problem," they said
We returned from lunch an hour later- no float. It was now 2 hours since we had asked them to deflate the float and we had to head out very shortly to the airport and I was getting worried.
I've spoken in my Vana Belle report about "anticipating needs", and I was curious to see if a place like the Conrad would perform as well. At the Vana Belle, when we requested assistance with our bags to check out, our car was waiting for us at reception when the buggy reached, air-con on to cool it down, with 2 bottles of chilled water and 2 cold towels inside. That was very impressive.
Not so at the Conrad- when we pulled up to reception all we saw was the same usual crowd of people waiting to be checked in, similar to yesterday.
At check out, I asked again about the float, and fortunately this time I managed to speak to someone a bit more senior (I forgot her name, but she was Thai and spoke English with a crisp British accent). She made a call, and our float was brought up and bundled into our car after which we immediately drove off. (The rush was unnecessary, as we discovered when we reached the airport, because our Bangkokair flight was delayed 1 hour but it did make our departure a bit more frantic than I would have liked)
So, Conrad Koh Samui. I would return in a heartbeat, in spite of the indifferent service. The views are just so majestic, the experience of seeing the sunset so spectacular that it makes coming back a no-brainer.
The good thing is that service is a somewhat easier fix than hardware. After departing I reached out to the GM with a recount of my experience- he put me in touch with his Director of Operations, and we're going to have a chat about how they can rectify some of the issues I identified.
If you're able to scrape together the points or the money to go to the Conrad Koh Samui, you absolutely should. If they work out their service issues, this can easily be one of the best properties in the world.