Hello everyone from New York City and apologies for the lack of updates! This trip should be a rich source of material for an excellent trip report- here's what's coming you way shortly/eventually
---
Singapore Airlines SilverKris Lounge, Singapore
Singapore Airlines Business Class SIN-BKK
Thai Airways First Class Lounge & Spa, BKK
Thai Airways First Class BKK-HND
ANA First Class Lounge, NRT
ANA First Class HND-ORD
United Club ORD
United Economy ORD-EWR
Sheraton New York Times Square
SPG Luxury Suite @ The US Open
Element Times Square West
Virgin Atlantic Clubhouse, JFK
Singapore Airlines Suites JFK-FRA
Lufthansa Senator Lounge FRA
Singapore Airlines Suites FRA-SIN
---
To tide you over, I wanted to give you a sneak preview of the SPG Luxury Suite at the US Open.
I wrote about how SPG Moments provides you with certain redemption opportunities that money can't buy, and their sponsorship of the US Open allows them to offer 2 X tickets to their luxury suite for redemption.
These tickets used to cost 25,000 a pair at the 2015 US Open, which was just ridiculous value (given that regular seats in the same area as the corporate box cost about US$500 each), but this year that rate was jacked up to 50,000 a pair.
Although it was painful to part with so many SPG points, I reasoned that it was totally worth it to get the chance to have a virgin US Open experience like none other. Besides, my dad was travelling with me and I thought it'd be a nice experience to give the man who started me on tennis.
So  50,000 Starpoints and 4 weeks later, the tickets came in the mail. I was somewhat underwhelmed by the packaging as you'd think for Starpoints worth about US$1,100, you'd get some nice collaterals or something.
Instead, it was just a flimsy paper folder with an instruction sheet and the tickets inside. Come on guys, branding opportunity!
SPG occupies Suite 137 at the Arthur Ashe stadium. When we got there at 7pm (the day session had run over) to see a long queue of SPG devotees lined up.
The Suite is medium sized, with its own bar and loo facilities. I was told by the receptionist they had 20 guests that night, each with a +1. So 40 people, spending a total of 1 million Starpoints to be in that room that evening. 1 million Starpoints incidentally would get you more than 2 weeks at the uberluxe W Retreat and Spa at the Maldives (with their ongoing 35% off redemption promotion)
The Suite had a limited bar selection. Alcohol wise, red and white wines were available, as was a premix of the US Open's signature drink the Honey Deuce, but nothing sparkling. Again, for 50,000 points they couldn't have got a cheap California Brut at least? What is tennis without bubbles?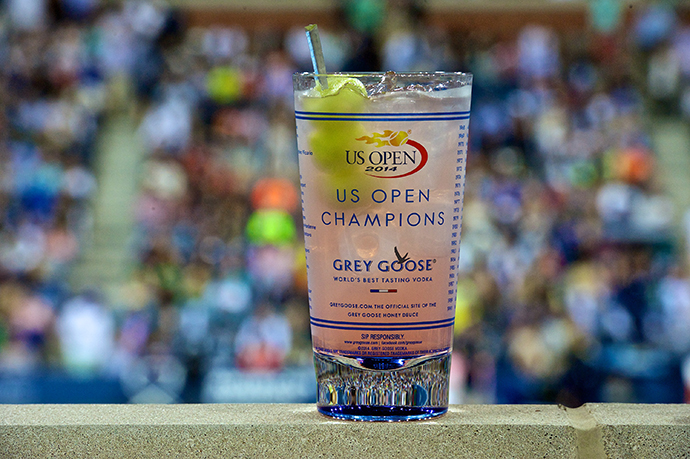 In the center of the room is this living room style arrangement with chips, nuts and popcorn in the middle.
There was an excellent full buffet with items like burgers, lobster rolls, an entire poached salmon fillet, grilled chicken, stewed beef. Full report with more photos to follow of course
Special mention for this tray of cookies so amazing I kept coming back for more, if only to console myself that I would never attain the lofty heights of an NRTP 5.0 player.
And there was a little corner with SPG marketing collaterals, like US Open tennis ball dog toys, sunglasses and lipbalm.
The view? Amazing, really. You're just above the first tier of seats in the 3 ring layout of Arthur Ashe. This arguably gives you a slightly better view than the first tier because you're slightly higher. You could see the players and hear the action really clearly.
That's Novak Djokovic in the background (and my receding hairline in the foreground), shortly before he dismantled the hapless Kyle Edmund 6-2 6-1 6-4. The result was never really in doubt, and I think a lot of people got bored by the time of the third set. A bunch of rather sloshed Americans were in the living room by the time of the third set, watching American football on TV and cheering loudly. Really guys? It's not even a real sport.
---
That's all for now. Meanwhile everyone, stay safe and keep sending me tips on any major developments on credit cards in Singapore so I can publish something and pretend to be on top of it.
What's that, you say? You need proof that I still love you? Ok then how about a giveaway. Leave a comment below with your favourite NY experience (or for those of you who haven't visited NY yet, something you'd like to do there. Please include your email address. Closing date for entries- Friday 12pm Eastern Time New York.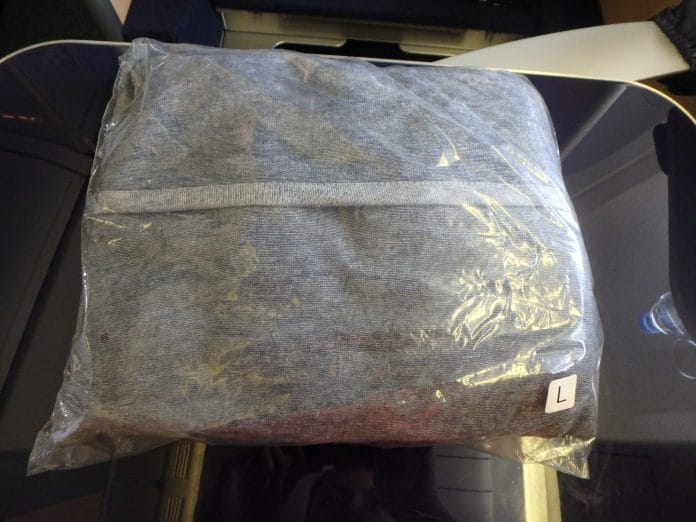 Two randomly selected readers will win a set of ANA First Class PJs each! ANA delivered once more in First Class with an amazing inflight experience, and I'm going to tell you all about that soon.
Sigh, Rafa.