I wrote in April about how I'm heading to the USA in September to watch the US Open and revisit New York. I thought it'd be a good time to share a bit more about how that trip is shaping up and how you can plan a similar one if you're into tennis the way I am.
The Flights
To recap: I used 99,000 Lifemiles and US$92 of fees to  book a SIN-BKK-HND-NRT-ORD first class ticket with SQ, TG and ANA, and then a separate ORD-EWR ticket on United. This routing will let me experience Thai Airway's first class product on its 747 as well as its first class spa in Bangkok, which I'm really looking forward to. It'll also be a chance to try ANA's excellent first class product again.
If you're going
I imagine you're not keen on joining in with the fiasco that is SQ's waitlist, so I'm going to talk about some other options here.
I see on Lifemiles that award seats are available to JFK (albeit on weekdays) during this period. You might want to play around with routings to EWR, BOS, ORD, perhaps even as far afield as IAH and see whether you can get a cheap domestic flight from there.
You might also want to try booking with Cathay, which charges much lower surcharges on award tickets than SQ.  They don't require miles in your account to waitlist so it's worth throwing your hat in anyway.
The Hotels
In New York I'll be staying at the Sheraton New York Time Square hotel, a very average Sheraton property, for 5 nights and 48,000 points (12,000 points a night, 5th night free with SPG)  It does have a club lounge, but it's the typical stingy US-based approach to lounges with a very small selection of food and alcohol for sale.
You can't beat the location though, it's right smack in the middle of Manhattan and near the Theater District. And although I've done all the touristy things in NY to death already, it's always good to be central.
Because the typical rate for a 4 Star hotel is upwards of US$300 during this US Open period, I'd say I've got a pretty good deal here. I briefly considered staying somewhere closer to the US Open in Flushing (Queens) but decided that the better quality of F&B in Manhattan and my greater familiarity with that area made it a safer bet. Also, it wasn't worth losing out on the 5th night free by breaking up the stays.
If you're going

If you have no hotel points and  you're looking for a cheap deal you might be a bit out of luck now given how close we are to the actual event, but there's still hope yet! Try doing a blind bid with Hotwire and Priceline. Use the tricks I wrote about for Priceline to feel out the market, edging your bid up a bit at a time without triggering the time penalty (if none of that makes sense to you, read the article!). You might also want to consider staying outside of Manhattan, where hotel rates tend to be much lower (stay near a subway, and use common sense. Brooklyn is generally ok but Queens might be a bit more hairy. Don't get me started on the Bronx).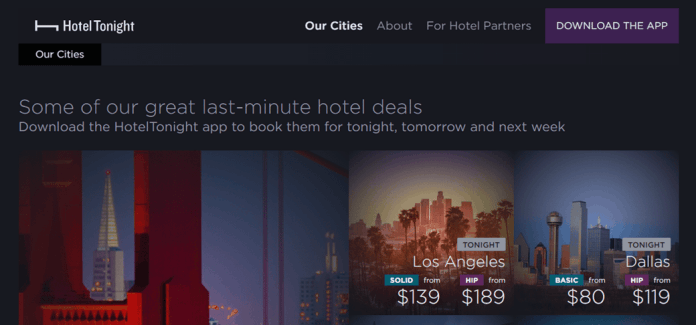 If you're a real risk taker, and I mean real risk taker, try a last minute OTA like HotelTonight. This app gives you last minute deals on hotels for tonight, the day after or 7 days from now. Presumably the best prices will be for tonight, and anecdotally I'm seeing hotels in Manhattan available for as low as S$190 (I'm assuming the rates will go up as September approaches though). If you use my sign up code you get S$27 of credit, with a minimum spend of S$160.
You could also try Booking Now (by Booking.com), which has a much bigger selection of hotels. The prices I saw here were generally below US$200 around the 57th Street area.
The Tennis
SPG is a sponsor of the US Open and as such offers special experiences that money can't buy on its SPG Moments site. I'm normally a big proponent of the mantra that SPG points should only be spent on hotels, but this is one major exception to the rule.
From reading around, I understood that SPG offers several different packages for the US Open. I'd been refreshing the site daily since June waiting for the packages to go live. They eventually did go on sale, but unfortunately the price was double what it was the year before. Instead of 25,000 for a pair of tickets to the SPG Luxury suite, it was 50,000. I agonized long and hard (10 hours) about this decision- I really valued those 50,000 Starpoints (the experts tell me those are worth more than $1K USD) but I knew that I'd never be able to afford luxury suite tickets by myself.
This was exactly the value vs access argument I talked about a long time ago when I outlined the value of travel hacking. In the end I went with access, knowing that I'd be able to share an amazing experience with my dad that money couldn't buy.
I've read OMMAT's report on the SPG luxury suite from the 2015 US Open and now I'm super excited to experience it for myself. (off topic: if anyone out there is NTRP 4.0+ and fancies a match please let me know in the comments. Always great to meet a reader!)
Otherwise, I thought the Louis Armstrong courtside seats were phenomenal value (15,000 for 2 tickets, when courtside seats usually start at US$200-300 plus for one ticket) but stupidly I'd bought my tickets already in a fit of kiasuism.
The Arthur Ashe tickets, well, I was a bit more indifferent. For 55,000 Starpoints you'd get seats in the Luxury Suite which, granted, may not be as good as courtside, but still offer a great view plus catering.
There are a couple of other unique experiences that you can bid for, like getting breakfast in the players' dining room
Or playing an actual tennis game against some Pro-Am (former champions) pairs. I assume they have to let you win some points if you're going to be paying upwards of 100,000 SPG points for the experience…
If you're going
I believe you can still get grounds passes for the first week, which represent good value because they give you access to all the courts except Arthur Ashe. You can also go for the qualifying rounds which are absolutely free. Yes, you won't see the big names, but I assure you that the quality of tennis you see will be much higher than anything you've ever seen in Singapore.
Bonus Material
I was only going to be able to catch the second week of the US Open because of work commitments in the first week, but I had two weeks in the States in total. That posed the question- what to do in the second week?
My first thought was to head across to the West Coast for more of the same old, same old, but then I realised- what about DC? I could finally put all that House of Cards trivia to good use.
The competition on the New York DC route means that you can find return airfare for just under S$200, which I thought was an ok enough deal. I could also take the train, but the journey time is about 3.5 hours.
In Washington DC I had another issue- should I spend 40,000 points for my 5 night stay at the Le Meridien Arlington, or go with something more economical like AirBnB? My SPG points account had already taken a huge beating from that 50,000 US Open redemption plus 48,000 points for the NY stay.
I decided to go with AirBnB and I was pleasantly surprised to find some very good, cheap options for private rooms which worked out to be ~S$100 a night including all fees and surcharges. When I was booking, I realise I had quite a bit of credit from Milelion readers who had used my link to sign up  (earning $33 of credit for themselves too!). Thank you everyone, I really appreciate it.
Although the Singapore bank- AirBnB promotions have since dried up, there are still a few tricks you can take advantage of. For example, add your work email to AirBnB and get a $50 off your next AirBnB stay.
Work email here is really loosely defined, most people online say any non Gmail/Yahoo/etc mail address will work. You can click on your existing reservation to change it to a business stay (see below)
There's of course plenty to do in DC, like visiting all the monuments and the Smithsonian museums. You can also (surprisingly) book tours of the Pentagon (fun fact: Singaporeans cannot book tours to the DMZ in Korea because apparently we are too close to China that we pose a security risk. I'm cereal), but not the White House. As per the White Houses' official website, foreigners can contact their embassy to get access, but the SG embassy in Washington DC refutes this.
As for going home, I decided it was time to burn some Krisflyer miles. I later realised that it takes the same number of miles (93,500 for First) to fly JFK-FRA-SIN as it does JFK-FRA-SIN-BKK, so I booked the latter for the heck of it. Even though SIN-BKK doesn't have First class, you're allowed to access The Private Room when arriving in First class so long as you have an onwards connecting flight on Singapore Airlines. I'll also have the chance to revisit the very excellent Virgin Atlantic Clubhouse in JFK which I last visited in 2004. I'm very keen to review that too (you can get a haircut in the lounge, apparently)
The only issue now is that I'm in waitlist purgatory for the JFK-FRA-SIN leg. Nothing a lot of persistent calling can't fix though. I hope.
If anyone is heading to the US Open this year, please connect with me. Would be awesome to meet some readers on the road!