It just came out in the news today that DBS is intending to acquire ANZ's wealth and retail banking assets in Singapore, Hong Kong, China, Taiwan and Indonesia. ANZ intends to focus more on institutional banking within Asia going forward.
If ANZ does exit the retail banking space, it does raise the question as to what happens to its consumer credit cards.
All along I've taken the view that the only ANZ card worth having (from a miles earning point of view) is the ANZ Visa Signature Travel Card.
Although the Travel Card still offers one of the best local miles earning rates (1.4 miles per $1), it suffers from a poor overseas earning rate (you don't get any bonus points unless you spend in Australia/NZ)
Furthermore, the Travel Card also used to have one of the most generous lounge access policies, but that was gutted recently when they stopped partnering with Veloce and switched to DragonPass. You now need to spend $10,000 per calendar quarter just to get 2 DragonPass lounge vouchers. That is ridiculously stingy.
Even longer ago the Travel Card used to have complimentary airport limo with a minimum $1,500 spend (on anything) within 30 days of flying. That was also killed at some point in the past.
So even if the ANZ Travel Card does go away I don't think it will be a particularly big loss to the miles community in Singapore. The UOB PRVI Miles is an entirely better proposition than the Travel Card in my opinion.
I currently have about 12,000 miles in my ANZ Travel Card and may be forced to cash out soon. For a brief moment I thought DBS might fold the Travel Card into its Altitude and offer to convert Travel$ into DBS Points but the more I think about that the less likely it sounds- it would be an IT nightmare and DBS doesn't have much incentive to do so.
ANZ has a minimum conversion block of 5,000 miles, so I need to earn an additional 3,000 if I don't want to waste 2,000.  So my goal will be to earn up to the next block asap and then transfer out.
The little twist in the tale here is that ANZ has just started offering a 25,000 mile sign up bonus, way superior to the measly 2,000 mile bonus they used to offer.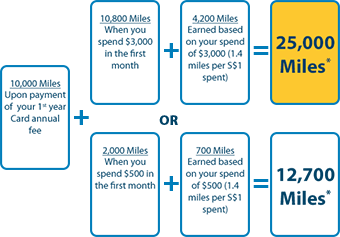 Granted, the new offer requires you to spend $3,000 and pay the first year annual fee, but all in all the offer is still better than the old one which required $500 spending. The argument goes- why would they be going on a customer acquisition spree if they're closing up shop?
I don't know what the answer is. Maybe they did it to get a few more customers onto the books and boost their sale value. Maybe the credit card team really didn't know about the impending sale. Maybe DBS will retain the ANZ brand and continue to run its operations separately, in which case this whole article is irrelevant.
What I do know is that if you own an ANZ Travel card, you should take a quick glance at what your Travel$ balance stands at and plan accordingly, because I think the days of ANZ cards might be numbered.