Update: 13 Dec- thank you to everyone who has sent in photos so far! The teochew menu will still be running for a while, so if you've got photos of the economy class offerings or other items not covered yet (bak chor mee anyone) please send them on over to admin at milelion.com with your culinary criticism. Would love to post them
SQ recently announced that they were doing a special teochew menu across all cabins for the next 4 months. I remember they did a special Peranakan menu for SG50 so I was interested to see what they had lined up this time round.
As per the press release-
"Teochew cuisine is known for its emphasis on the freshness and natural flavours of the ingredients, and cooking methods often involve steaming, poaching, double boiling and slow braising to deliver a delicate yet refined dining experience," said SIA in a statement announcing the launch of the dishes on Monday.

"Also, it's a lot cheaper to serve rice porridge and yam paste in First Class than lobster"
I may have embellished that quote a bit, but hey, someone had to say it.
I kid, I kid. It's always good to see airlines trying to innovate where food is concerned, and if you're flying in Suites/Business there's nothing to stop you from BTC-ing your usual lobster.
But as I was pawing through the glossy publicity photos I started wondering what the food looked like IRL. I mean, at the end of the day it's still airline food. It's cooked en masse, blast chilled and sits around for hours before being reheated.
That got me thinking- could we, among all of us try to snap photos of the dishes in real life and post them up here? It'd be interesting if nothing else.
So I need your help here readers- if you're taking an SQ flight this month in whatever cabin class please snap a few photos and send them over! I will progressively add them below so we can see how they measure up to the publicity photos.
First Class/ Suites
Cold crab, pig trotter jelly
Steamed pomfret and or nee (yam paste)
Here's the a menu from a recent Suites flight to Auckland.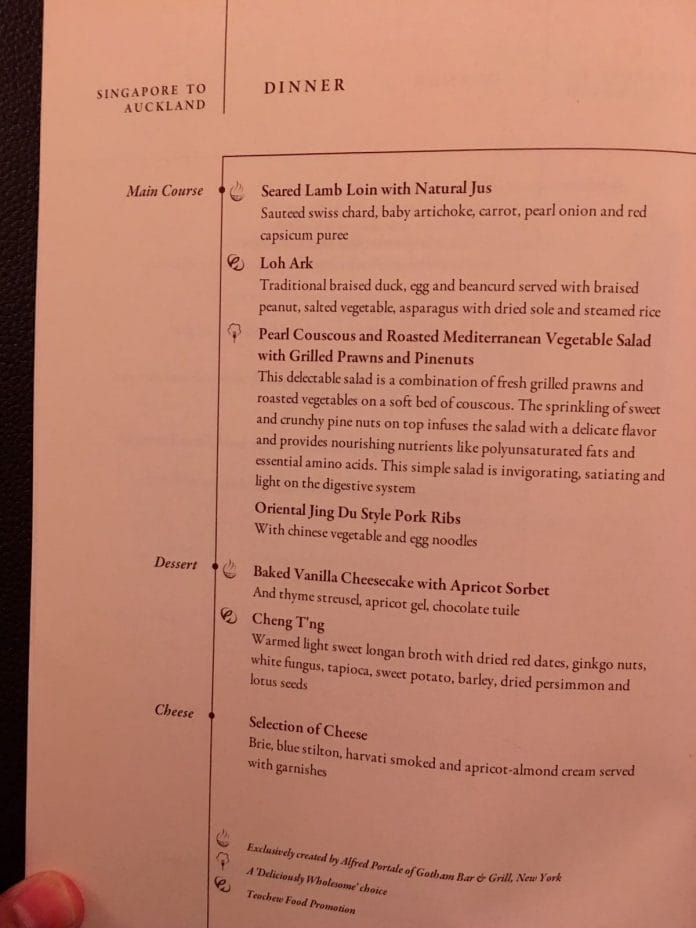 Loh Ark- traditional braised duck, egg and beancurd served with braised peanut, salted vegetable, asparagus with dried sole and steamed rice
To be honest, the Loh Ark looks suspiciously familiar to the version served in Economy Class (see below)
There are still Teochew options available at breakfast!
Teochew Beef Noodle Soup
As some bonus material, Damien (one of our guestwriters) is currently in a state of drunken bliss in Suites en route to NZ. But before he passed out in a Krug fuelled oblivion he was kind enough to send me these snaps from The Private Room.
Here's the Teochew menu on offer there
And the fish maw soup. As per Damien- The fish maw soup is restaurant quality. Flavourful with scallops and crab flavored infused well and it's thick
And the kway chap. As per Damien- Kway chup is light version compared to hawker fare but decent
And the desert- tau suan jelly
Business Class
Here's the menu of items being served currently (thanks Alvin)
Regardless of what you order for your main, everyone gets this teochew appetizer of cold prawns with chicken jelly.
As for the mains-
Teochew porridge served with braised duck and salted egg
The IRL version comes to us courtesy of CS from a recent SIN-HKG flight.
Comments- "Teochew porridge is watery but this one is terrible. It really tasted like they dumped a bowl of overnight cooked rice into a bowl of hot water. Then serve. Duck was tough, fermented tofu was ok. The chap chye was horrid. Luckily the chili was good. I think that was the only good thing abt it. I don't like salted egg so I barely touched it."
More of the same from Naserah. I got to be honest guys, I'm not feeling it.
Bak chor mee and fried png kueh
Still pending. Any takers?
Premium Economy/ Economy Class
I just flew to Perth and managed to sample the Teochew offerings on the flight out. They were serving the duck on this leg, described as
Braised duck on rice, served with egg, beancurd and preserved vegetables;
Photo looks awesome, if a bit of a strange pairing. Orange juice with your braised duck? That said, the veggies look bright and colorful, the rice fluffy, the duck and egg posing nicely for the camera.
And here's real life
Yeah. Kind of like seeing your girlfriend without makeup. Taste wise it wasn't terrible, the duck was a bit dry even with the sauce but I challenge you to take naturally dry meat and do any better in the confines of an aircraft cabin.
The saving grace of the dish was the chili sauce that accompanied it. It reminded me of chicken rice chili actually. It packed a surprising punch (considering the international clientele the dish needs to be fed to) and I pretty much finished all of it.
Stir-fried pork with shacha sauce on rice, served with vegetables.
Anyone tried this one yet?
Remember, you can send all photos to [email protected]
Happy dining!