Until recently the DBS LiveFresh was one of the more interesting cards out there because it allowed you to earn both points and cashback, thereby appeasing people on both sides of the aisle (although we all know that it is a truth, universally acknowledged, that anyone who prefers cashback to miles is loopy).
With the DBS LiveFresh, you earned 3X DBS points (or 1.2 mpd)  + 5% cashback (this 5% sometimes went up for limited time promotions) on online transactions. I use the past tense because effective 1 December, DBS will convert the LiveFresh card to a cashback-only card and cease offering DBS points.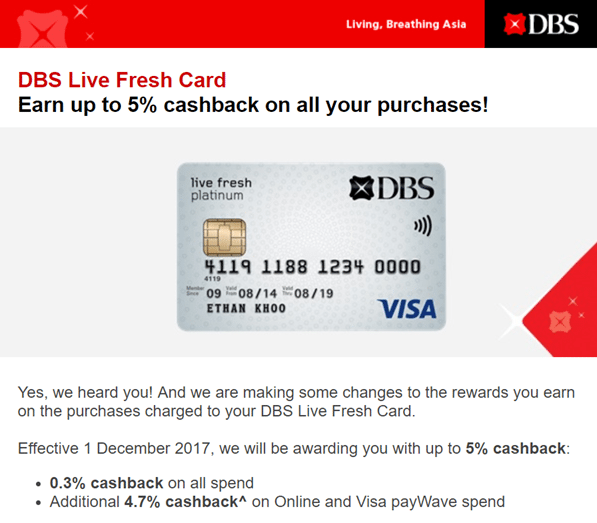 You now earn 0.3% cashback on all spend with an additional 4.7% cashback on online and Visa Paywave spend. To enjoy the additional 4.7% you need to spend a minimum of S$600 on the card each month (previously S$700).
Cashback earned for online and Paywave spend is capped at S$60 per month (this is a reduction in the previous cap of $70), but the T&C are ambiguous as to whether this cap refers to the bonus cashback (4.7%) or total cashback (4.7+0.3=5%). If it is the former, then you're capped at S$1,276 of spending per month. If it is the latter (which I think is more likely), you're capped at S$1,200.
How does DBS determine what is an online transaction? I'm sure those of us who own the Woman's card would like to know. The FAQ aren't too helpful in that respect:
Based on my experiences with the Woman's card you'll need to carefully monitor your online transactions to ensure that the DBS backend properly classifies them. Case in point: I recently appealed to get my Linkedin Premium payments recognised as an online transaction so I could earn 10X on the Woman's World card. I asked whether this approval meant that going forward I wouldn't need to keep appealing but was told that so long as Linkedin didn't change their "system indicators" I'd have to keep sending in requests manually. I thought that was absurd, really, and also customer unfriendly.
DBS explicitly excludes iPayMy and Cardup from earning cashback (see Point 9 in the FAQ), as well as the usual exclusions of donations, government services payments, AXS/SAM, educational institutions etc. Interestingly, Paypal transactions are explicitly given the green light (Point 11) so long as they don't fall under any of the exclusions in Point 9.
Why this change rubs me wrong
I don't even use the LiveFresh card but there are two things that deeply annoy me about what has happened.
The first is the way they've phrased it. "Yes, we heard you!" is like airlines calling devaluations "enhancements" or Delta trotting out the disingenuous line that they did away with award charts because "we listened to customers and they told us that they didn't use them".
I'm pretty sure customers didn't say "Please remove points earning from the card because I love cashback and points are offensive to me". In fact, it's not like DBS added some other feature in exchange for taking away the 3X points. At best you can say they reduced the minimum spend required for bonus cashback from $700 to $600 (but they also reduced the cashback cap from $70 to $60). So this to me is a pure devaluation without any mitigating factor, and that line about "hearing you", throwaway as it may seem to whichever marketing person wrote it, is just insulting.
The second is the lack of notice. This circular is dated 28 November and the changes take effect from 1 December. Two days of notice isn't best practice at all. Your LiveFresh card ceases earning DBS points on 1 December, but if you transact before 1 December and the transaction posts after 1 December you won't earn any DBS points. This is another reason why I find the late notice to be poor form, because it's entirely possible that some people made transactions today/yesterday that will post after 1 Dec (foreign merchants in particular can be slow to post transactions- my Lifemiles purchase took 4 days to show up)
Here's something else that you might find interesting. Take a look at the old T&C, uploaded to Dropbox in case it gets taken down from DBS's official site. There is a section that talks about the 5% cashback promotion and details the terms and conditions.
You'll note that DBS mentions these terms as valid until 31 December 2017. My reading of that is that this term below about the $70 cashback cap is also enshrined until 31 December.
The question I then have is this: can DBS cut the cashback cap to S$60 before 31 December? I mean, fine, there is this handy catchall term that gives them the power to do so
But as vince123123 says on the LiveFresh thread on HWZ, it's one thing to have a clause and another thing about it being legally enforceable. Even if this clause is valid, it's very poor form to change the terms without notice.
Again, I'm not directly impacted by this, but I can imagine there will be more than a few disgruntled DBS LiveFresh cardholders out there tonight.