In today's Straits Times there's an article by Yasmine Yahya entitled "Have air miles will…land you on the wait list"
The writer's thesis statement goes as follows:
Seat redemption can be frustrating, whereas cashback cards can get you free ice cream
She argues that cashback cards are preferable to miles given that snagging award seats is difficult, and waitlisting disrupts your vacation planning. Although she acknowledges that cashback cards give inferior rewards value, her stance is that the convenience and certainty of cashback outweighs the loss.
It's probably no great plot twist that I disagree, and I'm going to explain why in excessively long detail.
But perhaps let's start with what she got right
Waitlists are a confusing, opaque and stressful process
My guestwriters and I have written extensively about the pains of the Krisflyer waitlist. There's no two ways about it- the Krisflyer waitlist is a painful, arduous process. People lose sleep over it. They clog up the reservations hotline with requests for chasers. They do pilgrimages to the ION Orchard service centre in the hope that pleading their case in person will unlock new mercies (it doesn't).
The writer summarises her problem as such-
My husband and I tend to be able to plan our holidays only about six months in advance, because of our work schedules. But then, the available award seats would have been taken up, and everyone else looking to redeem miles would end up on a wait list, which can take ages to clear.

Online forums are rife with stories from people who say they have had to physically show up at the airline's ticketing office and cause a scene in order to clear the wait list and secure the seats they wanted to redeem. Many manage to do so just two weeks before departure. That's a nail-biting wait if you have already booked accommodation, restaurants and tours, which, if you're a control freak and mega planner like me, you would have done months ago.
And I completely agree. As someone who loves planning things in advance, I find the waitlist to be immensely frustrating because it's limbo.
I personally feel that SQ has a long way to go in managing customer expectations around the award waitlist. Don't get me wrong- all things equal I'd rather there be a waitlist than no saver availability at all. And of course I know that award seats will necessarily be scarce because they're not meant to offer last-seat availability (SQ used to have last-seat availability with the Full award level, but you'd need a ridiculous 315K miles for a one way SIN-SFO business ticket).
However, the inconsistency and lack of heuristics involved in clearing the waitlist generates a lot of unnecessary ill-will. Those who write in get the same stock response from the PR department- that award seats are limited and peak periods will have worse availability than off-peak. Imagine how annoyed they must be when they bite the bullet, buy a revenue ticket and see the seat next to them empty.
When asked by a reporter if SIA or any of its partner banks could do something to address the frustrations so many have faced over this demand-supply imbalance, the airline's senior vice-president of marketing planning Tan Kai Ping said: "We have inventory set aside for redemptions… When you hear about people not being able to get seats, it's because everybody wants to go to London on a night flight during the school holidays around Christmas. There's one flight and one plane but that plane always has no seats."

I think that means I shouldn't expect the odds of claiming an award seat to tilt in my favour any time soon.
Is she right? In one sense, yes. Based on the example that Tan Kai Ping gave, I went to look at SQ's saver award availability for 2 tickets to London around the Christmas period.
Here's what I found-
To say that's far from ideal is an understatement. If you want to maximise your leave by flying out/back as early/late as possible, you're staring at a whole lot of waitlist. And if you don't have any status with SQ, good luck to you.
So in that sense I understand the frustration of the writer. It seems like a bit of a bait and switch, like Homer buying all those Itchy and Scratchy dollars at Itchy and Scratchy Land, only to find out that he can't spend them on anything.
But that's where my agreement with the writer ends.
I want to discuss some of the pointers and implicit assumptions she made and why I feel she's mistaken.
Krisflyer miles aren't just for flying with SQ
First, even if you can't find SIN-LHR direct flights with SQ, there's nothing stopping you from getting creative with routings. Maybe you can fly to Manchester, then take a short budget flight to London. Or go to Paris/Zurich/Frankfurt/Munich/anywhere sufficiently close. I get that it shouldn't have to be that way, but the option still exists.
Second, the writer has completely overlooked an important aspect of frequent flyer programs and alliances- the ability to book partner awards.
Unfortunately, many people will go through their entire lives thinking their Krisflyer miles can only be used for travel with SQ. And who can blame them? SQ's site does not allow searching for partner award space, nor hint that it's an option. It buries this deep within the submenus.
If you want to redeem any partner award, be it Star Alliance/Virgin Australia/Virgin America/Virgin Atlantic/Vistara, you need to call up membership services to get it done.
Given that most people won't be savvy enough to do a check of Star Alliance award space before calling in (although it's super easy to do via the United or Aeroplan websites), they'll be guessing at dates, airlines and routes in the dark with a customer service officer who can only search airline by airline, date by date. This is an extremely time consuming and soul sapping process.
But it doesn't have to be this way. Let's look again at the example of Singapore to London during the Christmas period. Suppose we really want to fly this route, but need instant confirmation.
If we have Krisflyer miles, we can book a round trip Star Alliance (*A) partner award ticket to London for 90/160/215K miles in economy/business/first respectively (vs 76/170/230K with SQ- that's right, it's cheaper to book a *A partner business class ticket than an SQ one post the devaluation)
So let's look at the Star Alliance availability via Aeroplan (you need to create a free account to search for award space, but you do not need any miles in your balance. You can also try United's search engine which does not require an account). I ran the same search for 2x award tickets during the Christmas period.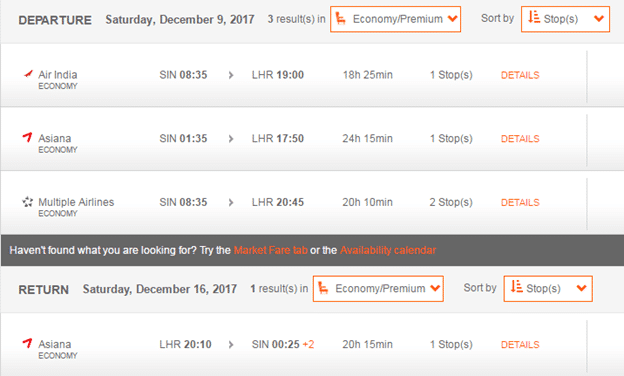 You can see that there are one stop options to London with Air India and Asiana on the 9th outbound, and 1 stop options with Asiana on the 16th return. I get that the layover is a bit longer than most people would care for, but if you have more flexibility…
Then you can do a shorter 1 hour layover in Frankfurt on the outbound flight on the 16th
And similarly short layovers on the flight back to Singapore.
If business/first class is more your thing, you have options too as the search result below shows.
Once you get the flight numbers and dates you want, simply call up SQ membership services and feed this to them over the phone. They'll issue your ticket and take payment for taxes over the phone.
I need to emphasise that none of this is perfect- some routes involve 2 stops, others 1 with a long layover, others mixed cabin bookings. But if getting there is your most important priority and direct flights with SQ aren't available, then it's certainly better to lock in one of these while waiting for the waitlist to clear.
Krisflyer isn't the only option. What about Asiamiles?
And while we're at it, why are we pretending like Krisflyer is the only option we have in Singapore? All the banks in Singapore also partner with Asiamiles, and your bank points transfer at the same ratio as Krisflyer. This means we can run the same search with Cathay Pacific and its Oneworld award partners.
I see good availability in CX economy for 2X standard seats (Cathay's cheapest tier of awards is called standard) to London for departures and returns post 16th December.
Same goes for business class, although post Christmas is a bit tighter.
First Class award space is very limited on these dates, so we won't go into that.
Remember that Asiamiles don't just get you CX awards, they also open up Oneworld award space. I'd advise you use the Qantas award engine because it offers maximum flexibility, letting you see a range of dates for a range of cabins. Here's what December looks like, inbound and out. The different seat colors correspond to different award class space (legend at the top)
Return award space is more patchy, but there are definitely options.
My takeaway here is that if Krisflyer is a dead end, there's nothing stopping you from getting instantly confirmable award flights through Asiamiles instead. If you're new to Asiamiles, I recommend you have a read of the intro guide I write a month or so ago– it will get you up to speed on the basics.
So the Krisflyer waitlist is terrible, but with a bit more research you can still get the dates and routes you want.
Miles cards do not earn you miles. They earn you points that can be converted into miles
The next mistake the writer has made is confusing the idea of airline miles and bank points.
With the exception of the cobranded Krisflyer AMEX cards, no credit cards give you Krisflyer miles per se. Instead, you earn points with the bank that can be converted into Krisflyer miles.
For example, when you spend with your DBS Altitude Visa card, every $5 spent locally gives you 3 DBS points, which can be converted into 6 Krisflyer miles. Hence the earning rate of 1.2 miles per dollar.
Similarly, spending on the UOB PRVI Miles card gives you UNI$, spending on the Citibank Premermiles card gives you Premiermiles, spending on the HSBC Advance visa gives you Rewards points.
Why am I highlighting this? Because your bank points don't have to be converted to miles. If you so wished, you could convert your UNI$ or DBS Points to shopping vouchers and cash rebates, albeit at a poor rate.
I went to pull some examples from the DBS rewards catalogue and put them in an ugly looking spreadsheet.
This table is showing various voucher options from the DBS rewards portal, the denomination and the number of points needed to redeem. It also shows you how much you'd have to spend to earn said voucher, depending on the type of card you use.
I want to draw your attention to the last 2 columns, which show how your effective rebate varies depending on card used. In all likelihood, your rebate will be a blended percentage somewhere in the middle.
If you use just the DBS Altitude and only spend locally, you'll be earning the equivalent of a ~1% rebate when you convert your DBS points to vouchers. If you use the DBS Woman's card for your online spending and put a bit of foreign spending on your DBS Altitude, you'll be closer to the ~3-3.5% rebate in the last column.
I know that cashback cards can offer anywhere between 3-8% rebates in their bonus categories. But I want to point out that these are subject to minimum spends and caps, and therefore you need to take some sort of haircut in considering the value*.
(*the equation will be further complicated when you factor in bank accounts like the UOB One which require you to spend a certain amount on their cashback card to fully max out your interest. I'm not going to delve into this, but I'm sure sharper minds than me can)
Now, I don't want anyone to think I'm endorsing converting DBS points/UNI$ into shopping vouchers. I'm not. It's a terrible, terrible idea, considering what alternative value you can get. What I'm trying to say is that by opting for a miles card, you get the best of both worlds- if you end up spending more than you envisioned, you can cash out with miles. If not, you can still get some vouchers for your trouble. I'm even going to go out on a limb and say that if you're not sure whether you can hit the minimum spend on your cashback card, you might be better off putting the spending on a miles card and cashing out via vouchers than risking earning 0.3% cashback.
It is harder to adopt a "best of breed" strategy with cashback cards because of minimum spend requirements
The writer, to her credit, has already stated she knows that cashback cards give inferior value. But I want to dig a bit deeper into why.
Let's take the example of someone spending $1,000 a month on credit cards, broken down into 30% on dining, 30% on online (shopping, movie tickets, air tickets etc) and 20% on groceries and 20% on everything else.
Suppose he wants to earn cashback. He chooses the Citibank Dividend card, which promises the following
To earn those rates, he needs to spend a minimum of $888 a month. If he spent anything below that, he'd earn a flat 0.25%.
Because of the minimum spending requirement, it is difficult for this person to optimize his spending, that is, to use the "right" card for each category.
What do I mean? Well, in an ideal world, he'd be using the Citibank Dividends card for groceries and dining (8% cashback), the SCB Singpost Visa for online (7%) cashback, and the AMEX True Cashback card for everything else (1.5%). This allows him to optimize within each category.
But he can't do this, because he'd need to spend at least $600 a month on his SCB Singpost Visa before he can enjoy the 7% cashback on online spend. And he's already pledged $888 of his $1,000 monthly spending to the Dividend. Therefore, instead of the "ideal" $64, he'll end up with something like $41.
The major miles earning cards do not require minimum spend requirements to earn the promised headline miles.
DBS Altitude will give you 1.2 mpd from the first dollar of local spend. Citibank Premiermiles will give you 1.2 mpd from the first dollar. UOB PRVI will give you 1.4 mpd from the first dollar. Even specialised spending cards like the Citibank Rewards and DBS Woman's World card cap upwards, not downwards. You earn 4 mpd on every $1 spent online with the DBS Woman's World card, up to a maximum of $2,000 per month. This difference in approach allows you to pick and choose best of breed miles cards for each category.
Once you have to pay an annual fee on a cashback card, you're back to square minus one
I've mentioned this before but it bears repeating-  the only way a cashback card can make sense is if the annual fee is waived.
If you pay an annual fee on a cashback card, you're starting from a net negative position.
Suppose you pay the $171.20 annual fee on the AMEX True Cashback card. At 1.5% cashback, you'd have to spend $11,413 just to get back to where you started! That's to say, you only start making a net gain from the 11,414th dollar.
With miles cards, you're hedged against this. If you spend above a certain amount, your annual fee is waived. If you don't, you get bonus miles for paying the annual fee. An example is the DBS Altitude which waives your annual fee with a minimum annual spend of $25K, or offers you 10,000 miles for paying the annual fee of $192.60.
Therefore, if you use cashback cards you need to be hypervigilant about annual fees, and either get them waived or cancel the card. Paying annual fees on a cashback card does not make sense.
Conclusion
So when the writer says
"When I use my cashback card at Fairprice at the end of a long week and find out from the cashier auntie that I can take home my tub of Haagen Dazs for free, that is just priceless"
I can't help but die a little bit inside. Because trading your miles for a tub of Haagen Dazs ice cream is like Esau trading his birthright for a bowl of stew.
I get there are common objections to joining the miles game- I don't spend enough, it's too complicated, I've been taught from young that nothing beats cash. But the only acceptable objection to me is if you don't travel at all. And in that case, I'd advise you reach out to your friends to see if you can get some quid pro quo arrangement, because I know a lot of people who would pay a small fee to get to spend more on their miles earning cards.
And trust me, Haagen Dazs tastes better like this