When future anthropologists study our society, they'll forever be befuddled by three things:
Did video ever definitively kill the radio star?
What exactly was a hollaback girl, and why were bananas in our era associated with fecal material?
How is it that no one ever stood before The Hague for thinking up Dynamic Currency Conversion?
I've said it once, I'll say it a million times: DCC is a scam, thrust upon unwitting consumers by unscrupulous merchants looking to squeeze some extra revenue out of a transaction. It's happening right now to thousands of customers around the globe, and you should be very, very mad about it.
But what happens when you try and fight a DCC charge?
Fight the power
Back in January I wrote an article about my efforts to fight a transaction that was DCC-ed without my consent. You can read the full story in the link, but to summarize:
I paid for a visa-on-arrival at the Amman airport. The entire process is done at the immigration counter- you tell the official your purpose of visit, scan your fingerprints and give your credit card to pay the visa fee
I used my UOB PRVI Miles Mastercard to pay the JD40 fee. The official swiped my card, issued the visa and passed me the charge slip
After I passed through immigration, I saw my JD40 transaction was DCC-ed without my consent to the tune of S$79.82 (or S$80.62 after UOB's DCC fees are included). The charge slip rather laughably said that "I've been given a choice to pay in currency different from my local currency, I accept this choice, I've chosen not to use the Mastercard currency conversion process and I'll have no recourse against Mastercard concerning the currency conversion or its disclosure"
The DCC charges were more than 6% of the total transaction amount, way above the 3.25% I'd have paid had I used the bank's rate. To add insult to injury, the DCC "choice" meant I'd earn 1.4 mpd on the transaction instead of the 2.4 mpd awarded on FCY transactions.
Disputing the transaction
This was clearly a breach of Mastercard's DCC compliance guide, which states that consumers must be clearly and unambiguously informed about a DCC transaction. When I contacted UOB about a chargeback, however, the customer service officer:
Asked me to contact the merchant and get them to amend the transaction
Asked me for a written document to prove that the transaction was supposed to be charged in Jordanian currency but ended up being charged in SGD
Asked me if I had a voice or video recording to prove that I asked for the transaction to be done in Jordanian currency
You can see why this is so frustrating:
(1) clearly wouldn't work. I imagine it would be some sort of nightmare to find the department within the Jordanian government who handles payments and ask them to look into my case.
(2) is just plain silly- pause for a second and think of any consumer transaction you've done. Do you sign a pre-agreement stating the terms of transaction?
(3) is asking the customer to put him or herself in harm's way- especially given the context. I don't think pulling out a camera and filming the immigration officer will end very well for you.
What annoyed me the most about the whole thing was that instead of trying to help their customer, the bank was looking for every possible way to throw the ball back to me. I know we don't have the strongest of consumer protections in Singapore, but you'd think they could do better than repeating the line "without documentary proof we cannot open a dispute" ad infinitum.
I stood my ground and refused to accept that, and a manager called me a few days later. Fortunately, he was much more reasonable and agreed to open a case after I explained the situation to him. I subsequently got this letter in the mail:
A temporary credit of S$80.62 was issued to my account, and I was told the timeline for resolving the dispute was 90 days. At least I wasn't on the hook to pay the amount in the meantime.
So I waited, and waited, and waited. 90 days came and went. Then 180 days, then 270 days. No one ever got in touch with me, and I eventually forgot about the whole thing.
Last week, when clearing my desk, I stumbled upon the dispute letter once more. I didn't see the transaction pop back up on any of my subsequent statements, but never actually heard back from UOB on the resolution either. So I gave the bank a call and was told that the matter had been resolved in my favor. In other words, I wouldn't pay anything- not even the JD 40 base charge.
All's well that ends well, but I deeply suspect what happened here was that (A) the bank had no idea who to get in touch with from the Jordanian Borders and Residence Department, or (B) they got in touch with the Department, but the Department simply didn't bother to reply.  Even if they did, I don't really know what sort of documentary evidence they could produce to back up their claim that I'd agreed to DCC. There's no signature on the charge slip, and it really becomes a he-said she-said situation.
Learning points
Hopefully you'll never have to deal with a situation like this (although given how some companies like Avis opt customers in for DCC by default, it's quite likely you one day will), but if you do, here are a few things you can do.
Be on your guard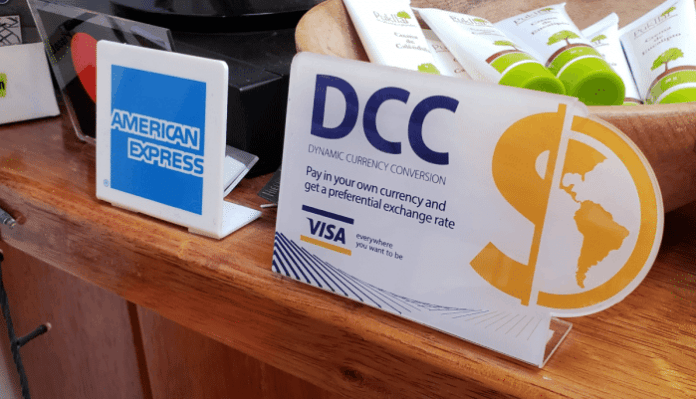 Every time you use a Visa or Mastercard outside of Singapore, you're always at risk of DCC. Don't assume you'll be asked for your choice of currency- some cashiers will autopilot through the currency choice because they don't know what DCC is. Others will make the choice for you because they've been instructed by management to do so. Vigilance is your best protection. Inspect every charge slip and every terminal screen to make sure you're not being opted in for DCC "for your convenience."
Or maybe just use an American Express card.
Be assertive, where possible
If you've been hit with DCC, the first thing you're going to want to do is ask the merchant to reverse the transaction. Sometimes it's really an innocent mistake- the merchant will void the transaction, re-do it in local currency and you'll be fine. Other times, it gets nasty. Some cashiers will insist that it's "impossible" to charge you in the local currency, others will tell you "it's the law" or make up some cock and bull story to cow you in submission.
This is why it's so important that you do not sign the charge slip when you've been DCC-ed against your will. Write on the charge slip clearly "DCC refused and merchant did not offer choice". That way, when the bank requests for copies, it'll be hard for the merchant to claim you were a willing party. Stand up for your rights, don't let yourself be conned and be assertive.
Note that I say "where possible". There will obviously be some situations where your personal safety may be in danger if you try and complain. If you were in a situation like me where the merchant also happens to be some authority figure, that's all the more so.
Should you film or record the transaction to better support your dispute? I'd like to say yes, but I know that's not always a good idea. Nothing escalates a dispute like pointing a camera in someone's face. If you're sure of your surroundings and have strength in numbers, then perhaps, but otherwise I'd tend to err on the side of caution when overseas.
Be persistent
If the worst happens and you still get DCC-ed, don't take it lying down. Call your bank as soon as you can and open a dispute. They will most likely ask you to try and sort it out with the merchant first, so you need to make it clear you already tried and they refused to cooperate.
The CSO should open a dispute for you, although they may still ask you for annoying things you can't produce like a "document to show what currency the transaction should have been in". Be persistent and insist on your rights- you can cite them chapter and verse from the chargeback manual if they refuse:
Visa- Reason Code 76: Incorrect Currency or Transaction Code. Reason Code 76 is used when the transaction was processed with an incorrect transaction code, or an incorrect currency code, or one of the following:

Cardholder was not advised that Dynamic Currency Conversion (DCC) would occur
Cardholder was refused the choice of paying in the merchant's local currency

Mastercard- Reason Code 4846:

The cardholder states that he or she was not given the opportunity to choose the desired currency in which the transactions was completed or did not agree to the currency of the transaction
Conclusion: the principle of the matter
Was filing a dispute worth all that effort and aggravation? Truth be told, the most difficult part was getting UOB to open a dispute. Once that was done I didn't actually have to do anything but wait.
DCC is a menace, but it's not unbeatable. Sadly, unless you're making a big ticket purchase, most disputes are small enough that few people have the energy or inclination to fight them. But that, to me, is what is so insidious about DCC. It's like salami slicing, with the merchants and payment processing companies lining their wallets at the expense of customers.
No one likes being cheated. And that's what no-choice DCC does. Just to get your blood boiling once more, let me end with an excerpt from First Data's (a payment processing company that enables DCC) marketing materials:
Detractors who are indignant (and often misinformed) about the exchange rate margin associated with each DCC transaction overlook the charges consumers pay if they had chosen another payment method…Millions of satisfied cardholders have made educated, informed decisions to use DCC because they desire the convenience of dealing in a familiar currency, plus the transparency of knowing the exact billing amount at the time of purchase. The continuing increase in consumer adoption of DCC illustrates the popularity of this service among foreign travelers, in spite of naysayers.