Mileslife is an app that lets you earn airline miles with 16 different frequent flyer programs on your dining, activity, lifestyle, travel, and retail spend. When you pay with Mileslife, you earn miles from both the app and your credit card.
Use the promo code Milelion to earn 1,000 bonus miles on your first spend of $49 or more
From now till end of day on 25 November 2018, Mileslife is offering 4X miles on everything except gift cards. In other words, if a merchant normally earn 2 mpd, you'll get 8 mpd. If an attraction ticket normally earns 50 miles, you'll earn 200 miles.
There's a total pool of 500,000 miles up for grabs. The Mileslife app has a nifty real-time tracker that lets you see how many miles are still left in the pool.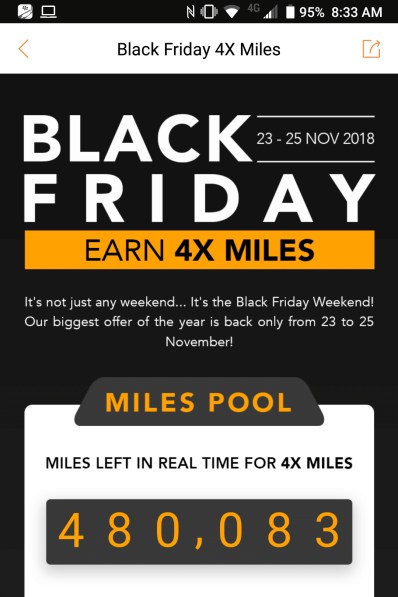 Everyone who makes a transaction draws miles from this centralized pool, and the promotion ends when the pool reaches 0 (or at 2359 on 25 November, whichever comes first). To prevent someone from spoiling the market and draining the pool with a single Aman purchase, the bonus miles per transaction is capped at 1,000. The full T&C can be found here.
That cap may be a bit of a buzzkill if you're looking to book big ticket items like hotel packages, but it's definitely a big attraction for those of us who do relatively small-value dining transactions.
Conclusion
When Mileslife first launched in Singapore, there were some crazy 3X/4X uncapped sales which I don't think we'll be seeing again any time soon. Still, I'd definitely make it a point to find out if the restaurant I'm dining at over the weekend takes Mileslife.
There's going to be a positive deluge of deals coming your way today and over the weekend, so be sure to bookmark our Black Friday deals page for all the latest coverage.