Flying First Class for the first time is an unforgettable experience, and the pinnacle of any travel hacker's journey. It's also likely to blow a big hole in your miles balance, so you want to make sure you get the best possible experience .That all starts with picking the right seat.
How many different First & Suites Class seats are out there?
Singapore Airlines currently uses four different types of First & Suites Class seats across their fleet. Here's a brief summary of their key traits, and which aircraft you'll find them on.
The year in front of the name refers to the year the product was introduced. If you'd like to read up more details on each individual seat, have a read of The Milelion's Seat and Fleet Guide.
I don't think there's such a thing as a "bad" First Class seat, but here's my order of preference
Look at your aircraft type
The simplest way of telling what First or Suites Class seats you can expect on your flight is to look at the aircraft type. You'll be able to find this in your booking confirmation, or during the booking process.
Once you know the aircraft type, you can refer to the chart below:
As you can see, in most cases simply knowing the aircraft type is sufficient to deduce what kind of seat you have. For example, if you're on the B777-300ER, you'll have a single row of 1-2-1 configured 2013 First Class seats. If you're on the B777-300, that'll be two rows of 1-2-1 configured 2006 First Class seats.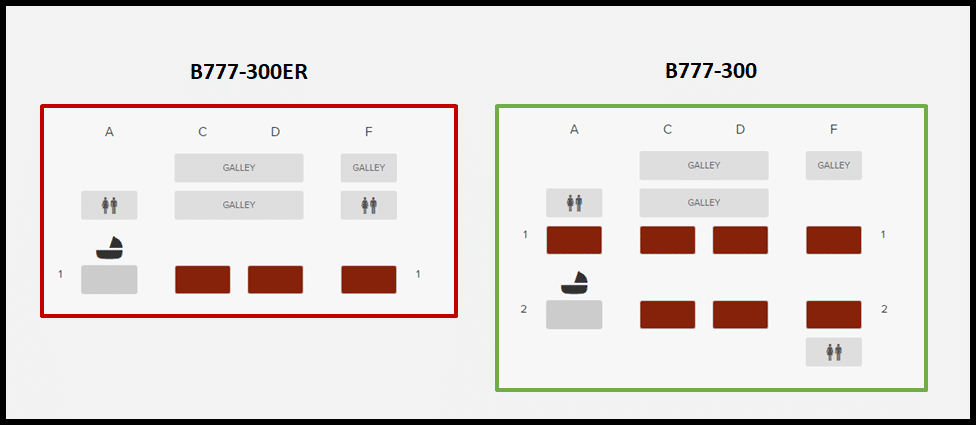 However, there is one type of aircraft where it's slightly less clear- the A380-800, which has a mixture of the 2007 and 2017 Suites seats.
If you're flying the A380-800…
Go and look at the seatmap for your aircraft, which you can check out under the Manage My Booking page or during the booking process, before you make payment.
If your seatmap looks like the one on the left in green (with 6 seats in the cabin), you have the 2017 Suites. If your seatmap looks like the one on the right in red (with 12 seats in the cabin), you have the 2007 Suites.
As of February 2019, the 2017 Suites can be found on the following routes and flight numbers. All these flights operate daily:
Hong Kong
SQ856 SIN-HKG
SQ861 HKG-SIN
London
SQ322 SIN-LHR
SQ317 LHR-SIN
Shanghai
SQ830 SIN-PVG
SQ833 PVG-SIN
Sydney
SQ221 SIN-SYD
SQ232 SYD-SIN
Zurich
SQ346 SIN-ZRH
SQ345 ZRH-SIN
Conclusion
So that's how you figure out which First Class or Suites seat you can expect! If you found this guide useful, be sure to check out the guide for Business Class seats.