Mileslife is an app that lets you earn airline miles with 16 different frequent flyer programs on your dining, activity, lifestyle, travel, and retail spend. When you pay with Mileslife, you earn miles from both the app and your credit card.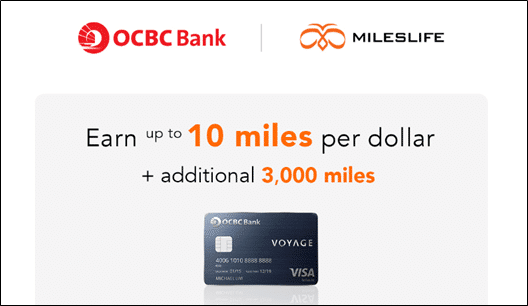 Update (1 Mar): The T&C have been updated to bring forward the end of the promotion by one month
From now till 30 Jun 19 31 May 19, OCBC VOYAGE cardmembers can earn 5 VOYAGE miles per dollar for all transactions on Mileslife, capped at $1K per month.
I find this particularly exciting because of how flexible VOYAGE miles are- all things equal, 1 VOYAGE mile is actually worth more than 1 KrisFlyer mile (because the former can be converted at a 1:1 ratio into the latter with no transfer fees, and can also be used to offset the cost of revenue flights).
Customers who sign up for a VOYAGE card through Mileslife also get an additional 3,000 miles from the Mileslife platform. These can be credited to any of Mileslife's 16 partner programs.

The OCBC VOYAGE comes with a non-waivable annual fee of $488 and 15,000 VOYAGE miles per year. The regular version of the card earns 1.2 VOYAGE mpd on local spending, 1.6 VOYAGE mpd on dining and 2.3 VOYAGE mpd on overseas transactions.
I recently created a separate VOYAGE Telegram group for those who want to discuss the benefits of the card or are interested in learning more.
Conclusion
Since this promotion starts on 28 Feb, there's technically an opportunity to earn a maximum of 20,000 VOYAGE Miles throughout the promotion period. It's certainly a nice little earner for those who have the card, although if you don't you can continue to earn 4 mpd with cards like the UOB Preferred Platinum Visa and Citi Rewards.
If you don't already have a Mileslife account, you can sign up for one via any of the links in this article and get 1,000 bonus miles when you make your first spend of $49 or more.
Sign up for Mileslife with code Milelion and earn 1,000 bonus miles