Those power award searchers among you will be pleased to know that KVS Tool has rolled out an enhancement for Singapore Airlines award searching, which now supports numeric award availability. 
This feature is available from version 9.9.6 onwards.
What is KVS Tool?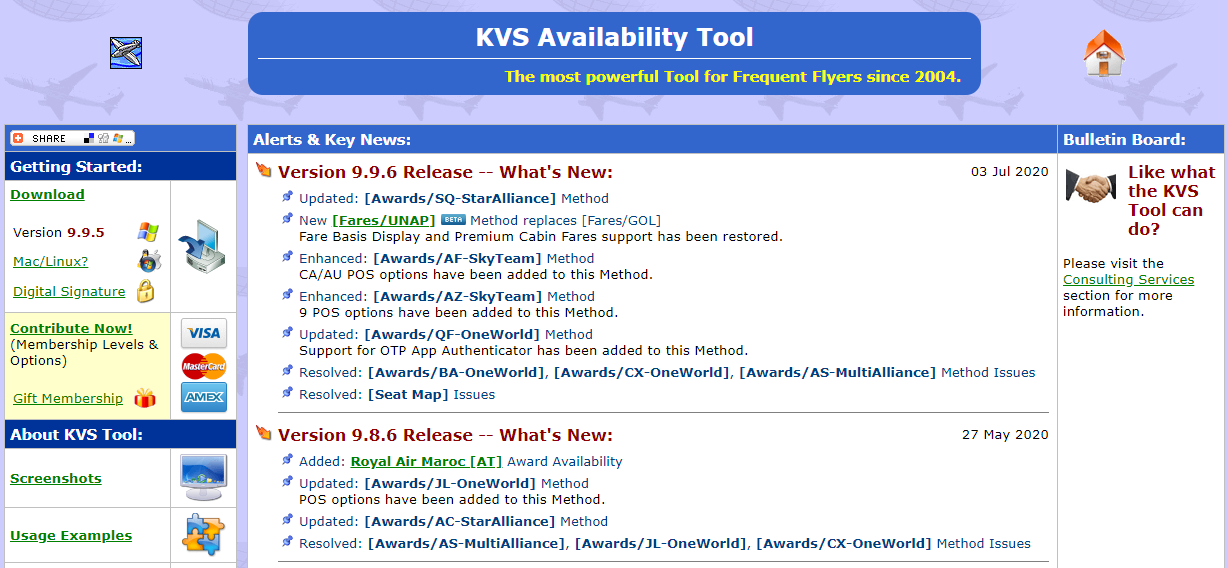 For the uninitiated, the KVS Tool is a piece of (paid) software that lets you execute advanced and automated searches for award space.
The interface looks like something out of the 1990s, but don't let that fool you. It's a powerful software with numerous use cases. For example, you could use it to find dates where Singapore Airlines has two Business Saver seats on its new A380 cabin products between Singapore and Sydney, or dates where Qatar Airways has award space in Qsuites. Searches run automatically, which saves you from having to do the guess and check yourself.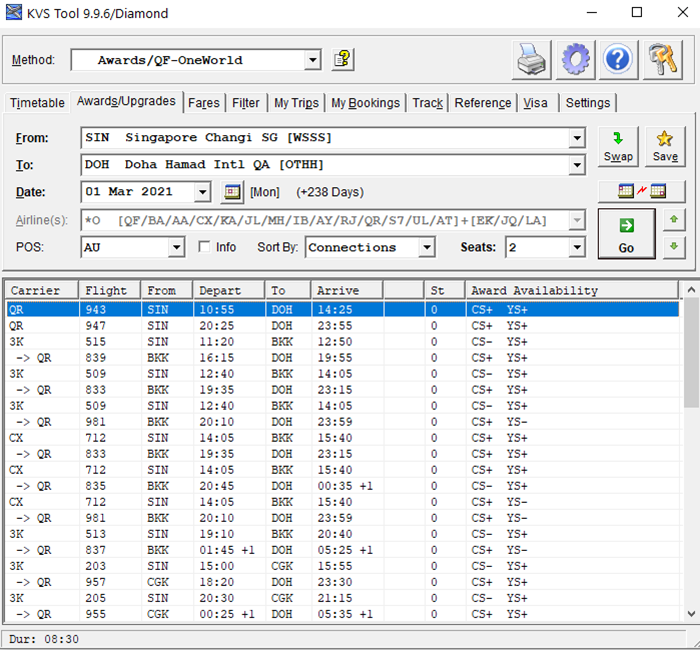 It also has useful reference tools that let you look up interline agreements, minimum connecting times, and even visa requirements. These can be very handy when piecing together two separate awards. 
KVS Tool enhancement for Singapore Airlines awards
When searching for Singapore Airlines award space, the KVS Tool would previously only show +, -, or @.
+ = requested number of seats is available
– = requested number of seats is unavailable
@= requested number of seats requires waitlisting
In the screenshot above, for example, we can see that one award seat is available in Business Saver (CS) and Economy Saver (YS) on SQ 970 from SIN-BKK on 8 June 2019. 
However, it doesn't mean that just one seat is available; it could be more. To figure out just how many, we'd have to trial and error with the "Seats" field until we hit the number that turns + into @ or -.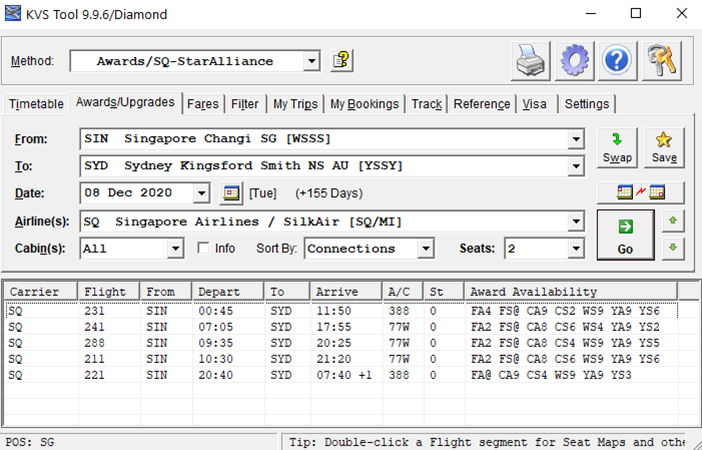 The new system takes the guesswork out of the equation. Here we see that on SQ 241 from SIN-SYD on 8 December 2020 there are:
2 First Class Advantage seats (FA)
0 First Class Saver seats (FS) (waitlist only)
8 Business Class Advantage seats (CA)
6 Business Class Saver seats (CS)
4 Premium Economy Saver seats (WS)
9+ Economy Advantage seats (YA)
2 Economy Saver seats (YS)
A qualification to the "exact" award space claim. Any figure below 9 represents the exact number of seats available. If "9" is shown, it means there are 9 or more seats left in that particular award bucket. This isn't a KVS Tool limitation as such; it's just how the GDS displays it. 
What's nice about this change is that it gives you a quick overview of the award space situation across multiple flights on the same day. We can see that for 8 December 2020, your odds of landing a First Saver seat are slim (all flights waitlisted), but there are some flights that would let you fly a family of up to six in Business Saver. 
Conclusion
Although we're all grounded at the moment, I've found myself playing with the KVS Tool from time to time, planning imaginary itineraries and spotting patterns in how airlines release award seats. 
The KVS Tool is certainly not something for beginners, but it's an extremely useful asset for those who know how to use it.