KrisPay users can now convert UOB UNI$ instantly into KrisPay (and therefore KrisFlyer) miles. This makes it the second credit card rewards program after DBS to be added to the platform. 
While instant conversion is no doubt a welcome feature, UOB customers will have to accept a 15% haircut in terms of value, which makes the use cases marginal at best. 
Convert UNI$ to KrisPay/KrisFlyer miles instantly
After updating your KrisPay app to the latest version, you'll see the option to add UOB Rewards as a top-up option for KrisPay. This is currently labelled "coming soon", but tapping on it will nonetheless redirect you to the UOB Mighty app to complete the setup. 
The transfer ratio is 1,000 UNI$ to 1,700 KrisPay miles, with no transfer fee. KrisPay miles can subsequently be used at any of KrisPay's merchants at a paltry value of 0.66 cents each, or instantly transferred into your KrisFlyer account at a 1:1 ratio.
Although the transfer ratio is similar for UNI$ as it is DBS Points, the latter have a smaller minimum conversion block. This means that DBS customers have relatively more flexibility in terms of being able to convert finer amounts. 
| | |
| --- | --- |
|   | Transfer Ratio |
| UOB UNI$ | 1,000 UNI$: 1,700 KrisPay miles |
| DBS Points | 100 DBS Points: 170 KrisPay miles |
After transferring UNI$ into KrisPay, you'll have seven days to transfer them to your KrisFlyer account, beyond which they'll be stuck forever in KrisPay.
All transfers must be made in full– that is, if you convert 1,000 UNI$ into 1,700 KrisPay miles, and spend 100 of those at a KrisPay merchant, you can't transfer the balance 1,600 to KrisFlyer. 
Why would you transfer UNI$ to KrisPay?
If you convert UNI$ via the regular UOB rewards portal, 1,000 UNI$ is equivalent to 2,000 KrisFlyer miles. Why would you opt for the KrisPay route and take 15% fewer miles?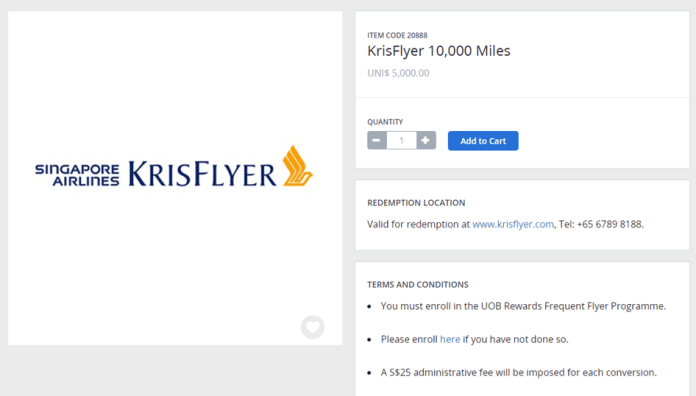 UNI$ conversions to KrisPay are instant
UOB UNI$ take an average of 3-4 working days to be transferred to your KrisFlyer account, while transfers to KrisPay (and onwards to KrisFlyer) are instant.
This would therefore be useful in a scenario where you want to lock in award space right away, but don't have sufficient miles in your account. Depending on how many miles you're short of, the ability to instantaneously transfer UOB UNI$ may be worth a 15% penalty. It'd certainly be better than buying miles from Singapore Airlines at a rate of US$40/1,000 miles.
Conversion blocks are smaller
The minimum conversion block for UOB credit cards is 5,000 UNI$. Suppose you're cancelling your UOB card, but fall just shy of this threshold. Either you try and put some additional spend on your card to make up the difference, or you burn your UNI$ on poor value options like shopping vouchers.
With KrisPay, you can convert smaller amounts of UNI$, albeit with a 15% wastage. 
You avoid UOB's S$25 transfer fee
Transferring UNI$ to KrisFlyer via KrisPay is clearly not a good idea for large amounts, because the 15% haircut becomes more significant (in absolute terms) the more UNI$ you transfer. 
However, if you're only intending to transfer a small amount, a 15% haircut may be superior to paying UOB's fixed S$25 transfer fee. Assuming you value miles at 1.8 cents each, then your indifference point is around the 5,000 UNI$ mark. The 1,500 miles you lose when transferring 5,000 UNI$ are worth ~S$27, roughly equal to the transfer fee you'd otherwise have paid. 
Conclusion
KrisPay should not be your default method of transferring UNI$ to KrisFlyer, since a 15% haircut is no doubt painful. Whether or not you find this useful all boils down to how immediate your need for KrisFlyer miles is, and whether you're dealing with an orphan points situation. 
While there may be some scenarios where a 15% haircut can be justified, you absolutely should not be transferring UNI$ to KrisPay for the purposes of spending miles like cash. If you wanted to do that, you'd have been better off spending on a cashback card in the first place.