Towards the end of 2022, I did a quick two-night getaway to Bangkok. 
Singapore Airlines had no award space available, but THAI Airways had plentiful seats in both Business and Economy Class. The mileage required was the same, and my only gripe was the fuel surcharges that THAI imposes on redemptions (albeit modest at ~S$92 for a one-way Business Class ticket).
| | | |
| --- | --- | --- |
|   | On SQ | On TG |
| Economy | 13,500 miles + S$61.20 | 13,500 miles + S$130.10 |
| Business | 24,000 miles + S$61.20 | 24,000 miles + S$153.10 |
Still, it was a chance to review THAI's A350-900 Business Class product, which is regularly deployed on their long-haul flights to Europe and high-yielding regional routes like Seoul. 
✈️ tl;dr: THAI A350-900 Business Class

THAI's A350 Business Class seat ticks all the right boxes, although it's probably not a must-try experience.

👍 The Good

👎 The Bad

Full flat beds with all-aisle access 

Ample storage space for personal items

Finnicky IFE screen that requires a hard press to register touch input

Meal quality closer to Economy Class, just with nicer plating

Wi-Fi plans not worth purchasing on short-haul flights
THAI Airways A350-900 Business Class
THAI Airways has a total of 12 A350-900s in their fleet. Each has 321 seats, split into 32 Business Class and 289 Economy Class.
The 32 Business Class seats are configured in a 1-2-1 layout with all-aisle access in a single forward cabin. 
Business Class passengers enter through the front doors of the aircraft into a cabin decked out in THAI's signature purple colour scheme, accented by dark wooden finishes.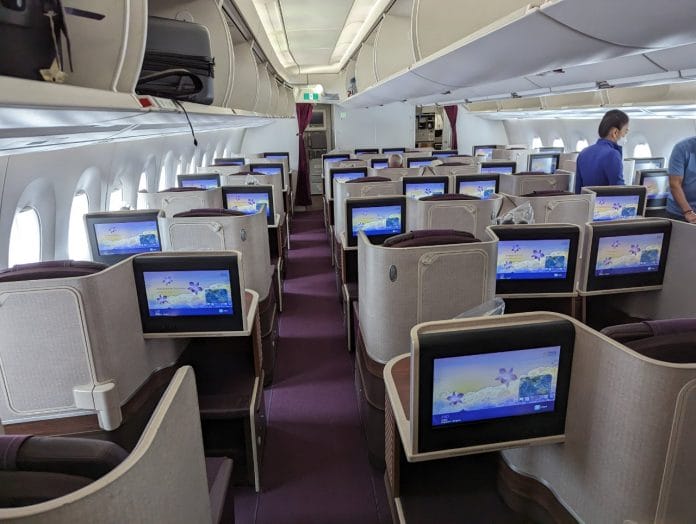 Business Class runs from rows 11 to 19, skipping the unlucky number 13. E & F seats in the middle are the "honeymoon seats", best suited for couples travelling together. If you somehow end up here as a solo traveller, there's an adjustable privacy divider that provides some degree of separation. 
D and G seats are the "divorce seats", separated from each other by the console tables. In this position you're more exposed to the aisle, however, so that's the trade-off. 
An interesting side point: Seats 19D & 19G at the rear of the cabin have an extra-long console, since there's no need to provision space for a seat behind them. 
If you're travelling solo, you'll probably prefer the single seats at the side, in particular the A & K seats which are closer to the window (the B & J seats are closer to the aisle). 
I went with seat 17A, on the port side of the aircraft. Business Class seats are reasonably wide, measuring 21 inches across (about the same as Singapore Airlines' regional Business Class on the B787-10). The seat uses a three-point seatbelt which isn't the most comfortable, but the shoulder strap only needs to be fastened during take-off and landing. 
Below the 15.5-inch touchscreen display is the cubby for your feet. It's on the cosy side, but if it's any consolation, the ottoman isn't fully enclosed. This provides additional space for moving your feet around.  
Beneath the IFE screen are two USB Type-A charging ports. I don't think this was the best location for them, however. If you plugged in a device and left it on your side table, you'd get tangled up when exiting the seat. It would make much more sense to build the USB ports on the side table. 
Each passenger also has a universal power outlet and a headphone jack. 
The seat console provides a place to put drinks and loose items, though it needs to be kept clear during take-off and landing. 
Built into the console are the seat controls, with presets for full upright, lounging, and full flat. You can also adjust individual components of the seat like the back rest and leg rest, or turn on a massage function. The touchscreen IFE remote can be found here too. 
Below the armrest is a storage nook that would fit a small tablet or your passport- though leaving your passport there might be asking for trouble.
The tray table folds down from the shell of the seat in front of you. It's an average-sized tray for Business Class, but can pivot outwards to allow easy entry and exit from the seat during meals.
Amenities
Singapore to Bangkok is too short a flight for amenities kits to be offered, but every passenger received a plastic wrapped blanket, as well as a pillow. 
Food & Beverage
Pre-departure drinks were offered before take-off, with a choice of apple juice, orange juice and water. Champagne was not available on the ground out of Singapore, but on my return flight from Bangkok it was poured on request. 
After take-off, the crew did a round of drinks service, together with cold mixed nuts. THAI Airways serves Laurent Perrier champagne (4.1/5 on Vivino), which is a perfectly fine, if unexciting entry-level brand (before the pandemic it was Veuve Clicquot, but Emirates has secured an exclusive agreement to be the only distributor for that brand in the sky). Champagne is served in flutes, and while this makes for a nicer photo, they're rather impractical given turbulence and their higher centre of gravity. Many other airlines have switched to stemless glassware for exactly that reason. 
When I asked for a refill, I noticed the flavour and colour of the second glass was vastly different- lighter and sweeter. I strongly suspect (but couldn't confirm) that they switch to a cheaper sparkling wine after the champagne is finished, so be on the lookout for that.
Lunch was served on this flight to Bangkok, with a choice of duck curry, beef lasagna, or chicken with mashed potatoes. In theory, THAI has a portal that lets you view the inflight menu prior to your flight. It didn't work when I tried though, and no physical menus were distributed onboard either.
I went with the duck which was average at best. The curry was very oily, the vegetables completely overcooked and wilted, and it felt more like an Economy Class meal with slightly nicer presentation. 
Inflight Entertainment
THAI Airways uses the Panasonic EX3 IFE system, with a 15.5″ touch-sensitive inflight entertainment screen for Business Class passengers. However, the screen is not very responsive, so you need to press very hard for inputs to be registered. It's probably better to default to the IFE remote. 
THAI, unfortunately, stopped updating its inflight entertainment page at the start of the pandemic, so you can't see in advance what titles will be available on your flight. There were about 90 different English movies to choose from; recent releases included Jurassic World: Dominion, Minions: The Rise of Gru, Elvis, Moonshot and Father of the Bride. This definitely won't be competing with KrisWorld or ICE anytime soon, but it was more than adequate for a regional flight. 
Even better was the high-definition tail camera, which made watching take-offs and landings extra fun.
Business Class passengers receive a pair of noise-cancelling AKG headphones. I have to be honest, I wasn't expecting these to be very good. But when I tried them on, the noise-cancelling performance was excellent. I only wish they were over-ear instead of on-ear, to improve the passive isolation. 
Wi-Fi
THAI Airways offers Wi-Fi connectivity on its A350-900 aircraft (along with selected A330-300s, and all A380-800s & B787-8/9s). 
There were two plans available:
Unlimited chatting: US$7.99 (suitable for text-only messaging)
Unlimited surfing: US$24.99
It didn't really make sense to pay US$24.99 for a two-hour flight, so I decided against purchasing access. THAI should really rethink its pricing for shorter flights, perhaps offering cheaper 3-hour options. 
Prior to COVID, Business Class passengers would receive a scratch card with 20MB of free internet. That obviously wouldn't last you very long, but I didn't receive anything on this flight anyway. 
Sleep Experience
A flight this short doesn't cater much time for sleeping, but I managed to experiment with the various napping and sleeping positions of the seat. 
The preset napping position puts the seatback into a 135 degree recline and lifts the leg rest, making it suitable for a brief power nap. 
If you're ready to retire for the night, the seat transforms into a 1.85m long bed. I found the cushion padding to be adequate, and I appreciated that you could manually adjust the recline to whatever angle you prefer. That already makes it a better sleep experience than Singapore Airlines' long-haul Business Class, in my book. 
Toilets
Business Class passengers have access to three lavatories, one just outside the cockpit and two by the galley separating Business and Economy Class.
Lavatories feature touchless taps, although flushes and bins are still the old-fashioned sort. That's weird, because the THAI A350-900 I flew back in 2017 had contactless bins. I wonder what happened to those?
It's a small detail, but the hand soap had not been properly fastened in its holder, hence the odd-looking black ring next to the tap. Instead, it'd been placed in the slot where a towel-wrapped hand lotion should normally be. 
Hand lotion and eau de toilette from Institut Karite were stocked in the Business Class lavatories. 
I noticed the toilets weren't in great condition, even upon boarding in Singapore. The floor and counter top area were wet, with some tissue paper poking out of the bin. 
Service
Service on this flight was efficient and friendly, with staff taking the time to chat with passengers before take-off, and addressing them by name on occasion (though not as consistently as Singapore Airlines). 
They even had a pre-departure hot towel service, something that SIA has yet to bring back!
However, a handful of them really struggled with English, especially during the meal ordering when passengers were asking about allergens or alternatives. That was surprising to see, since in my experience THAI crew are generally fluent in English. 
I don't know if I should put this under service, but on both the outbound and inbound leg the flight was delayed by almost 90 minutes. I've looked at the historical performance of the flight, and it's rather poor. Keep that in mind if you're planning to catch a connecting flight or have reservations soon after landing. 
Conclusion
THAI's A350-900 Business Class product ticks all the right boxes: full-flat beds, all-aisle access, adequate storage space and solid inflight entertainment selection. That said, I did notice a fair bit of wear and tear on the seat as well as technical glitches with the IFE system (it kept registering phantom touches), which is surprising given that most of the aircraft are less than five years old. 
I might consider flying it again on a short-haul route like Singapore to Bangkok, but probably not on longer routes where the fuel surcharges would be more significant. 
What do you think of THAI's A350-900 Business Class?