I've always wanted to go to Koh Samui, but it felt like one of those destinations you had to  "do right". "Do right" differs among people, but for me it just means
(1) Staying in a really nice villa
(2) Having enough time to enjoy said villa
So when I managed to get a 5D4N block of leave, plus sufficient points to burn, putting the trip together was a no-brainer.
Flights
Thanks to everyone who gave me input on this.
My final decision was to fly SIN-USM-BKK-SIN, SIN-USM via Silkair, USM-BKK via Bangkok Airways and BKK-SIN by Singapore Air.
I was all ready to do SIN-USM-SIN on Silkair throughout, but Silkair's return flight to Singapore leaves USM at a ridiculously early 12pm. And given that I'm going to be reviewing the Conrad Koh Samui, that's way too early to leave!
Instead I'll take a 3:15pm flight from USM-BKK, then catch the 6:30pm flight from BKK back to SIN. I am marginally concerned about the 2 hour connecting time in BKK, given PG's horrible on-time record, but we have no check-in bags so hopefully things will work out fine.
And yes, I redeemed for economy on Silkair and Singapore Air. This is because one-way economy redemptions are still decent value for money (~3 cents per mile).
Cash Price:
SIN-USM: MI, $630
USM-BKK: PG, $165
BKK-SIN: SQ, $240
Actual Outlay
SIN-USM: MI, 10,625 miles + $84 taxes and fees
USM-BKK: PG, $165
BKK-SIN: SQ, 10,625 miles + $80 taxes and fees
Hotels
It's possible to find perfectly good hotels in the mid-priced range in Koh Samui, but since this is a resort destination I imagine I'll be spending a lot of time in the room, hence the want for something fancier.
I've managed to get 2 outstanding hotels which I really look forward to reviewing.
Vana Belle, A Luxury Collection Resort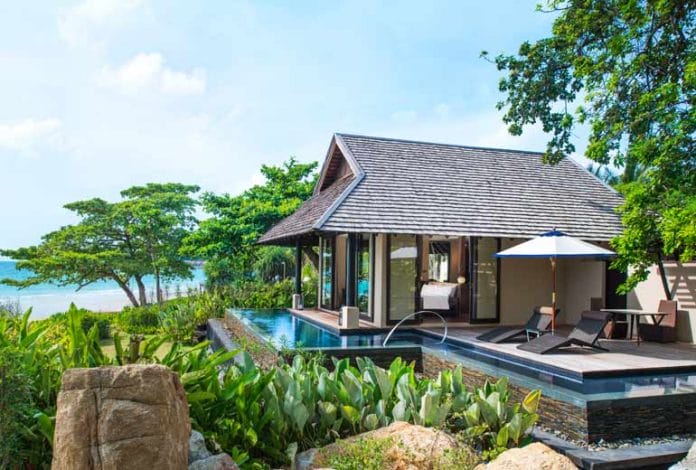 Vana Belle is part of my "burn all my Starwood points before Marriott takes over and ruins everything" plan. 3 nights here at 26,000 points per night (normally 40,000, but discounted 30% as part of the Paradise is Closer promotion)  cost me a hefty 78,000 points in total, but based on what I read online it's totally worth it
Located just further south from the busy Chaweng district (which I understand is the equivalent of Kuta in Bali or Patong in Phuket), it has a nice beach of its own with the one thing I want from Koh Samui- crystal clear water
The standard room here is a villa with its own private pool. The smallest villas are 86m2 , but I'm hoping to get upgraded to a Grand Pool Suite which is 1.5X larger at 128m2. Apparently this property used to accept Starwood Suite Night Awards, but they don't anymore.
Well, even if the upgrade doesn't come through, it's always nice to have a bathroom with a view…
Cash Price:  S$2,115
Actual Outlay: 78,000 SPG points (I actually managed to hit 2 US cents per SPG point on this redemption, which is not too bad!)
Conrad Koh Samui
I will finally have a chance to experience Conrad Koh Samui, The wet-dream of Flyertalkers everywhere,  for myself. And best of all, this stay will be paid for using points I received for a rather terrible stay during my company offsite in Pune, India.  At 95,000 points per night or S$975 before taxes, there's no way I'd have paid for this out of pocket. That's exactly what I mean about access being a bigger benefit of points rather than value (why redeem your points for a cheaper property for which you could have afforded anyway?)
The Conrad is located all the way on the other side of the island, in a quiet area about a 1 hour drive from the airport. I was debating whether to just book a further night at the Vana Belle or some other Starwood property (Sheraton just opened the Sheraton Samui next door to the Vana Belle, which Fred has reviewed. The review can be summed up in one word- underwhelming). However, the prospect of experiencing the Conrad Koh Samui for myself was too enticing to turn down.
The default redemption room is a 1 Bedroom Waterfront Pool Villa, although my reading of the Flyertalk thread tells me that Diamond members have a good chance of getting upgraded to a Retreat-level Villa, which have some additional amenities and better views.
Rooms have (of course) their own private plunge pools with what I hope will be stunning views of the ocean.
And the all important bathroom shot.
Oh, and Conrad has a "before you arrive" upsell menu that lets you stock your room with things you may want. The price? Well
At least it's chilled.
Cash Price:  S$1,154
Actual Outlay: 95,000 HHonors Points (0.8 US cents per point, way above the 0.4 cents per point threshold, and anyway I got these points free)
Total Cost of Trip
Total value of trip: ~$4,300 (based on revenue rates for the dates I'm staying and the cost of constructing the airfare I have)
Total paid: $329.80
I love my hobby.
---
Does anyone have must-do activities in Koh Samui?  Special experiences? I'd really appreciate it if you would let me know in the comments below.