Miles are the worst investment that you can possibly hold. They do not earn interest. They are not subject to any sort of investor protection. And over the long term, they are the one investment that is guaranteed to lose value (as we saw with Alaska's unannounced devaluation of Emirates first and business class awards).
My dad used to tell me he was saving up all his Krisflyer miles for retirement to travel the world. I thought that sounded like a good idea 10 years ago, but now I'm not so sure.
That's because your miles have no value until you spend them. And I believe Krisflyer is overdue for a devaluation. I have no hard evidence for this other than my gut. But my gut is telling me that we are likely to see a devaluation very soon.
Why?
The last significant devaluation was some time ago
Depending on how you define devaluation, there have been several devaluation events over the past 10 years (as this was way before my time, I am trying to piece this together from whatever I can google, so feel free to let me know if I've got it wrong)
2007-Devaluation of existing award chart. Unfortunately the links in this post are no longer working so I can't work out the amount.
2008– introduction of Standard and Full award levels, one way awards made available at 50% of round trip
2012– redemption amounts for Saver, Standard and Full award levels are adjusted, SQ finally opens up saver redemption for the new cabin products (6 years after they were introduced!)
Given that 2012 was the last time they did a devaluation, it would seem that we are due for another one shortly.
Introduction of premium economy
The introduction of a new cabin product is often grounds for a revision of the award chart. In an ideal situation, you'd have premium economy awards priced somewhere inbetween economy and business awards with both economy and business award prices remaining the same, but what is more likely to happen is that a new (devalued) awards chart will be introduced with the spin that they have enhanced the program by allowing redemptions for PY.
The premium economy product is still being rolled out and is expected to be completed sometime in the next 12 months. It could be the case that SQ is waiting for the rollout to finish before doing the award chart adjustment. My fear with this is that they will change the (already ridiculous) Y to J policy so that only customer who have purchased premium economy tickets can upgrade to J.
Influx of cheap miles from US-based credit cards
Our American friends have always had it better than us when it came to miles earning opportunities (Krisflyer co-brand card signup bonus of 5,000 miles for us whereas sign up bonuses of 20,000-30,000 miles are the norm in the states!), but at least they stuck to their own America-based programs. Well, "stuck" being the operative word. In 2014, both Chase Ultimate Rewards and Citi ThankYou points added Krisflyer as a transfer partner
Before this, the main options American credit card holders had to redeem SQ awards was to do it the long way round- through Star alliance partners like UA or US Airways (when it existed). And SQ was not in the habit of opening up premium cabin award space to partners.
SQ's done well for itself in the sense that it's increased the value of its Krisflyer currency by making it the de facto legal tender currency for redemption of aspirational awards like Suites and First. So when American credit card holders want to redeem that product, they have to convert their points to Krisflyer miles (which earns Krisflyer revenue from Chase/Citibank purchasing Krisflyer miles) instead of redeeming through other Star Alliance FFPs (for which the reimbursement rates are really low)
Because of financial pressure
SQ's loyalty is not to you. It is to its shareholders. And those shareholders like seeing a lean balance sheet.
Check out this interesting disclosure from the annual report. SQ recognises outstanding Krisflyer miles as a liability on its balance sheet.  The outstanding liability as of 2015 was S$612.5M, up 7% from 2014. Here's the historical trend
| | | | | | | |
| --- | --- | --- | --- | --- | --- | --- |
| | 2015 | 2014 | 2013 | 2012 | 2011 | 2010 |
| Deferred revenue  (S$M) (oustanding Krisflyer miles liability) | 612.5 | 572.9 | 532.5 | 497.0 | 445.1 | 460.1 |
| YOY Growth* | 7% | 8% | 7% | 12% | -3% | |
*does anyone with a better understanding of accounting want to explain this data? Intuitively I would have thought that the value would decrease in years where there were devaluations (2012) or jump more in years where the Krisflyer program got new transfer partners (2014) as more people exchanged UR/TY points for Krisflyer miles
The easiest way for an airline to tighten up its balance sheet is to devalue its miles. Remember that there is no regulation surrounding this, and it is entirely up to the airline how they want to value their liability. If they make award flights more costly, that liability goes down. Sure, it upsets customers, but which airline are Singaporeans going to switch to?
Stealth Devaluations
Of course, some can argue that devaluations have already been taking place. And they're right, in a way.
Higher Surcharges on Award Tickets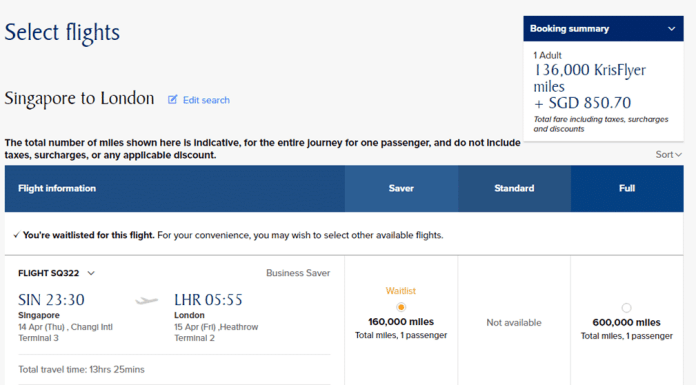 As the examples above show, Krisflyer charges very high surcharges on award tickets. Despite the dramatic decrease in oil prices, these surcharges have only shown a marginal decline in recent years. The higher the cash co-pay on your award, the less valuable it is.
Reduced Saver Award Availability
Or what about award seat availability? Certain routes are almost impossible to get saver awards on, no matter how far you book in advance. Try everyone's favorite SQ25 route for example. This is the situation for booking almost 1 year out- 5th Feb 2017. No saver award availability, not even for waitlist (to be fair, if you look at the weekday departures 1 year out you might be able to find some saver waitlist, but nothing for instant confirmation. The general point about saver availability being harder and harder to find still holds)
Shifts towards a revenue-based program
This has been a long concern on my mind, given the developments we've seen in the US of United and Delta going revenue-based.
A revenue-based program has 2 aspects- the earning side and the redemption side.
On the redemption side: In 2013, Krisflyer announced that you could now use your Krisflyer miles to pay for your revenue tickets.
Although this was spun as a positive introduction of choice and flexibility, it worried me to no end, because the value given to your miles when using them as currency was ~1 cent, below the value you'd get even for economy class redemptions. 
This valuation has been followed in the other noteworthy Krisflyer developments in the interim- both Tigerair and Scoot vouchers can be redeemed using Krisflyer miles, also at the paltry value of ~1 cent each.  Does this mean that SQ over the long term is looking to bring their program more in line with this valuation?
No airline has (yet) dared to convert to a revenue-based redemption program (airlines which run revenue-based redemptions (eg Jetblue) started off that way) and I highly doubt SQ will be the first. But SQ's moves so far indicate that they see 1 cent per mile as the "ideal" value.
On the earning side: The recent developments on the co-branded card front where SQ offers the opportunity to get Krisflyer Elite Gold status by spending S$15,000 on SQ tickets in the space of slightly over a year may also be an attempt to test out how receptive people are to a revenue-based approach to status earning. We've seen this happen with PPS already where they put a S$25,000 minimum spend requirement in place
Conclusion
I could be totally wrong about this. And I hope I am. But the signs increasingly point towards Krisflyer doing some sort of devaluation in the near future. SQ likes to spin these things, so I imagine there will be a genuine improvement in the program to accompany the rest of the "enhancements". My guess is they will open up premium economy for redemption.
The moral of the story is this: earn and burn. If you have a good store of Krisflyer miles now, you should actively be looking for a redemption opportunity for your next holiday. Holding on to miles is a losing proposition.
This has been a very sad and depressing article. Please now enjoy some photos of a cute shihtzu.