(Note: This is a mirror post. If you want to ask questions/leave comments, please do so on the original post here)
Update: In addition to the plans below, Worldwideinsure has started offering their car rental insurance to residents of any country again!  This lets you avoid having to buy a different plan each time you travel to a different country
The price and coverage is detailed below. The single trip here refers to a 3 day trip, but the annual plan might be worth it too if you travel a lot. The Deluxe plan costs 3 GBP a day, and the annual plan just under 60 GBP so do the math and see what makes sense. I'd definitely spring for the Deluxe plan given that the excess reimbursement is high at 50,000 GBP.
The policy is underwritten by Amtrust Europe and you can name up to 3 other people on the certificate provided you live at the same address. Meaning that if you and your spouse are travelling, you can list your spouse as the additional driver on the rental agreement and if he/she gets into an accident while driving, you can claim insurance notwithstanding the fact the car was hired in your name.
If anyone wants to read the exact policy wording, you can do so here
With this plan there's really no need to look at country specific plans, but please read below if you want to explore some other options
---
Driving holidays are fun, but whenever I'm behind the wheel of a rental car I always have a certain paranoia that something will happen to the car, resulting in a huge inflated repair charge (online horror stories of people getting 4 figure bills for a small scratch come to mind) The best solution, as always, is insurance. But if you were to buy the insurance offered by the car rental company (called LDW/CDW), that's easily an extra US$10-30 dollars per day. Which over a 1-2 week rental really adds up.
So what's the alternative then? Third party rental car insurance. Although some third party rental car insurance sellers offer worldwide plans, Singaporeans are not eligible to apply for these. Therefore you'll need to select the appropriate plan based for what region you're going to. When I go to the States, I use InsureMyRentalCar (underwritten by Chubb), which offers both daily and single trip coverage. insuremyrentalcar On their website, I got the following quotes
2 days- $10
3 days-$15
4 days and up- $36
This covers you for damage to the car up to US$50,000 with no deductible. They also include US$5,000 to cover accidental death and dismemberment. The maximum coverage period is 30 consecutive days. Note that this will cover you plus anyone who is named as an authorized driver on the rental contract. That is, if you're holidaying with your significant other and both your names are on the rental contract, the insurance will cover incidents arising from either of you driving the car. However, the insurance holder (i.e. you) must be the one making and paying for the rental.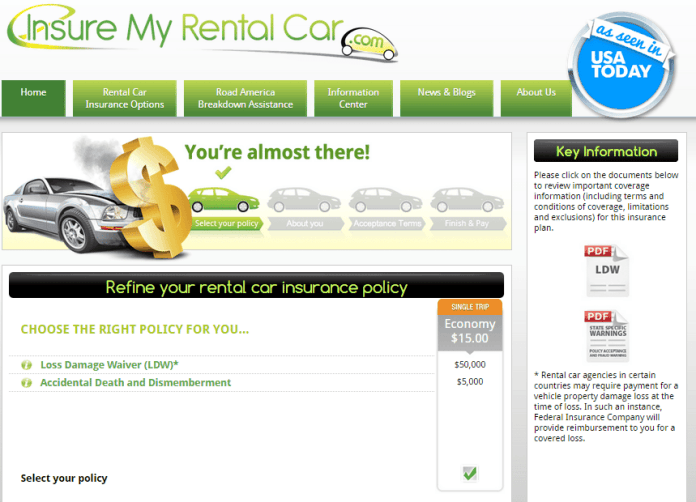 If you're going to Europe, try icarhireinsurance . If you're a non EEA resident, the only plan you're eligible for is the Excess Europe plan, which is £2.99 per day (3 day minimum) or £39.99 per annum. This features £6,000 excess cover and covers damage to things like windscreens, tyres, roof and undercarriage that regular CDW/LDW doesn't
If you're going to Australia, the only option I have found so far is Hiccup. A 5 day plan costs you AUD$84.50 with AUD $4,000 and zero excess. I'm not sure why insurance options in Australia are so expensive- that's a point worth researching. I'll update this if I find a cheaper option for Australia.
(EDIT: Cle on the comments has found out that the default excess that car hire companies in Australia charge is pretty low, at least for Avis and Budget- $2,915 and $2,750 respectively. If you have travel insurance, most plans cover $1,500 worth of rental car damage (do check the wording of your specific policy though). Meaning that whatever happens you're out of pocket maybe $1,500 at most. Not pretty, but far from disastrous too. If you want to sleep better you can always go with Hiccup, even though it's not cheap it's cheaper than $1,500 of damage.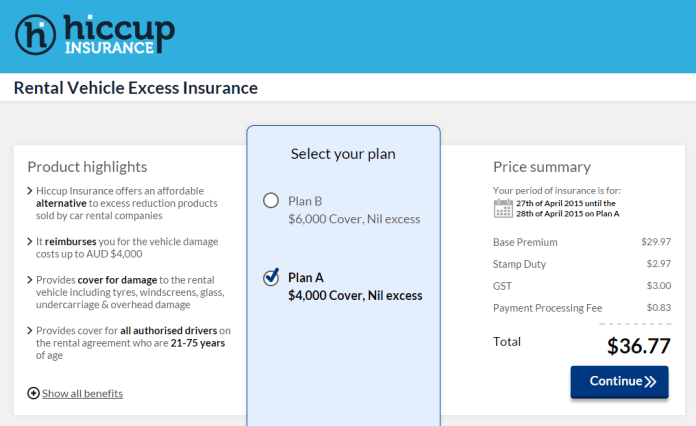 Remember that some rates you book with car rental companies already include CDW/LDW. Before you buy any 3rd party insurance for your rental car, be sure to check if this applies to you.