The First Class Premium
Part 1: Tracing the evolution of First and Business Class on Singapore Airlines
Part 2: How does First and Business Class compare on Singapore Airlines?
Part 3: Number crunching First vs Business Class on Singapore Airlines
Part 4: How does First and Business Class compare on other airlines?
---
Who needs First Class?
Some time ago I got a message from a reader asking me whether I believed it was worth it to save up a bit more miles and redeem a first class instead of a business class ticket.
I thought that was a really fascinating question because the answer is, as with all things, it depends. 10 years ago, the answer would have been clear cut, but as airlines continually innovate their business class products, the gap between first and business has progressively narrowed. Heck, I'd say that SQ's business class product is superior to many other airlines' first class.
Before we go into the actual analysis, it might be helpful (and nostalgic) to recap how SQ's premium cabin products have evolved over the past 15 years so we can see just how the gap between first and business has narrowed.
1998- The golden age of the 747
The year is 1998. You're boarding one of SQ's many 747-400s (at one point in time, SQ was the largest operator of 747-400s in the world). Upon entering the Raffles class cabin (it was still called Raffles back then), you're greeted by SQ's Ultimo seats.
These recliner style armchairs seem horribly antiquated by today's standards, more suitable for a domestic first class flight in the States than a long haul jaunt to the States, but that was more than competitive at the time.
Here's SQ's description of the Ultimo seats in its 1998 Annual Report
SIA's Raffles Class offers comfort, service and amenities that rival the First Class experience of other airlines. Cabin features and amenities are designed by Givenchy. The new seat on board the B747-400s, dubbed Ultimo, offers an extended seat pitch of 52 inches, the longest business class seat pitch among any major airline offering three classes. The seat also has the industry's first business class privacy screen. Automated footrests, four-way lumbar support and six-way adjustable headrests are introduced for greater comfort. An individual fibre-optic light is located on the back of the seat for enhanced reading comfort, and there is also an in-seat laptop power supply point. New crockery, cutlery, glassware and linen have also been designed exclusively by Givenchy. Active noise-cancelling headphones, a First Class feature, are now offered in Raffles Class also. The headphones greatly enhance the sound quality for better enjoyment of KrisWorld, the state-of-the-art interactive inflight entertainment system. In addition to World Gourmet Cuisine, there are new features on the menu for Raffles Class customers that were previously only offered in First Class. These include cheeseboard service and Espresso and Cappuccino coffee.
I vaguely remember sitting in the Ultimo seats as an 11 year old. I was too young to have much of an impression, but all I knew was that I had my own TV to play Super Mario on and I could have all the ice cream I wanted on the plane. It was a simpler time.
If you entered the aircraft and turned left, your view would be slightly different.
Because 1998 was also the year that SQ introduced their Skysuites. These were, at the time, truly special. They evoked memories of travelling in luxury train carriages of old, with their rich wood finishes and leather accents. The seat deployed into a fully flat bed, and had numerous drawers hiding treasures like writing kits and sleeper suits. The PR for the seat-
SIA's new First Class product offers greater privacy, comfort and personalised service. The centrepiece is the new SkySuite on its B747-400s, a seat that converts into a fully reclining bed, with duvet and mattress. A sleeper suit designed by the French fashion house, Givenchy, is provided for greater sleeping comfort.

The First Class service starts on the ground at Singapore Changi Airport with a kerbside welcome by SIA's Premium Services staff, who escort customers to a luxurious reception lounge. James Park Associates,who designed the interior of the luxurious Eastern and Orient Express train, created the new First Class cabin. Rich leather from Connolly (featured in automobiles by Rolls-Royce, Ferrari and Jaguar) and burlwood and tinted-metal finishes generously decorate the cabin, providing the ambience of a traditional English club.

The SkySuites provide greater exclusiveness and privacy than conventional First Class seats, and also comes equipped with a 14-inch video monitor, retractable table and in-seat laptop power supply.Designer serviceware and linenware complement the refined atmosphere of the cabin.
As of 1998, there was no way anyone could compare Business Class to First. It was simply a different ball game altogether.
2002- Enter the Spacebed
The year is now 2002. British Airways introduced a flatbed seat in Business Class in 1999, shaking up the entire business travel market. Skeptics pour scorn on the idea that it can ever be financially sustainable, but a marker has been laid down, and for once SQ is not at the forefront of product innovation.
The product development team at SQ is perturbed, but not unduly worried. Because they have a special ace up their sleeve- the Italian-Swiss designed Spacebed.
"Here's the prototype guys" says a generic Italian-Swiss person.
The team crowds around the mockup to have a look.
"It looks like Barney the Dinosaur fornicated with the upholstery", says a particularly perceptive member of the team.
"That seat angle cannot possibly be conducive to proper sleep", says another.
"That seat material looks like it absorbs rather than repels sweat, drinks and water", says a third.
By this time, however, the marketing team is too busy setting up the self-congratulatory microsite to worry about such minor details.
A marketing campaign is launched, proudly trumpeting the biggest bed in Business Class.
The nascent interwebs are excited.  The product launches on SQ's SIN-LHR route on SQ321 and receives generally mixed reviews. Don't get me wrong, the Spacebed was a welcome innovation over the Ultimo. It provided a much wider range of sleeping and lounging positions, and it had what was then an industry-leading screen size and an angled flat bed is always better than a recliner.
And yet it was near impossible to sleep on it without sliding towards the ground. Apparently one reason why fabric was used instead of leather was to provide more grip. That's right, the idea was that the passenger's clothes would grip the fabric and prevent him or her from sliding to the floor. Several flights with the Spacebed confirmed to me that the theory didn't hold up in practice.
Amazingly, the Spacebed was kept in circulation as late as 2013, deployed on routes serviced by the 777-200ER. These aircraft eventually were refurbished with the 2006 full flat Business Class seats, but one or two aircraft were kept as backup in the fleet. I still remember checking in for a flight one day and seeing at the counter a message that because of an equipment swap, today's SIN-IST route would be served by a Spacebed aircraft instead of a full flat Business Class cabin. Passengers were assured that their comfort would not be compromised. I chortled and wondered how many compensation miles and vouchers they'd have to give out that day.
Although the Spacebed was an upgrade on the Ultimo, you'd still be hard pressed to find anyone telling you that it was just as good as a Skysuite. The gap was still as wide as ever.
SQ's product team knows that the Spacebed is nothing more than a stopgap solution. Business Class is going flat, and once you go flat, you can't go back.
2006- Flat is the new black
The year is now 2006. SQ is due to take delivery of its brand new 77Ws. With the aircraft comes an opportunity to make up for the mistakes made with the Spacebed with a completely new Business Class product.
The Italian-Swiss designers are long gone, replaced by James Park Associates. JPA propose something that will be truly revolutionary- flat bed seats in Business Class that rival what many airlines have in First.
The team is really excited about the prototype. It looks amazing.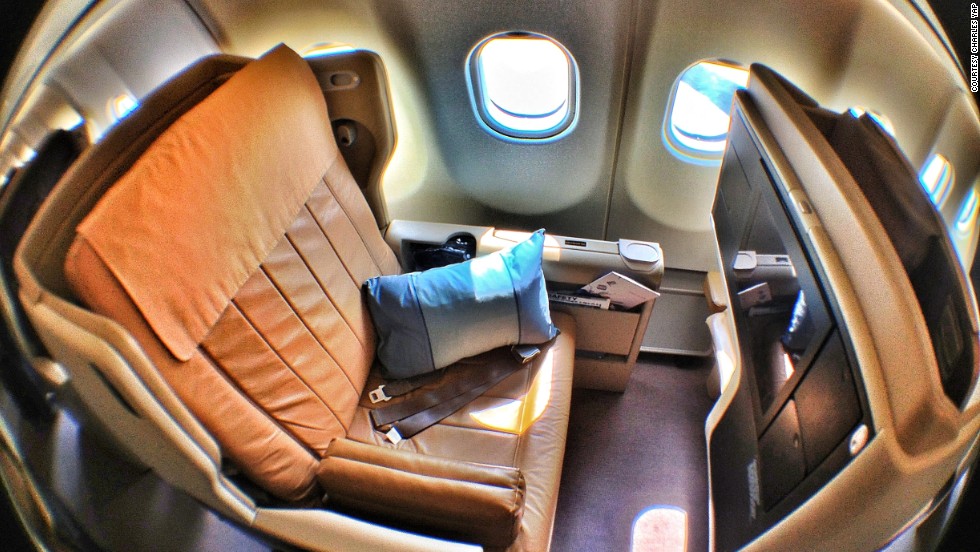 "This is going to be a gamechanger when it launches", they agree.
The revenue team is less enthusiastic.
"If we have full flat beds in Business Class, who will be willing to pay for First? Doesn't this mean cannibalizing demand from our flagship product?"
They have a fair point, but they're not exactly in a position to fight the tide. They know that within the next 2-3 years other airlines will be launching fully flat products in Business Class. They have an opportunity to once again be ahead of the curve here, and to their credit SQ makes the right decision in the end.
All that's left is to pass it off to the marketing team.
"Oh yeah, and in the publicity materials can we try and show more than just white people in the Business Class cabin this time?"
"Sure, why not," says Johnny Marketing.
The PR-
A stylish combination of enhanced personal space, functionality and leading-edge innovation, the new Singapore Airlines Business Class seat detracts from the norm. It is the world's widest business class product. Measuring 30-inches, the new Singapore Airlines Business Class seat is a full-flat product that is almost 50 percent wider than most products currently offered in this class.

Seats are arranged in a forward facing, four-abreast (1-2-1) configuration that offers all customers direct access to the aisle. Every seat also has a fixed back shell that extends to the sides for enhanced privacy. The innovative design of the seat allows it to be transformed into the largest full-flat Business Class bed in the sky to provide enhanced comfort not only when sleeping but also for lounging.

Other enhanced features include a 15.4-inch LCD monitor fully equipped with USB ports and in-seat power, exclusively designed bedding and dining-ware by Givenchy, enlarged dining table that is adjustable for height as well as trolley bag stowage under the seat.
I gave SQ a lot of stick for the Spacebed, but this product (they didn't ever give it a name, kind of a lost opportunity in terms of SEO if you ask me) was really amazing. So naturally, SQ didn't allow anyone to redeem miles for it at the Saver level for more than 4 years after it was launched.  Why? Because SQ.
When I finally flew the product for the first time (I think it was 2012), I was amazed at the level of comfort and width of the seat. In fact, a common complaint that customers had was that the seat was too wide, so much so that SQ started providing an additional side pillow to buffer and make the seat seem a bit cozier. Although I still prefer seat designs that let you recline all the way at any angle between flat and upright, it's always nice to have the purpose built sleeping surface that this seat offers.
SQ knows that if they were going to make Business Class look like First Class, they have to make First Class look like First First Class. And so JPA creates a new design for First Class too.
This seat evokes memories of the SkySuite, with its wood brown finishings and tones. It also allows the passenger to sleep straight, instead of diagonally as is the case in the Business Class seat. I think the seat is no doubt excellent, but find the monotone colors a bit boring.  And this coming from someone who won't eat any ice cream flavor that isn't vanilla.
The PR reads-
Singapore Airlines' new First Class offers the world's finest travelling experience. The spacious premium cabin distinguishes itself with just eight stately seats on the B777-300ER, offering each First Class customer complete privacy and enhanced attention from the cabin crew.

Upholstered in leather, the new seat at 35-inches in width, is the most spacious first class product ever to be introduced by a commercial airline. Its unique design offers our premium customers the flexibility to use the seat as a daybed for lounging, reading and entertainment in their preferred seating or lounging postures as they would at home. By night, it converts into a full-sized flat bed that offers the customers the choice of resting in their natural sleeping position.

The new First Class seat is also the ultimate platform to enjoy the exceptional functionalities of KrisWorld inflight entertainment system, offering a sleek 23-inch LCD screen with a business panel equipped with USB ports and in-seat power supply, as well as new active noise reduction headsets.

Other exclusive features of this superbly designed all-round product include a private vanity area, an easy to use sliding table that is also adjustable for height, as well as large in-seat stowage space, all complemented by furnishings and amenities designed by fashion house, Givenchy. The First Class dining service, exclusively designed by Singapore Airlines' panel of renowned chefs and wine experts, has also been further refined. Besides having complete flexibility as to when to dine, First Class customers can select from a revamped menu, presented with a daily chef's recommendation.
From a hard product perspective, Business Class was now firmly on the same level as First Class. Where could First Class go from here?
2007- Suite Dreams are made of these
The year is now 2007. SQ has a major coup on its hands, having paid a pretty penny premium to get the rights to be the A380's launch customer. The first commercial flight of the world's largest airliner, by the flag carrier of a country so small many in the West think it's still part of China.  Not bad, not bad at all.
The A380 launch will get a huge share of media coverage. SQ's head management decides that the best way to take full advantage of this is by going all out to launch a new prestige product. One that makes very little commercial sense, but will be a standard setter and create a halo effect for the rest of the airline.
They bring in French luxury yacht designer Jean-Jacques Coste for the job. After roundly insulting everyone in the room for not speaking French and daring to shower more than once a week (I'm sure he's a nice fellow in real life, let me take some creative liberties), he sits down and conceptualises what becomes the legendary Singapore Airlines Suites.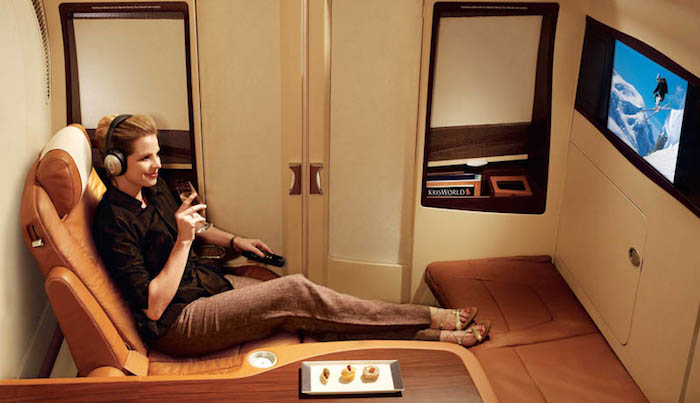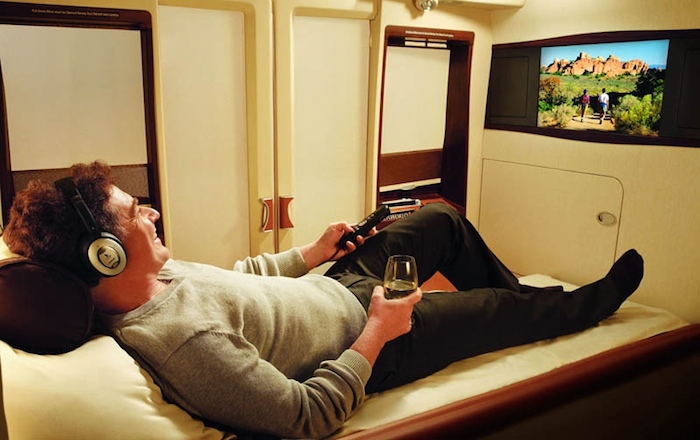 The Suites are the epitome of luxury, ridiculously so. The design is more reminiscent of the interior of a yacht than an aircraft. The Suites combine leather and wood, cream and brown to creates a feeling of opulence.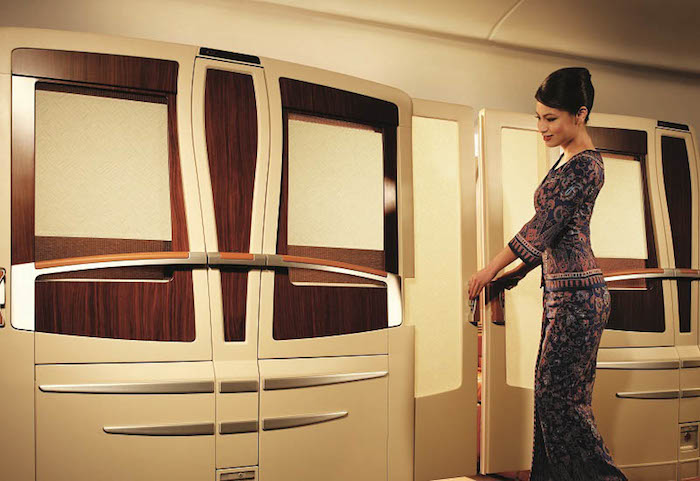 Each cabin has a sliding door and Venetian blinds for privacy. There is a chaise lounge and large table for a discussion area. The seats themselves are 35 inches wide and upholstered in high quality full grain leather.
The Suite features a luxurious double bed. Management is quick to emphasize that in-flight intercourse can pose serious risks to your privacy.
"There are things that are acceptable on an aircraft and things that aren't, and the rules for behaviour in our double beds are the same ones that apply throughout the aircraft," proclaims Stephen Forshaw, a Singapore Airlines official. He warns, "If couples used our double beds to engage in inappropriate activity, we would politely ask them to desist."
Marketing calls it a class beyond first, and for once in my life I don't call them out on using bullshit hyperbole, because it really is.
Yes, it isn't all smooth sailing for the product. The extreme price premium they put on it results in low loads, and little by little SQ starts adding small incentives to boost takeup.
Still the Suites are gorgeous. They are amazing. They are aspirational. So of course, SQ doesn't allow anything other than Full level award redemptions for Suites for the first few years. A round trip flight costs you close to 1,000,000 miles. Loyal Krisflyer members rage, complain, and still continue to fly SQ.
First Class, on the A380 at least, was once again ahead of the game.
2013- Evolution not revolution
It is now 2013, and 7 years since the launch of SQ's fully flat cabin products. By now, all of SQ's long haul operations have flat bed seats in premium cabins. The cabin product, although still much better than many airlines' contemporary offerings is unfortunately starting to show its age. It's time for a product refresh.
JPA is brought in again to create an updated Business Class cabin. The problem facing the team this time is- where do you go from flat?  It's therefore not that surprising that their new seat is evolutionary rather than revolutionary, but that's in no ways a criticism because the final product is gorgeous.
The 2013 iteration of the Business Class seat takes a market leading product and cosmetically enhances it.
JPA developed an expressive colour and trim palette which offers continued elements of discovery. Emotive and tactile finishes are contained within the inner seat to provide passengers with a sensory experience. Tone-on-tone effects soften spaces, and emphasise zones and features, whilst the bespoke woven textiles enhance the seat's comfort. The combination of alternating shell colours and a distinctive copper trim helps elevate and enhance the feeling of space within the cabin as a whole.
Having flown on the new business class several times, I can say that this is easily one of the best hard products in the world. The personal space, the comfortable lighting, the privacy, the storage area, the quality of the bed- all these have really reduced the need for First Class, at least in my mind.
The PR for the seat-
The new Business Class seat blends modern sophistication with functionality, to address business travellers' requirements for more flexibility, comfort and privacy.

Set in a warm and inviting cabin, the seat offers greater recline at 132 degrees and features an improved ergonomic seat cushion. When converted, it becomes the industry's widest full-flat bed, at 78 inches in length. The seat also features a padded headboard cushion for enhanced comfort.

In addition, the new Business Class seat boasts two new seating positions – 'Lazy Z' and 'Sundeck' – following in-depth research and feedback from customers. These additional lounging positions provide even greater flexibility for customers to choose their preferred ways to work or relax.

Taking into account customer feedback for increased stowage space, there is now an amenity stowage area on the side console and a laptop stowage area.

Other enhanced features include an 18-inch LCD screen and video touch-screen handset for customers to enjoy the next generation KrisWorld, as well as an all-in-one business panel including in-seat power supply, USB port, eXport and HDMI ports. Like the new First Class seat, the new Business Class seat boasts a floodlight reading light and the LCD monitor on/off switch for added convenience.
So Business Class has been given an update. What about First? SQ engages BMW DesignWorks to lead the charge for the First Class cabin
Ah, those Germans. You just can't stay mad at them. Especially when they have such fetching designs such as this. I think the 2006 iteration of the First Class seat was functional, if not very bland. But this First Class design is just stunning. I love how the seat combines both the traditional wood and brown tones with metallic tones and cool grey.
I also love that small line of orange running down the headrest. Don't ask me why, but that just elevates the whole design in my mind.
As a bed, it's plenty spacious too, featuring the same lie straight offering of the previous version.
The PR-
Singapore Airlines' new First Class seat, set in a modern, welcoming cabin, offers customers enhanced comfort in their own personal sanctuary. Each seat features a new fixed-back shell design with curved side panels to provide a clear demarcation of personal space, for added privacy. At 35 inches in width and with an increased bed length from 80 to 82 inches, it is one of the most spacious First Class products in the sky.

Extensive research was conducted to determine how best to increase the comfort of the new First Class seat. An ergonomically sculpted cushion and improved adjustable headrest have been introduced for greater seating comfort, while new features such as a padded headboard for extra support and an additional mattress layer ensure customers enjoy a good rest.

In line with our renowned customer service philosophy, more thoughtful and convenient features have been introduced. For example, the seat now boasts a stylish passenger control unit that includes a new switch to provide customers easier access to turn off their in-flight entertainment monitor, and for cabin crew to do so without disturbing customers when they are resting.

Another key feature is the in-seat lighting. In-depth research was carried out with lighting experts to develop not only a stylish reading light, but one that also provides a conducive environment for reading or working. Extensive tests were carried out to determine the optimal light colour and intensity, with brightness adjustability.In addition to reading lights, the seat features ambient lighting, which not only accentuates the seat design but also serves as a night light in a dimmed cabin.

Complementing the experience is a new state-of-the-art in-flight entertainment system. First Class customers can enjoy the new KrisWorld on a sleek 24-inch LCD screen, with video touch-screen handsets.

To ensure that personal devices are within easy reach, even while charging, both eXport and USB ports are discreetly located within a leather-lined bespoke stowage compartment by the side of the seat. HDMI ports have also been added to provide the flexibility for customers to use KrisWorld as their own personal media player.
2017 and beyond-what does the future hold?
SQ is already in the advanced stages of designing its new Business and First class products.
In November last year, ABT got hold of several concept designs that were rejected for SQ's new cabin products. Although rejected, they're still perhaps informative as to the direction in which SQ is heading with the next iteration.
First Class appears to be a double wide seat, perhaps evoking comparisons with the First Apartment on Etihad.
Business Class looks excellent too, with mini-doors that make you think of a Suite.
You can read more about the designs here. I do not think we will hear anything about new cabin products until late 2017 at the earliest, but I am intrigued to see where SQ will go next.
As for now, outside of the A380, First Class and Business Class now do not have significant differences in terms of the hard product. So what does that mean for your redemption strategy? Do you really need to fly in First?
Next Steps
Now that we understand how the dynamic between First and Business class travel has changed over the past 15 years, we'll start examining whether the mileage premium that airlines charge for First is worth it.
Over the next few weeks I'll continue this article by writing about my experiences with Singapore Airlines, throwing in some other insights from other airlines whose First and Business class cabins I've tried before. I'll also be joined by several of guestwriters who can share their experiences too. Together, we'll try to help you figure out whether you should try and save that little bit more to put you into first class territory.
This should be fun.