The First Class Premium
Part 1: Tracing the evolution of First and Business Class on Singapore Airlines
Part 2: How does First and Business Class compare on Singapore Airlines?
Part 3: Number crunching First vs Business Class on Singapore Airlines
Part 4: How does First and Business Class compare on other airlines?
---
In the first post of this series, I mapped out how Singapore Airlines' First and Business Class products had evolved over the past 15 years, narrowing the gap between the two. Today, I think you'll be very hard pressed to find anyone who can tell you that this
Is head and shoulders above this
But of course, the seat is only one aspect (albeit a very large one) of the experience. How does the overall Business Class offering compare with First Class on Singapore Airlines?
In the second part of this article we're going to obsessively look at every single aspect of the Business Class and First Class experience on SQ from check in to disembarkation.
Ground Experience-Check in
The difference in ground experience is is most noticeable if you're departing from Singapore. In Singapore, First and Suites class passengers get to use the special priority departure areas in T2 and T3. If you're departing from T3, you can ask your driver to use the special drop off point at the start of the check-in rows (if you're departing from T2 I've read about some people still asking to get dropped at T3 just to experience the check-in. I don't think they got sent away, but if you'll read on I think it's really not worth the hassle)
I wrote about the First Class check-in experience in my SIN-CDG Suites report (was that really one year ago? Goodness). My overall sense was that it was a pleasant enough place to spend the 5 minute check in process, but it really didn't serve any purpose beyond that.
SQ's publicity photo for their First Class reception area shows a man waiting at his seat for his boarding pass to be delivered, while a pair of colleagues carry out a discussion in the background and a man paws through a newspaper.
In reality though, the reception is nothing like that. When I visited it was completely empty. People were processed through in less than five minutes. And that's how it should be really, given that there are no real facilities there. Nothing to eat, nothing to drink, no bathroom. There is no compelling reason why you'd want to spend any more time than necessary there. This is a brief stop en route to the lounge.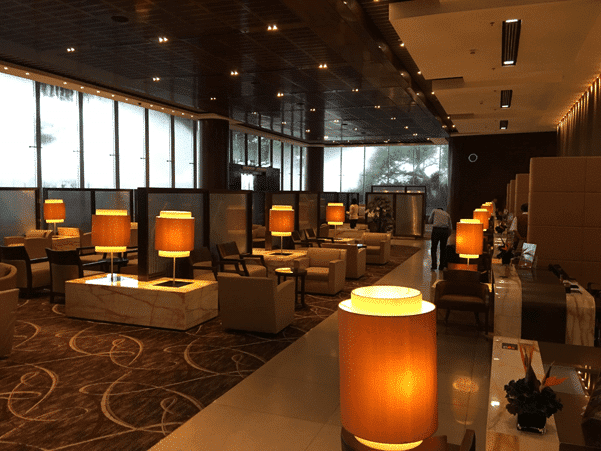 Once you've been checked in you can walk 20m to the special First Class departure immigration where there is one ICA official and a couple of automated clearance booths. Given how efficient Singapore is, this isn't so much as a timer saver as it is a feeling of exclusivity.
There is a similar facility in T2 which is much smaller and does not have a priority immigration queue.
If you're flying Business Class, you check in at one of the many Business Class counters in T2 or T3. You will be greeted by an outsourced check-in representative. This representative will confirm your destination and the number of pieces of luggage you intend to check. He or she may or may not make small talk about what you intend to do at your destination. You may or may not ask them for some recommendations. This conversation will be cordial and you will be processed within five minutes of arriving. After which you will be off to the lounge, quickly forgetting said recommendations and the check-in representative's face.
Ground Experience-Luggage Allowance
Thanks to Phil on the comments for reminding me about this, because it's another potentially important way in which your experience will differ.
Here is the luggage allowance for check-in for First versus Business Class
Class of travel
Allowance
PPS Club members
KrisFlyer Elite Gold / Star Alliance Gold members
Suites and First Class
50kg
Extra 100%
Total: 100kg
Extra 20kg
Total: 70kg
Business Class
40kg
Extra 100%
Total: 80kg
Extra 20kg
Total: 60kg
And the allowance for carry on, which doesn't differ.
Class of travel
Allowance
Limitations
Suites
First Class
Business Class
2 pieces

Up to 7kg each
Sum of length, width and height of each piece should not exceed 115cm.
Does your luggage get handled any differently? Anecdotally, I've always seen bags from First Class come out first, followed by Business Class. But it really depends on the ground staff at the airport you land at.
Ground Experience- Lounge
As underwhelming as SQ's Singapore lounges are compared to some of their overseas peers, I'd say this still serves as a significant source of differentiation between Business and First
SQ's Business Class lounge isn't a bad place to be in. You can expect a range of hot items (about 10-15 different choices) served buffet style in a central area.
The food will be nothing too fancy, maybe the sort of things you'd expect in a mid-range hotel buffet spread.
There will be some DIY dishes too, like prawn noodles with generic vegetables and frozen prawns.
There will be a children's menu with items you wish you could be brave enough to order for yourself.
There will be non-vintage champagne. The last time I was there Charles Heidsieck was on offer, the same champagne as what they served onboard.
There will be computer areas, reading materials and showers in the toilets. All in all, it's a perfectly pleasant place to pass an hour, but certainly not something worth coming extra early for.
The First Class area is split into two sections- the regular area and The Private Room. The rules of access are that anyone flying First Class with Singapore Airlines can access The Private Room. Anyone else (eg PPS Solitaire Members, First Class passengers on Star Alliance partners) can only use the regular area.
The regular area, which I'll just call the First Class lounge, isn't too shabby. It's obviously smaller than the Business Class section but the food selection is more carefully curated. Think less in your face buffet of oily noodles and carbs, more cooked to order cuisine. Here's the recent breakfast selection for example- made to order eggs, waffles, pancakes, kaya toast and a strange sandwich.
There are also several live cooking stations. During the breakfast that I visited, prata with fish curry was on offer, as was fish congee.
There's still a regular buffet section but much smaller than Business Class. Vegetarian noodles, dim sum and chee kway are some examples of the items on offer.
Another perk that the First Class lounge has over the Business Class one is ice cream. Ah, the days when Ben and Jerry's and Haagen Daz were freely available in the Business Class lounge.
As nice as the setup in the regular area is, it's still predominantly focused on comfort food. Not so much The Private Room. The Private Room is a different kettle of fish altogether. It focuses on made-to-order gourmet items
Here's the menu (click to enlarge)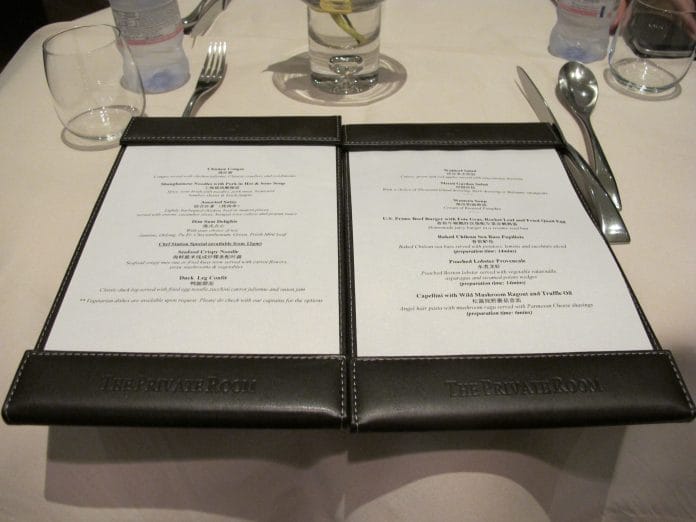 Here's lobster, salad and a prime beef/foie gras burger
The quality of food is excellent. You can also order local dishes like this seafood horfun
They have deserts too. The ice cream is basically the ice cream you'd find in the First Class area only plated with nuts and some fruit.
The Private Room serves Veuve Clicquot La Grande Dame vintage champagne, although others have reported seeing Dom Perignon 2004 available on occasion.
So I'd say that the catering for First Class passengers is definitely some level above that for Business Class. I'd definitely consider arriving at the airport a bit earlier
Note that for flights into Singapore, it's really a much different situation. The quality of your lounge experience depends on whether there's even a different First Class lounge to begin with. I generally think the ground experience will not be a significant differentiating factor when flying into Singapore unless you're flying from JFK. At JFK, First Class passengers get access to Virgin's very excellent Clubhouse
While Business Class passengers get access to the very functional Wingtips Lounge.
Inflight Experience-Hard product
A recap of the Business and First class seat has been done in the first part of the report so I'll only point out the main differences here.
Both seats are lie flat, but the Business Class seat involves sleeping at an angle. This bothers some people, but I really don't see a difference. If you want to sleep straight in Business Class, you can always get one of the bulkhead seats.
In First Class you'll have turn down service where they make the bed for you and provide proper sheets and duvets. In Business Class it's DIY, you flip the bed over yourself like so.
In Business Class the duvet is already stuck onto the seat with velcro. I suppose some people prefer the DIY arrangement because they prefer the convenience of being able to go from bed to seat to bed as and when without feeling paiseh about "bothering" the crew. I find the bed in First Class to be much more comfortable than Business Class, for what it's worth, but both will get you to your destination well rested.
Where Suites is concerned, a lot of people get excited about the concept of a double bed in the sky. It sounds great, but the execution is actually a bit short of perfect. What you essentially get is two single beds with the divider between them lowered. And the divider is hard. Really hard. You can cover it up with blankets but you'll still feel it.
So it's a novelty and nice to have, but you're not exactly going to be rolling around in comfort across both sides. I think that's something you need to be aware of.
Inflight Experience- F&B
Here's another area where the experience between First and Business class will be very different.
If I were to summarise the situation, Business Class gives you a high quality version of a meal you'd normally eat outside.  Think high quality local cuisine or mid-priced Western food.
Here's a menu from a SIN-ICN-SFO business class flight
Lunch/Dinner meal service in business class will always start with Satay, served before the table is setup with utensils and table cloths for the appetizer.
The appetizer is invariably some sort of prawn/other seafood salad.
Whereas your main can vary depending on whether you Book the Cook (see below) or go off the menu
Desert will dependably be a selection of ice cream, cakes and fruit. Cheese will also be served.
First Class, on the other hand, pulls out all the stops. Think of something approaching a Michelin Star experience, with the usual suspects like lobster, caviar, wagyu beef etc.
Here's the menu on a Suites flight from SIN-CDG-
The food quality is much higher than that in business class, as you'll see below.
The other difference, of course, is the selection available to those who opt to Book the Cook. First Class has a selection of 68 items, versus 45 in Business Class. You can see that they do upgrade the quality of the ingredients used for First Class catering. For example, the Business Class version of the US Grilled Beef Fillet uses USDA Choice Beef (which is nothing special, really)
U.S. Grilled Beef Fillet
Grilled U.S. Choice beef with asparagus, baby spinach, crushed potato, and served with balsamic onion sauce. Designed by Singapore Airlines International Culinary Panel Chef Alfred Portale
Whereas the First Class version uses USDA Prime beef. There is a difference.
U.S. Grilled Prime (or Choice) Beef Fillet
Grilled U.S. beef with asparagus, baby spinach, crushed potato, and served with balsamic onion sauce. Designed by Singapore Airlines International Culinary Panel Chef Alfred Portale
The Business Class version of Lobster Thermidor uses just the tail (and I think it's slipper lobster, not lobster lobster, i.e. crayfish)
Classic Lobster Thermidor
Lobster tail sautéed in butter, flambéed in brandy, sprinkled with cheese, and served with creamy mushroom sauce, garlic and spicy mustard, and buttered asparagus
Whereas the First Class version uses the real thing.
Boston Lobster Thermidor
A whole lobster sautéed in butter, flambéed in brandy, sprinkled with cheese, and served with creamy mushroom sauce, garlic and spicy mustard, and buttered asparagus.
The Japanese selection in Business Class has only 2 items
Chargrilled Soya-Flavoured Beef
Japanese-style beef, vegetables simmered in mirin, and shimeiji mushroom rice. Designed by Singapore Airlines International Culinary Panel Chef Yoshihiro Murata
Assorted Sushi
Marinated and smoked fish on lightly vinegared Japanese rice (served at cabin temperature)
But the First Class selection has four (including the excellent Kyo Kaiseki)
Kyo-Kaiseki
A traditional Japanese array of dishes presented in sequence, with ingredients and garnishes reflecting and changing with each season. Designed by Singapore Airlines International Culinary Panel Chef Yoshihiro Murata (inclusive of Breakfast service and available only on flights with duration of 2 hours or more; some items are served at cabin temperature)
Chargrilled Soya-Flavoured Beef
Japanese-style beef, vegetables simmered in mirin, and shimeiji mushroom rice. Designed by Singapore Airlines International Culinary Panel Chef Yoshihiro Murata
Wagyu Sirloin with Eringi Mushroom
Wagyu sirloin with baked eringi mushroom marinated with truffle, garlic and sake, yuzu and light soy sauce, accompanied by green beans and jalapeño salsa, served with steamed rice
Assorted Sushi
Marinated and smoked fish on lightly vinegared Japanese rice (served at cabin temperature)
Upshot: First Class dining is of course going to be many magnitudes superior to Business Class, so if your goal is to have a super luxurious experience it's a no brainer really.
Inflight Experience- Service
I would imagine that the ratio of crew to passengers in First Class is much lower. I know that on the new 77Ws with only 4 First Class seats there will still be two flight crew, meaning a 1:2 ratio. None too shabby. On Suites where there are 12 seats, the ratio may be closer to 1:6, or 1:4 if the two crew upfront draft in additional help from business class.
In both First and Business Class you can expect to be addressed by name at every instance, although they're a lot more consistent about this in First Class for obvious reasons. I've never experienced any delay with the call bell in both First and Business Class, versus in Economy where it's common to wait a few minutes before you get served.
Apart from that I don't think there is really much of a difference between First and Business. You'll get served quickly, cheerfully and efficiently. Maybe at most in First Class the crew will have more time to make small talk?
Inflight Experience- Others
First Class provides you with an amenities kit, which you can top up with toothbrushes, razors etc from the loo.
You also get a sleeper suit on overnight flights. This used to be Givenchy branded but no longer is. That's not a big loss to me, because I doubt it was anything more than a marketing partnership.
You get a pair of Bose QC15s in First Class, which while no longer top-of-the-line are still excellent.
SQ does not give an amenities kit in Business Class, something that is unlikely to change in the near future.
Well, ok they give out something in lieu of an amenities kit. Enjoy.
Headphones in Business Class are noise cancelling too, but Phitek-branded ones. These also work well but don't have the same comfortable around-the-ear fit that the QC15s have.
Other random, nitpicky things- in First Class you'll get bottles of Evian water after meals, in Business Class they'll be generic bottles. I doubt that's a decisive factor for anyone (and if it is I feel sorry for you) but good to mention nonetheless.
Edit: Also relevant to mention the bathroom situation perhaps?
On A380s with an all business class upper deck, the ratio is  1:14 and 1:6 for First Class
On other A380s, it's 1:15 for Business(2 loos on the upper deck look like they might be shared with the economy section behind though…) and 1:6 for First Class
On 77Ws with 4 first class seats it's 1:12 for Business and 1:2 for First. I know, right?
On 77Ws with 8 first class seats it's 1:14 for Business and 1:4 for First.
Conclusion
Although the gap between hard products has narrowed, there are still significant differences in the overall First and Business Class product that are worth considering. In the third part of this article, we'll look at the cost of First and Business Class redemptions for SQ and work out the maths regarding value.
Stay tuned!