Everyone by now should be aware of what's going on in Qatar and the broader region. I'm going to stay far, far away from any political commentary and talk about what this blog vertically integrated e-commerce media conglomerate is focused on- the travel implications.
As you may remember, I need to get from DAR to DOH for my RTW trip. I had identified that it was cheaper to fly DAR-DOH-DXB instead of directly from DAR-DOH.
At first I was thinking of throwing away my DOH-DXB ticket, but then realised that DOH-DXB was booked as First Class, as that's the level above Economy on inter-gulf flights. That was fantastic, as it meant I would get a chance to review the Al Safwa First Class lounge in Doha. It also meant that I got to spend my weekend in Dubai instead of Doha.
As you can guess, the current flight restrictions have wrecked that plan, with Qatar Airways banned from flying over or landing in the UAE, Saudi Arabia, Bahrain, and Egypt.
I quickly worked out an alternate routing from DOH-DXB that involved transiting in Muscat and taking MCT-DXB via Oman Air. My understanding is that Qatar is working to rebook affected flyers to DXB/AUH via KWI or MCT. With this in mind I called up QR to see if they'd rebook my proposed routing for me.
Now, Qatar Airways' official policy regarding the current situation is that rebookings for flights affected by this disruption can be done within 72 hours of flight departure. I say "official", because it seems from what I'm reading online that this is a classic case of YMMV. But this is also a classic case of the benefits of HUCA (hang up, call again).
Case in point- I called up the Doha office at the 72 hour mark and got a CSO who insisted on rebooking me on DAR-MCT-DXB, entirely on Oman Air. This made no sense at all to me- wouldn't QR rather keep the revenue they were earning on my DAR-DOH-MCT legs at least? Why would they want to do the whole flight on a different carrier? But she insisted there was nothing else she could do, and to top it all off the flight she proposed left from DAR one day later than I originally intended. I hung up.
I called again and got a CSO who was perfectly ok with the routing I proposed, but said that they were not able to book this for me until 24 hours before departure. 72 hours is already cutting it way close but 24? I asked about the 72 hour policy and he said that where rebooking was happening via other Middle East airlines, the policy was 24 hours as they'd seen airlines like Etihad/Emirates cancelling bookings that were done by Qatar.
I called again (a day later) and got an extremely cheerful CSO who listened to my proposed flights, said "no problem sir" and after a 5 minute hold told me it was done. I got the e-ticket shortly after hanging up. The whole call took less than my wait time.
My revised itinerary looks like this:
DAR-DOH Depart 1630 Arrive 2345
DOH-MCT Depart 0730 Arrive 1010
MCT-DXB Depart 1425 Arrive 1540
Why would I do such a long layover in Doha? Counter-intuitive as it sounds, it's so I can get a better rest. I could easily have connected to a QR flight that departed DOH just after midnight, done a 5 hour layover in MCT (at 330am no less) and reached Dubai around 9am, but that would leave me knackered (plus, a 5 hour layover in MCT is no joke).
My new arrangement allows me to spend the night not in a transit hotel, but in the QR First Class lounge. That's right, one of the cool features of the Al Safwa lounge is that it has sleeping rooms. Not darkened areas with recliner seats, but proper, hotel-style private rooms with beds and an attached bathroom.
My reading of this FT thread tells me that –
No reservations for the rooms are allowed, they're allocated on a first come first serve basis
Rooms are only available if you have >4 hours till your flight leaves
A maximum of 6 hours use is allowed, beyond which QAR 450 is payable for another 6 hours
Only bottled water is allowed in the sleeping rooms.
All of which suits me just fine. The only beverage I'd take to bed is champagne, and now that it's Ramadan the QR lounges in Doha are dry anyway…
So assuming I make it to the lounge around midnight, I can do a 6 hour stay and wake up to grab breakfast, take photos and then head on over to catch my flight to MCT. And I save one night of hotel expenses.
The other interesting development, aviation-wise, is that QR is now operating a different kind of A320 on the DAR-DOH route. Qatar used to operate the version that had your standard regional business class recliner seats, which aren't great for a flight that's decidedly medium-haul.
But because of the blockade, QR1348 now needs to take a longer route from DAR-DOH, adding about 90 minutes to a flight blocked at 5h 50 mins. You can see the diverted route here:
I don't know if it's an aircraft range issue or just QR wanting to redeploy narrowbody aircraft it can't use on intra-gulf routes anymore, but the A320 on this route has been switched to the version that has full flat seats in business class.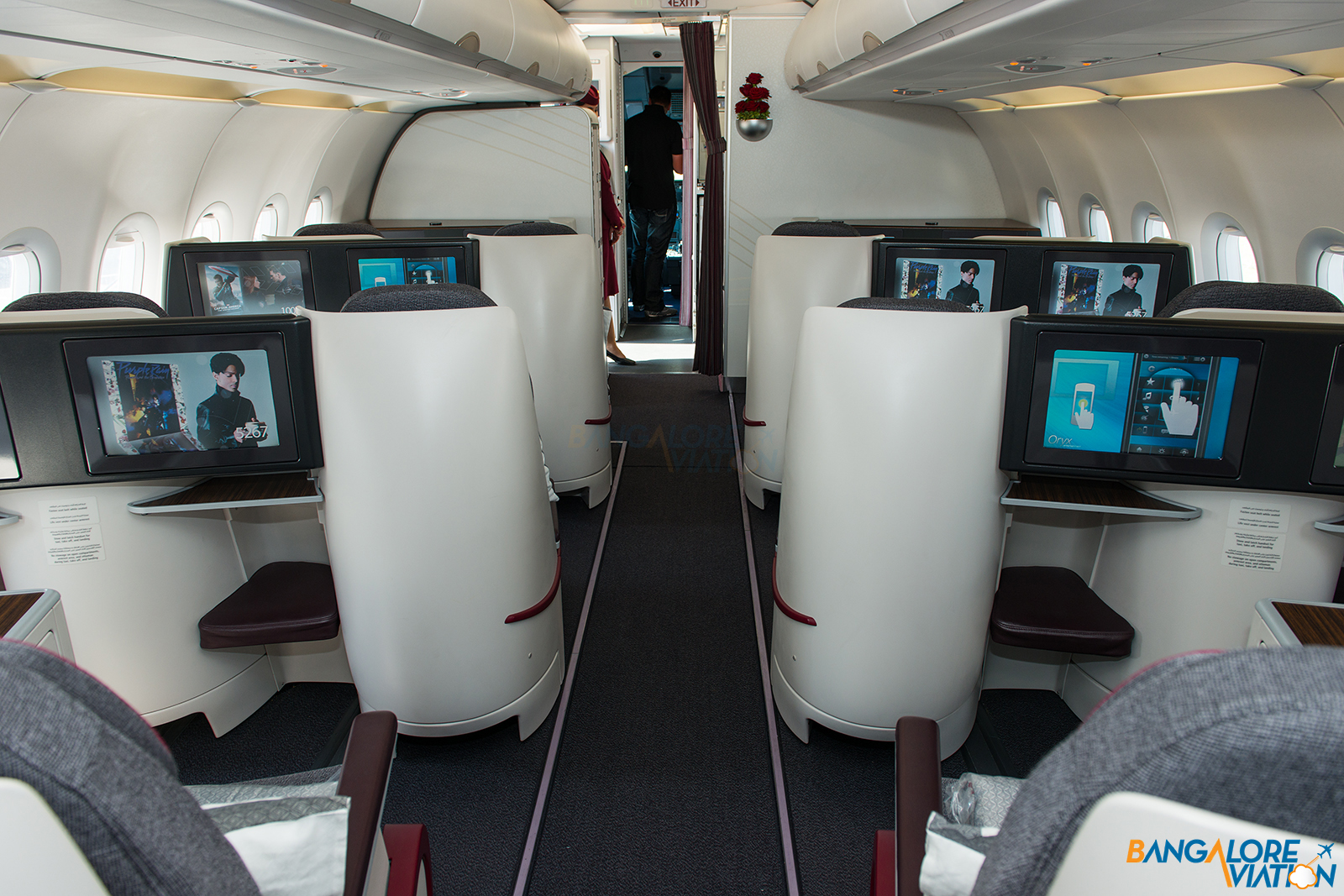 This is the same aircraft that normally plys intra-gulf roots and which premium cabin is sold as first class, but because of the current restrictions is getting redeployed elsewhere (sidenote: it does seem like such a waste of resources that QR would normally deploy a flat-bed seat aircraft on routes that are 2 hours or less)
I'm not thrilled about a 4 hour layover in Muscat, but at least I'll get to review the Oman Air lounge in Muscat and try their 737 regional business class. Hopefully their lounge is decent enough to get some solid work done.
It's amazing if you sit back and think about our supposedly connected world. By denying Qatar air links and passage with its neighbours, what should have been a no-nonsense 1h flight between DOH and DXB stretches to almost 5 hours including transit. And involves flying in the "wrong" direction between each destination.
No one has any idea how long this will last, but it's sure to have an impact on your travels if you're heading to the region anytime soon. Hopefully cooler heads will prevail and we'll see a restoration of something approaching normality soon.
In the meantime, if you've got a QR itinerary that's been affected by what's going on, it's good to call up customer service with alternative routes already in mind. And if the first CSO tells you no, don't take that for a final answer. Keep trying until you find a CSO who can accommodate you.