Introduction: It's the most wonderful time of the year
A Tale of Two Lounges: SATS Premier T2 and the Qantas SIN Lounge
Malaysia Airlines B737 Business Class SIN-KUL
Malaysia Airlines Business Class Golden Lounge KUL
Malaysia Airlines A330  Business Class KUL-NRT
Japan Airlines Business Class Sakura Lounge NRT
Japan Airlines B77W Business Class NRT-LAX
The Westin LAX
The Westin Westminster
Aloft Boston Seaport
The Consolidated AA Domestic First Class Experience
American Airlines Flagship Lounge JFK
American Airlines B772 Business Class JFK-LHR
American Airlines Arrivals Lounge LHR
The Great Northern Hotel, London
Sheraton Grand Park Lane, London
Westin Paris Vendome
Courtyard by Marriott Madrid Princesa
Four Points by Sheraton Barcelona Diagonal
The Consolidated Intra-Europe Business Class Experience
Sheraton Casablanca
Royal Air Maroc Business Class Lounge CMN
Royal Air Maroc B737 Business Class CMN-ACC
Ethiopian Airlines B787 Business Class ACC-ADD
Ethiopian Airlines Cloud 9 Business Class Lounge ADD
Ethiopian Airlines Q400 Business Class ADD-DAR
Protea Hotel by Marriott Dar Es Salaam Courtyard
Qatar Airways A320 Business Class DAR-DOH
Qatar Airways Al Safwa First Class Lounge DOH
Qatar Airways A330 "First" Class DOH-MCT
Oman Air Business Class Lounge, MCT
Oman Air E175 Business Class MCT-DXB
The Grosvenor House Dubai
W Doha
Qatar Airways Business Class Lounge DOH
Qatar Airways B772 Business Class DOH-BLR
The Ritz Carlton Bangalore
Vistara A320 Business Class BLR-DEL
Cathay Pacific A330 Business Class DEL-HKG
Cathay Pacific Arrivals Lounge HKG
W Hong Kong
Touring Cathay Pacific's HKG Lounges
Cathay Pacific A350 Business Class HKG-SIN
---
At the risk of flogging a dead horse, SQ really, really, really needs an arrivals lounge*.
*(I know that Solitaire PPS members can use the First Class area of the Silver Kris lounge in SIN as an arrivals lounge, but that's about it. Everyone else, be they First Class, Business Class or PPS members get nothing)
I get that they've probably looked at this before and some beancounter has come to the conclusion that it doesn't make financial sense for them. And perhaps they're right- SQ's onboard product is so head and shoulders above the competition that people are willing to accept a relatively inferior ground experience. In any case, no other airline is operating an arrivals lounge in SIN. Also, I can't imagine any businessman saying "you know what, I'm going to take United from SFO to SIN instead of SQ because SQ has no arrivals lounge"
But an arrivals lounge is such a valuable amenity to business travelers for so many reasons
It allows them to maximize rest on the plane by taking breakfast on the ground instead of onboard
It allows them to freshen up and shower before heading directly for meetings
It provides a nice place to wait for colleagues who may be joining from separate flights
It allows people to sync their emails and sort out their admin matters before leaving the airport, rather than huddling in a coffee shop in the public area trying to find a signal
Case in point: the American Airlines arrivals lounge in LHR, which I made a beeline for after clearing immigration and customs.
The lounge isn't difficult to find. Once you claim your bag and leave the secure area, just look out for the signs for lounges.
The AA lounge is located one floor above the arrivals area. You can take the lift or stairs up.
The pleasant agent checked my boarding pass and welcomed me to the lounge. The AA arrivals lounge isn't just for AA flyers of course. You can access the lounge if you're flying into LHR on BA, Qantas or Cathay Pacific long haul first or business class flights, as the access rules below show.
The first order of business was to get a shower. I was a bit kancheong about this because morning is peak arrival time for transatlantic flights and I imagined there'd be a long queue if I tarried.
My concerns were unfounded, however. The showers area was deserted. I didn't see a single other soul in the carnivorous corridors
And showers are in plentiful supply, 29 of them in total (sounds like a lot, but BA has an incredible 94 shower suites in its arrivals lounge!)
I should also note that there were no staff on hand to assign cubicles, but given that it was so empty it wasn't really needed (I did, on the way out, bump into a rather surly staff member who saw me taking photos and asked if I was lost)
I settled on cubicle 27, just because there was no 42 (need to start inserting more Hitchhiker references in these posts…)
The suites are tastefully finished with marble (or marble looking) fixtures. There's a thoughtfully-provided luggage rack (you'd be surprised how many lounges don't have these in their showers), wall-mounted hairdryer and large, well lit mirror.
Compare the decor here to that which you'd find in BA's arrivals lounge and you can see the difference immediately. BA's showers remind one of a hospital ward
There was plenty of counter space to put your barang barang.
By default, toothbrushes and shaving kits aren't provided. You have to request for them. I find that an annoyance, although minor. But at least they come in atas packaging
Amenities like cotton buds, mouthwash, shower cap and cotton balls come standard, however.
The coolest feature of the suite by far was the double door that allows you to send your clothes for ironing. Again, this makes so much sense. Business travellers coming off a long haul flight with crumpled clothes can send them off for complimentary pressing and hit the road running.
The double door is behind the entrance door.
Simply open the outer compartment and look! An escape room esque interior.
Hang your clothes there, lock the compartment again and press the button below for service.
Your clothes will be magically picked up, pressed and returned by the time you step out of the shower. And all without the need for human interaction. What a time to be alive.
I was pleased that AA was using the same brand of toiletries here as they were in the Flagship lounge at JFK. 
The shower itself is excellent with good water pressure.
After showering I went to explore the main lounge. It's not a huge facility to be frank, but there were still plenty of empty seats to be had.
But you're not here for the seats, you're here for the food!
There are two components to the food options- a buffet, an an ala carte menu.
The buffet has all you need to assemble your own English breakfast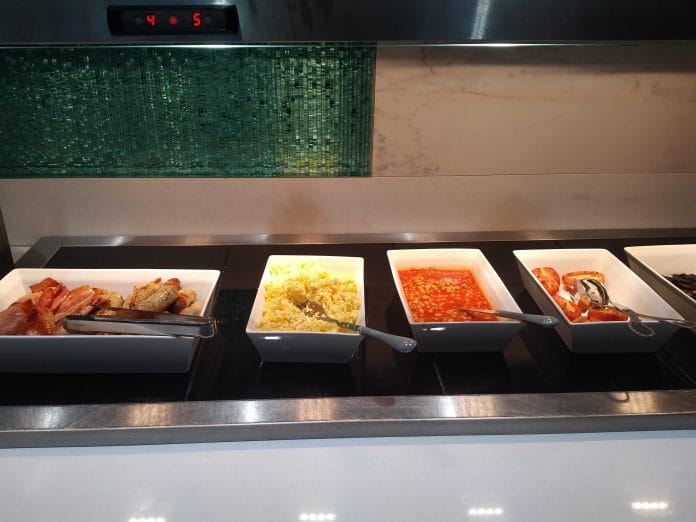 No one breakfasts like the English. Could have used hashbrowns though.
Lighter options like fruit, cereal and pastries are also available.
Where drinks are concerned, you have juices, soft drinks as well as a mini Moet champagne fridge.
Making your own mimosas was never this fun.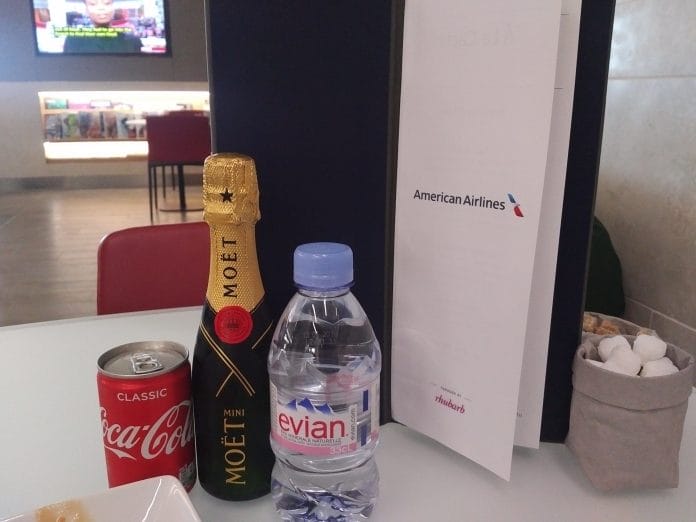 The ala carte menu is equally attractive, with freshly cooked items available.
I got the protein pancakes, which were presented very nicely.
Breakfast was had at a leisurely pace- I stayed in the lounge for a total of an hour, yet it never got very crowded (this was approximately 9am)
Finally, there's a business centre in a corner of the lounge with printing facilities- useful if you need to print any last minute confirmations.
I found the AA arrivals lounge to be a very pleasant place to freshen up and grab a bite before heading out. There's also a very serious value proposition for business travelers, and if you're coming to London on CX anytime soon you should definitely check out this lounge.