When I learned that Alaska and SQ were forming a partnership that would allow for reciprocal mileage earning and redemption, I got really excited. Excited because Mileage Plan is one of the best tools of the miles game, and despite their big no-notice devaluation of Emirates awards some time back, still offers a great way to try out CX and JAL's premium cabins for less.
I'll talk about CX another time, because I want to use this post to focus on the JAL award chart and one particular aspect of it. JAL became an Alaska partner back in December last year. Here's a summary of their award chart for one-way awards to and from Asia.
65,000 miles for one-way business from Singapore to the US is already very good value (Mileage Plan does not impose fuel surcharges on redemptions), but I want to draw your attention to the Intra-Asia chart because that's where the money is. Mileage Plan charges 25,000 miles for a one-way redemption within Asia, and that creates an interesting opportunity…
Alaska Mileage Plan's JAL Trick
Thanks to a few people who commented on the previous Alaska post, I've learned that it is possible to buy a round trip business class award on JAL to Tokyo for ~US$550.
Let's look for award space on JAL between Singapore and Tokyo. The trick is not to use the one-way function on Alaska's search engine, but the multi-city tool. 
Put the first leg as SIN-TYO (this will cover both HND and NRT) and the second leg as TYO-KUL. You can leave the returning flight fields blank. Remember to check the "use miles" option on the left. Your first leg date is when you want to leave Singapore, and your second leg date is when you want to return.
If you've entered your details correctly the screen below will pop up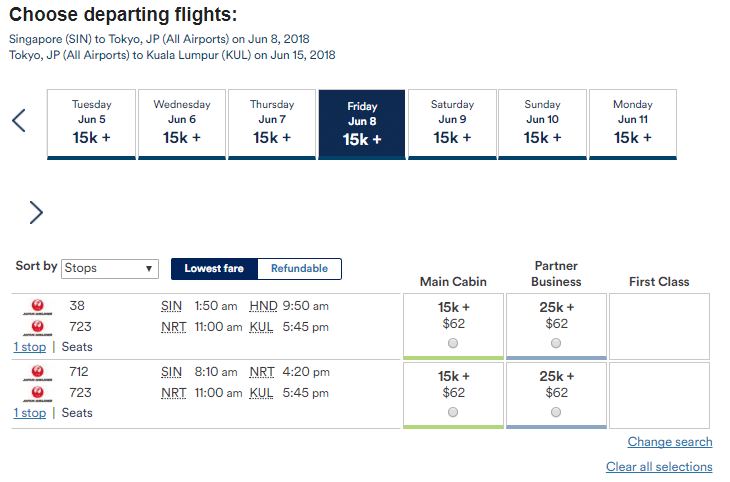 See what's happening? The system is offering to let you fly on JL38 from SIN-HND on 8 June 2018, and then connect from NRT-KUL on JL723 on 15 June 2018. And it's pricing this at the cost of a one-way intra Asia award of 25,000 miles plus some taxes (US$62 in this case). All you have to do is book yourself on a cheap budget flight back from KUL-SIN.
Note that your second leg doesn't have to be Tokyo-KUL. You could also fly to BKK if you so wished for the same price, or any other destination that JAL serves in SEA. The point is, you're getting a round trip ticket for the cost of a one-way. And that's really sweet.
JAL operates its 787 aircraft between NRT and KUL, and depending on the day you fly you may either get this
or this
Either product should be fantastic. You can read a review of my experience flying JAL business class from SIN-HND here.
Alaska sells miles as low as 1.97 US cents each, so the total cost of this award for you will be US$554.50. That's fantastic for a round trip business class ticket.
Now here's a point to note: sometimes, you may make it all the way through to the page where you enter your credit card details, but when you click submit to try and ticket, you get a notice saying:
Space on partner flights cannot be confirmed. Please change the dates, cities, or flights of your original request. -1620
Don't panic, and please don't call up customer service because such a routing would raise some serious eyebrows. This is a well known issue, and what it means is that Mileage Plan is showing you phantom award space. That is- the system shows award space, but it's not really available. In this case unfortunately you can't really tell whether it's your first leg that has issues or your second.
There are a few things you could do- you could try trial and error by moving the dates around one at a time, or you can try to use one of the methods mentioned here to search for oneworld award space (I am assuming that JAL releases the same award space to oneworld partners as it does to Alaska, which may not be the case. Someone confirm?) on JAL.
This happened to me the first time I tried to ticket, but by moving my trip one week back everything worked out great. I'm now booked to fly to Tokyo end of April next year. I know, I've just been, but this time I'll probably take a further flight to Hokkaido.
What if I need to change an award?
Mileage Plan doesn't charge anything to change routes, flights or dates so long as you're at least 60 days out from the first leg of your reservation. Once you're inside 60 days, you pay US$125 per change, so be careful.
The good news is that you can make award changes online without having to call up anyone. Suppose I decide that instead of flying NRT-KUL, I want to head to Bangkok instead, get some shopping and spa treatments done and then take a cheap BKK-SIN flight home.
I just find my booking and click on "Change Flight" for the second leg. Enter Bangkok as the new destination:
And there you go- I merely pay the difference in airport taxes of US$1.60 and I'm all set. No human intervention needed.
How do I earn Mileage Plan miles?
From 27th September 2017 you will be able to earn Mileage Plan miles when you fly on SQ and credit to Alaska. Here's how the different classes of SQ tickets will accrue to Alaska.
But until then you can do the following:
Buying from Mileage Plan: Mileage Plan miles go on sale at up to 50%, which means buying miles at 1.97 US cents each. Even if you were to get a 40% bonus you'd be paying 2.11 US cents each
Transferring from SPG: SPG points transfer at a 1:1 ratio to Mileage Plan, with a 5,000 point bonus for every 20,000 points transferred. You can either earn SPG points the old fashioned way, or buy them when they go on sale. If you're lucky enough to be targeted for a 50% discount, paying 1.75 US cents each for 20,000 points means you could redeem the aforementioned trip for US$411.90. That's ridiculously good value
When Alaska bought over Virgin American, they gave out 10,000 miles to Virgin America Elevate members who had an account open as of 5 December 2016. It didn't matter if you, like me, had totally 0 activity in that Elevate account. So in actual fact I only had to buy a further 15,000 miles to redeem my itinerary, lowering the effective cost even further. Apparently it's still possible to claim your 10,000 miles, so if you have an Elevate account you should check this out. 
Conclusion
Awards like this are why I love Mileage Plan. Now that it's going to get easier to earn Mileage Plan miles in Singapore, it may be worth your time to study the Alaska award charts to find other opportunities for good value.