The Tokyo Ramen Run: Trip Planning
British Airways Galleries Lounge, Singapore
Qantas Lounge, Singapore
Japan Airlines B772 Business Class SIN-HND
My Tokyo Food Pilgrimage
Courtyard by Marriott Tokyo Station
The Great Tokyo Ramen Hunt
The Great Tokyo Ramen Lug
ANA Suite Lounge Narita
Singapore Airlines B77W First Class NRT-SIN
---
I mentioned back in my post on Trip Planning that I booked the Courtyard by Marriott Tokyo Station because it was the cheapest award option available to someone with SPG points (35,000 Marriott Points= 11,667 SPG points per night). But location wise, it's awesome too. I know Tokyo station isn't as happening as say, Shibuya, but it's still an excellent place to use as a base for exploring Tokyo, with easy access to and from the airport. I reached Tokyo station in just under 30 minutes from Haneda.
Despite the name, the property isn't exactly at Tokyo Station- it's maybe a 6-7 minute walk depending on how much luggage you have (and how lost you get at Tokyo Station). You can save yourself a lot of trouble by remembering to take the Yaesu South exit of Tokyo Station.
On the plus side, the hotel is extremely near the Kyobashi station (on the Ginza line), perhaps a 1 minute walk from the entrance.
First Impressions and Check In
The property itself is surprisingly small- it's spread across four floors, and the 150 guestrooms are only on levels 2-4. The first floor has the (very excellent) Lava Rock Grill, which I'll cover under the breakfast review, plus a coffee and pastries style cafe.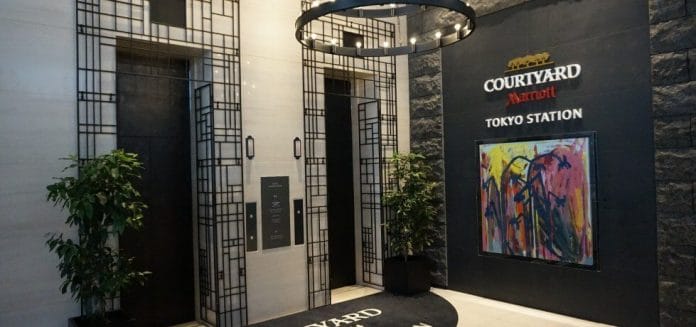 Check-in is up on the fourth floor. It was a very cozy lobby that was designed in the style of a living room, complete with communal dining table and armchairs a plenty. Secluded in a dark corner were automated kiosks for quick check in and out, but I didn't see anyone using them.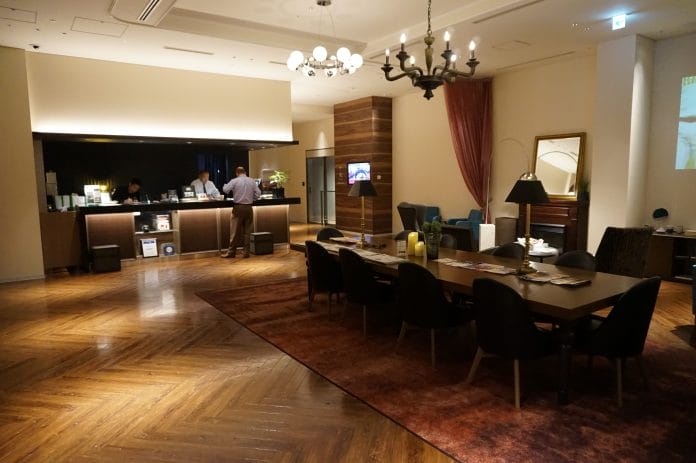 My favourite feature however was the "lounge". It's not a brand standard for Courtyards to have lounges, of course, but this one had gone a bit above and beyond to set up a small area with complimentary drinks for Gold and Platinum members.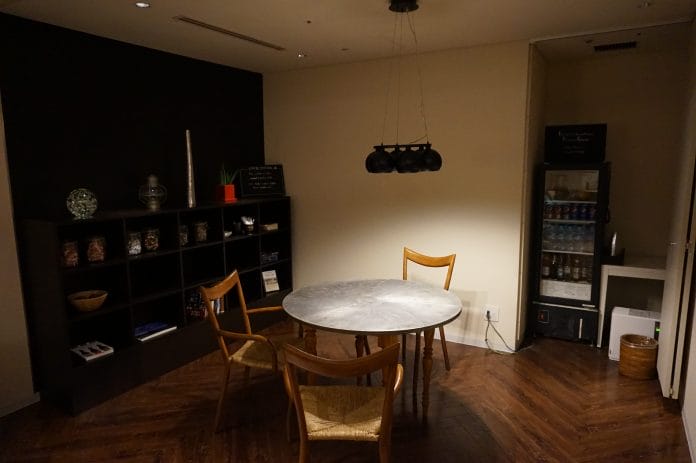 The fridge had soft drinks, bottled water, fresh juice and local + imported beers. There was really no way of enforcing the "Platinum and Gold" members only rule, but I suppose when you're in a place like Japan the honor system is king. It was a really nice touch by the hotel and meant I didn't have to go out and buy bottled water (yes, I know Japan has some of the cleanest tap water in the world but watching Avatar made me really angry at Gaia)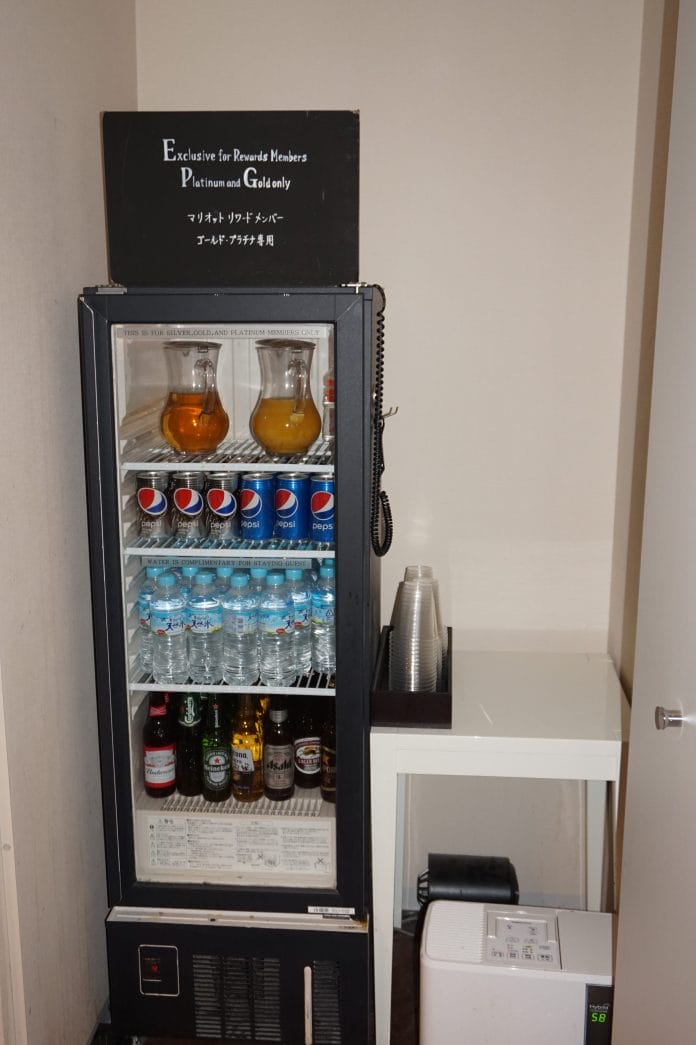 My room wasn't ready when I arrived at 8am, so I headed out to explore Tsukiji market before returning around noon to check in. At check in, the staff passed me a letter asking me to indicate my preferred welcome amenity. They advised me to take the points because of the aforementioned minifridge in the lobby. I find Marriott's welcome gift of 250 Marriott points to be inferior to Starwood's (SPG's properties offer 250/500 SPG points (750/1,500 Marriott points) depending on the brand), but every point counts I guess.
The Room
There's a surprisingly large range of room types for a Courtyard property.
Cozy Double (16 sqm)
Creators Double/Queen (19 sqm)
Editors Twin/Queen (23 sqm)
Photographer Corner Twin (33 sqm)
I booked a standard reward room and was given a Creators Double on the second floor. I'm not sure if this counted as an upgrade over the Cozy room or what, but the size difference is honestly negligible. This is Tokyo, so don't expect big rooms. My room was actually bigger than I envisioned it.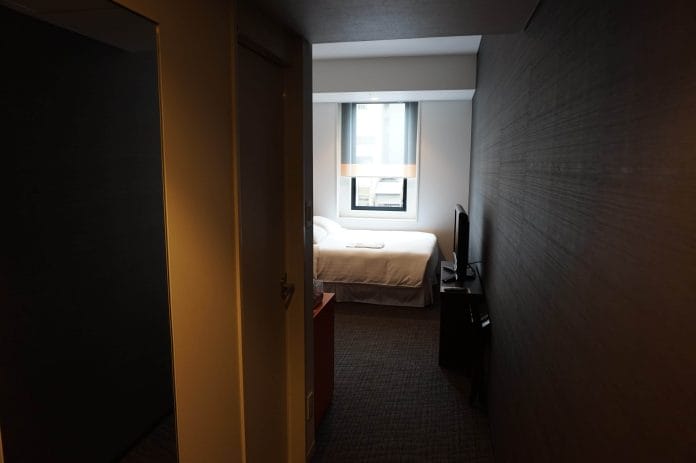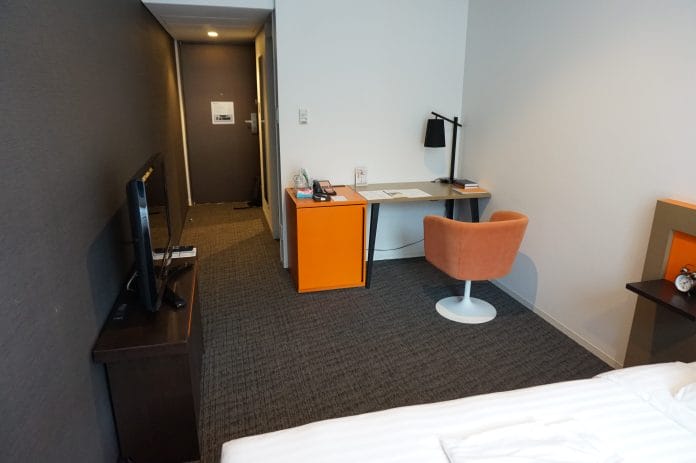 On the bright side, the bed and pillows were extremely comfortable and had the scent of fresh laundry.
The view from the room was…uninspiring. However the sound proofing was excellent and a light sleeper like me wasn't bothered by any of the road noise.
There was a proper work desk with a lamp, but the chair wasn't the most comfortable for seating for extended periods of time (no lumbar support).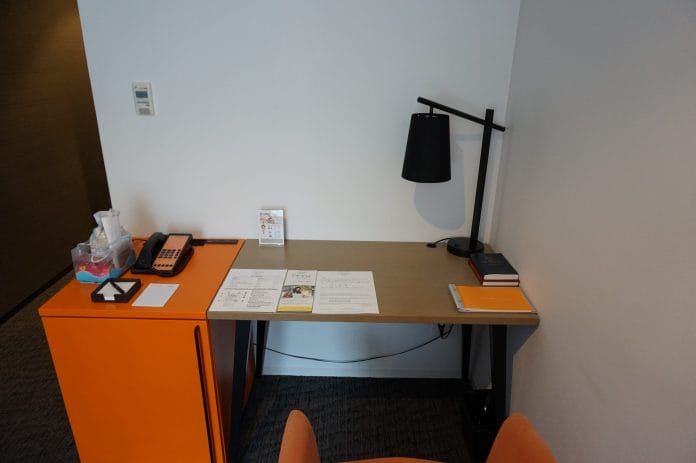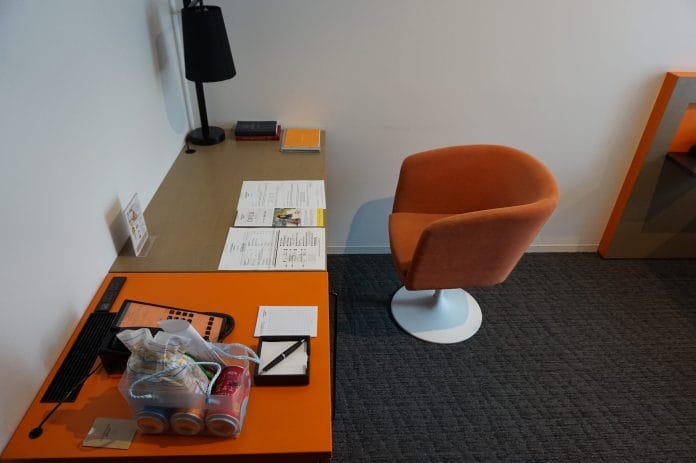 Disappointingly, the desk lacked USB ports and the power sockets were not universal, so be sure to bring an adapter if you visit.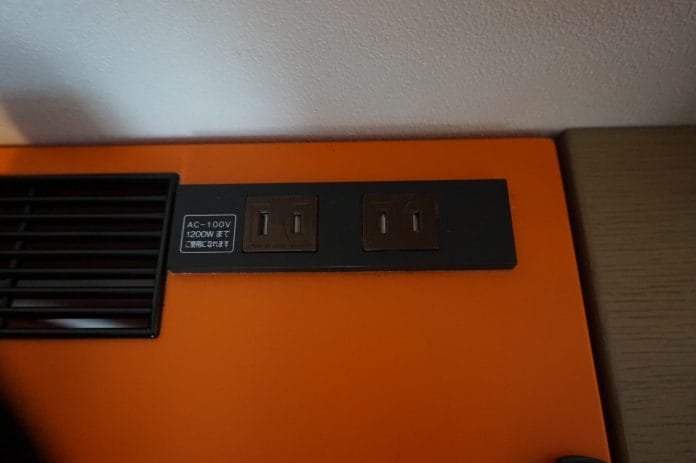 This property gave quite a few welcome gifts. I got three cans of beer, a mix of Japanese nuts…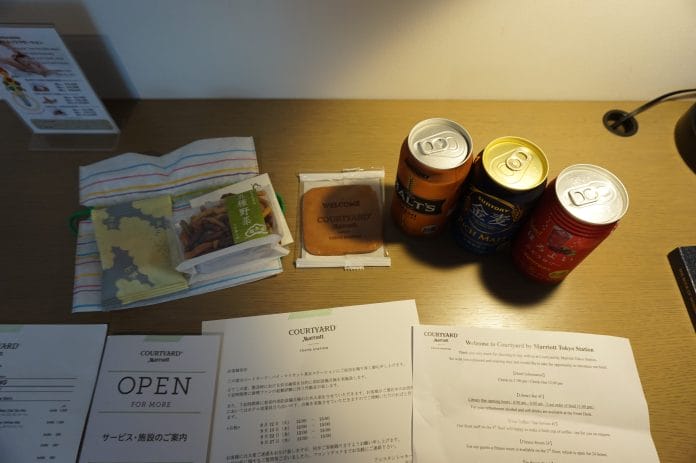 …and a wafer thin biscuit welcoming me to the Courtyard Tokyo Station (that predictably broke a little while later in my clumsy fingers)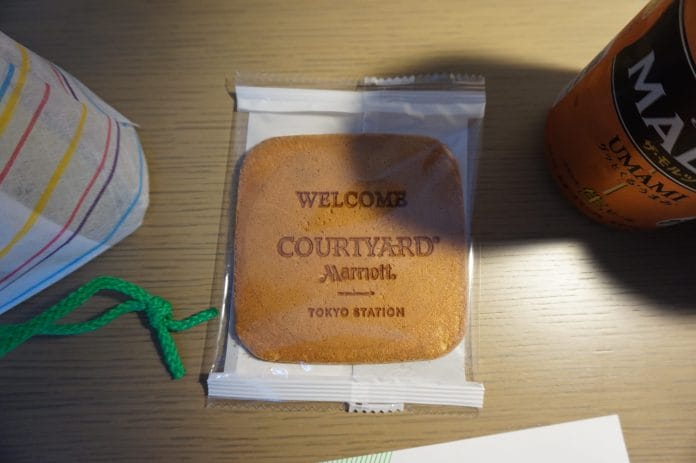 Here's an idea of the prices for in-room dining in case you're curious.
Fun fact: the Marriott chain is owned by Bill Marriott, a staunch Mormon. Hence you'll find copies of the Book of Mormon in most Marriott properties alongside the Gideons provided Bibles.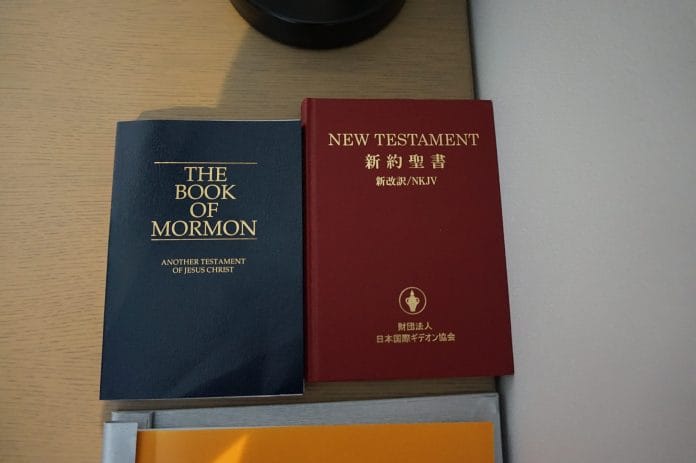 Below the work desk was a minifridge and a safe.
The minifridge had 2 more free bottles of water inside.
The bathroom was cramped, yet for whatever reason had a bathtub. Unless you're running a luxury property, there really is no need for bathtubs in rooms. The toilet had a fancy Japanese bidet.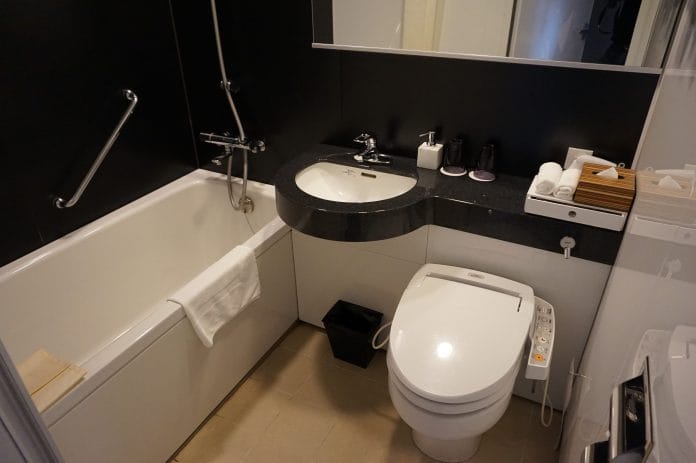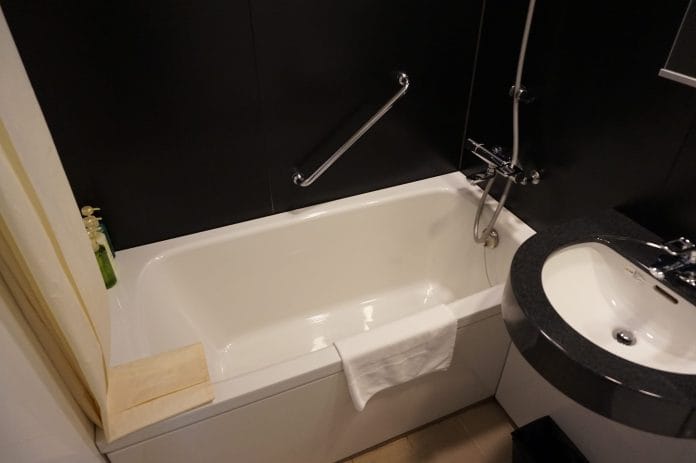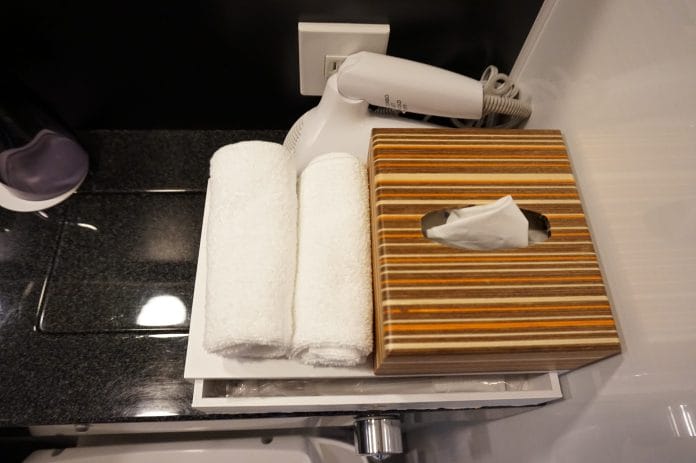 I didn't realise it at first, but opening the drawer beneath the tissue box revealed a host of amenities including, most interestingly, a hair scrunchy (scrunchie?)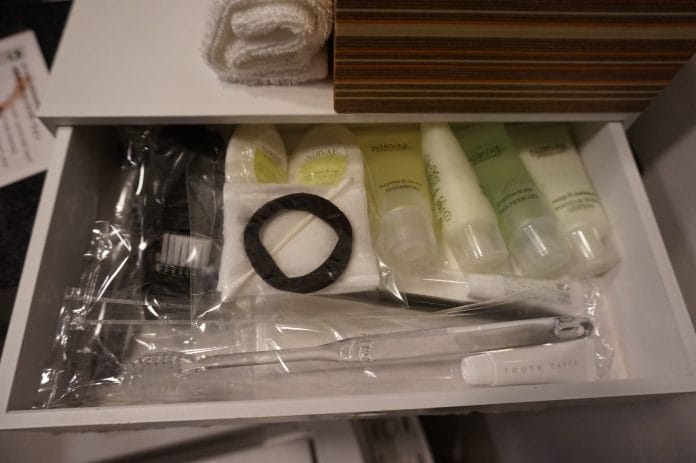 Breakfast
Breakfast is served at the Lava Rock Grill from 0630 to 1000.
As a Platinum member, I received a complimentary breakfast coupon for each day of my stay (Gold members get the same).
Breakfast was amazing. I knew the Japanese were proud of their food, but this was easily one of the best hotel breakfasts I ever had. And did I mention it was totally free?
All the food is labelled in bright white chalk, so I don't need to give you a blow by blow rundown. But to summarize- there were Western and Japanese options, and they were all very high quality.
The hot items really stole the show for me. The items look no different from what you'd get at any breakfast buffet, but remember this is Japan, so the produce and meats are of the highest quality. I guess you had to be there to taste it, but ordinary things like mushrooms and greenbeans tasted amazing because of the freshness. So too mundane items like sausages and pork rashers.
You could also get made to order pancakes.
And because it's Japan, you know the pancakes are going to be cute. The pancake was done in the style of a small ball.
Here's a sampling of the other hot items…
They had big crispy steak fries, at breakfast. Plus, just look at how red those tomatoes are! Japanese cherry tomatoes are famous in their own right, but grill them till their skins burst and you're in flavortown.
I made myself a simple egg and rice set. The rice was as good as any rice I had in all of Tokyo, and the egg yolk was a luxurious orange.
I'm sure the fruit wasn't the expensive Japanese type you see at Taka, but it was still light years ahead of any fruit I've ever had at a breakfast buffet. The melon dissolved in your mouth.
Conclusion
The rooms may be nothing to shout about, but man, that breakfast. I don't know if this is par the course for all hotels in Tokyo, but if anything it just reaffirms how obsessed the Japanese are about quality. It's incredible if you think about it- the Japanese set out to create the best rice, chicken, pork, beef, fruits…and did. I've read that you could go into a run of the mill 7-Eleven for a re-heated meal and get better rice than you'd find in Singapore. I'm tempted to believe it.
If you're a Starwood loyalist who is looking for options in Tokyo, you could do far worse than pick the Courtyard Tokyo Station.