Well, that didn't take long. Following the furore that arose over the decision to automatically charge passengers out of Singapore for travel insurance, Singapore Airlines has removed the automatic inclusion of travel insurance from its website effective January 30, the airline has confirmed.
"We have taken customer feedback into account, however, and have amended the booking flow on our website to offer travel insurance as an 'opt-in', rather than 'opt out', feature," an SIA spokesman said in response to queries on Thursday (Feb 1).
There were several paths SQ might have gone down but I'm glad they went with the full U-turn in the end.
For example, it wouldn't have been hard for SQ to tweak the interface of the website so that the "more details" section, which shows the automatically included travel insurance, is expanded by default on the final payment page.
Or they could have tweaked their color palette so that the "remove" button was more prominent and eye-catching rather than grey.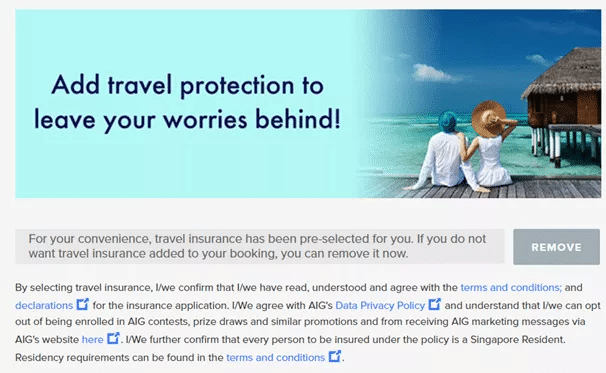 Let's be clear, though, that neither of these changes would be sufficient to make the case for what SQ was originally trying to do. I still believe that in principle it's wrong to opt people in for travel insurance without their consent, and the design and UX choices of the SQ website merely reinforce that "wrongness".
Anyway it's a moot point because automatically included travel insurance is now gone, and people can once again click through their Singapore Airlines bookings without fear of gotchas.
What have we learned?
If there's one important lesson that comes out of this, it's the need to check everything carefully before you press the "make payment" button. Yes, you should have a reasonable expectation that companies in general won't throw in additional items in a sneaky attempt to upsell you, but unfortunately that's the world we live in. It only takes an additional minute to make sure everything is in order, and that might save you many hours on the phone down the line.
What has SQ learned?
In this TodayOnline article, the SIA CEO was quoted saying the following:
SIA chief executive officer Goh Choon Phong addressed the credit-card service fee fiasco briefly on Monday, saying: "We have to accept that some things may not work … and we have to show that if it doesn't work, that we learn quickly, and move on."
I hope this doesn't suggest a cavalier attitude towards trying out new, ill-conceived ideas because it seems like SQ's mentality in recent months has been to just try everything and see what sticks.
Credit card fees didn't stick, nor did automatically including travel insurance, so those two "features" are gone. It seems that charging for seat selection on certain economy class seats has stuck, however, so that looks like it's here to stay (it did help that they also increased the mileage accrual rates for the cheapest economy tickets).
But it's not the right mentality that we should just try everything out and if something doesn't work, reverse it quickly and move on. That assumes there is no cost to trying. The fact remains that SQ has unnecessarily lost a lot of goodwill over these past few months, which is surprising for a management team that has historically been very conservative about brand management.
So I'm glad that SQ has reversed course, but time will tell what the transformation team has truly learned from all this. Stay tuned.