If my travels have taught me anything, it's that immigration queues are the biggest wild card in the equation.
You can look up the historical performance of your flight to gauge the odds of an on-time arrival. You can ballpark how long it takes for your bag to pop off the belt. But immigration queues? That's a total black box. Some countries publish expected wait times, but everywhere else it's anyone's guess as to how long or short the queue will be.
So what can you do if you've got a tight connection that requires clearing immigration, or just don't fancy starting off your vacation with a multi-hour wait in line?
In this article I'm going to run through some options Singaporean passport holders have for getting through immigration faster in selected airports.
Programs which require prior registration
Multiple countries: APEC Business Travel Card
Countries covered: Australia, Brunei, Chile, China, Hong Kong, Indonesia, Japan, South Korea, Malaysia, Mexico, New Zealand, Papua New Guinea, Peru, Philippines, Russia, Singapore, Taiwan, Thailand, Vietnam, USA, Canada
Fee: S$100
Validity: 5 years or validity of passport, whichever is shorter
More information available here
I've written about the APEC card before but it bears repeating: if you're a Singapore citizen, this little piece of plastic is your birthright. Holders of this card waltz through immigration queues in 21 different APEC and participating countries, and it's an amazing feeling each time.
The catch, if you want to call it that, is that availability is restricted to:
A bona fide business person representing an economically active business entity
A member of a professional body (for example, a doctor, lawyer or accountant)
A public officer representing a ministry, government department, economic agency or statutory board, travelling in your official capacity.
Criteria (2) and (3) seem pretty set in stone, but (1) is somewhat more ambiguous. Anyone who travels frequently for business would fit this category. If you believe you're eligible, you'll need to get your HR to fill out a support letter that looks something like this:
Letters need to be signed off by a member of senior management or your HR department. You can't sign off on your own letter, unless you submit ACRA records to show that you're also the company owner.
Processing time is understandably slow, given that you need to be cleared by 21 separate countries. You can check the status of your application here.
To start enjoying the benefits sooner, you can select up to five priority economies for pre-clearance. Once those five countries have cleared you, an interim ABTC will be sent which you can start using first. Protip: pick your five countries carefully, because you won't get your interim card until all five pre-clearance economies have cleared you.
One common question is whether APEC cardholders can bring guests along with them to the priority line. The answer is YMMV. There are airports which explicitly prohibit this, there are airports which explicitly allow a certain number of guests, and there are airports which stay mum.
If you're a member of the following programs, you may be eligible for a reimbursement of the S$100 application fee:
Hong Kong e-Channel service
Countries Covered: Hong Kong
Fee: None
Validity: Valid until current passport expires, after which re-enrolment is required
More information available here
A Singapore passport holder aged 11 or above can enroll for the e-Channel service if he/she has visited Hong Kong at least two times in the past 12 months. However, the visit requirement can be waived if the passport holder holds a HKSAR Travel Pass, an APEC Business Travel Card with Hong Kong clearance, or a frequent flyer programme membership card.
You will need to physically visit the office at the Hong Kong airport to get your registration done. There are two counters- the North Hall counter is open from 7.30am to 11pm, the South Hall counter is open from 10am to 6pm.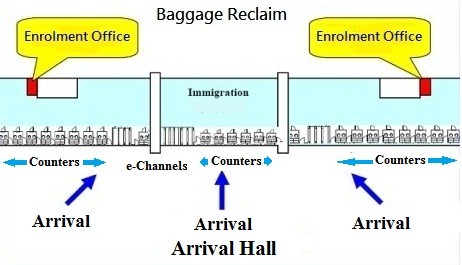 Japan Trusted Traveler Program Countries Covered: Japan
Fee: 1,100 JPY
Validity: 3 years or expiry of passport, whichever comes first
More information available here
Technically speaking, Japan does have a Trusted Traveler Program that allows fast entry through automated passport gates. However, the qualification criteria is extremely stringent.
In addition to having visited Japan at least twice in the past 12 months, you must meet one of the following criteria:
This would disqualify most casual travelers to Japan.
Taiwan Speedy Immigration Counter
Countries Covered: Taiwan
Fee: None
Validity: One year
More information available here
Foreign visitors to Taiwan who have visited at least three times in the past 12 months can apply online for approval to use the Speedy Immigration Counter. If approved, you'll receive a certificate to show upon arrival.
Note that this doesn't give you access to the e-gates at the airport. Instead, you'll queue at a special immigration counter for expedited processing.
Anecdotal accounts suggest that Singapore travelers can use the e-gates upon departure at Taipei International Airport.
UAE Smart Gate
Countries Covered: UAE
Fee: None
Validity: Unclear
More information available here
Singapore passport holders can register to use the Smart Gates at Dubai or Abu Dhabi airport after arriving in the UAE. The immigration officer at the regular passport control counter can process you on the spot if you request for it.
United States Global Entry
Countries Covered: USA
Fee: US$100
Validity: 5 years
More information available here
Given the uncertainty of US immigration queues, the gruffness of customs officials and the whole "fortress America" mentality, I'd argue that Global Entry is worth applying for even if you don't see yourself heading to the US more than a couple of times.
The best part about Global Entry is that it's an (almost) completely human-free interaction upon landing. You find a kiosk, scan your passport, answer some customs questions and get a printed ticket. You pass this ticket to the official at the exit, and that's it.
When you apply for Global Entry you also get admission into the TSA PreCheck program. This allows you to go through a simpler security process at the airport (shoes and light jackets stay on, laptops stay in bags, metal detector only). If you've ever traveled domestically in the US, you'll know this can be a lifesaver.
Global Entry requires that you go for an interview and slots can be fully booked for months on end. However, the US Embassy organizes periodic sign up drives at AmCham where they try and clear as many people as possible over a few days.
If your passport expires while holding Global Entry, there's no need to pay another US$100 fee. Simply go online and update your passport details.
No registration needed- use on arrival
Australia SmartGates
Singapore passport holders aged 16 or older can use the SmartGates upon arrival in Australia.
SmartGates are a two-step proces. You'll first look for a self-service kiosk in the immigration area, where you scan your passport and answer some questions. Completing this issues a ticket which you use at the SmartGate itself. At the SmartGate, you'll insert your ticket and have your photo taken. If your photo matches the one in your passport (don't ask me how they ascertain this) the gate will open and you'll get back your ticket, which you'll need to present to an officer to exit the arrivals area.
Note that families or adults with young children under 10 cannot use the SmartGates.
New Zealand eGate
Singapore passport holders aged 12 and above can use eGate clearance at Auckland, Wellington, Christchurch and Queenstown airports.
Thailand Auto Gate
Since August 2017, Singapore passport holders have been able to use the Auto Gates at Suvarnabhumi airport to enter Thailand. No prior registration is required- just show up and head for the gates.
UK e-passport gates
Since May 2019, Singaporeans visiting the UK are eligible to use automated ePassport gates. These can be found at the following airports:
Birmingham Airport (BHX)
Bristol Airport (BRS)
Cardiff Airport (CWL)
East Midlands Airport (EMA)
Edinburgh Airport (EDI)
Gatwick Airport (LGW)
Glasgow Airport (GLA)
Heathrow Airport (LHR)
London City Airport (LCY)
Luton Airport (LTN)
Manchester Airport (MAN)
Newcastle Airport (NCL)
Stansted Airport (STN)
ePassport gates can also be found at the Eurostar Brussels and Eurostar Paris terminals.
United States Automated Passport Control
If Global Entry is not for you and you can't get an APEC card, it's helpful to know that Singaporeans can use Automated Passport Control upon arrival in the USA.
These kiosks are available at
Hartsfield-Jackson Atlanta International Airport (ATL)
Aruba Queen Beatrix International Airport (AUA)
Abu Dhabi International Airport (AUH) [The US CBP operates a pre-clearance facility at Abu Dhabi airport where passengers bound for the US complete immigration formalities in AUH before landing in the US as a domestic flight]
Austin-Bergstrom International Airport (AUS)
Boston Logan International Airport (BOS)
Charlotte Douglas International Airport (CLT)
Chicago Midway International Airport (MDW)
Chicago O'Hare International Airport (ORD)
Dallas/Fort Worth International Airport (DFW)
Denver International Airport (DEN)
Detroit Metropolitan Wayne County Airport (DTW)
Dublin International Airport (DUB)
Edmonton International Airport (YEG)
Fort Lauderdale-Hollywood International Airport (FLL)
Halifax Stanfield International Airport (YHZ)
Honolulu International Airport (HNL)
Houston George Bush Intercontinental Airport (IAH)
Las Vegas McCarran International Airport (LAS)
Los Angeles International Airport (LAX)
Miami International Airport (MIA)
Mineta San Jose International Airport (SJC)
Minneapolis-Saint Paul International Airport (MSP)
Montréal – Pierre Elliott Trudeau International Airport (YUL)
Nassau Lynden Pindling International Airport (NAS)
New York – John F. Kennedy International Airport (JFK)
Newark Liberty International Airport (EWR)
Oakland International Airport (OAK)
Orlando International Airport (MCO)
Philadelphia International Airport (PHL)
Phoenix Sky Harbor International Airport (PHX)
Pittsburgh International Airport (PIT)
Portland International Airport (PDX)
Raleigh-Durham International Airport (RDU)
Reno International Airport (RNO)
Salt Lake City International Airport (SLC)
San Diego International Airport (SAN)
San Francisco International Airport (SFO)
Seattle Sea-Tac Airport (SEA)
Tampa International Airport (TPA)
Toronto Pearson International Airport (YYZ)
Vancouver International Airport (YVR)
Washington Dulles International Airport (IAD)
William P. Hobby International Airport (HOU)
The APC kiosks can be used by Singaporeans with valid ESTAs who have visited the US at least once after 2008. In other words, if this is your first-ever visit to the USA, you won't be able to use the APC kiosk.
Conclusion
Hopefully this post provides some clarity on the different options available to Singapore travelers. Our passport may be one of the mightiest in the world, but at immigration you're in the same line as everyone else…unless you know about these programs beforehand!
---
Signing up for cards or making purchases through the links in this article may generate a referral commission that supports the running of The Milelion. Found this post useful? Subscribe to our Telegram Channel to get these posts pushed directly to your phone, or our newsletter (on the right of your screen) for the latest deals and hacks delivered to your inbox.