This shouldn't come as a great shock, given how few flights Singapore Airlines are operating now, but the KrisFlyer Gold Lounge at Changi Terminal 3 will be closed from 28 March 2020 until further notice.
In the interim, KrisFlyer Elite Gold and Star Alliance Gold customers will be invited to the Business Class section of the SilverKris Lounge in Terminal 3.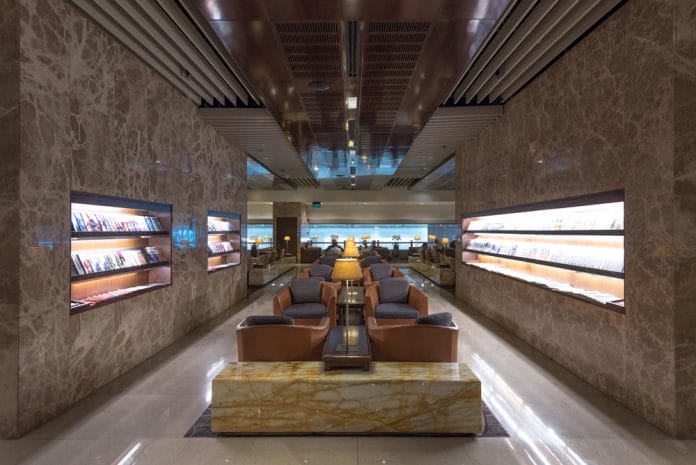 There's a tinge of black humour about this, because I've always joked about how miserable the KrisFlyer Gold lounge was in comparison to the SilverKris lounge (no showers, toilets or champagne). While I imagine most people won't mind the "upgrade", I'm sure no one would have wanted it to come under these circumstances.
In any case, you may recall that the actual KrisFlyer Gold lounge has been closed for renovations since 31 July 2019, and eligible passengers are currently channeled to the Marhaba Lounge instead.
The Marhaba Lounge is certainly a lot nicer than the erstwhile KrisFlyer Gold lounge, with individual shower suites and a wider selection of F&B.
However, the question on my mind when I visited was how this 130-seat lounge was supposed to accommodate all of Singapore Airlines' Terminal 3 departures, plus Star Gold Economy passengers on the numerous Star Alliance flights departing from Terminal 3 daily. Keep in mind, the facility already hosts China Airlines, Garuda, Myanmar National Airlines and Sri Lankan Airlines, not to mention various lounge access programs.
In a way, I suppose Covid-19 has solved that problem, and with Singapore Airlines operating so few flights now, it probably doesn't see the point in paying Marhaba an access fee when the SilverKris lounge is almost deserted (it could also be that Marhaba is just shuttering the facility, period).
Indeed, today's schedule shows that Singapore Airlines is operating just 10 flights, of which seven are departing from Terminal 3 and three from Terminal 2. That's as depressing to type as it is to read, I assure you.
[KVS Tool 9.6.4/Diamond – Departures/Arrivals]
SIN  Singapore Changi SG [WSSS]
SAT  28 Mar 2020 | Departures

Carrier    Flight  From  Depart    To    Arrive    Status
---------  ------  ----  --------  ----  --------  ------
SQ         237     SIN   00:25     MEL   10:50     CANCEL
SQ         231     SIN   00:45     SYD   11:35     CANCEL
SQ         306     SIN   01:10     LHR   07:20     CANCEL
SQ         618     SIN   01:30     KIX   08:45     CANCEL
SQ         241     SIN   07:05     SYD   17:55
SQ         213     SIN   07:40     PER   12:55
SQ         860     SIN   08:25     HKG   12:25
SQ         281     SIN   08:45     AKL   23:40     CANCEL
SQ         802     SIN   08:55     PEK   15:00
SQ         308     SIN   09:00     LHR   15:20     CANCEL
SQ         942     SIN   09:05     DPS   11:50
SQ         910     SIN   09:15     MNL   12:50
SQ         830     SIN   09:20     PVG   14:35
SQ         972     SIN   09:45     BKK   11:10
SQ         245     SIN   09:45     BNE   19:45
SQ         954     SIN   10:30     CGK   11:20     CANCEL
SQ         878     SIN   11:30     TPE   16:20

Conclusion
The SilverKris lounge is no doubt an upgrade from the KrisFlyer Gold/Marhaba facility, but that's cold comfort in these times. Anyway, no one should be traveling right now unless absolutely necessary, so I can't imagine too many people will be affected.
If there's one bright spark that could come out of all this, it's that Singapore Airlines might bring forward its Changi lounge renovation schedule. I'm really excited to see what they have planned, and can't wait to visit after all this Covid-19 madness passes.