Although Singapore Airlines remains unassailable in the air, its ground experience isn't what you'd call market-leading.
While other lounges offer a la carte dining (United Polaris), spa treatments (Thai Airways in Bangkok), haircuts (albeit paid- Virgin Atlantic Clubhouses), spa cabanas (Cathay Pacific in Hong Kong), private bedrooms (Qatar Airways in Doha) golf simulators and race car tracks (Turkish Airlines in Istanbul), Singapore Airlines' are pretty no frills by comparison.
That's not to say that Singapore Airlines has terrible lounges- they don't. It's just that they're relatively unimaginative by comparison, which is surprising given how innovative the airline is in the air.
The good news is that Singapore Airlines has just confirmed a S$50 million overhaul of the SilverKris and KrisFlyer Gold lounges at Changi Terminal 3, which will begin next month and finish (hopefully) by mid-2021. This project will see a 30% increase in space and total customer capacity, as well as upgraded facilities, more open spaces, and a wider selection of F&B options.
Here's the details.
SilverKris Business Class Lounge
The SilverKris Business Class lounge will be the first to be renovated, with work getting underway in August 2019. I'm assuming Singapore Airlines prioritized this because the existing Terminal 3 facility can get incredibly crowded in the evenings with all the late night departures.
The press release mentions that the lounge will be split into different zones to match different passenger needs:
a relaxed cafe setting for customers with a short transit
a dining hall featuring live stations with signature local delights
a full service bar that doubles up as a self-service breakfast station in the mornings
productivity pods for customers to catch up on work
a rest area with chaise lounges for customers to nap
A "relaxed cafe setting" reminds me of what Qatar Airways has done in Doha with their sandwich bar, which offers a grab-and-go format for those who don't have time for a proper meal. I'd be interested to see how Singapore Airlines executes this- hopefully "relaxed cafe setting" won't be code for cheap prepackaged items.
We've seen Singapore Airlines progressively introduce more live chef stations in the SilverKris Business Class lounge in recent years, so it's good that the plan is to keep them. Right now these have a bit of a pop-up feel (because the original lounge wasn't constructed with them in mind, they're often awkwardly situated in a corner), but in the new lounge they'll ideally be more organic.
The existing live stations usually serve quick-prepared items like wanton mee or mee rubus. These items aren't really cooked on the spot (more like assembled), but psychologically speaking, it does help passengers feel like they're getting something a bit better than mass produced buffet food.
A full service bar is always welcome in a Business Class lounge, although it's a marvel that it took Singapore Airlines so long to do this. Cathay Pacific offers its signature Long Bar service at numerous Business Class lounges around the world, and although the selection isn't anything you couldn't find at a self-service station, it's again the psychological element of having a bartender to prepare things that elevates the experience.
Productivity pods are sorely missing in the current Terminal 3 facility, with only a business centre available for serious work. Productivity pods serve as an in-between for relaxing and hardcore work, and when properly equipped with power and USB charging, can be one-stop places to dine, rest and catch up with work during a layover.
Finally, I like the idea of a dedicated rest area, because what frequently happens in the existing lounge is that passengers stretch out on the couches to sleep, reducing the already-limited seating space.
If Singapore Airlines could do something like what Cathay has done at The Pier in Hong Kong, that'd be pretty awesome.
SilverKris First Class Lounge & The Private Room
Singapore Airlines is teasing a brand new The Private Room and First Class Lounge experience, with "carefully designed luxurious and intimate seating spaces suitable for both work and rest".
Very little information has been provided about the First Class lounge, except that it will continue to feature a flagship bar.
The existing First Class lounge is comfortable enough, but really doesn't have any of the wow factors you'd expect from an airline like SQ. The lounge doesn't even have private shower suites (the shower cubicles are located inside the main toilet), so it's disappointing not to hear any news about whether this is going to change.
The Private Room will also be renovated, with "an enhanced epicurean journey with fresh and seasonally curated dining offerings, on top of the perennial local favourites" on the cards.
The render makes the new Private Room look a lot more bright and lively, a welcome change from the existing dark and drab decor.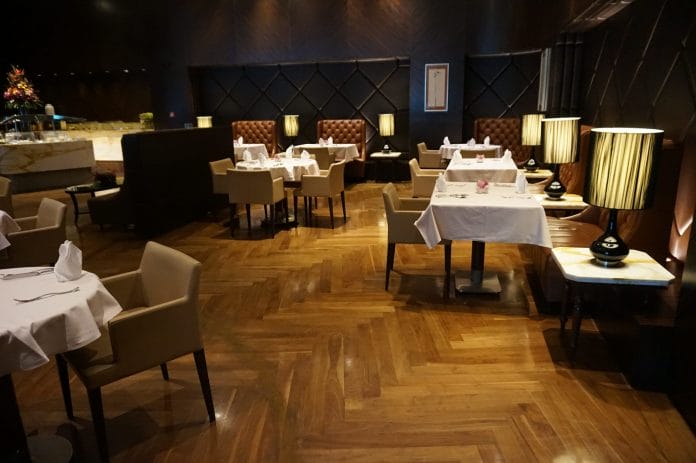 KrisFlyer Gold Lounge
Let's get one thing straight: the existing KrisFlyer Gold lounge is a disgrace to the Singapore Airlines brand. It's crowded, there are no work spaces, the catering is bad, and it doesn't even have its own showers or toilets.
It feels almost malicious that the airline would carve out a special, inferior facility just for KrisFlyer Elite Gold and Star Alliance Gold members flying in Economy, as opposed to simply building a larger SilverKris Business Class lounge.
If the SilverKris lounges are bland but comfortable, the KrisFlyer Gold lounge is just awful. The illustration below sums up my feelings:

So it's a relief that Singapore Airlines has promised dedicated working spaces, al fresco seating and dining areas and restrooms and showers within the new KrisFlyer Gold lounge.
To be fair, Singapore Airlines is not the only airline which hives off an inferior facility for less valuable passengers. Qatar Airways, for example, sends oneworld elites in Economy to the Oryx lounge or much inferior "Business Class" lounge (not to be confused with the very good Al Mourjan, which Qatar reserves for its own Business Class passengers). But even so, these inferior lounges have showers of their own 😉
Let's wait and see what how this lounge turns out- the good news is that it can't possibly get any worse.
What happened to "home away from home"?
The most interesting thing about all these developments is it's now clear the Changi Airport lounges will never receive the "home away from home" design overhaul by ONG&ONG that Singapore Airlines started back in 2013.
The first lounge to receive this makeover was Sydney, back in December 2013. At the time, the airline announced its intention to introduce the new concept to all 15 SilverKris lounges within five years, including Singapore by 2014.
Following renovation of the Sydney lounge, which has just been completed, planning work is underway to upgrade lounges at London, Hong Kong and Singapore (Terminal 3) in 2014.
That never actually happened. Although London, Manila, Hong Kong, Brisbane and Bangkok got their upgrades, no work ever started in Singapore, where the Terminal 3 lounges have been basically the same since their opening in 2008.
No one outside of Singapore Airlines knows what went wrong, but ONG&ONG is now out of the picture, replaced by American firm Hirsch Bedner Associates (HBA). HBA's portfolio is predominantly hotel-driven, but they do have some gorgeous projects in the Yangon Excelsior and the Hilton Wenchang.
I was looking forward to seeing "home away from home" rolled out in Singapore, but perhaps HBA's designs will make everyone forget about it.
What about Terminal 2?
The press release is silent on the plans for the SilverKris lounges in Terminal 2, which are arguably in even greater need of a makeover. Terminal 2 currently serves flights departing to Bangladesh, Maldives, Sri Lanka, Brunei, Indonesia, Malaysia, Myanmar, Philippines, Thailand and Vietnam.
Given that regional routes are the bread and butter of Singapore Airlines (its long haul routes are allegedly unprofitable), it's surprising that passengers on these flights don't get something better.
I imagine the ultimate goal for Singapore Airlines is to relocate all its operations under one roof in Terminal 5, but that facility is only set to be open in the 2030s. This then begs the question: what's the plan for the Terminal 2 lounges?  Surely they can't go another 10 years without some major TLC?
Conclusion
The renovation of the Terminal 3 lounges is no doubt an exciting development, but it raises a lot of questions, especially around the fate of Terminal 2's.
With construction set to start next month, it's clear Singapore Airlines must have more information than it's currently letting on. Perhaps it's trying to manage expectations, or wants to save some of the highlights for later.
Either way, lounge investment is good, and I can't wait to see the new facilities.