Here's a pretty fantastic offer.
From now till 30 June 2020, Singapore Airlines is making its entire library of e-publications available to all KrisFlyer members for free. These titles were previously only available 48 hours before and up to 7 days after a flight.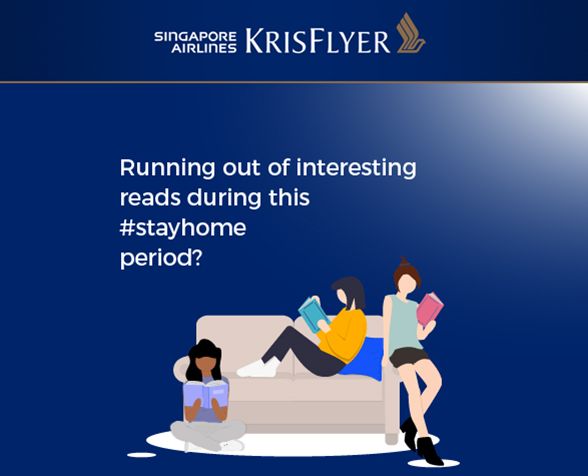 The library features more than 150 international newspapers and magazines, including some which are normally hidden behind paywalls like The Washington Post and The New Yorker.
Access is free until 30 June 2020, after which you won't be able to download any new publications, but can enjoy the ones that have already been saved to your SingaporeAir mobile library.
How do I access the e-publications?
To access the library, open the KrisFlyer app on your phone (or tablet, for a better reading experience).
Tap on the "More" tab at the bottom right, and select "e-Library". You'll then be able to browse and download the titles of your choice.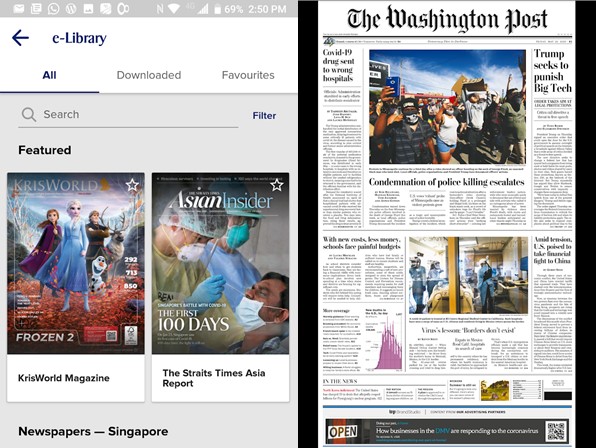 What titles are available?
There's a very comprehensive selection of magazines and newspapers available, which can help you save on a couple months' subscription for publications which are normally behind paywalls.
Newspapers- Singapore

Berita Harian

Berita Minggu

Lianhe Wanbao

Lianhe Zaobao

Shin Min Daily News

Tamil Murasu

The Business Times

The Straits Times

The Sunday Times

Newspapers- Others

Chicago Tribune

China Business News

China Securities Journal

Corriere della Sera

De Telegraaf

DIE WELT

Frankfurter Allgemeine

Frankfurter Allgemeine Sonntagszeitung

Gulf News

Harvard Business Review China

JoongAng IIbo

Kommersant

La Gazzetta dello Sport

LE FIGARO

Los Angeles Times

MAINICHI SHIMBUN

Mint

NEUE ZEURCHER ZEITUNG

New Straits Times

New York Daily News

The Bangkok Post

The Daily Telegraph

The Guardian

The Hindu

The Observer

The Washington Post

Auto

Autocar (UK)

BBC Top Gear

Car and Driver

Coches

MOTORTREND

Computer & Technology

Digital Camera World

Gadget

PC Magazine

T3 Magazine (UK)

Culture & Art

Culture

Katei Gaho

The Peak Singapore

TheArtGorgeous

Kids

Leisure & Living

Architectural Digest

Asian Diver

ASIAN Geographic

Australian Geographic

BBC Gardener's World Magazine

BBC Good Food

Belle

Bon Appetit

Business Traveller Asia Pacific

Business Traveller China

Business Traveller UK

Conde Naste Traveller India

Dancyu

DestinAsian

DestinAsian ID

Discover Singapore: Fashion and Retail

Episcure

Filmfare

Gourmet Traveller

HOLA Magazine

La Cucina Italiana

Lonely Planet India

Lonely Planet International

Lonely Planet Traveller

National Geographic Traveller

Paris Match (French)

Prestige

Readers Digest (Chinese)

Robb Report Singapore

Saveur

South African Garden and Home

Wine & Dine

World Travel Magazine

Men

August Man SG

DaMan

Esquire (USA)

Esquire Singapore

GQ

GQ India (English)

Mens Club

Men's Health US

men's uno hk

Politics & Economy

Bloomberg Businessweek (USA)

Business Today Malaysia

Fast Company

Forbes India

Forbes Russia

Forbes USA

Forbes Vietnam

Fortune India

Fortune Italia

Gulf Business

India Today (English)

Leadership

Manger Magazin

New Yorker

Newsweek UK

Newsweek USA

Spiegel

Stern

Time Asia

Wired Magazine

Yazhou Zhoukan

Sports

FourFourTwo UK

Golf Asia

Match of the day

Scuba Diver

Tennis

Women

25ans

CLEO Singapore

Elegance NL

Elle

Elle UK

Female Singapore

Fujingaho

Harper's Bazaar Singapore

Harper's Bazaar UK

Harper's Bazaar USA

Her World Singapore

InStyle RU

Jessica

Marie Claire

Marie France

Neighbor

NUYOU Singapore

The Australian Women's Weekly

The Singapore Women's Weekly

Vanity Fair Italia

VOGUE

VOGUE China

VOGUE Germany

VOGUE Japan

W

Women's Health US
There's no limit on the maximum number of titles you can download (except your storage space), so go crazy.
Conclusion
A very nice gesture from Singapore Airlines, which makes a wide selection of reading material available to everyone with the app.
It's no substitute for being offered a range of magazines in a tray before takeoff, but it'll do.