Towards the end of 2020, OCBC quietly launched the OCBC Premier Banking Visa Infinite without a whole lot of fanfare.
While the card by its very nature has a niche appeal (you need a min. AUM of $200K with OCBC), those who qualify will find it a particularly useful asset. That's because it offers free conversions of OCBC$ to KrisFlyer, and since OCBC$ pool, Titanium Rewards cardholders can use this (no-fee) card to enjoy free points transfers.
If you've signed up or are planning to sign up for this card, here's something else you should know.
OCBC Premier Banking Visa Infinite sign-up bonus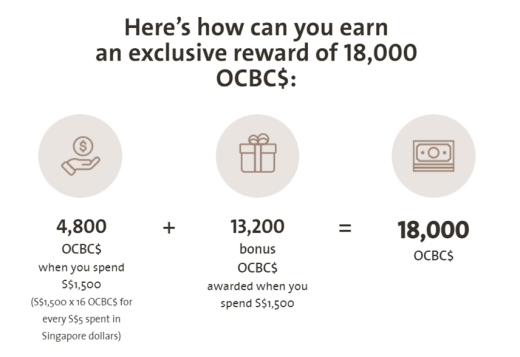 I don't know how I missed this when first writing about the OCBC Premier Banking Visa Infinite, but cardholders who spend at least S$1,500 in the first 1-2 months will enjoy a sign-up bonus of 13,200 bonus OCBC$ (5,280 miles).
This offer is available for approvals granted up till 31 January 2021, and unfortunately, OCBC is taking a leaf out of UOB's book: only the first 2,450 eligible cardmembers will qualify.
The timeframe for spending depends on when your card is approved; try and get approved early in the month to give yourself the most time.
| | |
| --- | --- |
| Card Approved | Qualifying Spend End Date |
| 1-31 December 2020 | 31 January 2021 |
| 1-31 January 2021 | 28 February 2021 |
There is no requirement that you be new-to-bank to earn this bonus. Bonus points stack with the base points, which means your total haul will look something like this:
Base OCBC$

Bonus OCBC$

Total OCBC$

Spend all S$1,500 in SGD

4,800
(1,920 miles)
13,200
(5,280 miles)
18,000
(7,200 miles)

Spend all S$1,500 in FCY

8,400
(3,360 miles)
13,200
(5,280 miles)

21,600
(8,640 miles)
It's a tidy little bonus to have (basically an additional 3.52 mpd on the first S$1,500 of spending), and very useful for those who have already maxed out all the other sign-up bonuses on the market.
Bonus OCBC$ will be awarded within two months after the qualifying spend end date. Do note that OCBC's usual rewards exclusion categories (e.g insurance, government payments, education, utilities etc.) will not count towards qualifying spending. For a full list of these, refer to the card's T&Cs.
The sign-up bonus T&Cs can be found here.
Overview: OCBC Premier Banking Visa Infinite
Apply here
Income Req.

S$30,000
p.a

Points Validity


24 months



Annual Fee


None

Min.
Transfer

25,000 points


(10,000 miles)



Miles with
Annual Fee

N/A

Transfer
Partners

Singapore Air

FCY Fee

3.25%

Transfer Fee

None

Local Earn

1.28 mpd

Points Pool?

Yes

FCY Earn

2.24 mpd

Lounge Access?

2 x Plaza Premium

Special Earn

N/A

Airport Limo?

No

Cardholder Terms and Conditions
The OCBC Premier Banking Visa Infinite has a S$30,000 income requirement (or S$10,000 fixed deposit in lieu of income), and no annual fee.
Cardholders earn OCBC$ at the following rates:
16 OCBC$ for every S$5 spent on local currency transactions (equivalent to 1.28 mpd)
28 OCBC$ for every S$5 spent on foreign currency transactions (equivalent to 2.24 mpd)
These rates are slightly higher than those earned of the OCBC 90N Card (1.2/2.1 mpd), and remember: the OCBC Premier Banking Visa Infinite earns OCBC$, which pool with the OCBC$ earned on the Titanium Rewards. In contrast, the 90N Card earns Travel$, which do not pool with OCBC$.
The pooling feature is important because OCBC Premier Banking Visa Infinite cardholders will not pay any conversion fees when converting OCBC$ to miles. In other words, if I have a Titanium Rewards card, I could get the Premier Banking Visa Infinite and use it as a fee-free means of cashing out my OCBC$.
Conclusion
While 5,280 miles is hardly life-changing, it's a useful bonus on a no-fee card for those who happen to be OCBC Premier Banking customers. The fly in the ointment is the 2,450 customer cap, which means there's no guarantee you'll get it.
It's still relatively early in January, so if you're intending to apply, do so ASAP to give yourself more time to meet the qualifying spend.