After boarding the World Dream and completing the brief muster drill, I headed to my stateroom to drop off my bag.
If you've sailed on Quantum of the Seas before, the first thing you'll notice is how different the vibe on World Dream is. The PA system plays traditional Chinese music, elevator announcements were in Mandarin and English, and signage throughout the ship was a mixture of (thankfully simplified) Chinese and English. It's quite a change from the more international-focused Royal Caribbean sailings, that's for sure. 
🚢 Cruise to Nowhere: Dream Cruises
Room Selection & Upgrades
Staterooms on World Dream are divided into the following categories:
 
Size
Max Cap.
Interior Rooms

Interior

140 ft

2

2-4

Ocean View Rooms

Oceanview

172 ft

2

2-4

Balcony Rooms

Balcony

215 ft

2

2-4

Balcony Deluxe

237 ft

2

2-4

Suites (The Palace)

Palace Suite

398 ft

2

2-4

Palace Deluxe Suite

441-721 ft

2

2-4

Palace Penthouse

603-1,238  ft2

2-6

Palace Villa

2,411 ft2

2-6
My KrisFlyer Experiences booking was for a Balcony stateroom, and as I mentioned previously, I suspect that Interior or Oceanview staterooms aren't even being sold right now. Cruise ship capacity is capped at 50% after all, so it only makes sense to sell the more expensive cabins. 
Should you wish to upgrade your room, there are two ways of doing so. The first is to wait for Dream Cruises to send you an upgrade bidding email prior to sailing. This leverages the Plusgrade platform, the same one that Royal Caribbean (and numerous airlines) uses. 
Enter your bid, provide your credit card details, and wait. You'll be informed whether your bid is successful at least 72 hours before sailing. Bidding closes at the T-7 mark, and all bids can be modified or cancelled anytime before they're accepted. 
For a three-night itinerary, the minimum bid for an upgrade to a Palace Suite was S$340 per person, based on an occupancy of two people (this is quoted for the entire duration of your voyage, not per night). Keep in mind that you'll also need to pay an extra S$5 per person per night in gratuities, should you upgrade from a regular stateroom to a suite. 
The second option is to wait until you're onboard, then go to the front desk and ask about paid upgrades. I was quoted S$621 to upgrade to a Palace Suite, which would increase to S$984 if I had a companion. 
In terms of stateroom location, Dream Cruises doesn't let you choose this online (unlike Royal Caribbean). You'll need to email the reservations department to request a particular cabin, subject to availability.
I've already given some tips on choosing staterooms, which apply regardless of which cruise liner you're on. However, for World Dream specifically I'd highly advise that you avoid connecting rooms, as these have thinner walls and you can easily hear the people next door (I know, I was in one of them briefly). 
Non-connecting rooms, as the photo below shows, have a much wider partition between them which does wonders for noise isolation. 
To identify connecting rooms, look for the grey arrow symbol circled in red below in the deck plan. For example, 12030 and 12032 are connecting rooms, but 12036 and 12038 are not. 
World Dream: Balcony Stateroom
I didn't bother to request a specific stateroom beforehand, so I lucked out by getting 12038, a non-connecting one. The main disadvantage was the location, way towards the front of the ship. I guess it gave me the opportunity to exercise more (I had to walk the entire length of the ship every time I went to the MDR), but it also meant more turbulence from the ship's movement. It never got unbearable, but it was definitely noticeable.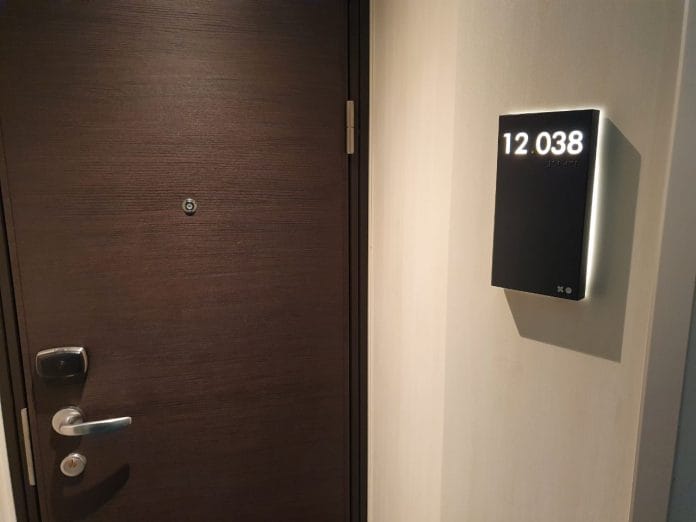 Balcony staterooms measure in at 215 sq. ft. While that sounds like cramped quarters, it's actually not so bad if there's just one or two of you. Remember, in an ideal situation, you'll be spending most of your time outside the stateroom anyway, and this is mostly a place to bathe and sleep. 
The World Dream is a fairly new vessel (launched in November 2017), so the interiors and furnishings are pretty up to date. The room felt clean, with a lingering smell of disinfectant. 
I'd read some bad reviews of the beds on Dream Cruises, but having experienced it firsthand, I didn't see what all the fuss was about. It could be because the bed is on the firmer side, which some people dislike, but that suited me just fine. The blankets were sufficiently thick for me to blast the air-conditioning at my preferred temperature. 
On the bed was a welcome letter for KrisFlyer members who redeemed this cruise via KrisFlyer Experiences. This offered 20% off all specialty restaurants and VR games, plus discounts on spa and fitness packages. I'll talk more about these in the dining and activities section, suffice to say you're not missing out on anything even if you booked via other channels.
Both bedside tables had 2x USB-A ports and a Singapore Type G socket.
On one side of the bed was the wardrobe, which had extra bedding, a pair of bathrobes, and a safe. 
Near the window was a brown sofa. Although it looks like the kind that folds out into a bed, it's just a regular sofa. 
The stateroom has a small work desk cum dressing table, although the chair has no back and is uncomfortable to sit on for prolonged periods. 
If you have serious work to do (why), head to the lobby instead where you'll lots of co-working style tables, some of which have power and USB ports. 
The desk in the stateroom had another Type G Singapore outlet, plus a Type I outlet- haven't seen one of those in a very long time! These are used mostly in Australia, New Zealand, China and Argentina. 
Wi-Fi is available on World Dream, with packages starting from S$9 per night. 
Wi-Fi Prices (Per Night)
 
 
Regular
Fast
1 device

S$9

S$14

2 devices

S$16

S$25

3 devices

N/A

N/A

4 devices

S$27

S$42
I subscribed to the regular package and found the speeds to be very fast, much faster than Royal Caribbean for sure (how they can claim to have the fastest Wi-Fi at sea is beyond me). I may have just gotten lucky with where the ship happened to be and the prevailing weather conditions when I did the test, however. 
My advice would be to go for the regular speed package first and see if it's sufficient for your needs. If it's not, you can always head to the front desk to pay the difference and get upgraded to the faster network. 
Below the desk was a hairdryer, affixed to the wall (you can't unplug it and move it elsewhere). 
Two complimentary bottles of mineral water were sitting on the table. These are replenished once a day, and additional bottles can be bought for S$2. There's no need to pay though, as iced water is free at all restaurants, and the bathroom's tapwater is potable. 
Instant coffee and tea were also available, plus a kettle. It's Nescafe 3 in 1, so bring your own Starbucks Via if you're fussy about this kind of thing. 
The room's mini-fridge was empty, allowing you to store your own items inside. FYI, Dream Cruises prohibits passengers from bringing their own alcohol onboard (unlike Royal Caribbean, which allows two bottles of wine per stateroom). You can, however, bring non-alcoholic beverages of your own.
If you're feeling peckish, you can order from a limited room service menu. Mains start from S$15 nett, and I much prefer Royal Caribbean's model where you pay a flat US$7.95 + 18% delivery charge and order as much as you want. 
Next to the table was the stateroom's TV. It does not support streaming, but you can bring your own HDMI cable and connect from the back. 
One nice thing about Dream Cruises is that the in-room movies are free of charge (Royal Caribbean charges a whopping US$11.99 each, more than the cost of a Disney+ subscription!). It's not a huge selection, but there were some fairly recent titles like Dumbo and Tenet (which, let's face it, no one understands). 
I was also pleased that the TV had live sports, which let me enjoy the Australian Open while onboard. 
The bathroom is snug, but equipped with everything you'd need. 
Those who really want a bit more space could spring for a Balcony Deluxe Room, which features a slightly larger bathroom with dual sinks and a rectangular shower area. 
Just like Quantum of the Seas, World Dream's toilets don't have bidet hoses- weird, because I thought it'd be more environmentally-friendly to wash with water than introduce more toilet paper into the system. You'll need to close the toilet lid completely to access the flush button. 
The shower cubicle isn't as tight a squeeze as I feared, and if you're of average proportions, you won't find it an issue. 
Water pressure was OK but not great (as expected, a cruise ship's water supply is deliberately throttled for environmental reasons). Here's a tip: the knob for the shower has an "eco" setting that prevents you from turning it on full blast. Simply press the small button to bypass it, and you'll be able to increase the water pressure even more. 
Bathroom amenities are from Crystal Life, Dream Cruises' in-house spa brand. They're not fancy by any means, but they get the job done. 
Other amenities already in the room include toothbrushes and a hand soap dispenser. If you require other items like shavers or combs, they're available from housekeeping. 
One final point to note about the bathroom: there's a step between the bathroom and the bedroom. Be extra careful if you go at night, because it's easy to trip in the dark. 
The balcony area is extremely cramped, with barely enough space for two chairs and a tiny patio table. I didn't spend any time out here, and I don't think most people will either. Smoking is permitted on balconies, so you may get second hand smoke from your neighbours if you're unlucky. On the plus side, the area had been cleaned well, with no trace of ash or lingering smoke smell. 
Conclusion
All things considered, the Balcony Staterooms on World Dream are comfortable enough for short voyages, providing a private space to rest and recharge in between all the activities onboard. 
If you're looking for a review of the Palace Suites on World Dream, I managed to find a post-COVID one here.