To mark the 7th birthday of KrisFlyer Spree, SIA's online shopping platform is running a 7-week long promotion with 70% bonus miles at selected merchants.
A total of 21 Singapore merchants are participating in this offer, with earn rates of up to ~5 mpd. This stacks with the miles you earn from your credit card, presenting an opportunity to earn up to 9 mpd total.
❓ What is KrisFlyer Spree?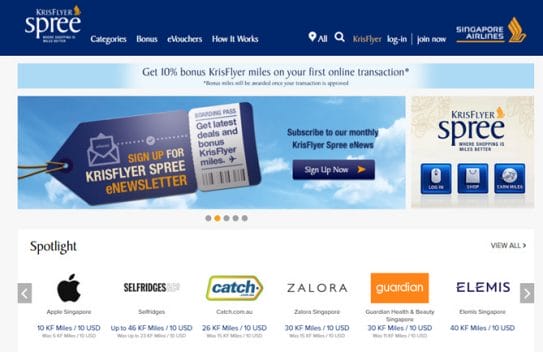 KrisFlyer Spree is basically ShopBack, but with miles instead of cashback.
KrisFlyer members who click through KrisFlyer Spree links and shop on selected e-commerce sites will earn KrisFlyer miles. You browse and pay as per normal; KrisFlyer Spree tracks your purchases and awards miles accordingly. Miles earned via KrisFlyer Spree are on top of what you earn from your credit card.
Is it better value to use ShopBack or KrisFlyer Spree? It all boils down to how much you value a mile. I use 1.8 cents each as my benchmark, although yours may be different.
KrisFlyer Spree 7th Birthday Offers
Here's the full list of 21 Singapore merchants participating in the 70% bonus miles offer. If you're based outside of Singapore, there's a handful of international and country-specific sites participating too, which can be found here.
Merchant
Miles per US$10
MPD (S$)

Apple Singapore

5 10

0.37

Canon Singapore

7 20

1.49

FarEastFlora.com

19 32

2.38

Guardian

11 30

2.23

Harman Kardon Singapore

9 19

1.41

HP Singapore

38 65

4.84

iHerb

13 30

2.23

JBL Singapore

9 19

1.41

Lululemon Singapore

38 65

4.84

Microsoft Singapore

7 19

1.41

Zalora Singapore

15 30

2.23

Montblanc Singapore

30 65

4.84

Roses Only

26 65

4.84

Under Armour Singapore

26 46

3.42

Enfagrow Singapore

23 46

3.42

Mytheresa

30 53

3.94

MYPROTEIN

23 40

2.98

Sephora Singapore

15 26

1.93

Temple Cellars

19 32

2.38

YOOX Singapore

11 23

1.71

LOOKFANTASTIC Singapore

26 46

3.42

Yes, I'm aware that many of these bonuses aren't actually 70%, but that's how KrisFlyer Spree is advertising this. On the plus side, it's usually more than 70%!
The offer period varies depending on merchant. For example, Apple Singapore's upsized rate is valid till 6 July 2021, but Canon Singapore's is valid till 6 August 2021. Click on the merchant you're interested in, and you'll see the full details listed.
If you're a first-time KrisFlyer Spree user, you'll earn 10% bonus miles on your first online transaction, so make sure it's a good one.
The crediting time for KrisFlyer Spree miles will vary depending on merchant, and it's hard to pin down an exact timeline. Some transactions may post within a month, others may take up to 3-6 months. It's best not to think of KrisFlyer Spree as a way of earning quick miles.
Earn elite miles and PPS Value
Singapore Airlines is running a year-long campaign that allows KrisFlyer Elite and PPS Club members to earn status credits on the ground, in order to qualify or requalify for status.
KrisFlyer Spree transactions will earn elite miles or PPS Value as follows:
KrisFlyer

PPS Club

Earn with non-air partners
(min. 500 miles)

1 Elite mile per 5 KrisFlyer miles earned

1 PPS Value per 10 KrisFlyer miles earned
The catch is that you need to accrue at least 500 miles in a single transaction in order to earn any status credits.
Do note that KrisFlyer Spree does not award miles on shipping costs or taxes (although you'll obviously earn miles on those with your credit card), so you'll need to exclude those from your calculations.
What card should I use for KrisFlyer Spree?
Remember: you don't pay via KrisFlyer Spree; it's merely a portal through which you access the merchant's website.
The best card therefore depends on the underlying merchant, and the following cards should do the trick:
Card
Earn Rate
Remarks

4.0 mpd

S$1,000 per statement month, excludes travel
Review


DBS Woman's World Card
Apply

4.0 mpd

S$2,000 per calendar month
Review


OCBC Titanium Rewards
Apply

4.0 mpd

S$12,000 per membership year
Review

Conclusion
If you're planning to buy something online, it's always wise to compare Shopback and KrisFlyer Spree to see which one offers the better rebate.
70% bonus miles may not be as lucrative as the double miles promotion KrisFlyer Spree ran for its 6th birthday, but you could potentially get some good value nonetheless.
You'll need to be patient though- rebates sites are generally at the mercy of merchants to confirm transactions and pay out commissions. Your miles should almost certainly show up by February next year (and hence be eligible for status credits, assuming the 500 mile minimum is met), but you know, stuff happens.