At some point in 2019, American Express removed the ability to book Fine Hotels & Resorts (FHR) or The Hotel Collection (THC) rates with the AMEX Platinum Charge's S$400 hotel credit. 
This was a highly annoying stealth devaluation, insofar as it restricted the types of hotels cardholders could book. If you wanted to use travel credits, you had to settle for lower-tier hotels that weren't part of FHR or THC. 
But here's some good news. Effective immediately, AMEX Platinum Charge cardholders can once again pay for FHR and THC rates with travel credits (or MR points, if so inclined). This appears under the payment options when searching on the AMEX Travel Portal.
What are FHR and THC?
FHR and THC are two special rates available to AMEX Platinum Charge and Centurion cardholders. These price the same as the hotel's best available rate, but throw in additional benefits:
 
Room Upgrade

✅




when available

✅




when available

Breakfast for 2

✅

 
Early Check-in

✅




12 p.m, when available

 
Late Check-out

✅




4 p.m, guaranteed

 
Wi-Fi

✅

 
Hotel Credits

✅




US$100

✅




US$100

Min. Stay

1 night

2 nights
Best of all, FHR and THC rates are eligible to earn points and elite status credits with various hotel loyalty programs like Marriott Bonvoy or Hilton Honors. 
While the best available rate tends to be more expensive than non-refundable advance purchase rates, hotels sometimes offer 3rd/4th/5th night free offers through FHR and THC, making the overall price more competitive.
For example, the Mandarin Oriental Singapore is offering a 3rd night free promotion, which brings down the nightly rate to S$380 nett. That's not bad, considering the FHR benefits like a free dinner and daily breakfast.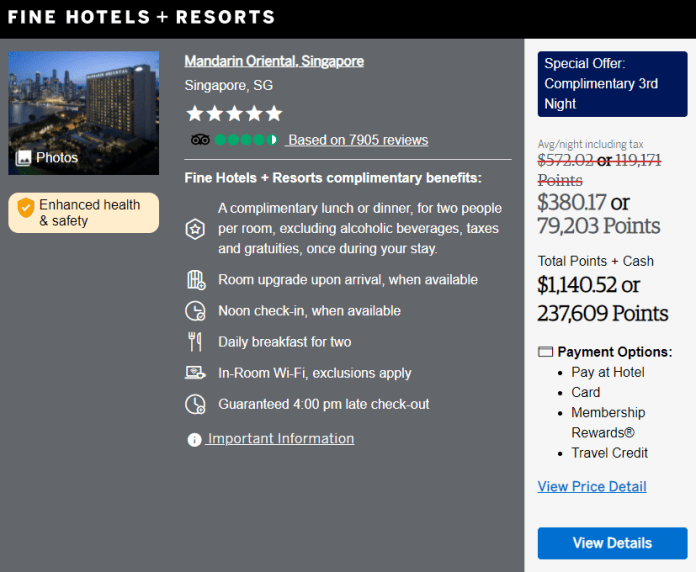 Here's a summary of the free night offers currently available through FHR.
Stay 3 Pay 2

Hotel

Book By

Stay By

Capella Singapore

3 Sep 21

6 Sep 21

Conrad Centennial

26 Sep 21

30 Sep 21

Four Seasons Singapore

3 Sep 21

6 Sep 21

Mandarin Oriental

3 Sep 21

6 Sep 21
Stay 4 Pay 3

Hotel

Book By

Stay By

Shangri-La Singapore

25 Sep 21

29 Sep 21

The Fullerton Bay Hotel

26 Dec 21

30 Dec 21
In order to use travel credits, you'll need to make payment at the point of booking (so select the left hand side option when the pop-up box appears). 
Don't worry though- while payment is taken upfront, bookings will still be fully refundable in accordance with the hotel's flexible cancellation policy (usually 24-72 hours in advance of arrival). 
Which Singapore hotels participate in FHR and THC?
Since staycations are the most realistic option at the moment, here's the list of Singapore hotels participating in FHR and THC. You'll notice that FHR hotels tend to be of a higher caliber, although that's not to say THC hotels are dumpy either. 
Capella Singapore

Conrad Centennial

Four Seasons Singapore

Mandarin Oriental Singapore

Raffles Hotel

Ritz-Carlton Millenia

Shangri-La Singapore

St Regis Singapore

The Fullerton Bay Hotel

Andaz Singapore

Grand Hyatt Singapore

Pan Pacific Singapore

SO Sofitel Singapore

W Singapore Sentosa Cove
Do remember that THC rates require a minimum stay of two nights, so they won't appear in the results for single night searches. 
Why don't travel credits appear as a payment option?
Travel credits payment options will not appear on the results page if the total cost of your stay is less than S$400. For example, the lead-in category at the Shangri-La Singapore costs S$376.64 per night, hence travel credits aren't listed under payment options.
However, this doesn't mean you can't use your credits. By switching to two nights or simply choosing a more expensive room, the travel credit option will reappear as shown below:
Conclusion
It's fantastic that FHR and THC rates are once again bookable with travel credits, although one could argue that should never have been taken away in the first place. 
I'm still holding out hope for a big announcement re: travel during the National Day period, and my plan is to use the travel credits for FHR rates overseas. Failing which, well, I suppose this could be an opportunity to give the Capella Singapore a try…