For the uninitiated, Pelago is Singapore Airlines' activities booking platform, similar in concept to Klook or KKday. Users can buy attraction tickets, F&B experiences, staycations and tours, all while earning KrisFlyer miles on top of regular credit card miles.
KrisFlyer members can redeem miles on Pelago, but as I've covered previously, that's a terrible idea. It's much better to earn miles on Pelago, especially with the latest promotion that lets you take home 9 mpd until 30 April 2022.
There's also a rather generous A$50 off A$100 coupon for booking Pelago experiences, with limited redemptions available.
Earn up to 9 mpd with Pelago
From 23 March to 30 April 2022, Pelago users will receive 5 KrisFlyer miles per S$1 spent on the platform. Yes, 5 mpd, not 0.2 mpd as the landing page's epic typo suggests- if you want further confirmation, just refer to the official T&Cs.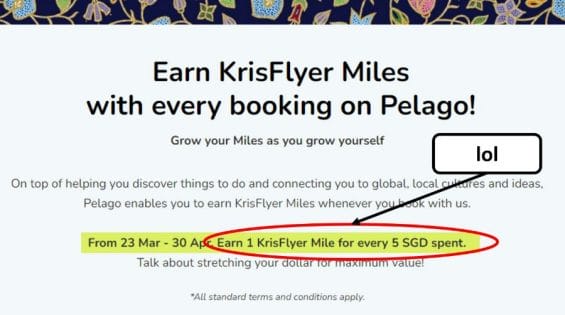 This applies to all bookings made via Pelago, and miles will be awarded up to one week after completing the booked experience. What's interesting is that you even earn miles on the GST component, as shown in the example below.
Pelago transactions code as MCC 4722: Travel Agencies and Tour Operators, which means you can pay with the following cards to earn an additional 4 mpd.
Card

Earn Rate
Cap
HSBC Revolution
Apply

4.0 mpd

S$1K per calendar month

DBS Woman's World Card
Apply

4.0 mpd

S$2K per calendar month

UOB Lady's Card
Apply


4.0 mpd

S$1K per calendar month. Must choose travel as 10X category

UOB Lady's Solitaire
Apply


4.0 mpd

S$3K per calendar month. Must choose travel as 10X category

Avoid using the Citi Rewards Card, as MCC 4722 is classified as a travel transaction and explicitly excluded from earning the bonus 4 mpd rate for online transactions.
Save A$50 off a min. A$100 spend
From 14 March to 30 April 2022, Pelago users can enter the promo code SEEYOUTHERE50 to enjoy A$50 off a minimum spend of A$100 (don't ask me why it's based on AUD, that's just the way it is).
You can use this code as many times as you like, but there's an overall cap of 1,000 redemptions. I've just done a quick check and redemptions still look to be available- note how A$50 is converted into S$51.02.
The T&Cs of this offer can be found here.
Alternatively, you can use the code PELAGOWELCOME10 to save 10% off your first booking, capped at S$100.
You can redeem KrisFlyer miles on Pelago (but don't)
| | | |
| --- | --- | --- |
| | | |
| 150 miles | ⇒ | S$1 |
KrisFlyer members can now redeem miles on Pelago at a rate of 150 miles= S$1, with a minimum redemption of 1,050 miles.
You should see straight away that this yields a dismal value of just 0.67 cents per mile. In fact, it ranks towards the bottom of all the things you can do with KrisFlyer miles.
Options for Spending KrisFlyer Miles

Redemption Option

Value per mile

✈️

Award flights

2-6 cents

🏨

Shangri-La Golden Circle conversion

1.1-1.4 cents

✈️

Pay for flights with miles

0.95 cents

🚘

KrisFlyer vRooms

0.8 cents

🛍️

KrisShop

0.8 cents

🏬

CapitaStar conversion

0.7 ce

nts

📱

Kris+

0.67 cents

🎡

Pelago

0.67

cents

⛽

Esso Smiles conversion

0.33- 0.67 cents



To make matters worse, Pelago takes an all or nothing approach to redemption. You must pay the entire amount with KrisFlyer miles; there's no option to mix cash and miles!
For example, suppose I want to buy an attraction ticket that costs S$16. At check-out, I can select KrisFlyer miles as my payment method, but the system forces me to pay the entire S$16 with 2,400 miles.
This means that you couldn't even use Pelago to selectively burn a small number of miles that are due to expire (not that miles are expiring now, anyway).
A few other things to note:
Pelago bookings using KrisFlyer miles must be made under your name, or the name of one of your redemption nominees
Pelago bookings using KrisFlyer miles can be cancelled, subject to the activity's T&Cs. If so, miles will be refunded within two weeks. They'll still have their original expiry date tagged to them, so you won't be able to use this as a sneaky way of extending miles.
It's just very hard to see any situation where spending KrisFlyer miles on Pelago would be warranted. If you wanted to redeem staycations, you could get 0.8 cents per mile by using KrisFlyer vRooms (not saying that you should, just that you could!). If you wanted to buy activities or experiences, KrisShop has a (small) selection you can choose from, also at 0.8 cents per mile.
What's more, both these platforms allow for the mixing of miles and cash, enabling you to fine tune exactly how many miles you wish to spend.
Conclusion
From now till 30 April 2022, Pelago is offering up to 9 mpd on all bookings, plus the opportunity to save A$50 off a minimum spend of A$100.
The selection on Pelago is clearly nowhere as good as Klook, but if you manage to find something you like, there's a good amount of miles to be earned and savings to be had with promo codes.