Reboots are all the rage these days, ever since Christopher Nolan crammed Christian Bale into a skin-tight nomex suit and cowl, with semi-plausible military hardware and a bad case of laryngitis.
And why not? They offer a clean slate, a chance to take on the name without any of the baggage, a tacit acknowledgement that the previous iterations were far from ideal (bat nipples), but this time, this time things will be different.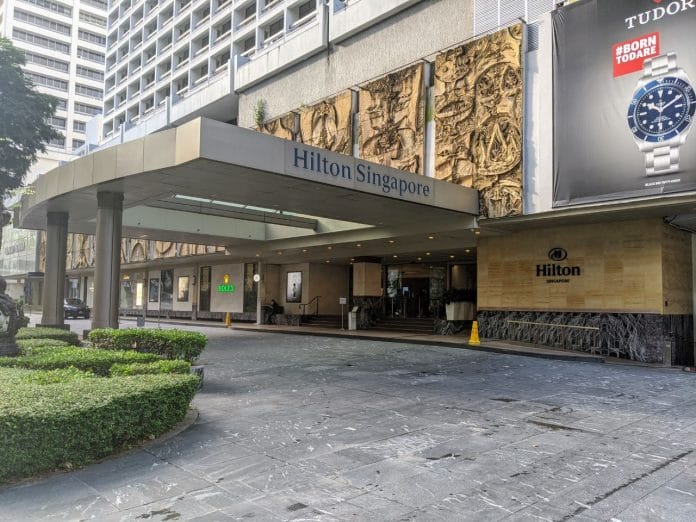 If there's one property that needed a reboot, it's the Hilton Singapore. Where do I even begin? It's perhaps unreasonable to expect greatness from a hotel that opened in 1970, but with all due consideration to its vintage, the Hilton Singapore was dire.
I did a media stay back in October 2020 (which, as you should know, has never caused me to pull punches), and concluded that:
While the hotel has an undeniable yesteryear charm, nostalgia often plays both ways. Apart from the Executive Suites and Lounge, most of the property is stuck in a time capsule, with minor cosmetic renovations that can't hide the fact the entire property is overdue for a major overhaul.
That major overhaul did and didn't happen. The Hilton Singapore is now the voco Orchard, where as far as I can tell, they slapped a new logo on the façade and some yellow pillows on the couches and called it a day.
No, so deep was the rot that Hilton decided to break ties with the original property altogether, entering into a new management contract with OUE Commercial REIT to rebrand and redevelop the Mandarin Orchard. 18 months and a S$150 million renovation later, the doors have opened at the Hilton Singapore Orchard, Hilton's flagship property and the largest in Asia Pacific.
So is this a reboot that works? I'll reserve final judgement until the property is fully up and running, but on the evidence so far, I'd say the Hilton Singapore Orchard is more Mad Max than Ghostbusters.
That's a good thing by the way, for the pop culturally illiterate out there.
🏨 tl;dr: Hilton Singapore Orchard

With its stunning new rooms and exciting F&B concepts, the Hilton Singapore Orchard is a worthy flagship for the Hilton brand.

👍 The Good

👎 The Bad

A top-to-bottom reimagining of the Hilton brand, with beautiful rooms and common spaces

High quality breakfast at Estate and exciting new F&B concepts

A spacious executive lounge with great service

Brand new fitness centre with the latest Technogym equipment

Room design may not suit business travellers

Disappointing food and shortage of power outlets in executive lounge

Tiny swimming pool that's more obligatory than anything else
Booking a Hilton Singapore Orchard Staycation
For this staycation, I booked the lead-in King Deluxe Room on an Honors Prepay and Save rate. This cost S$257++ (S$302 nett), and was fully refundable up to three days before arrival. Breakfast wasn't included, but I'd get it courtesy of my Hilton Diamond status anyway (Gold members enjoy free breakfast too, of course).
To sweeten the deal, I paid with my AMEX KrisFlyer Ascend to utilise the S$60 Hilton statement credit (min. spend S$300), bringing the overall cost down to just S$242!
If you're thinking of booking this too, I'm still seeing relatively low Honors Prepay and Save rates in April, with prices starting from S$242++ (S$284 nett).
There's also the option to book an Opening Offer package from S$315++ (S$371 nett) that comes with breakfast, 1,000 bonus points and 25% off F&B, but given that breakfast costs about S$45 nett per adult (less 10% with Dine Like a Member), you're only marginally better off.
Three days before arrival, I received an automated email from Hilton informing me that my stay had been upgraded to a suite.
Hilton Singapore Orchard: Arrival & Check-in
The Hilton Singapore Orchard is located at 333 Orchard Road, next to the Mandarin Gallery and at the heart of the Orchard Road shopping district.
If you're taking public transport, the closest MRT is at Somerset, from which it's a five minute (partially sheltered) walk to the hotel. If you're driving, on-site complimentary parking is available for all guests with unlimited in/out privileges.
The ground floor serves as a reception area for arriving guests, and I could see it being used for group check-ins once the tour bus crowds return to Singapore. In the meantime it's unmanned, though it does provide a hint as to the hotel's design philosophy.
The hotel's epicentre is up on level 5, where the check-in desks, restaurants and swimming pool are located.
While check-in at the Mandarin Orchard took place in a high-ceilinged portion of the lobby, Hilton has chosen to relocate the desks to a more enclosed and intimate area. The lower headspace makes for a more claustrophobic feel, but allows afternoon tea and bar venue Ginger.Lily to occupy the former check-in space. That actually makes sense in a way, since the check-in experience is transitory, but people tend to linger over coffee and cocktails. I know which one I'd prefer to be more spacious.
I didn't see a separate line for Diamond members (nor an option to check-in at the lounge), but it didn't really matter since the queues were short.
My suite upgrade was confirmed, as well as 4 p.m check-out for the following day. The staff told me they were seeing pretty decent occupancy for a weekday, thanks to the international school holidays, and a return of medical tourists (Mount Elizabeth is a stone's throw away).
The room wasn't ready just yet when I arrived at 12.15 p.m, so I was invited to have a drink at Ginger.Lily while waiting.
As mentioned, this occupies the former check-in area and benefits from the cavernous space afforded by the high ceiling.
Ginger.Lily
I got my room keys about 20 minutes later, which came on wooden cardstock- slightly more expensive than the traditional PVC, but what kind of monster uses plastic these days?
What surprised me was the absence of a welcome letter, which typically provides information about facilities, dining and lounge operating hours. I'm told they're "working on it", but you'd think this would be the kind of thing sorted out prior to opening.
In fact, I was completely in the dark as to how to book the facilities. It was only when I visited the concierge that I found out you needed to scan a QR code from a laminated sheet that's kept at the front desk. Seriously, how hard would it be to place one of these in each room (or at least include the information in a pre-arrival email)?
Hilton Singapore Orchard: Executive Suite
The Hilton Singapore Orchard will eventually have 1,080 rooms split across two towers, but at the moment, only one tower with 634 rooms is open.
What's slightly confusing (at least for Mandarin Orchard veterans) is that the Orchard Wing is now called the Mandarin Wing, and the Main Tower is now called the Orchard Wing. Rooms in the Orchard Wing are still undergoing renovations and are expected to open in January 2023, so all guests are in the Mandarin Wing for now.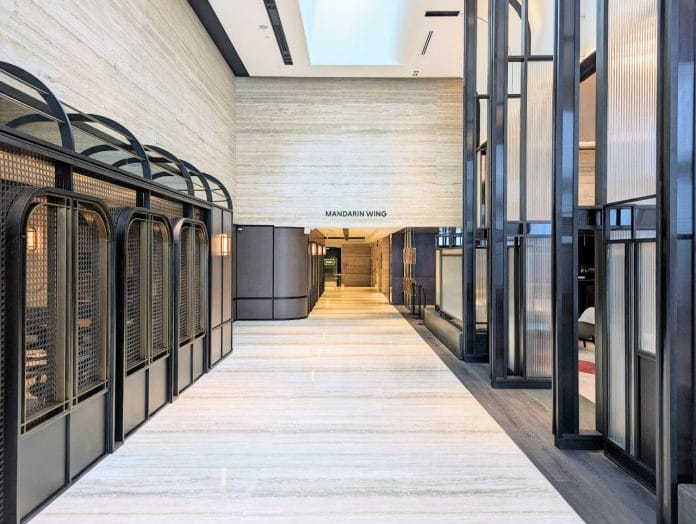 Rooms and suites at Hilton Singapore Orchard are split into the following categories:
| | | |
| --- | --- | --- |
| Type (Wing) | Size | No. of Rooms |
| King/Twin Premium Room (MW) | 29 sqm | 175 |
| King/Twin Premium City View Room (MW) | 29 sqm | 200 |
| King/Twin Executive Room (MW) | 29 sqm | 201 |
| King/Twin Deluxe Room (OW) | 34 sqm | 214 |
| King/Twin Deluxe City View Room (OW) | 34 sqm | 160 |
| King/Twin Superior Deluxe Room (OW) | 34 sqm | 60 |
| King Accessible Room (OW) | 34 sqm | 10 |
| King Premium Family Room (MW) | 49 sqm | 24 |
| King One Bedroom Suite (MW) | 56 sqm | 11 |
| King Deluxe Suite (OW) | 67 sqm | 2 |
| King Premium Suite (MW) | 70 sqm | 15 |
| King Executive Suite (MW) | 70 sqm | 7 |
| King Presidential Suite (MW) | 154 sqm | 1 |
It looks like a lot of room types, but in reality there's only seven, further subdivided by view, bed type and executive lounge privileges.
I was assigned to 2926, an executive suite on the 29th floor.
Executive suites are located at the corner of each floor, and basically the size of two regular rooms. They have separate living and bedroom areas, as well as two bathrooms.
The layout of the suite is T-shaped, with the living room to the left of the entrance and master bedroom to the right.
Interior design firm Avalon Collective was engaged to refashion the Mandarin Orchard as the Hilton Singapore, and refashion it they have.
The Mandarin Orchard's tired, dreary rooms and their "party like it's 1999" aesthetic have been given a complete makeover. Gone are the gold picture frames, beige drapes, glass-top coffee tables and black leather armchairs, replaced by soothingly modern furnishings and fixtures that would be right at home in an upscale showflat.
The design draws inspiration from the rich colonial and agricultural heritage of Orchard Road (which was once full of fruit orchards, nutmeg plantations and pepper farms), but it's all rather subtle. The forest green pillows and lightly-patterned carpets are the only hints of a botanical motif, and the room on the whole adopts a neutral colour palette.
In a corner of the living room was a small seating area with an L-shaped couch and two chairs. Not just any chairs, mind you. The furniture comes from Giorgetti, an upmarket Italian furniture brand with a storied history of woodworking.
The mini-bar area had a small selection of (chargeable) snacks, including IRVINS Salted Egg Fish Skins and Toblerone chocolate. In line with the hotel's sustainability initiatives, complimentary water was provided in cardboard cartons instead of plastic bottles.
Caffeine hits could be satiated via a Nespresso capsule machine and TWG tea bags.
On a side note, I'm glad that Hilton didn't install one of those cursed automated mini-fridges with sensors that bill you should you so much as molest a can of Coke. Instead, there were only six cans of soft drinks inside, leaving plenty of space for storing personal items.
Rounding out the living room was a wardrobe, empty except for a set of hangers. The customary ironing board and iron were missing, available only upon request.
Guests can make use of a separate bathroom in the living room area, decked out in eye-catching marble with a ring-lit mirror and manual TOTO bidet seat. There was also a shower, an interesting feature given that guests don't generally come to your room to bathe (though if you're staying with kids, having a separate shower could be a lifesaver).
On the opposite end of the living room was the master bedroom.
The king-sized bed had a Serta Perfect Sleeper Suite Dreams II mattress, made exclusively for Hilton Hotels. It was on the firmer end of the spectrum, though the pillows were a bit too soft for my liking (there's no pillow menu).
Each bedside had 2x USB Type-A outlets and a non-universal Singapore Type G power socket. Given the volume of international guests this hotel is likely to see, that's a surprising decision.
Next to the bed was a generously apportioned dressing table with a large vanity mirror, providing plenty of space for evening pre-sleep rituals.
Like the Conrad Centennial, the Hilton Singapore Orchard has taken the somewhat controversial decision not to include work desks in its rooms, substituting them instead with a round side table flanked by two armchairs.
But this is where you find the room's only universal power outlet, suggesting that this is indeed the place to get work done. I can't say I'm a fan of this setup, and imagine it'd be an even bigger problem for business travellers without executive lounge access.
Wi-Fi speeds clocked in at 64 Mbps down and 63 Mbps up- not the triple digit speeds of the Mandarin Orchard days, but still more than adequate.
🌐Hotel Wi-Fi Speeds
Hotel
🔽Down
🔼 Up

Mandarin Orchard

273 Mbps

294 Mbps

Sofitel City Centre

95 Mbps

92

Mbps

Hilton Singapore Orchard

64 Mbps

63 Mbps

Villa Samadhi

62 Mbps

53 Mbps

M Social Singapore

46 Mbps

49 Mbps

Conrad Centennial

40 Mbps

44 Mbps

YOTELAir Changi

29 Mbps

49 Mbps

W Sentosa Cove

34 Mbps

34 Mbps

Ascott Orchard

29 Mbps

29 Mbps

St. Regis Singapore

29 Mbps

29 Mbps

Duxton Reserve

28 Mbps

29 Mbps

PARKROYAL Beach Road

28 Mbps

29 Mbps

Mandarin Oriental

28 Mbps

28 Mbps

Oasia Resort Sentosa

28 Mbps

25

Mbps

The Fullerton Bay Hotel

24 Mbps

24

Mbps

The Fullerton Hotel

23 Mbps

24 Mbps

PARKROYAL Pickering

24 Mbps

23 Mbps

Oakwood Premier AMTD

20 Mbps

20 Mbps

Shangri-La Singapore

19 Mbps

18 Mbps

Pan Pacific Singapore

19 Mbps

19 Mbps

Dusit Thani Laguna Singapore

19 Mbps

19 Mbps

JW Marriott Singapore

16 Mbps

14 Mbps

InterContinental Bu

gis

15 Mbps

15

Mbps

The Capitol Kempinski Hotel

16 Mbps

13 Mbps

PARKROYAL COLLECTION Marina Bay

9.4 Mbps

18 Mbps

Grand Hyatt Singapore

14 Mbps

13 Mbps

Hilton Singapore

13 Mbps

14 Mbps

One Farrer Hotel

11 Mbps

21 Mbps

Marina Bay Sands

11 Mbps

11 Mbps

The Clan Hotel

9.6 Mbps

9.6 Mbps

Andaz Singapore

8.0 Mbps

9.5 Mbps

Four Seasons Singapore

6.7 Mbps

9.8 Mbps

Goodwood

Park Hotel

7.8 Mbps

7.

5 Mbps

The Barracks Hotel

7.3 Mbps

7.7 Mbps

Hotel 81 Tristar

7.0 Mbps

6.8 Mbps

Raffles Hotel

6.9 Mbps

6.8 Mbps

Hotel Soloha

4.7 Mbps

5.1 Mbps

Hotel G Singapore

4.4 Mbps

4.8 Mbps

Internet speeds based on Speedtest.net scores
The massive 65-inch TV offered a wide range of news, sports and entertainment channels, though there was surprisingly no Chromecast functionality. That's a poor miss in my opinion, especially when you have such a lovely screen to watch from.
Cleverly hidden behind the TV were his and hers (you can tell by the length; hers is longer to accommodate dresses) open-concept wardrobes, supplementing the closet space elsewhere in the room. With the hotel situated along a shopping district, the designers wanted to provide a place for guests to admire their purchases.
The master bathroom was a picture of elegance, with the floors and walls clad in pristine white marble (making me feel almost guilty for defiling it with my waste). Like the guest bathroom, a backlit mirror, TOTO manual bidet seat and single vanity came standard. Regular readers will know I'm a sucker for his and her sinks, but I suppose having two bathrooms kind of compensates for that.
The shower and bathtub were co-located in a single wet area, though the latter was disappointingly small with barely enough room for a small-framed person. I understand some rooms have free-standing tubs, which look a lot more alluring to me. Water pressure was OK, but definitely not the kind of invigorating deluge that wakes up a jetlagged traveller (and I'd know, having just returned from the USA the previous evening).
Instead of the standard-issue Crabtree & Evelyn toiletries you normally find at Hiltons, it seems the Hilton Singapore Orchard has gained special dispensation to use Acca Kappa products. The difference in quality is night and day, and I'd rate these among the best toiletries offered at any hotel in Singapore.
All amenities were dispensed from bulk-sized pump bottles, although these weren't affixed to the wall. I suspect they might have to soon, lest some guests succumb to the temptation to take them home!
The hotel doesn't offer turn-down service (and again, remember that despite the spiffy interiors it's still a Hilton, not a Waldorf or Conrad), though they did deliver a bottle of Laurent-Perrier champagne, a small token given to the first 100 Diamond and Gold members to stay at the hotel.
My overall thoughts on the room? I really dig the new décor, which wouldn't be out of place at a Sofitel or Andaz even. The bathrooms were particularly stunning, and the living area felt like somewhere you could kick back with a book or glass of wine and never feel like leaving. It is every bit an improvement compared to the previous Mandarin Orchard, and I'd go so far as to say I prefer these rooms to the ones at the Conrad Centennial.
On the other hand, the tiny tub was a disappointment, and the setup wasn't as work-friendly as I'd have expected from a Hilton, with no work desk and only a single universal power outlet.
Hilton Singapore Orchard: Facilities
| | | |
| --- | --- | --- |
| Pool | Gym | Spa |
| Yes: 7 a.m to 7 p.m | Yes: 24 hours | N/A |
| Kids' Club | Business Centre | Others |
| N/A | N/A | N/A |
Swimming Pool
The Hilton Singapore Orchard's swimming pool is open from 7 a.m to 7 p.m daily, and guests can book 60-minute slots within a day of arrival via this link (the first time I've seen hotel facilities booked via Chope- no C$ rewards though!).
A maximum of eight people are allowed in the pool area at any time. A special key card is required to access the pool area, so you won't be able to just come and go as you please.
Now, the swimming pool was a notable Achilles' heel of the erstwhile Mandarin Orchard, a tiny puddle completely unsuited to a 1,000+ room property.
Sadly, nothing much has changed. This is fundamentally the same pool from before, with the surrounding astroturf dug up and replaced with tiles, and a small elevated wooden deck constructed for the loungers.
It's too big (small?) a thing to overlook, so I can only surmise the Hilton team simply couldn't find the space to build a larger facility. It's a shame, because even if the hotel is mostly business and medical tourism focused, there's bound to be more than eight people amidst the 1,000+ rooms who want to use the pool at the same time.
Another issue the pool faced during its Mandarin Orchard days was privacy, since guests checking in at the lobby were treated to a lightly obscured view of the sunbathers in all their glory.
That's been resolved somewhat with the relocation of the check-in area, although the hotel has also put up some additional privacy screens. If someone really wanted to, they could probably still cop a look at the pool area from the lobby, but the new layout means foot traffic through the area is mostly transient.
A total of six pool recliners with umbrellas were situated on the wooden deck, with QR code menus for ordering food and drinks.
I suppose you could argue that the intimate environment provides a rare moment of privacy amidst a mega-hotel (assuming you can even book a slot), but if a nice pool is your sole criteria for a staycation, this probably won't be it.
Gym
The Hilton Singapore Orchard's fitness centre is open 24 hours a day, with guests able to book 90-minute slots within a day of arrival via this link.
The gym is located on the 6th floor of the Mandarin Wing, and is actually one of two facilities- the second will come with the opening of the Orchard Wing.
Cardio machines are fitted with the latest Technogym software, allowing you to participate in exercise programmes, go on simulated walks, or watch YouTube/Netflix. The software also supports syncing with Apple and Samsung watches for heart rate and fitness data.
Other equipment includes a rowing machine, stairmaster, various strength training stations and free weights.
Hilton Singapore Orchard: Executive Lounge
A flagship property like the Hilton Singapore Orchard is bound to attract a lot of Diamond members, so it's important the executive lounge is up to the task.
The lounge is located on the 6th floor and open from 9 a.m to 10.30 p.m daily. It has space for 250 guests, though mandatory social distancing cuts that number in half.
Inside you'll find all kinds of seating configurations, ranging from two and four-top dining tables to booth seats and communal worktops.
A fancy living room area at the far end of the lounge gave it a more residential feel, with display cases and recliner style seating.
The lounge has its own set of washrooms, with nifty no-touch door opening sensors.
While the Mandarin Orchard's club lounge was known for commanding views from its Top of the M perch, the views here are somewhat less inspiring.
While I have no complaints about the look and feel of the lounge — it feels like an inviting place to linger over a drink and catch up with emails — I do have concerns about its work credentials. The chairs are primarily designed for lounging, and none of them offer the kind of lumbar support you'd need to go beyond a 30-minute laptop stint.
Moreover, the lounge has a critical shortage of power outlets. I counted a total of 30, and even that's a generous figure since some of them were on pillars away from the seating areas (more suited to a vacuum cleaner than a laptop charger).
In fact, I found only a single outlet built into the furniture. The rest are located on the walls, requiring the running of unsightly wires across the floor, tangling with chair legs and spoiling the lounge's aesthetic.
All power outlets accept Singapore-style plugs only, and there were no USB ports.
That's a poor omission for a business-focused hotel, and travellers are going to be in for a rude shock when the place fills up and the outlet wars begin (or the hotel is going to have to place ugly-looking power strips around the lounge).
The lounge has a self-serve bar area and a heavy-duty Nespresso machine, no doubt in anticipation of peak demand in the mornings. There's also a buffet line, so eventually this will become an alternative place to take breakfast for those wanting to avoid the crowds downstairs.
Afternoon tea is served in the lounge from 3 p.m to 4.30 p.m, with evening cocktails from 5.30 p.m to 7.30 p.m. Reservations are not required for either.
Frankly speaking, you can give both a miss. The food was completely forgettable, and certainly not worth asking for seconds. Dim sum was dry, salads limp, and pastries uninspiring- a far cry from the culinary excellence the hotel is capable of producing at its restaurants.
In terms of alcohol, I saw beer as well as an Indomita Chardonnay and a Cabernet Sauvignon. There's no sparkling wine option, sadly.
I also spotted a selection of spirits, but without a drinks list I couldn't tell if cocktails were on offer.
Service in the lounge was excellent. Every guest was warmly welcomed back, drinks preferences were remembered, and top ups were frequent. To be fair, lounge utilisation was on the low side when I was there, so the real test will be to see how they manage a full house down the road.
Hilton Singapore Orchard: Breakfast
Served at

Cost

Style

Estate

S$38++ (Adults)
S$19++ (Child 7-12)

Staff-served buffet

Hours

Sparkling Wine?

Discounts?

6.30 a.m to 10.30 a.m


No

10% off for Hilton members
Breakfast is served at Estate from 6.30 a.m to 10.30 a.m daily, and costs S$38++ (~S$45 nett) per adult. Children aged 7-12 pay half price, and children six and below eat for free.
Gold and Diamond members receive complimentary breakfast for two guests, while base and Silver members can save 10% off the bill with Hilton's Dine Like a Member promotion.
Estate is a gorgeous venue to behold, with each section adopting a different botanical theme. The lighting is warm and inviting, featuring residential-style open kitchens and mirrors on the ceiling (so all they need now is some pink champagne on ice).
Breakfast is run buffet style (though a la carte options are also available), with the staff serving up items directly from the line and doing a commendable job of keeping up with the morning rush.
The spread was certainly impressive, all the more so because Estate has a real knack for presenting food. Displays were attractively lit and full of vibrant colours, items neatly arranged and regularly replenished, and nary a silver food warmer in sight.
I'll walk you through the various areas of the buffet, starting first with the pastries and bread section.
A special mention to Estate for using the good butter. This is Beurre d'Isigny, and once you try it, you'll never go back to anything else.
Next up was cold cuts, a salad bar, cut fruits, cheese, and honey from the comb.
A wide selection of cereals were available, as well as freshly-made pancakes and french toast.
Various egg dishes can be made-to-order, or you can pick from the trays if you're in a rush and create your own fry-up with sausages, hash browns, tomatoes and (pork and turkey) bacon.
Asian options consisted of dim sum, prata with curry, nasi lemak, porridge, and a noodle station serving up prawn mee.
Be sure you don't miss the juice station, located on the outskirts of the buffet line. The staff will happily whip up any juice combination you can think of, or pour you one of their pre-prepared mixes like a classic ABC (apple, beetroot, carrot).
My pick of the dishes? Definitely the porridge, french toast and prawn mee.
Hilton Singapore Orchard: Dining
Hilton Singapore Orchard offers a total of four dining concepts for now, with Osteria Mozza becoming the fifth when it opens in April 2022.
Chatterbox
Estate
Ginger.Lily
Osteria Mozza (opening mid-April 2022)
Shisen Hanten
From now till 30 June 2022, Hilton Honors members can enjoy discounts at Estate and Ginger.Lily under the Dine Like a Member promotion. Base and Silver members save 10%, while Gold and Diamond members save 25%.
Chatterbox
The famous Chatterbox restaurant has undergone a S$4 million renovation, replacing its oh-so-2000s décor with a sleek, minimalist Japanese feel. The new 126-seat restaurant can be accessed either through the Mandarin Gallery mall, or via an umbilical-like corridor from the Hilton Singapore Orchard lobby.
Opening hours are 11.30 a.m to 2.30 p.m and 6 p.m to 10.30 p.m daily.
I visited Chatterbox twice during my stay, the first time tucking into a plate of fiercely-addictive salted egg chicken wings (S$12++ for four pieces), and the obligatory Hainanese Chicken Rice (S$25++, with your choice of breast or drumstick).
I'm pleased to report that the renovation has had no effect on consistency, as the chicken rice tasted exactly the same as the last time I had it (August 2020)- moist chicken, plump, flavourful rice grains, tangy chili, cabbage soup that isn't just for show.
Is it worth the price tag? Look, I'm not keen in getting drawn into a discussion about whether Chatterbox chicken rice is part of our national culinary heritage, or an overpriced tourist trap. I'm just thankful we live in a country with both options at our disposal: an elevated, non-threatening environment where one can enjoy a craft cocktail and introduce hesitant overseas friends to our local gastronomic bounty, and a pick-me-up, S$3 option seasoned with the hawker's sweat and tears (hopefully not literally).
The following day, I tried the Lobster Laksa (S$34++), which wasn't quite as good as the previous time. The broth tasted a little gritty, and the noodles were overcooked.
I also sampled the braised seafood white bee hoon (S$29++), which was decent, though I think you might be better off going for the seafood hokkien mee (S$25++) instead.
Estate
Estate is open from 6.30 a.m to 10 p.m daily. I've already talked about breakfast, but there's also the option of a lunch and dinner buffet and all-day a la carte dining.
The lunch buffet costs S$62++ (Mon to Thu) and S$70++ (Fri to Sun), while the dinner buffet costs S$82++ (Sun to Thu) and S$99++ (Fri & Sat). Children aged 12 years and below dine at 50% of the adult price, while children aged 5 and below dine for free.
Do note that while the lunch and dinner buffet spreads differ, they're the same regardless of day of the week (e.g. the dinner spread on Saturday will be the same as on Monday).
We came here for dinner, where the following items were being served.
That looks like a lot of food, and it is. Estate's spread is second to none, but there's quality as well as quantity to be had here.
Fruits
Estate's signature dish is black truffle roasted duck, served with sweet turnip pickle and fried tofu. The duck was delicious, although the ginger honey soya sauce was overpoweringly sweet and could have been done without.
This was served along with a consommé made from the carcass of the duck. It's herbal and slightly bitter, which I suppose provides a good counterpoint to the sweetness of the sauce.
If you ask me, that honey soy-glaze goes a lot better on the Australian short ribs, which fell off the bone at the slightest provocation.
Nasi goreng kampung is another source of pride for the chef, and be sure to ask for an extra portion of the homemade chili.
Estate does a unique play on chili crab, pairing a soft shell version with crispy cheong fun. I loved the crab, though I believe it's best not to mess with the classics- man tou would have been a much better accompaniment.
While putting cheese on seafood is a mortal sin, scrape it to the side and you'll find a very lovely squid ink tagliatelle with octopus confit. The pasta happens to be gluten-free, so those with Celiac disease can join in the fun too.
Before you end the night, head to the desserts display and help yourself to a champagne raspberry gelee. Yes, I checked: they do use real champagne to make this, and in abundance. A few of these and you might not be able to drive home.
The total damage for two people, after taxes, service charge and Hilton's 25% discount was S$145. Considering that Estate's predecessor Triple Three charged more than that with way less impressive food, it felt like money well spent.
Ginger.Lily
Ginger.Lily is the Hilton Singapore Orchard's go-to venue for afternoon tea, artisanal cakes and craft cocktails. An all-day menu with canapes, soups, salads and more substantial items (think wok-fried tom yum quinoa and sea urchin with gluten-free tagliatelle) is also available.
Opening hours are 9 a.m to 10.30 p.m daily, with the following service timings:
Afternoon Tea: 2 p.m to 5 p.m
Cake Shop: 10 a.m to 8 p.m
Breakfast: 9 a.m to 10:30 a.m
All-day Menu: 11 a.m to 10:30 p.m
Bar & Cocktails: 12 p.m to 10:30 p.m
In a major coup, Hilton has managed to poach the affable Michael Mendoza from PARKROYAL COLLECTION Marina Bay to head up the bar programme.
He was more than happy to go off menu and craft some custom drinks for us- a champagne cocktail for me, and a play on a whiskey sour for the MileLioness. Both were delicious, and my biggest wish now is that Ginger.Lily gets added to the AMEX Chillax programme so I have an excuse to stop by more regularly.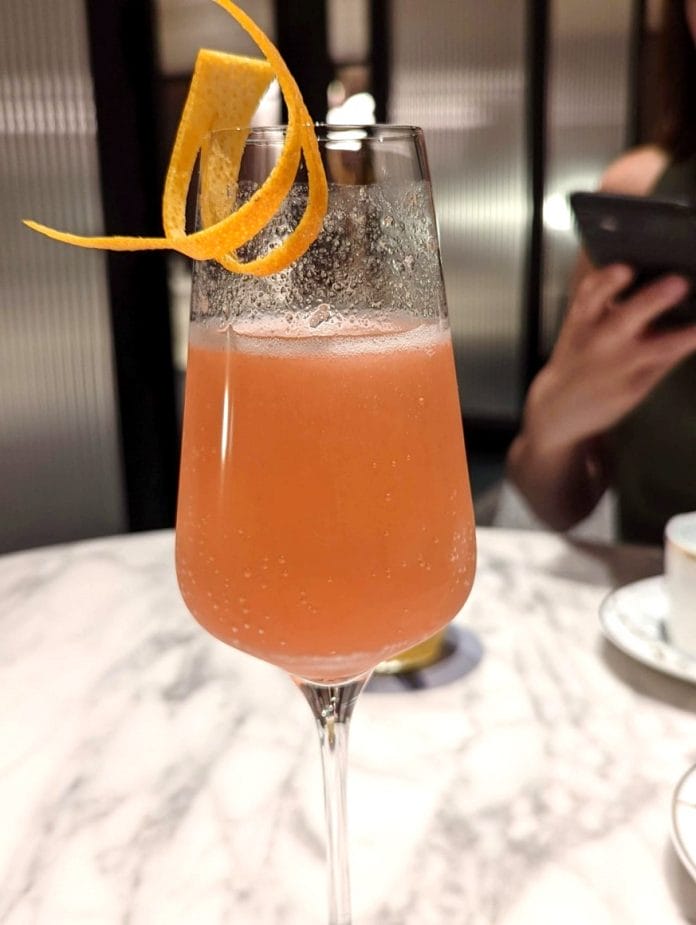 I didn't have the opportunity to try any of the food items, but will make it a point to do so in the near future.
Verdict
I'm going to be presumptuous and say that no one liked the previous Hilton Singapore, they just tolerated it. It was the kind of place people stayed out of an undying loyalty to Hilton Honors (and an expense account that wouldn't cover the Conrad) or because of its relatively cheap rates, rather than any great love for the property per se. That's not a winning formula by any means.
The new Hilton Singapore Orchard is beautiful and inviting, a setting I could easily see spending a whole day working, enjoying a tipple or sharing a meal. It's a place I might actually propose as a meeting point for drinks and discussions, even when not staying, and there's more to look forward to when Osteria Mozza and the Orchard Wing open (I'm dying to see what Top of the M becomes). More importantly, it provides a much-needed hard reset for the brand in Singapore, rehabilitating the Hilton's image from grand old dame to new kid on the block.
There's no spa (though that's not exactly a key selection criteria for the typical Hilton guest), and the underdeveloped pool and lack of power outlets in the lounge are bound to cause issues down the road, but on the whole I'd consider this to be one of the most impressive new hotel launches in recent memory.
It's a reboot I can get behind.
🏨 In Summary
With its stunning new rooms and exciting F&B concepts, the Hilton Singapore Orchard is a worthy flagship for the Hilton brand.
Do say: Chatterbox chicken rice is a litmus test of our willingness as a society to elevate hawker food to the same status as haute cuisine

Don't say: Wah lao, still got service charge

Milelion Staycation Ratings