KrisShop recently launched a new loyalty programme called KrisShopper. While the name isn't too imaginative, they could have called it Krissy McKrisFace for all I care- there's 1,000 bonus miles and a S$20 voucher up for grabs, and I'm hardly going to waste time gift horse mouth-gazing.
What's more, from now till 31 July 2022 (extended from 30 April 2022), KrisShopper members will be able to earn a whopping 15.5 mpd on KrisShop purchases made via Kris+. That's a fantastic earn rate, and well worth analysing in more detail.
Earn up to 4 mpd from KrisShopper
Joining KrisShopper should be a no-brainer, since even the no-spend-required KrisShopper Member tier earns more miles (2 mpd) than a non-KrisShopper customer (1.5 mpd).
As they move up the ranks, KrisShopper members enjoy a higher earn rate, maxing out at 4 mpd for Ambassadors.
KrisShopper Tier

Qualifying Spend

Earn Rate

Non-KrisShopper

N/A

1.5 mpd

Member

N/A

2 m

pd

Insider

S$5,000

2

.5

mpd

Icon

S$10,000

3 mpd

Ambassador

S$15,000

4

mpd

*Qualifying spend includes purchases on KrisShop.com, KrisShop on Kris+, KrisShop on KrisWorld, Inflight purchases on Singapore Airlines. Excludes GST, duties and delivery charges
Up till 30 June 2022, KrisFlyer Elite and PPS Club members could get an instant KrisShopper status match when they linked their accounts and subscribe to KrisShopper's newsletter at the point of registration.
This status is valid for 12 months, and subsequent requalification requires meeting the regular qualifying spend thresholds.
| | |
| --- | --- |
| KrisFlyer Status | KrisShopper Status |
| KrisFlyer Elite Silver | Insider (2.5 mpd) |
| KrisFlyer Elite Gold | Icon (3 mpd) |
| PPS Club | Ambassador(4 mpd) |
| Solitaire PPS Club | Ambassador(4 mpd) |
❓ Linking KrisFlyer account to KrisShopper
To link your accounts, simply sign-in to your KrisFlyer account on KrisShop.com. You'll see the following pop-up window appear automatically (remember to check the box in red).
If you accidentally close this pop-up or don't see it, you can also login to your KrisFlyer account on singaporeair.com, click on Miles > How to Earn, locate the KrisShop section and click on Link Account.
A confirmation email will be sent once your accounts have been linked. You can find the full T&Cs of the KrisShopper programme here.
Earn 9 mpd from KrisShop on Kris+
From now till 31 July 2022, KrisShop on Kris+ is offering an additional 18 miles per S$2 spent (9 mpd).
This stacks with the KrisShopper earn rates, but keep in mind the 9 mpd figure already includes the regular 1.5 mpd earned by normal KrisShop customers. Therefore, the real boost (compared to KrisShopper earn rates) is 7.5 mpd, and KrisShopper members will earn anywhere from 9.5 to 11.5 mpd before taking into account credit card miles.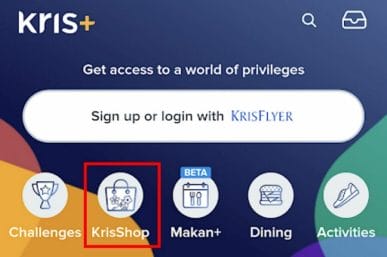 Here's a quick reminder of the differences between shopping on KrisShop.com and KrisShop on Kris+.
KrisShop.com

KrisShop via Kris+

Selection

Full catalogue

Partial catalogue

Delivery

Worldwide and inflight

Singapore only

Earn Rate

1.5 miles per S$1

3 miles per S$2
(9 miles per S$1 till 31 Jul 22)

Miles Transfer to KrisFlyer

Miles credited directly to KrisFlyer within 30 business days

Miles earned instantly; transfer to KrisFlyer account within 7 days

Pay with Miles

125 miles per S$1

125 miles per S$1*


Min. Miles Redemption

1,000 miles

15 miles

PPS Club Privileges

10% off

Not available yet

*150 miles per S$1 with 16.7% instant miles-back
Checkouts must be done via in-app payments, using American Express, Mastercard or Visa cards linked to Apple Pay or Google Pay.
While it was initially possible to earn miles on GST and shipping when KrisShop via Kris+ first launched, that bug has been corrected, and you'll only earn miles on the pre-tax, pre-shipping amount going forward.
Don't forget to transfer any miles earned on Kris+ to your KrisFlyer account immediately. If you wait more than seven days, these miles will be stuck inside Kris+, where they expire after 6 months, and can only be spent at a puny 0.67 cents each!
Earn up to 4 mpd from credit cards
KrisShop purchases with code as MCC 5309 Duty Free Stores. Using the following cards will earn you an additional 2-4 mpd:
If you're shopping via KrisShop on Kris+, be careful not to use the Citi Rewards Card. Citibank excludes in-app mobile wallet transactions from earning 4 mpd, and you'll earn a puny 0.4 mpd instead. Regular transactions on KrisShop.com are fine.
Earn 13.5 to 15.5 mpd on KrisShop
So putting it all together, a KrisShopper member would earn anywhere from 13.5 to 15.5 mpd for KrisShop purchases, as summarised below.
KrisShopper Tier

KrisShopper

Kris+

Credit Card

Total

Member

2 m

pd

7.5 mpd

4 mpd

13.5 mpd

Insider

2

.5

mpd

7.5 mpd

4 mpd

14 mpd

Icon

3 mpd

7.5 mpd

4 mpd

14.5 mpd

Ambassador

4

mpd

7.5 mpd

4 mpd

15.5 mpd
❓ Not quite 13.5-15.5 mpd
While you will earn 4 mpd on the gross purchase amount charged to your card, remember that 7.5 mpd from Kris+ and up to 4 mpd from KrisShopper is only awarded on the pre-tax, pre-shipping amount. Therefore, your actual earn rate will be just shy of what's stated above
Conclusion
From now till 31 July 2022, there's a very lucrative opportunity to earn up to 15.5 mpd on KrisShop purchases- simply sign up for KrisShopper, shop via Kris+, and use the right credit card for your purchases.
Just note that KrisShop prices may be inflated compared to shopping elsewhere, so be sure to comparison shop and make sure the bonus miles justify the price difference (if any).