For my two nights in Bali, I decided to stay at the Conrad in Nusa Dua.
It's far from the newest (or most exciting) option, having opened in March 2004. But it's Hilton's highest-end property on Bali until the Jumana Bali Ungasan (formerly the Banyan Tree Bali) completes its integration with the LXR brand, or the Waldorf Astoria Bali finally finishes its long-delayed construction.
Besides, the rates were extremely good…
🏨 tl;dr: Conrad Bali

Despite its extensive facilities and earnest staff, the Conrad Bali is fighting a losing battle against age…and mosquitoes.

👍 The Good
👎 The Bad

A wide range of resort facilities including multiple pools, tennis courts and a kids' club

Staff try hard

Functional rather than fantastic breakfast

Executive lounge still closed

Mosquitos everywhere
Conrad Bali: Booking
The Conrad Bali was offering some eye-catching rates during early April when I visited. A lead-in 45 sqm Deluxe Room cost just S$103++, and a 235 sqm Pool Villa could be had for S$228++! 
It's not every day you see that kind of pricing, and therefore I decided to pay cash instead of redeeming points (redemptions start from 34,000 points/night). 
Unfortunately, rates have since gone up significantly as visitors return to Bali, and the lowest rate I can find for June now starts at S$146++ for a Deluxe Room, and S$444++ for a Pool Villa. 
Conrad Bali: Check-in 
At the time I visited Bali, the on-arrival PCR test requirement was still in force (it's since been scrapped). After completing the swab at the airport, I was picked up by my prearranged transport (booked on Klook for a mere S$4) and driven about 20 minutes to the Conrad Bali.
Based on my experiences with Test & Go in Thailand, I was expecting to be ushered straight to the room upon arrival, in order to minimise my contact with "clean" guests and staff. To my surprise, I was treated just like any other arriving guest; invited to have a seat and wait for a check-in counter to open, even offered a welcome drink! 
It took almost 30 minutes to be served, and there was no priority lane for Diamond members. During this time, I had completely unrestricted movement. No one paid particular attention to me, and it's safe to say the Indonesian authorities aren't as fastidious about the whole isolation thing as the Thais. 
In that vein, guests were supposed to isolate in their rooms until their on-arrival test results came back. However, the staff told me I could use the facilities and visit the restaurants; I just couldn't leave the hotel grounds until a negative result was received (which took less than two hours).
Conrad Bali: Overview
The Conrad Bali is set amidst seven hectares of tropical gardens and fronted by a 350-metre stretch of beachfront, with 358 rooms split into the following categories:
298 Resort Rooms & Suites
54 Conrad Suites
5 Conrad Pool Villas
1 Penthouse
You may have noticed I mentioned suites twice. That's because the Conrad Bali has two types of suites:
Resort Suites are located in the main building, and consist of 90 sqm Lagoon and Ocean Suites
Conrad Suites are located in a separate wing with its own adults-only pool, beach and private driveway. They measure at least 110 sqm in size
The hotel simultaneously markets itself to both couples and families, with more than enough space to assign separate zones to both. Couples can stay in the villas or Conrad Suites, while families can take up residence in the Resort Rooms & Suites, near the lagoon pool and kids' club.
Conrad Bali: Pool Villa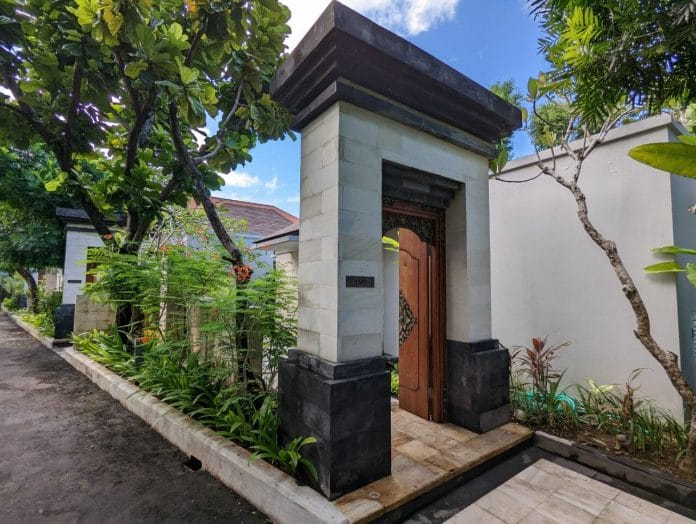 The Conrad Bali has a total of five Pool Villas. These were originally conceptualised as spa treatment pavilions, but later converted into accommodation aimed at couples.
I was in villa 1603, though as far as I'm aware, there's no particular villa to choose or avoid. 
Each pool villa measures at least 235 sqm in size, and while that sounds like a lot of space, the room itself only occupies ~62 sqm. The rest of the space is used for the outdoor garden and pool. I wouldn't say it's cramped, but it's certainly smaller than other villas I've stayed at in Bali. 
A wooden partition near the entrance provided a modicum of privacy between the bedroom and entrance area, but in reality it's more of a studio layout than a suite with separate rooms.
It wasn't the best of first impressions- when I arrived at the villa, someone was inside fixing the mini-fridge. He'd kept his shoes on, so the entire entrance area was caked in dust. I had to call housekeeping (twice) to come and clean the area again.
The interior felt homely, though there were visible signs of wear and tear on the furniture- curious considering the villas were renovated in 2019. The villa didn't have a work desk, though there was a small seating area near the bed with a round coffee table and a pair of wooden chairs.
Each bedside had a universal power outlet and USB charging, with modern black cover plates. 
A welcome amenity of fruits had been placed on the coffee table. 
Near the entrance was a walk-in wardrobe with plenty of storage space for clothes and luggage.
The mini-bar area had a coffee machine (not Nespresso) as well as Dilmah teabags. Once upon a time TWG teabags used to be provided; whether that's an upgrade or downgrade depends on you!
The bathroom had his and her sinks, Shanghai Tang bath amenities (plus two more no-brand tubes simply labelled "Mandarin Tea"), and a spacious shower with a bench. 
While there was no electric bidet seat, there was at least a bidet hose. 
Immediately outside the bathroom was an outdoor deck area with a stone tub and two deck chairs. The tub could easily have accommodated two adults, and had padded headrests on both ends for extra comfort. 
Then there's the plunge pool, which truth be told, was more of a soaking area. The dimensions made it impossible to swim, and you'll need to head to the swimming pool if you want to do proper laps. 
In case you're wondering, the pool measured 0.9m deep and wasn't heated. 
Elsewhere in the backyard were additional seating areas, making it a pleasant place to take in some sun while reading a book.
While the Pool Villa wasn't without its charm, its biggest draw is also the reason I can't recommend it. You're close to nature, but that means getting serenaded by a bullfrog chorus every night. These guys are loud, and anyone who's a light sleeper can forget about catching any winks.
And even if you're a heavy sleeper, the mosquito problem is going to keep you up. The Conrad Bali has a lot of stagnant water due to deactivated water features, especially near the villas.
In fact, right at the entrance to the villa you'll find some prime breeding spots. This makes the villas mozzie paradise, and I was bitten throughout the night.
It got so bad I called the front desk and asked to be relocated somewhere else. They put me up in a regular room at the main wing (which was blissfully quiet and mozzie-free), and the following day relocated me to a Pool Suite.
Conrad Pool Suite
In contrast to the freestanding Pool Villas, Pool Suites are located within the Suites Wing building. They measure in at 110 sqm with separate living and sleeping areas, as well as a private pool and garden. 
The spacious living room had a four-top dining table, as well as two light grey sofas arranged in an L-shape configuration around the TV. There was even a small kitchenette area, though this might be more accurately described as a wet bar, given the lack of a hob.
The bedroom featured a King-sized bed and additional seating, plus a second TV. A set of sliding doors provided direct access to the pool. 
Unlike the Pool Villa, the bedside area lacked USB charging, and the cover plates were white- suggesting they didn't get upgraded during the recent renovation.
A dressing table and walk-in wardrobe separated the bedroom from the bathroom area. There was plenty of space to preen and get dressed, and they'd even included a laundry hamper (remember, suites guests enjoy six pieces of laundry/dry cleaning daily, free of charge).
The oversized bathroom had a soaking tub, as well as his and hers sinks. Unfortunately, there was a foul smell coming from the drain near the toilet. Housekeeping eventually managed to fix it, but that's the kind of thing that should have been spotted during the pre-arrival inspection. 
Speaking of things that should have been spotted, the shower head wasn't attached properly, and spewed water all over the bathroom once turned on. 
To the rear of the suite was an outdoor patio, which opened out into a private garden. 
While the Pool Villa was a bit of a misnomer, the Pool Suite actually had a decent pool, in which you could swim short laps. The problem was the water level was way too low, almost as if they'd forgotten to fill it properly. 
Also note that there's minimal privacy. Guests in the suites above can easily stare down from their balcony into your pool, so I wouldn't advise skinny dipping. 
One nice thing about the Pool Suite is that you can exit via the rear gate and head directly to the beach (and chapel).
While the Pool Suite didn't have any issues with bullfrog noise, it still had a very bad mosquito problem. I eventually moved back to the same room I stayed in the previous night, and if you don't like fancy feeding the mozzies, I'd highly recommend choosing a room or suite in the main wing. 
Conrad Bali: Facilities
The Conrad Bali certainly isn't lacking in facilities, with guests able to enjoy:
A fully equipped spa with 10 treatment rooms, sauna, steam room and cold plunge pool
Four swimming pools (including the Conrad Suites adults-only pool)
Two flood-lit tennis courts
A 24-hour fitness centre
A kids' club with daily activities
Wellness studio offering activities like yoga
Various water sports (some complimentary, others paid)
An ocean promenade for running and cycling
There's also a daily activities schedule, featuring things like yoga, origami, aqua exercise and beach volleyball. Some activities may entail a fee. 
Swimming Pools
The main swimming pool at the Conrad Bali measures in at 35 metres, and is open till 9 p.m daily. It's situated right in front of Suku Restaurant (where breakfast is served), and drinks and snacks can be ordered from the nearby Azure Bar.
While there's plenty of deck chairs and umbrellas, you won't find any cabanas here (those are confined to the suites-only pool). The staff bring around ice water and towels once you've chosen a spot.
While the main pool is good for swimming laps, those who want to frolic may enjoy the lagoon pool more. This sprawls throughout the grounds, with some ground floor rooms enjoying direct access. 
In some parts, you can even find a little artificial beach!
The hotel had set up a few massage stations near the pool, where guests could get a 60-minute body massage for IDR 330,000++ (~S$38 nett) per person. 
Conrad Suites guests have a pool of their own, although the only real access control is its sheer distance from the main hotel (it's not like there's anyone stationed at the pool checking room numbers).
This pool enjoys more shade thanks to the surrounding greenery, and unlike the main pool, has 10 cabanas available on a first-come-first-serve basis. 
The hotel didn't actually station any staff here, so it felt a little less premium than the main pool in the sense that you had to serve yourself, and there was no easy way of placing orders for food and drinks. 
Gym
The Conrad Bali gym is open 24 hours a day, with personal instructors available on request from 7 a.m to 9 p.m. 
The air conditioning is turned off when no one is around, so I'd advise you to contact reception and book a time slot in advance, so they can cool down the room ahead of your arrival. Bali gets real hot during the day, and this gym gets plenty of morning sun through its full-length glass windows. 
Kids' Club
The Kura Kura kids club is open to children aged 3-12, and operates from 9 a.m to 5 p.m daily. Access is complimentary for all registered guests. 
Activities rotate daily, and include things like yoga, jewellery making, Balinese dance and face painting. You can find a daily schedule here. 
Chapel
Want to get married in Bali? There's a picturesque little chapel on the hotel grounds that seats up to 300 guests. A walkway and reflecting pool provide excellent photo opportunities. 
Jiwa Spa
The Jiwa Spa offers nine treatment rooms, two spa villas, a steam room, sauna, whirlpools and a 25-metre private pool. It is open from 10 a.m to 7 p.m daily, with the last booking at 6 p.m.
The spa menu can be found here. Expect to pay IDR 945,000++ (~S$90) for a 60 minute treatment.  
Lounge
While the Conrad Bali has a dedicated executive lounge, it was closed when I visited. Afternoon tea and evening canapes were served at East Lobby Lounge instead. 
Afternoon tea is served from 3 p.m to 5 p.m daily, with a three-tier set of sandwiches, cakes and scones. Specialty coffees and teas are available, as are still and sparkling water. 
None of the items were particularly outstanding, and you shouldn't feel bad if your schedule leaves you unable to partake. 
Evening cocktails are served from 5 p.m to 7 p.m daily, and this is the one you might want to make time for, since there's free booze. Alcohol prices in Bali can be steep, and the opportunity to get free beer, wine and cocktails is not to be sniffed at. 
Again, I didn't think the food was anything to get excited about- it's definitely not a dinner replacement, given the small servings and relatively long wait times between replenishments. Still, free drinks are always appreciated, and they do a decent mojito. 
Beach
Let's be clear about one thing: Nusa Dua isn't know for its beaches. If you come here expecting Maldives-style powder sand, you're going to be very disappointed. Instead, expect coarse grain sand, litter washing up on the shore, and occasional harassment from touts. 
Conrad's beach is technically divided into a suites and non-suites zone, but the distinction is essentially meaningless since (1) it's not enforced (2) it's not like the suites area has anything the non-suites area doesn't. In fact, the suites area was missing any beach umbrellas, which given the Balinese sun is a recipe for a bad burn. 
In contrast, the beach chairs in the non-suites area had some protection thanks to wood and straw umbrellas set into concrete blocks.
Back to the beach: it's really nothing to get excited about, and most people would be happier off at the pool. In some places it's downright marshy too, more of a swamp than a beach. 
Breakfast
Breakfast is served at Suku restaurant from 7 a.m to 10.30 a.m daily, and is complimentary for Hilton Gold and Diamond members.
The buffet is divided into three main sections. In the middle were the live cooking stations, with pancakes, waffles and eggs made to order. Noodle dishes could also be assembled.
To the left was an area with yoghurt, cereal, fruits, salad, and other cold items. 
To the right was the rest of the pre-cooked food, with Indonesian classics as well as Western selections. 
In addition to the buffet, guests could select items from a prepared-to-order menu. This had items like Balinese chicken curry, sweet and sour fish, egg buritos, and eggs benedict. 
A special kids' corner had been set up as well, chock full of items that the little ones need for a balanced diet: sugar covered donuts, marshmallows, chocolate-coated strawberries, nuggets, hash browns, and cupcakes. Parents, be warned.
Having been spoiled by the fantastic breakfast at the Conrad Koh Samui, Conrad Bali was always going to be a let down. None of the items here were particularly memorable, and it's squarely in the "food as fuel" bucket rather than a gourmet experience. 
That said, the staff do try very hard. I provided feedback to the manager that I was hoping to see things like smoked salmon or avocado on the buffet line, and he got the kitchen to whip me up a very serviceable avocado toast with poached eggs and salmon on the side. You have to appreciate that kind of effort, if nothing else. 
Conclusion
Would I recommend the Conrad Bali? It's a tough call. 
The staff certainly try their best. The numerous issues with the Pool Villa and Pool Suite were promptly fixed, and I was kept constantly updated until resolution. 
At the same time, I can't help but feel a better hotel might have prevented some of these issues from happening in the first place. Maybe you can't do much about the bullfrogs, but surely the hotel should know that many stagnant bodies of water will lead to a mozzie feeding fest, or that you should probably check to make sure the shower works and the toilet doesn't smell before a guest arrives.
I'm also surprised to know that the Conrad has undergone a recent renovation, because much of the hardware feels old and worn. The executive lounge has yet to reopen, and the beach is nothing to get excited about. 
So I'd say that the Conrad Bali may be a great place for families, but didn't quite deliver the kind of experience I'd come to expect from the chain. For the amount it charges (at least during regular times), you could find superior accommodation elsewhere in Bali. 
Have you visited the Conrad Bali? Was your experience better than mine?