After a very impressive Economy Class experience on the STARLUX flight over from Singapore, I was eager to see what their Business Class could deliver. 
My return flight from Taipei departed at 8.50 a.m, which meant an early start in the morning. Taoyuan Airport is about a 40-minute drive from the Grand Hyatt Taipei, and the ride cost about 1,300 NTD (~S$57) via taxi.
Even though STARLUX is a relatively new carrier, the locals seem to be familiar with it- the driver asked me which airline I was flying and nodded when I said STARLUX, pulling up at the correct check-in row.
✈️ tl;dr: STARLUX A330neo Business Class

STARLUX's Business Class seat may not break any paradigms, but its execution of the premium cabin experience is close to flawless.

👍 The Good

👎 The Bad

Brand new full-flat Business Class seats, with modern touches like 4K screens and wireless charging pads

Exciting food and beverage options, and one of the best meals I've had in the sky

A fawning level of service that could rival a Japanese airline

Small selection of English movies

Sluggish Wi-Fi network

A single bottle of champagne catered for the entire fight

Seat design is not conducive for couple travel
🇹🇼 When You Wish Upon a STARLUX
Check-in & Boarding
STARLUX departs from Taipei Taoyuan Terminal 1, and uses the check-in desks at Rows 5 and 6. Row 5 is for Business Class and COSMILE Explorer/Insighter members, while Row 6 is for Economy Class. 
There was no wait at the priority queue, and check-in took just a couple of minutes. The only document they needed to sight was a vaccination certificate, odd, since Singapore doesn't even require visitors to be fully vaccinated anymore.
STARLUX uses coloured boarding passes for all cabins, a nice touch since some airlines have reserve colour printing only for premium passengers. I also received an invitation to the Galactic Lounge, but unfortunately this was still closed during my visit. The official reopening date is set for 7 November 2022, so by the time you're reading this it won't be an issue. 
In the meantime, STARLUX passengers can use the Plaza Premium Lounge. It's an OK facility, but certainly not worth arriving early for. I'll do a separate review of this with more thoughts. 
STARLUX's flights to Singapore are operated by an A330-900 (also known as an A330neo). Today's aircraft (registration number B-58304) was delivered in September 2022, making it almost brand new. 
Priority boarding was granted to Business Class passengers, as well as COSMILE Insighter and Explorer members. 
STARLUX A330neo Business Class
STARLUX has a total of 28 Business Class seats on its A330neo, in a 1-2-1 configuration with all-aisle access. This is a modified version of the Safran Skylounge Core, for which STARLUX is the launch customer.
BMW Designworks did the customisations, and has delivered a gorgeous-looking product. The airline describes this as a "pure tea" colour theme, featuring natural tones, warm fabric and leather. 
I wouldn't necessarily say the seats are anything revolutionary- there's no doors, and it's a rather dense configuration. But we need to remember that this is STARLUX's regional Business Class. Its A350-900 will have a different type of Business Class seat, recently revealed.
In terms of seat selection, the C and H seats are closer to the aisle, with a privacy wing providing a little bit of visual separation. 
In contrast, the A and K seats are further from the aisle, and the side console blocks the passenger from view. 
Where the middle seats are concerned, the D and G seats are closer to the aisle, while the E and F seats are partially shielded by the console.
You might think that a couple should naturally pick the two seats in the centre, but that's actually not a good idea. Whether you pick an odd or even row, you'll be separated from your companion by an immovable divider. Forget about sharing food or drinks, you'll barely be able to talk to each other. 
It's for that reason I'd pick a C & E or A & D seat if I were travelling with someone, so at least I could talk to them from across the aisle. 
To illustrate, here's how much of seat 7D I can see when seated in seat 7A…
…and here's how much of 7A I can see when seated in 7D. 
I chose seat 7A for today's flight, which was in absolutely pristine condition. Each seat has 44 inches of pitch and is 20 inches wide- the same dimensions as Singapore Airlines' B787-10 Business Class. It could be snug for a passenger of size, and the armrests cannot be lowered. 
The console provides storage for small items like a phone and tablet (though it needs to be kept clear during taxi, take-off and landing), and has a built-in wireless charging pad. I never realised how useful the feature was until now- it keeps my area tidy and free of wires, and allows for incremental juicing in between snapping photos. 
The only criticism is that it's a bit hard to find the sweet spot where charging is triggered, and it'd have been good if they built a little magnet beneath (like some wireless charging pads) so you get some feedback when you've managed to navigate the phone into place.
Each seat has a universal power socket, as well as a 60W USB Type-C charger and a regular USB 3.0 Type-A port. There is no HDMI connectivity, unfortunately, so you can't use that lovely 4K screen as a second monitor. 
The inflight remote eschews a touchscreen in favour of a touchpad, which can be used like a mouse to navigate the IFE system. A small LED display at the top right displays the route and time remaining on the flight. 
Seat controls are touch-sensitive, and include presets for full upright, full flat and lounging. You can adjust the lumbar support, and toggle the light around the footwell.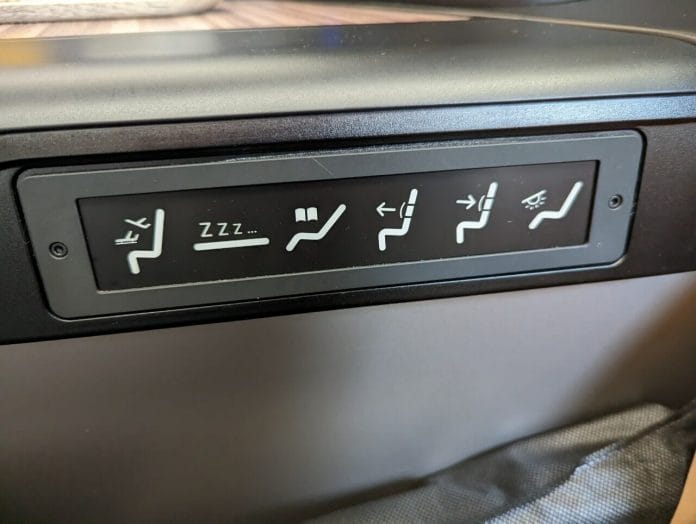 The closet provides additional storage for loose items, headphones, and a water bottle, plus a handy vanity mirror. I love the subtle Polaris texture built into the cupboard as well- United doesn't have a monopoly on the logo!
Inflight entertainment screens are 17.3 inches wide, with touchscreen capability and 4K resolution. The screen is incredibly glossy, but this tends to create issues when the cabin lights are on- notice the selfie mirror effect below. 
The tray table is ingeniously designed. It's stowed beneath the IFE display, and you can't even tell it's there till you press a button to release the latch. It then folds down, revealing a good-sized surface that can be pulled towards you, or pushed away. This allows you to exit the seat even when the table is full, like during meal service. 
It's large enough for a 14″ laptop , and sturdy enough to give a very pleasant typing experience (some tray tables bounce when you type, which is annoying).
Finally, there's a reading light near the headrest with adjustable brightness. 
Amenities
Business Class passengers receive a plush pillow, plastic-wrapped blanket, and slippers. There was no amenities kit, although I wouldn't expect one on a four-hour daytime flight.
Inflight Entertainment
Every Business Class passenger enjoys a 17.3-inch touchscreen with 4K resolution. 4K may seem like overkill for an airplane, but remember you're seated relatively close to the screen as compared to your living room. It's therefore still possible to appreciate the improved revolution, making it more than just a gimmick.
Business Class passengers receive noise-cancelling headphones, which come in a handsome hard case. Noise-cancelling performance was excellent, and the headphones were very comfortable even for prolonged wearing. 
If you prefer, you can also connect your own headphones via Bluetooth.
As good as the hardware is, the key weakness of the inflight entertainment system is the relative paucity of English language options. 
I counted a mere 17 English language movies, so few I can actually list them all out.
1917

A Quiet Place Part 2

Baby Driver

Before I Fall

Frozen

Gods of Egypt

Godzilla vs Kong

Greta

Inside Out

Minari

One Day

The Good Dinosaur

The Shallows

Top Gun

Top Gun 2: Maverick

WALL-E

Whiplash
So yes, I enjoyed watching Tom Cruise dogfight with 5th generation fighters and also his fragile masculinity, but once that was done, there wasn't anything left that I fancied watching. STARLUX will really need to ramp up its movie library if it wants to operate long-haul flights. 
Other entertainment features included TV shows (only two English options, one of which was a self-glorifying FIFA documentary), games and a small music library.
One cute feature was the IFE system's kids' mode, which added some interesting touches to features like the inflight map.
Sleep Experience
Business Class seats convert into full-flat beds about 2-metres long. The sleeping surface is comfortable, and the shell around your head provides good sound isolation. No mattress pad is provided on this flight, but remember the A330 is really meant for regional hops, not transpacific voyages.
Seats point directly forward, so you won't need to sleep at an angle as you do on certain airlines. The footwell is large enough that both side and back sleepers should be well accommodated.
You should note that the seat controls don't allow you to adjust individual components of the seat, however. There's only three presets, so if you need to have the seat in just the right position, that may be a bit frustrating. 
Food & Beverage
STARLUX serves pre-departure drinks in Business Class, but unfortunately they don't offer alcohol on the ground, so you'll need to wait until after take-off for your first tipple.
Instead, I got a very pleasant cold-pressed pineapple and mango juice, plus a hot towel infused with STARLUX's signature fragrance "Home In The Air".  This was created by Taiwanese perfumer P.Seven, and I liked it so much I considered buying some from the duty-free store. 
STARLUX's meal service on this flight was rather unusual. While most airlines will feed you immediately after take-off, the crew instead served a canape and drinks first, turned off the lights for rest, then served lunch with just under two hours to go before our 1.30 p.m arrival. 
The food and drinks menus can be browsed through the inflight entertainment system.
If there's one thing I can't understand, it's why STARLUX chooses to have printed duty-free and inflight magazines, but all-digital menus. Frankly, I'd prefer it if they did things the other way round. There's just something about a physical menu that makes the dining experience so much more pleasant, whether it's the ability to view an entire page at once without scrolling, or to learn across to your partner and point at what you're thinking of having. Let's face it- you're staring too much at a screen as it is. 
Shortly after the aircraft reached cruising altitude, the crew came around with drinks. STARLUX offers a choice of two whites, two reds, port and champagne, and while Vivino is hardly the most authoritative of wine reviews, it's noteworthy that most of the options were rated 4 or higher. 
🍷 STARLUX Wine List

Wine

Type

Vivino Rating

Champagne Bollinger Special Cuvee

Champagne

4.3/5

Selbach Oster Zeltinger Sonnenuhr (Grand Cru) Riesling Spatlese Trocken 2017

White

4.2/5

Rimapere Sauvignon Blanc 2018

White

4.1/5

Chateau Les Vieux Ormes 2015

Red

3.9/5

Nipozzano Vecchie Viti 2015

Red

4.0/5

Dow's Fine Tawny Port

Port

3.8/5
The champagne of record in Business Class is Bollinger, a personal favourite of mine (and James Bond).
The crew brought the bottle around and poured at the seat. Drinks were served together with a small canape of prawn, pineapple and raw tomato- forgettable, compared to the excellence of the meal proper. 
I thought the default pour was a tad bit stingy, but later realised why. STARLUX only provisions a single bottle for the entire flight. Granted, the cabin wasn't full (12/28 seats occupied), but even so, I would have thought they'd have stocked at least 2 or 3! 
The crew were incredibly apologetic about it (see Service section), and from that point on tried to ply me with many other forms of booze. This included a very lovely 2015 Chateau Les Vieux Ormes (a mix of 85% Merlot, 10% Cabernet Franc and 5% Cabernet Sauvignon)…
…and various cocktails. Yes, STARLUX has a cocktails programme, the result of a partnership with mixologist Huang Yixiang (behind Taiwanese watering hole Bar TCRC and restaurant Bar Home). A total of four craft options are available, plus your standard fare like gin and tonics.
I tried the Sci-fi Cosmos 2.0 on the previous flight from Singapore, and it was good enough to warrant a second tasting. This features locally-made Ultra Craft Gin from a Taiwanese distiller, lemon and soda water, and is eminently Instagrammable. 
I also tried a Red Sea Caesar, a play on the classic Bloody Caesar but with the clam juice replaced by fresh carrot, and served with daikon slices and olives. It's a savoury, vodka-based cocktail, and a splash of tabasco really opens up your taste buds. 
I know you can get cocktails on most other airlines, but it's usually paint-by-numbers stuff that you could find in a million places. But bespoke cocktails on a menu that rotates regularly? Now that's a way to keep things fresh and exciting!
One unique feature about STARLUX is they allow passengers (in all cabins) to pre-select their meals before the flight. This includes some special items that may not be available onboard. 
On my flight, there were two items available for pre-order:
I went with the LONGTAIL option. LONGTAIL, for those who don't know, is a Michelin-starred restaurant run by Lam Ming Kin, who honed his craft working under Guy Savoy in Paris and Jean Georges in New York. 
LONGTAIL was also available for selection onboard, but not the Hutong option. Instead, there was an international menu that offered a choice of seared lamb rack with parsley potato, or chicken ballotine with ratatouille. 
The LONGTAIL meal featured chestnut chawanmushi and seafood broth, plus short rib char siew and egg white fried rice. The quality was exquisite. 
For far too many airlines, Asian options are a way of saving costs on ingredients- get rid of the lobster and steak, bring in cheap carbs and frozen shreds of chicken. But with STARLUX, it's an opportunity to showcase their local culinary prowess. 
The char siew was tender, the rice grains plump, and I think this was the first time I've had chili padi on an airplane!
Chili padi
Notice the drink on the tray? On STARLUX, meals come paired with apéritifs, both alcoholic and non-alcoholic. On this flight, it was a malt tea cocktail with a splash of Jack Daniels. This helped cut the fattiness of the char siew, and the entire meal just struck me as incredibly well conceptualised. 
Dessert consisted of a salted egg yolk pot de creme (basically a custard), served with lemon confit and tapioca. This came together with a cheese and fruit plate featuring brie, asiago and apple chutney. 
I haven't even mentioned the rest of the drink options. STARLUX offers Business Class passengers a choice of Acqua Panna or San Pellegrino water (making SIA's Evian and Perrier seem prosaic by comparison), illy coffee, Kavalan whisky, Whittard teas and cold-pressed juice.
That's just a quality selection.
Inflight Wi-Fi
STARLUX offers Wi-Fi across its fleet through its Galactic Wi-Fi service, with the following packages available for purchase in advance or onboard.
| | | |
| --- | --- | --- |
|   | Purchase in advance | Purchase onboard |
| 30MB | US$4 | US$5 |
| 100MB | US$8 | US$10 |
Business Class passengers receive unlimited data, while Economy Class passengers receive an unlimited texting plan that covers platforms like WhatsApp and LINE. However, from 1 November to 31 December 2022, all STARLUX passengers enjoy unlimited Wi-Fi, regardless of cabin.
I had a very bad experience with the Wi-Fi system on the way from Singapore, where the network was unavailable for long periods of time. I hoped it was just a one-off, but the flight out of Taipei wasn't that much better. The internet speeds were painfully slow, making anything but the most basic of web browsing a chore. 
This is an area that STARLUX really needs to improve in, if they want to be taken seriously as an airline for business travellers. 
Toilets
The 28 Business Class passengers have access to 2-3 lavatories. The actual number depends on the relative load of Business and Economy Class, since the crew will reassign the lavatories behind Row 8 as needed. 
The lavatories are your usual tight squeeze (in fact, the largest lavatory of all is in Economy Class behind row 47, since it's handicap accessible), but STARLUX has gone for some nice touches such as dark-coloured countertops instead of the standard white ones. These hide stains better and add a touch of sophistication. 
Taps are touchless, but the lack of a bidet was surprising given how ubtiquous this feature is in Taiwan.
Bathroom amenities were by THANN, featuring Aromatic Wood eau de toilette and hand lotion, as well as Tahitian Lagoon face mist. These are the same amenities you get in Economy Class, although that speaks much about Economy, not less of Business. 
Service
From start to finish, service on this flight was stellar. The crew were well-trained and well-organised (from what I hear, many of them were poached from EVA and China Airlines), but more than that, they were personable. 
Before take-off, the chief purser came over to personally greet every passenger in Business Class, informing them of the flight time and service routines. The crew were genuinely excited when they found out it was my first time flying STARLUX, and eager to show off all the features of the aircraft. All Business Class were addressed by name throughout the flight. 
Remember the champagne shortage? The crew were so apologetic about running out of champagne that they gave me a little handwritten card and gift at the end of the flight, plus two packs of commemorative playing cards. 
It felt like the kind of over-the-top service you might expect on ANA or JAL, where they apologise for everything not being absolutely perfect in every single way. 
Conclusion
STARLUX's Business Class seat may not be revolutionary, but it's modern, comfortable and has everything you'd need on a regional flight. What really made the experience for me was the quality of the catering and service. The exciting food and beverage choices and the fawning service made me eager to fly STARLUX again, which I suppose is the whole point.
It gets even better when you consider the price. STARLUX is comparable in pricing to China Airlines and EVA Air, and notably cheaper than Singapore Airlines. While there's no way to redeem miles for flights, that could very well change if STARLUX joins oneworld as rumoured (although integration won't happen for at least a 12-24 months, so don't get your hopes up).
I can't wait to fly them again.