My whirlwind trip to Taiwan began by flying STARLUX Airlines Economy Class from Singapore to Taipei. 
As mentioned in the trip planning post, this flight doesn't have the best of schedules for tourists from Singapore. You arrive in Taipei in the evening and depart in the early morning, basically wasting two nights of accommodation. 
| | | | |
| --- | --- | --- | --- |
| Flight | Depart | Arrive | Days |
| JX732 | SIN 1445 | TPE 1920 | Daily |
| JX731 | TPE 0850 | SIN 1330 | Daily |
That said, I suppose an evening arrival in Taipei might make sense if long-term goal is to bank this flight with connections to North America, which will start in April 2023 with the new A350-900 aircraft. 
Flight schedules aside, I was eager to see how STARLUX would perform at the back of the bus. After all, many airlines trumpet how "market-leading" their Economy Class is, but really, there's only so much comfort you can provide when the business model necessitates cramming as many seats in there as possible.
But having flown STARLUX, I can tell you their Economy Class is very much market-leading. 
✈️ tl;dr: STARLUX A330neo Economy Class

STARLUX's stellar Economy Class experience dazzles, with elements that wouldn't be out of place in a premium cabin.

👍 The Good

👎 The Bad

Factory-fresh cabin and seats still in impeccable condition

High quality meals and a wide drinks selection including craft cocktails

4K inflight entertainment screens with Bluetooth connectivity

Fancy touches like THANN amenities in the lavatories 

Very small selection of English movies and TV shows

Wi-Fi network virtually unusable
🇹🇼 When You Wish Upon a STARLUX
Check-in & Boarding
STARLUX departs from Changi Terminal 1 and uses the check-in desks at Row 1. Check-in opens three hours before departure, and unfortunately, the airline does not participate in the Jewel early check-in programme.
Business Class passengers and COSMILE Explorer/Insighter members get access to a priority queue, which was good news for me since a hefty line had built up for Economy even before the counters opened.
Boarding passes were issued quickly, and I appreciate that STARLUX still uses proper coloured cardstock. Singapore Airlines scrapped its green Economy boarding passes for plain black and white ones some years ago, making them not very collectible. 
As an Explorer member, I received complimentary access to the SATS Premier Lounge. This isn't a great facility, and I'd recommend visiting the Plaza Premium Lounge instead (not accessible via Priority Pass or LoungeKey, but available through AMEX Platinum Charge, OCBC VOYAGE and DragonPass, among others; try the chicken rice- it's the kind of quality I'd be happy paying money for outside).
I hardly think the SATS Premier Lounge is worth a review, so I'll just leave you with a few photos.
Today's flight was operated by an A330-900 (also known as an A330neo), registration number B-58301. Delivered in February 2022, this was the first A330neo (and the first widebody) STARLUX received, making it just over eight months old.
Boarding began about 10 minutes late, with separate lines for Economy Class and Business Class/Insighter/Explorer members. 
STARLUX a330neo Economy Class
Before we talk about the seats themselves, a brief word on seat selection fees. STARLUX divides its Economy Class seats into three different types:
💺 STARLUX A330neo

Category

Seats

Extra Legroom Seat

30 & 51 A, C, H, K




31 & 50 D, E, F, G

Forward Seat

31 A, C, H, K




32-37 A, C, H, K

Standard Seat

All others
Advance seat selection may be chargeable depending on your fare type. Expect to pay US$50 for an Extra Legroom Seat, US$20 for a Forward Seat and US$10 for a Standard Seat. 
| | | | |
| --- | --- | --- | --- |
|   | Extra Legroom | Forward | Standard |
| Limited | US$50 | US$20 | US$10 |
| Saving | US$50 | US$20 | US$10 |
| Basic | US$50 | Free | Free |
| Full | US$50 | Free | Free |
Seat selection fees are not waived for COSMILE elite members. However, all seats (except Extra Legroom) become available for free selection during online check-in, 48 hours prior to departure. 
STARLUX has a total of 269 Economy Class seats on its A330neo, laid out in a 2-4-2 configuration. The RECARO CL3710 seats are of the slimline variety, which divides opinion because of their reduced back padding. I found them comfortable enough for the ~4 hour daytime flight to Taipei, though it would be interesting to see how they hold up on a redeye flight. 
STARLUX has gone with an elegant dark grey and neutral beige colour palette for its Economy Class seats, which the airline says creates an "elegant and modern furniture-like appeal through the use of clean shapes and a play on pattern orientations that break up the backrest". 
Each seat has a six-way adjustable leather headrest for additional neck support, as well as 31-32″ of pitch. There's no leg rest, although that's typically a feature we see reserved for Premium Economy (and indeed, STARLUX's Premium Economy seats will have it). 
The A/C and H/K seats by the windows will obviously be the seats of choice for couples travelling together (avoid 35A/K if you want a view though, because these seats are windowless).
Families will prefer the four-seat D/E/F/G cluster in the middle, although it could also be quite the prize for a solo traveller who manages to get the whole row to themselves, since armrests can be lifted to create a flat bed about 1.8 metres long. It's one of the reasons why I prefer a 2-4-2 Economy Class configuration to a 3-3-3, because three seats doesn't make much of a bed (no matter what Air New Zealand wants you to believe about their SkyCouch). 
I selected 32H, an aisle seat near the front of the cabin. I don't know if it's official policy, but as a COSMILE Explorer I was told during check-in that the seat next to me had been blocked, which was a very nice touch. In any case, this particular flight went out only 40% full, so almost everyone was able to stretch out. 
Economy Class passengers have a 13.3-inch 4K personal inflight entertainment screen. I'll talk about this a bit more in the section on inflight entertainment, but for now just note that beneath the screen is a USB 3.0 Type-A port and a 3.5mm headphone jack. 
If you're seated in 31 D/E/F/G or 50 D/E/F/G, your inflight entertainment screen will be mounted on the bulkhead in front of you. This makes it significantly harder to navigate via touch, since it's too far forward. Fortunately, a remote is built into the armrests of these seats. If you're seated in the emergency exit seats 30 A/C, H/K or 51 A/C, H/K, your inflight entertainment screen will flip up from below the armrest. 
In-seat power is available at a ratio of 2 passengers to 1 plug. Above the power outlet is a single 60W USB Type-C connector, and it's good to see this sort of futureproofing provided for. 
The tray table unfolds in two steps, with a half-size option for those who just wish to store a drink. Once fully deployed, it can just about accommodate the footprint of a 14″ laptop.
If you want to nurse a drink without cutting into your lap space at all, a fold down drinks holder beneath the screen allows you to do just that. It also provides a place to put loose items like sunglasses.
Inside the seat pocket is the STARLUX inflight magazine and duty free catalogue. Most airlines have digitised these in the interest of weight reduction and hygiene, but STARLUX hasn't gone down that route just yet. 
Amenities
Economy Class passengers receive a pillow and blanket by default. The blanket, interestingly enough, is made from upcycled PET bottles and seashells.
Additional amenities such as dental kits, eye shades, ear plugs and slippers can also be requested from the crew. 
Inflight Entertainment
Every Economy Class passenger enjoys a 13.3-inch touchscreen with 4K resolution. Yes, a 4K screen, in Economy. 
I'll admit I was sceptical at first, because consumer guides constantly warn against over-obsessing about resolution. With a screen this small, can you really notice the difference? 
As it turns out, yes. We need to remember that the optimal resolution is a function of two things: screen size, and viewing distance. A 13.3-inch 4K screen wouldn't make much sense in your living room at home, but when you're in Economy Class, there's only about 30 inches between your eyes and the display. 4K allows picture quality to be maintained even with very short viewing distances, and come to think of it, is perfectly-suited for Economy. 
Colours looked amazing on this display, whether it was the oh so cute inflight safety video…
…or the chiselled jaw of Tom Cruise.
More than that, the screen was very responsive. I've been on aircraft where you need to press the life out of the screen before it registers a touch, but there were no such issues here. 
As good as the hardware is, one weakness of the inflight entertainment system is the relative paucity of choices. I counted only a mere 17 English language movies (and two TV programmes), so few I can actually list them all out.
1917

A Quiet Place Part 2

Baby Driver

Before I Fall

Frozen

Gods of Egypt

Godzilla vs Kong

Greta

Inside Out

Minari

One Day

The Good Dinosaur

The Shallows

Top Gun

Top Gun 2: Maverick

WALL-E

Whiplash
If STARLUX wants to be the Emirates of Asia, it should be aware that ICE offers 1,500 movie titles. The current selection may be OK for a short hop between Singapore and Taipei (and even then, frequent passengers would quickly exhaust the selection), but not if these aircraft are to ply longer routes.
Economy Class passengers are provided with headphones, but the quality is junky, no two ways about it. 
Fortunately, you can either plug in your own headphones (no adapter required; the jack below the screen accepts 3.5mm cables), or connect via Bluetooth. That's a really cool feature if you ask me, since I was even able to pause the screen by pressing the button on my Beats!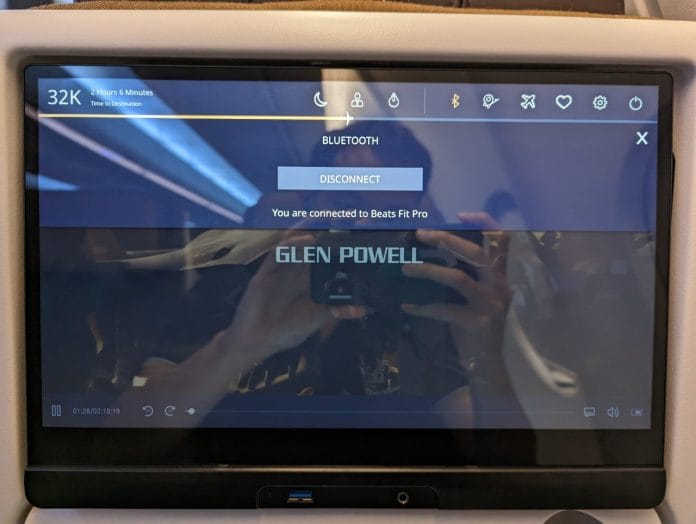 Meals
Shortly after take-off, the cabin crew came around with mixed rice crackers and the drinks cart, before starting meal service proper. 
STARLUX is unique among airlines in allowing Economy Class passengers to select their meals in advance, even if they have no dietary restrictions. 
It's not quite Book The Cook, since you're basically choosing from the same menu that will be served on board, but it does ensure they won't run out of your choice- important if you're sitting at the rear of the cabin. Moreover, it also means you'll get served before the rest of the cabin, so there's no reason not to opt for it! 
On this flight, there were two options to choose from:
I went with the beef patty with penne, and was very impressed with what I got. 
The meat was seasoned well, the pasta wasn't overcooked, and I also received a starter, dessert (the panna cotta was surprisingly good) and fruits. Special mention must be made of the basil bread, which was served warm- a perk normally reserved for Business Class passengers. Anyone remembers how Singapore Airlines used to pass out cold rolls from a clear plastic bag, before they eliminated it altogether on the grounds that no one was eating them? Well, if you serve bread stone cold, no one's going to eat it. 
The drinks selection was no less impressive, featuring wines, liquors, juices, soft drinks, mocktails and cocktails. 
And of course, STARLUX has a cocktails programme, even in Economy. This partnership with mixologist Huang Yixiang (behind Taiwanese watering hole Bar TCRC and restaurant Bar Home) offers passengers two special drinks: 
Sci-fi Cosmos 2.0 (gin, lactic acid drink, blue curacao syrup, tonic water)
Twilight Mojito (rum, green tea, orange)
I tired both on this flight, and despite its radioactive-looking blue hue, the Sci-fi Cosmos 2.0 is quite a cocktail indeed. It features locally-made gin and a twist of lemon, giving it a good mix of sweet and tart, while being oh-so-Instagrammable.
I mean, yes, Singapore Airlines has cocktails in Economy too, but they're paint-by-numbers stuff like Rum and Coke and Singapore Slings. How often do you get a chance to try an exciting new tipple at the back of the plane?
I'd give STARLUX top marks for its F&B programme. This meal wouldn't have been out of place in Premium Economy.
Inflight Wi-Fi
If the STARLUX experience stumbled in one aspect, it was this.
The entire fleet is equipped with Galactic Wi-Fi service, which offers the following connectivity options:
| | | |
| --- | --- | --- |
|   | Purchase in advance | Purchase onboard |
| 30MB | US$4 | US$5 |
| 100MB | US$8 | US$10 |
Business Class passengers receive unlimited data, while Economy Class passengers receive an unlimited texting plan that covers platforms like WhatsApp and LINE. From 1 November to 31 December 2022, all STARLUX passengers enjoy unlimited Wi-Fi, regardless of cabin. So far so good.
But on my flight, the Wi-Fi was completely unusable. It wasn't because too many people were using the network. Even when just a handful were connected (you can see how many from the login page), the internet speed was a mere trickle, so slow I couldn't even connect to Speedtest.net for a reading. 
Some passengers highlighted the issue, and the crew came on the PA to announce they were resetting the system and would update us when it was OK to connect again. They never did. 
Every now and then, a few messages would leak through to my phone or I'd be able to load a webpage, but this was punctuated by prolonged periods of complete non-functionality. 
I was hoping this was a one-off, but my return flight from Taipei wasn't much better. The Wi-Fi network was available throughout, but the speeds were dismally slow. It's an area for improvement, that's for sure. 
Toilets
At first I was under the impression that the 269 Economy Class passengers on STARLUX's A330neos had to share a total of four lavatories, which would be a concern because 67 passengers to one lavatory is much higher than the usual 40-50 you find on widebody planes. 
However, I later realised that the crew use the curtains to assign the lavatories behind Row 8 to either Business and Economy Class, depending on the load.
Since my flight from Singapore was relatively empty, the crew gave the Economy Class cabin four lavatories, which was more than sufficient. On the flight from Taipei, they fastened the curtain in such a way to give the Economy Class cabin an extra lavatory, making it two for Business and five for Economy. That's fair enough. 
The lavatories themselves are very nice, especially the handicapped one on the port side of the aircraft that affords slightly more space. I like that STARLUX went for dark-coloured countertops instead of the standard white ones, since it hides stains better and adds a touch of sophistication.
Taps are touchless and there's an air nozzle for drying your hands, but I was surprised that the toilet lacked a bidet function, given how ubtiquous this feature is in Taiwan.
One thing I was not expecting to see in an Economy Class lavatory were branded amenities. STARLUX stocks THANN eau de toilette, facial mist and hand lotion. These are the same ones that Business Class receives- how's that for egalitarian?
Bathrooms were kept clean and tidy throughout the flight. 
Service
The STARLUX cabin crew were polished and friendly, switching seamlessly between Mandarin and English as needed. 
I was particularly impressed to be greeted by the inflight supervisor and subsequently addressed by name throughout, which I saw they also did for the rest of the COSMILE elite members onboard.
Service was smooth and organised, and crew were very good with remembering requests even if they couldn't fulfil them immediately (on some other airlines it's in one ear and out the other!). 
Of course the real test will be how they handle a fully-loaded aircraft, but their performance here was excellent. 
Conclusion
STARLUX talks a big game about wanting to be Taiwan's (and indeed Asia's) premier luxury carrier, but based on my experience on this flight, their record is matching their rhetoric. 
Factory-fresh planes, well-trained staff, branded collaborations, high quality meals and drinks, fancy lavatory toiletries, and an oversized IFE screen make this an experience that blurs the line with Premium Economy. 
There are certainly some areas to work on, like the English movie selection and Wi-Fi reliability, but this was all in all a stellar Economy Class experience. It made me all the more excited to try Business Class, which I'll cover in the next review.