If you haven't read about Lifemiles yet, it's highly recommended you read the article here before proceeding!
Everyone's favourite program Lifemiles is back with a 2X1 promotion for the month of May.  If you're not interested in Lifemiles, well, Lifemiles is the reason I'm flying  back from Seattle to Singapore in ANA's New First Class for 99,000 miles, or US$1,485 (commercial cost? US$11,250. Yup, really)
I received an email offering a bonus of 1,200 miles for every 1,000 miles purchased, meaning that US$33 buys you 2,200 miles, or a cost of 1.5 cents per mile. This is a 2.2X bonus. (As per Flyertalk the 2.2X may be a targeted offer only; some people report receiving only 2X, which is 1.65 cents per mile. EDIT: have confirmed that Singapore residents will be offered 2.2X bonus)
Lifemiles recently devaluated their award chart and raised the cost of miles from US$30 to US$33 per 1,000 miles, but it still offers extremely attractive opportunities to grab premium cabin Star Alliance awards.
The table below summarises the cost of buying miles (in USD) to redeem the following type of award tickets (assuming 2.2X bonus)
| | | | |
| --- | --- | --- | --- |
| One way SIN to | Economy | Business | First |
| Europe | 825 | 1,170 | 1,530 |
| North America | 570 | 1,185 | 1,485 |
| Australia | 338 | 600 | 900 |
| Middle East | 630 | 1,035 | 1,530 |
Note that the above table does not take into account taxes. But Lifemiles does not levy fuel surcharges on award redemptions, so the total figure will not differ too much from what is quoted above.
What should be immediately apparent is that business and first class tickets are far and away the best deals. Do not waste your Lifemiles redeeming economy class awards! You'd be better off buying economy class tickets commercially.
To illustrate the bonus, I've opted to buy 64,000 miles. Lifemiles automatically calculates a 76,800 mile bonus for a total of 140,800 miles
Clicking through to the next page shows me the total cost- US$2,112. Remember to use your AMEX Altitude Card for this purchase- with the 6 months 50% bonus on online airline purchases, you'll earn 4.5 miles per S$1 spent, so approximately 12,600 Krisflyer miles!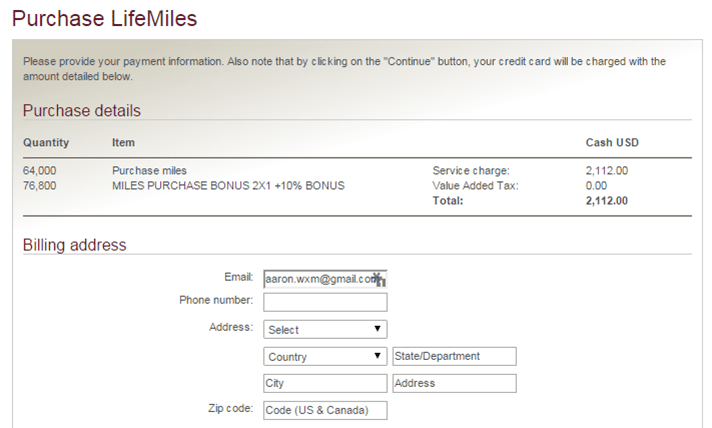 And that's it! The miles will credit instantly to your account. Remember the maximum miles you can buy each year is 150,000 (including the bonus miles). Therefore if you're a Lifemiles virgin the maximum you can buy with the 2.2X promotion is 68,000 miles. This gives you a bonus of 81,600 miles for a total of 149,600 miles, just short of the 150,000 maximum.
It's useful here to recap some of the disadvantages of Lifemiles (you can read about them in full here)
No mixed cabin bookings allowed
No access to "blocked" products like SQ's Suites and LH's first class (not a unique problem to Lifemiles- other FFPs will have the same issue)
Lengthy process to cancel award tickets (only over the phone, typically takes upwards of 40 minutes)
I recommend you use Lifemile's online search tool to verify that there is award availability for the dates and routes you want before buying the miles.
As always, you will need to have been a member of Lifemiles prior to the announcement of this promotion, so if you haven't yet created an account the promotion won't apply to you. Nonetheless, create one now so that you can take part in the next promotion!
Feel free to ask me any questions below!