The Milelion is running a new series that aims to profile every credit card available in Singapore. Each week we will cover a different bank. The appendix below will be updated weekly with hyperlinks as more banks are added, allowing you to navigate between weeks seamlessly
Week 1- OCBC
Week 2- DBS
Week 3- UOB
Week 4- Citibank
Week 5- ANZ
Week 6- American Express
Week 7- HSBC
Week 8- Standard Chartered
---
I've been extremely negligent with keeping this Omnibus up to date,  but a lot of people have requested that it resume. So let's see how far I get this time round with AMEX!
American Express offers 11 different card products in Singapore. It's a strange hodgepodge of offerings-
The Platinum Series of AMEX cards, which are upmarket offering targeted at high income earners
The Cobranded Series of AMEX cards, which I've covered extensively elsewhere so won't go over again (spoiler alert: they're bad)
The Miscellaneous Series of AMEX cards, which they offer to anyone they can pull aside in the concourse of a shopping mall
Where miles and points are concerned, your AMEX cards either earn Krisflyer miles directly (if they're the cobranded series) or Membership Rewards points otherwise (if they're Platinum or Miscellaneous)
AMEX Membership Rewards isn't in and of itself a bad program. They have a good suite of partners for airlines, for example. MR points transfer at a rate of 1 MR= 0.56 miles to
Singapore Airlines
British Airways
China Airlines
Malaysia Airlines
Thai Airways
Cathay Pacific
Emirates
That's a decent selection of partners, and probably second only to Citibank in Singapore for options.
AMEX does not charge a fee to convert your MR points into miles. Instead, they charge you an upfront annual fee for this. In a way it i similar to DBS's program where you pay a flat fee for unlimited conversions throughout the year-
Enrolment into the Membership Rewards Programme is required for points to be awarded. You may choose to enrol in one of the following two options:
Non-Frequent Traveller Option (S$10): Earn Membership Rewards points towards redeeming dining and shopping rewards

Frequent Traveller Option (S$40): Earn Membership Rewards points towards redeeming dining & shopping rewards, flights and hotel stays
The issue with Membership Rewards isn't the options but the earning. Let's look at what they have
American Express Personal Card
Annual Fee: $120 (no first year waiver)
Income Req: $30,000 (Singaporeans & PRs), $60,000 (Expats)
Marketing Spiel: 5 MR points per $1.60 spent at Starbucks. Kino, Amazon, Jasons and EpiCentre. And OMG the card is classic and green!!11one!
The catch: It's a crap card
AMEX relaunched its classic card in 2015 to much fanfare. I'm not sure why.
Here's the special feature on offer- Earn 5 Membership Rewards points for every S$1.60 spent at these merchants:
Starbucks
Jasons Market Place
Kinokuniya
Amazon
EpiCentre
Note: AMEX seems to peg its rewards earning to S$1.60 of spending. I am convinced that AMEX came into Singapore wanting to offer the same earning rate in the USA of 1 USD= 1 MR point, and at the time 1 USD= 1.60 SGD. The rate has stuck for some reason, despite the exchange rate changing. 
The equivalent earn rate for spend at these merchants is S$1= 1.7 miles. Which is not too shabby, but I wonder how often you're going to put down major spend at Starbucks, Jasons, Kino, Amazon or EpiCentre. In any case, there already exist better cards to use for Amazon (DBS Woman's World/Citibank Rewards).
Regular spending earns 2 MR for S$1.60 spend, or S$1= 0.7 miles. This rate is easily surpassed by other minimum income credit cards on the market like the DBS Altitude.
And that's it. Nothing else. It is very telling that the biggest selling point AMEX can make for this card is the nostalgia angle.
I feel sorry for anyone who applies for this.
Yay or Nay: Nay. If you want nostalgia go get some national flag erasers.
American Express True Cashback Card
Annual Fee: $171.20 (first year fee waiver)
Income Req: $30,000 (Singaporeans & PRs), $60,000 (Expats)
Marketing Spiel: 1.5% cashback on everything, no caps or minimum spend
The catch: Earning back your annual fee in the second year requires ~$11,000 of spend, just to be in a breakeven position
With any cashback card, it's all about the annual fee. Once the first year fee waiver is passed, are you sure you can get at least the annual fee worth in cashback?
Let's break this down into first year/second year spend. In the first year you get 3% cashback on a total of $5,000 spend over the first 6 months, or$150.
That's poor value for money. Even if we make the big stretch assumption  that all this $5,000 spending was on categories that are otherwise non-bonus for the purposes of miles earning (ie not online, not department stores, not F&B, not ait rickets), a general spend miles earning card would have netted you 7,000 miles for the same spend, worth between $140-$420 depending on what cabin you redeem them for.
In the second year, you'd need to spend an eye-watering $11,413 on this card just to break even on the annual fee. Therein lies the problem with cashback cards- you always start the second year in a net loss position.
Yes, your miles card may not waive your annual fee in the second year but if they don't waive you get miles in return. So from one point of view, you're no better or worse off. Suppose I need to pay the annual fee on my DBS Altitude Visa card of $192.60- I get 10,000 miles in return. And then suppose I don't- I've earned whatever miles I've earned that year, plus no out of pocket costs for the annual fee. 
A cashback card puts the onus on me to earn back my annual fee, and if I do not, I am worse off than when I started the year! This isn't a criticism of the AMEX True Cashback card by the way, it is equally applicable to all cashback cards. 
Yay or nay: Forget it.
American Express Gold Card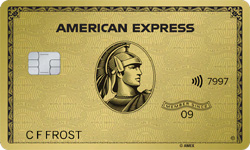 Annual Fee: $180 (no first year fee waiver)
Income Req: $55,000 (Singaporeans & PRs), $60,000 (Expats)
Marketing Spiel: It's gold! Look, it's gold!
The catch: It doesn't actually do anything
I've gone over the website for the past hour trying to find some special perk of this card. After all, at a $180 annual price point and $55,000 income requirement, surely there's got to be something good about it?
The most compelling thing I found was this
The American Express® Charter Membership is a very special designation reserved for our most valued American Express Gold Card members. Charter Membership is our way of saying thank you for your continued support. The American Express Gold Charter Card offers a collection of exclusive privileges designed to let you make the most of your lifestyle.

Charter Customer Assist

Exclusively for Gold Charter Members, our dedicated Charter Customer Assist team stands ready to assist you with any request. Whether it's a bouquet of flowers for your loved ones, a game of golf at the nearest golf course, restaurant reservations or tickets to upcoming theatre shows, concerts, and sporting events; we are only a phone call away to help you with enquiries and bookings within the Asia Pacific region. You'll even be able to obtain travel assistance during office hours.

Extended Warranty

We will double the original manufacturer's warranty when you make a purchase on your American Express Gold Charter Card in Singapore – giving you up to an additional 24 months of protection and a maximum warranty period of 48 months. Quite simply, you enjoy more protection for your purchases with your American Express Gold Charter Card.
So you get a concierge service, which almost every mid-range card now has, and the option of an additional 24 months warranty when you buy appliances on this card at $1=0.7 miles ($1.60=2MR)
And that's it. No bonus spend places. No lounge access. No limo service. You get a gold-colored piece of plastic and a feeling that you now have a credit card that would have been really cool in the 1980s.
Yay or nay: Not unless you like everything in gold.
American Express Rewards Card
Annual Fee: $53.50
Income Req: $30,000 (Singaporeans & PRs), $60,000 (Expats)
Marketing Spiel: 24,000 MR bonus points after $1,500 spend in first 3 months
The catch: No compelling reason to retain it after first 3 months
This is one AMEX card I can recommend, due to the generous sign up bonus on offer. The deal is simple- spend S$1,500 in the first 3 months of membership and 24,000 MR points (13,333 miles) are yours.
EDIT: As YC points out in the comments below, you are technically redeeming 23,850 points because of the 450 block redemption restriction. You'll also pay a $20 conversion fee because the AMEX rewards card doesn't have the frequent traveler/ non-frequent traveler options.
As for using the card after the bonus, I really don't recommend it. The regular earning rate is 1 MR for S$1, or S$1= 0.56 miles. There is a 100% points bonus on spend in the first 3 months (S$1=1.1 miles), and you can earn 50% more MR points (S$1=0.83 miles) at your choice of 5 places in Singapore, but this is capped on S$5,000 spend
What are these 5 places? The list is surprisingly long. You have-
Dining
Retail
Everyday
Leisure
Healthcare
The list is long, but remember at the end of the day we are talking about $1=0.83 miles. That's still way below the DBS Altitude rate.
AMEX Platinum Series
Ah, the Platinum card series. The nomenclature here is a bit confusing because the entry-level Platinum Credit Card and the invitation-only Platinum Card have basically the same name. It's not difficult to tell them apart if you see them though…
The differences among the 3 cards are summarized below-
American Express Platinum Credit Card
American Express Platinum Reserve Card
American Express Platinum Card
Income Req. 
$50,000 (locals) $60,000 (expats)
$150,000 (locals & expats)
Invitation only
Annual Fee.
$321 (first year waiver available)
$535
$1700+
Points Earning
$1= 0.7 miles ($1.60=2 MR)

$1=3.5 miles at selected Platinum XTRA partners

Same as Platinum Credit Card

$1=0.8 miles (As per Lois on the comments there is a special earning rate for the Platinum Card)
Perks
Palate Dining Privileges

FAR Card

Platinum Golf, Platinum Wellness and Platinum Lifestyle program

Boingo Free Wifi Program

Same as Platinum Credit Card +

Sign up bonus of 27,777 miles with $5,000 spend in first 6 months

Tower Club Access

Staycation Vouchers

1x Complimentary night with Capri by Fraser (Platinum Reserve only)

Same as Platinum Reserve Card +

Priority Pass Program

Delta SkyClub Access

AMEX Centurion Lounges (mainly in the States, see here for an example)

Gold Status with SPG

Gold Elite Status with Carlson Rezidor

Golden Circle Jade Status with Shangri-La

Fine Hotels & Resorts Program (Extra benefits when booking through AMEX eg hotel credit)

Invitation-only events
I'm sure there are other things to consider when assessing these cards but since you're reading this I assume you care about the miles.  And the basic miles earning rate is just flat out terrible, considering that you can get a UOB PRVI Miles card and earn twice that on local spend and more than 3 times that on overseas.
But what about the Platinum XTRA partners? Feel free to have a look here, but none of them strike me as the type of place that you'll regularly drop heavy spend. There's a mismash of high end restaurants, fashion, watches and electronics, but the only one that I could envision someone spending regularly at is Harvey Norman (of course, YMMV).
I do think the ancillary benefits with the highest-tier Platinum are somewhat attractive.
The Centurion Lounges (full list here) look really nice (although you can access them with any AMEX card for a $50 fee)
The Fine Hotels & Resorts program gives you additional benefits when you book through them like noon check in, 4pm checkout, room upgrades, daily breakfast for 2, complimentary wifi and a unique property amenity (usually a US$100 credit). Stays booked through FHR also qualify for elite stay credit and points
On the other hand
You can get SPG Gold status with just a single stay at any Asia-Pacific SPG property with a World Mastercard)
Delta SkyClubs aren't a place you want to spend an extended period of time
You could get some additional benefits at hotels by booking through the Visa Luxury Hotel collection (I think FHR is definitely better on the whole but still)
I'm aware that AMEX will organize some special invite-only events for their top-tier members, and who knows- perhaps these events make the cost of the annual fee worth it to some people. But you know I'm all about the miles, so there's no way I'm going to get one of these anytime soon
Yay or nay: I suppose if you wanted to max out the AMEX Reserve sign up promotion (AND were offered a first year annual fee waiver) there might be some merit, but otherwise these cards aren't designed for miles earning
AMEX SQ Cobranded Cards

Sigh.