The First Class Premium
Part 1: Tracing the evolution of First and Business Class on Singapore Airlines
Part 2: How does First and Business Class compare on Singapore Airlines?
Part 3: Number crunching First vs Business Class on Singapore Airlines
Part 4: How does First and Business Class compare on other airlines?
---
Now that we've seen how First and Business Class compare on Singapore Airlines and how you decide whether you want to shell out the premium, let's finish off this mini-series by looking at how First and Business class compare on other airlines.
It's relevant to consider this question even if your primary currency is Krisflyer miles, because of the several sweet spots we've discussed on the Star Alliance award chart.  Also, if you're a Lifemiles buyer, you might be in a position to choose between First and Business Class on the airlines below (and at 78,000 for a one-way business class ticket from Singapore to the States versus 99,000 for first class, it's not always a simple choice!)
Here are some airlines where I've flown both First and Business Class and my observations on whether First Class is worth the premium.
Thai
Thai is a confusing one because it has 3 different types of Business Class products across its widebody fleet. If you're on their A380s or 77Ws, you get a 1-2-1 full flat configuration. These are good enough seats in and of themselves, but because of the layout of the cabin you will have 2 couples seats every other row (see the second photo below) which can be super awkward if you don't know your seatmate.
If you're on the 747, A330, A340, 772 or 773, you get the old angled flat seat. This seat is definitely not worth redeeming your hard earned miles for.  It is very open with little privacy, and you can just feel yourself sliding off it in the second photo…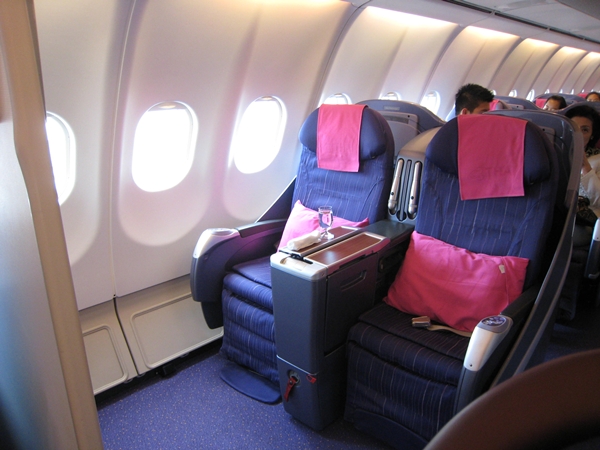 If you're on their newest 787 Dreamliner, you get a 2-2-2 full flat configuration. These aircraft do not offer First Class.
This is the same seat I reviewed previously on my IAH-GRU flight on United. I thought it was a comfortable enough seat but it scores no points for the loss of privacy from having a seatmate even at the sides. It's definitely a step up from the angled flat product, and I would think long and hard about whether I'd spend my miles on this if it were my only option (and try to get one of the centre 2 seats so I'd have unobstructed aisle access)
Now, Thai only offers First Class on its A380, 747 and A340 aircraft (which, as per my understanding, are not flying anymore)
If you're on the A380, you'll get this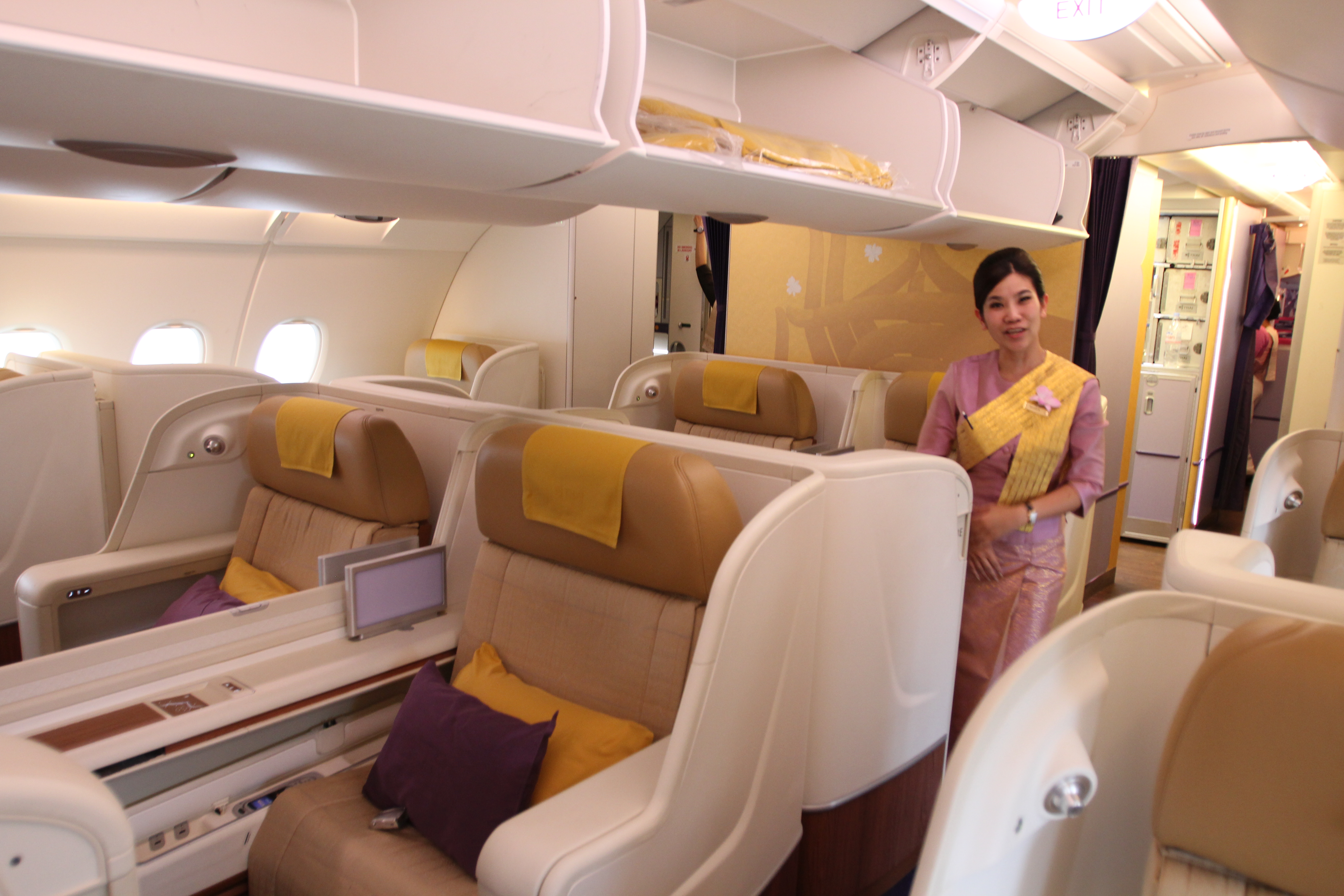 On the 747, you will either get the new First Class product (which, to add to confusion, is not the same as the First Class product on the A380) with 9 seats in the cabin. This is the product I reviewed recently on my journey to New York.
Or you will be suay and get the old "pod" version with 10 seats in the cabin. If it's any consolation these are mainly operated on domestic routes- I've flown HKT-BKK on a 747-400 before.
Therefore, if you're on any aircraft other than the A380, it's a straightforward decision to go for First Class over Business if you want a flat seat. If you're on the A380 you'll need to decide whether you value the additional privacy and service of a Suite over the 1-2-1 business flat configuration.
As for other parts of the inflight experience- I thought the F&B experience in F was very mediocre. On an overnight flight to Tokyo this was the sum total of the dining experience. It is as every bit as appetizing as it looks. At least they served Dom…
Service wise I didn't sense much of a difference between First and Business. It was perfectly functional, if not lacking the same warmth you find in Asian crews (it could have been the language barrier)
Of course it's also relevant to consider the ground experience. Thai's Royal Orchid Spa in BKK is split into 2 sections where J passengers get a choice of a 30 min back or foot massage, and F passengers get a choice of a 1 hour full body massage. Some people feel this is worth the one time splurge. I think it's certainly novel to get a spa treatment in an airport, but if you're in Bangkok anyway…
I like Thai on the whole, but I think their product just doesn't have the same aura or premium feel that other Asian Airlines (SQ, NH, BR) has. If I had to choose between First and Business on Thai, I'd still try and spring for First, but I would ideally try and see if other airines with award space plied the route as well.
Lufthansa
Lufthansa recently finished installing full flat seating in First and Business across the entirety of their fleet.
The new business class seat is a welcome step up from the old angled flat one, which I had the misfortune of encountering on a long haul flight from MUC-GRU.
It kind of reminds me of Thai's old business class in a way.
The new seat, on the other hand, is a marked improvement over the old one.
However, as much of an improvement as the new business class seat is, it's hardly industry leading. It's in a 2-2-2 configuration, without all-aisle access. To make matters worse, the way the seats are designed make it inevitable that at some point you're going to be playing footsie with your neighbour. If you're in the window seat, it's difficult to access the loo without waking up the person in the aisle.
Lufthansa is planning to launch a new Business Class product in 2020 which will be common across Austrian, Lufthansa and Swiss (all of which are owned by Lufthansa), and hopefully this should see them going with a 1-2-1 configuration
So even though Business is full flat, I still feel there's a case to be made for splurging on First when it comes to Lufthansa.
Here's the First Class seat for comparison
Lufthansa's First Class seat is amazing- it has a full range of lounging positions and deploys into one of the most comfortable beds I've had in the sky (second only to the SQ Suites bed in my opinion)
F&B wise, in Business Class you'll get hearty if unspectacular food. Here are some of the items I had from BOM-MUC and MUC-GRU.
That said, the culinary options in First Class are, in my opinion, only a marginal step up from Business. For instance, you'll get Taittinger vintage champagne
And a full caviar service, with all the traditional garnishes
But the rest of the meal was very mediocre and unappetizing. Lufthansa could learn a thing or two about plating.
On the ground, Lufthansa First also has the most amazing First Class Terminal experience if you're departing out of FRA. You should definitely read the full report but here are some highlights.
So I think that I'd only spring for Lufthansa F if it were departing out of FRA, just to get the FCT experience. That's purely a once off thing, though. Subsequently, I think I'd be ok with Business if I were able to get one of the two seats in the centre or if I were flying with a companion.
ANA
ANA is one my absolute favourite airlines for travel in any class. And presents to me a rare conundrum- both the business class and first class are such great products that I could easily justify going for either.
Here is ANA's business class (you can read full reviews here and here) seat.
The seat is extremely comfortable and private. It extends into a full flat bed. Every seat has aisle access. If your goal is to get there with a good rest, this product is good enough.
The catering in ANA business class is not to be sniffed at either. On my flight from Bombay to Tokyo the menu was designed by the Taj.
The champagne on offer is Canard-Duchene, but they also have a great selection of other drinks including premium Japanese sakes.
Service wise ANA is excellent in all cabin classes and I'd be hard pressed to say that First is necessarily much better than Business.
ANA First Class offers a sleeper suit, Krug champagne and caviar service at meals (albeit as condiment and not a proper course in and of itself, like on Lufthansa. Or maybe that was just the flight I was on)
Your meals will be multi-course Japanese wonders. To be honest I didn't care for most of the items but that's because I'm a philistine. I'm sure a true gourmand would appreciate them. Frankly I was happy enough with the simpler meals in Business.
Ground services wise is where there isn't much of a difference. I don't think ANA's First Class lounge is a big improvement over their Business. They're both perfectly alright but they're not worth arriving early for. The photos below are the First Class lounge.
And these are the business class lounge photos. It's pretty much the same, sans champagne.
For me, I'm happy enough with ANA's J product to grab it immediately when I see availability on Lifemiles. I would splurge on F if it were a special occasion, but as good as that product is it's really more like icing on the cake.
Conclusion
Let's be honest- picking between First and Business Class is probably the biggest first world problem there is. But still, you've worked hard to earn those miles, so you might as well stretch them.
This is but a small sample of the products out there, but I hope it gives you a better idea on what the gap is between First and Business class on other airlines.