I'm the sort who feels physical pain every time I see anyone take out a debit card to pay for something. Unless you're an undischarged bankrupt, someone without an active income or a student (and even then maybe not), there's no reason for you to not use a credit card for your payments.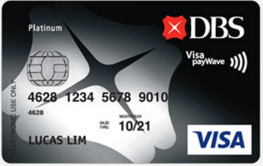 So why am I writing about a debit card?
It's tough for Singapore credit card holders who want to use their cards overseas. We don't have credit cards that come with no foreign transaction fees, so every time we spend overseas we get hit by multiple fees (I've written about the various fees here). If you're gullible enough to fall for (or get scammed into) the "convenience" of DCC and pay in SGD, you could pay upwards of a 7% spread.
DBS has an interesting new product available called the multi currency account (MCA). The debit card that accompanies this account allows you to incur no foreign exchange fees when you pay in Australia Dollar, Canadian Dollar, Euro, Hong Kong Dollar, Japanese Yen, New Zealand Dollar, Norwegian Kroner, Sterling Pound, Swedish Kroner, Thai Baht and US Dollar.

In theory it's very simple. Suppose I want to go to the USA because I have a pressing need for my cellphone to be searched and my cavities to be frisked.
I need to buy USD for my expenses there. Normally, I'd pop down to the moneychangers at the Arcade. But what DBS proposes is that I do an SGD transfer into my DBS MCA to buy USD beforehand. Subsequently, when I need to pay for something in the USA, I can
Use my DBS MCA debit card and incur no further fees (paying in USD)
Go to an ATM to withdraw physical USD if the merchant doesn't accept cards (and pay an ATM withdrawal fee of S$5)
It's conceptually similar to you going to the Arcade, buying USD, putting it in a bank and withdrawing it when you need it. The theory is that this keeps you from having to physically change money and lug around a huge amount of cash on your travels. And I buy that, that's a genuine point of concern for me whenever I travel.
The question here, then, is two fold
How does the exchange rate offered by DBS compare to the rates offered by brick and mortar moneychangers?
Is it worth forgoing the bonus points offered by credit cards by paying with the DBS Multicurrency debit card (no forex fees but no points)?
Let's break it down-
Exchange Rate Comparison
Your alternative to using the MCA is to head down to the moneychangers to swap physical cash. So how much of a premium are you paying to DBS for this service?
DBS forex rates can be found here. Now, I'm assuming that the rates published on that page are the same rates you'll get when transferring using an MCA account. If so, you have the following (1 March 2017)
1 USD= $1.4179
1 GBP= S$1.7614
1 Euro= S$1.5021
1 AUD= S$1.0924
100 JPY= S$1.2526
For comparison, I found the following rates at the Arcade
1 USD= S$1.406
1 GBP= S$1.75
1 Euro= S$1.49
1 AUD= S$1.085
100 JPY= S$1.2470
This implies a premium of approx
USD- 0.8%
GBP- 0.7%
Euro- 0.8%
AUD- 0.7%
JPY- 0.4%
It's really much better than I expected, assuming the rates published on the DBS site are the same ones you'll get for your MCA (I don't have an MCA account, but if anyone wants to confirm feel free to leave a comment)
The other value I see here is that suppose you forget to change money before you head to the airport. You can then open up the DBS App and get the currency you need without being gouged by the airport moneychangers.
No fees and no points
The other downside of using the MCA debit card is that you won't earn any points on your overseas spend.
Let's recap what you could potentially get if you used your credit cards overseas
Assuming you'd be generating 4 mpd, and taking a conservative valuation of 2 cents per mile, you're giving up 8 cents of value when using a debit card. Of course, you'll need to minus away the spread and forex fees incurred when using a credit card, so perhaps net net you'll be giving up 4-5 cents of value in total.
The equation changes somewhat if you're using a 2/2.4 mpd card, obviously. You get 4-4.8 cents worth of miles, but then after fees you maybe come out 1-2 cents ahead.
Other points to note
No partial payments are allowed. If you do not have sufficient foreign currency balance in your MCA, the entire transaction will be billed in SGD. Suppose my MCA has $1,000 SGD and $100 USD, and I try to buy something that costs $150 USD. The entire $150 USD amount will be converted into SGD and deducted from my $1,000 SGD balance in that case
There is a minimum average daily balance of S$3,000 required in the account, otherwise a S$7.50 fall below fee applies.
I think this account would be great for you if you're determined not to incur additional forex fees overseas, even for earning miles.