I requalifed for SPG Platinum really late this year (my all-time record is still end Feb, thanks to travels with a couple of colleagues who couldn't care less about points. Starwood lets you earn elite stay credit for up to 3 rooms per night), which is strange considering how much I've been on the road. It just so happens that my journeys have taken me to quite a few places that don't have Starwoods.
In any case, my recent trip to Mumbai has helped me finally get over the 50 night hurdle and I am now all set for 2018…where Marriott may or may not gut the program. Based on current travel plans I'm projecting to end the year on 62 nights.
People who aren't part of SPG often marvel at the level of fanaticism the program inspires in its top tier elites. But SPG goes out of its way give its Platinum members the royal treatment, especially outside the US. Here's the massive Residence Suite I was upgraded to at the St Regis Mumbai (full report to follow), after booking the smallest room on a deep discount corporate rate.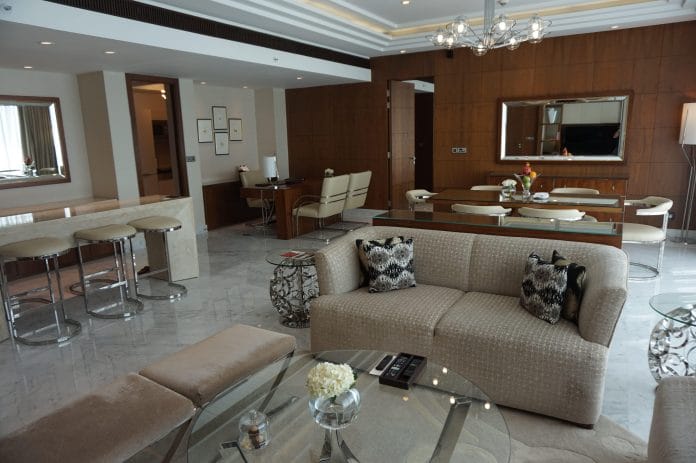 Starwood has two ways of requalifying for Platinum membership- 25 stays, or 50 nights. If you requalify via the 50 night route, you're eligible for one of six requalification gifts. My guess is they want to encourage people to do longer stays rather than hop from one Four Points to the next trying to rack up the stay count.
Here's what's on offer this year:
I wanted to give you a brief rundown of each of the gifts and whether I think it's worth it.
One Free Night Award
Escape for a quick getaway, a relaxing weekend or an extended vacation, and the first night is on SPG®. We'll pick up the tab when you redeem your one Free Night Award for any Category 1–5 hotel and resort in the SPG program, including W Seattle or Aloft London Excel. The Free Night Award is valid through December 31, 2018.
This award would be exciting if it were for any hotel in the SPG program, but it's capped at a Category 5 hotel. So no uberluxe St Regis Vommuli or W Koh Samui for you- instead, you're looking at these properties. In Singapore, you can choose among:
Le Meridien Sentosa
The Vagabond
Sheraton Towers (I know SPG Categories are based on occupancy rates rather than quality, but this is easily my least favourite SPG hotel in Singapore. It's quintessential Sheraton- outdated rooms, gloomy lobbies, and all the cheer of a morgue)
The Warehouse Hotel
Category 5 hotels cost either 12,000 or 16,000 Starpoints depending on season. It's a decent-ish gift to take if you have a stay already planned during peak season, plus fancy taking your chances with the upgrade pool (see SNAs below) for the upcoming year. However, I'm not taking this option as I don't want to feel obliged to have to find a place to spend it later.
5 Elite Qualifying Nights
Achieving 50 nights is fantastic. Now take your staying power to the next level and reach 75 or 100 nights faster by selecting 5 Elite Qualifying Nights as your SPG® Platinum 50 Nights Benefit.
Taking this benefit adds 5 nights to your current year elite balance. It does not give you a head start on requalification for the following year. SPG has two further levels beyond Platinum-50. There's Platinum-75 and Platinum-100.
At Platinum-75 you gain access to Your24 plus 4 SPG points per US$1 spent (as opposed to the usual Platinum 3 points).  Your24 has the potential to be very useful (I say potential because it's not a guaranteed benefit. YM will definitely V)- check in at whatever time you want and check out 24 hours later. For example if you're getting in late from a flight and departing late the next day, you can check in at 2am and check out at 2am the next day. This saves you from having to book two nights in a hotel with a regular check in time of 3pm and check out of 12pm. Do note that if you check in after 9am, you still get your guaranteed 4pm check out.
At Platinum-100 you get your own personal ambassador who is supposed to be your single point of contact for all things Starwood. People have really mixed experiences with their ambassadors, some go above and beyond, while other seem to go through the notions. You can read a few accounts of people's experiences with the ambassadors here, here and here, but keep in mind that high profile bloggers will probably have different experiences than your average Joe Platinum-100 (if there's such a thing). Perhaps this FT thread may be more representative.
My experiences with Your24 have been rather good so far, but I'm not 100% convinced that getting 5 additional qualification nights will be the difference between me requalifying and not requalifying for this tier. Perhaps if I were on the verge of SPG-100 I might bite, but otherwise this one isn't for me.
10 Suite Night Awards (SNAs)
Now you can get more room with your room. Receive 10 Suite Night Awards™, which may be redeemed for advance, confirmable upgrades for select premium rooms or standard suites (subject to availability). Plus, you can apply your Suite Night Awards to eligible paid stays, Free Night Award stays and Cash & Points stays.
Wait a minute, you say. I thought SPG Platinums were already eligible for unlimited complimentary suite upgrades? You're right, they are. SPG's official policy is that Platinum members are to be given the best available room, up to and including a Standard Suite, upon check in.
In practice you'll find this to be inconsistent. Sometimes it's inconsistent to your benefit, in the sense that some hotels go above and beyond what they're required to do (my St Regis Mumbai suite had a kitchen. A kitchen), and other times hotels will try to do everything in their power to worm out of upgrading you (I'm looking at you, every US hotel).
What SNAs are used for is a form of expressing a "preference" for when you really need an upgrade. Suppose the hotel has 5 suites available and 8 Platinum members arriving that day. By using an SNA you get higher priority in getting a suite. This can be really useful when you're going to a resort destination during peak period. Each SNA is valid for one night, and you have to apply them to your entire reservation, not just selected days.
I argue that SNAs will only get more and more valuable as time goes on. The reason is simple- in September 2016 after Marriott closed the Starwood acquisition deal, it was suddenly possible for elites in one program to match their status to the other. That's to say, an SPG Platinum could become a Marriott Platinum and vice versa. You suddenly had a ton of newly-minted SPG Platinum members, all competing for the same suite upgrades as legacy Platinums.
However, those who status matched their way to SPG Platinum do not get SNAs- the only way you'll get these is if you requalify by staying at Starwood hotels. The status match is still in effect, and as more and more people become Marriott Platinum (it takes 75 nights with Marriott to become Platinum but given Marriott's bigger footprint and abundance of cheaper brands one might argue it's easier to get this than Starwood) the SNAs will become an even more important tool to secure your priority for upgrades. I've opted for this award.
40% off your preferred bed
Enjoy the same refreshing sleep you experience on the road when you purchase the Westin® Heavenly® Bed for your home at 40% off. Since its introduction in 1999, the Heavenly Bed has provided millions of guests with restful sleep while winning accolades as an industry-leading innovation. Your exclusive 40%-off code is valid on the Westin Heavenly Bed or any mattress and box spring from other brands participating in the SPG® program, including these: St Regis bed, W Hotels bed, The Bed by The Luxury Collection, Sheraton Signature bed, Westin Heavenly bed
I do love the Westin Heavenly bed and the W bed and I'd love to have one in my home, but I suspect that shipping may turn out to be a problem. The closest Westin fulfillment centre is located in China, and although I haven't got a quote on shipping to Singapore, it's more likely than not that the shipping cost would wipe out whatever savings you had. This benefit is more useful for those who live in countries where free shipping is available.
Gift Gold Membership
You already know how great it is to be an elite Starwood Preferred Guest® member. Now you can share the experience with a friend, family member or colleague by giving the gift of SPG® Gold status.
Giving a friend, family member or colleague SPG Gold status lets them enjoy the following benefits:
Earn three Starpoints® for every U.S. dollar spent on eligible stays — a 50% bonus over Preferred.
4p.m. late checkout, subject to availability at resort and conference center hotels.
An upgrade to an enhanced room at check-in — corner room, higher floor, or better view.
Your choice of welcome gift upon arrival – choose from bonus Starpoints, complimentary premium in-room internet or a beverage on us.
Complimentary in-room, premium Internet access when you book on SPG digital channels. This is in addition to your welcome gift.
It's certainly better than having no status, but anecdotal evidence on FT would suggest that you won't enjoy anywhere near the level of treatment that Platinums enjoy (this does, of course, depend on which property you're at. Some do give Gold members great upgrades too)
This gift technically has no retail value, but you can find a lot of people selling theirs online on Ebay for about US$100-150.
$100 UNICEF donation
Here's a great way to help UNICEF, the world's leading nongovernmental organization focused on protecting and advancing children's rights. When you select this as your Platinum 50 Nights Benefit, SPG® will contribute $100 to UNICEF.
I'm all for philanthropy, but I don't like it when loyalty programs present donations as a way to use your points/benefits because it strikes me as a bit cynical. When you donate your points/benefits to UNICEF via a hotel/airline, the hotel/airline qualifies for a tax deduction and you don't. So the hotel/airline wins on two fronts- they give you sub-prime value for your miles and points, and they get a tax deduction from the government. If you want to make a difference by giving, you're much better off taking some other award and donating $100 to UNICEF directly.
Conclusion
I don't really see very strong arguments for taking anything other than the 10 SNAs. Some might argue that's silly, in the sense that you're merely taking what you're entitled to anyway as a Platinum. However, I do value the certainty that comes with a SNA- even though it may not be approved, it at least puts you at the head of the queue when the time comes to divvy up a limited supply of suites.
To rank the requalification gifts from most to least compelling:
10 SNAs
Category 5 voucher
Gift Gold membership
5 elite night credits
40% off a bed (although if you were in a country that has free shipping, this may well be a good choice)
$100 UNICEF donation
And on 1 Jan, the game starts again…